50 years of providing a helping hand: Meals on Wheels Waco, Caritas continue to answer local needs
The 1960s were a period of social change in the United States.
President John F. Kennedy was pushing his "New Frontier," which included reforms to eliminate injustice and inequality. After Kennedy's death, President Lyndon B. Johnson took up the torch with his "Great Society" plan to fight poverty and racial injustice.
In 1960, one in five Americans lived in conditions the federal government described as "poverty." Churches were engaged in working toward social justice, noting a biblical mandate in regard to helping the poor and the afflicted, orphans and widows, and people unable to support themselves.
Two local social service agencies grew out of this emphasis in 1967: Inner City Ministry, which would become Meals on Wheels Waco, and Caritas.
Despite being around for 50 years, the two agencies continue to fill an ever-present need in Waco.
Meals on Wheels Waco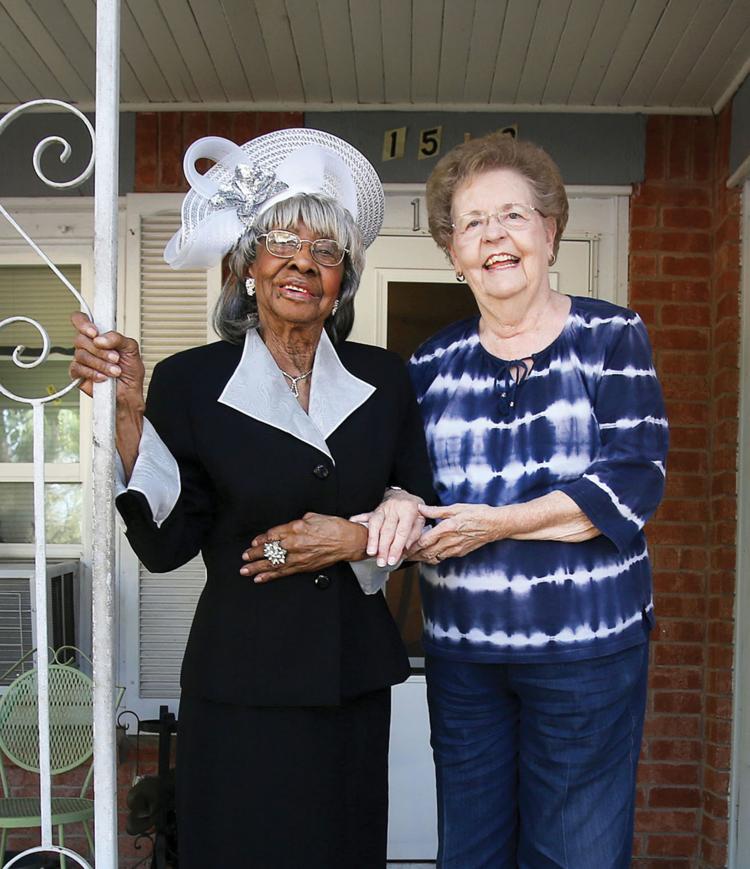 Most everyone knows the name Meals on Wheels and what it does in delivering hot meals to the elderly, poor and homebound.
But it is one of the programs of Central Texas Senior Ministry, 501 W. Waco Drive, which also provides transportation to senior citizens in need and operates senior centers.
It was begun 50 years ago by the Central Texas Conference of the United Methodist Church and was named Inner City Ministry. It was created to address unmet social service needs in Waco.
The Rev. Bill Patterson, the first executive director, established a storefront ministry in downtown Waco. In the early days, the ministry provided a food pantry and a clothes closet, placed sports equipment in underserved neighborhoods and established a college scholarship program for minority students.
A year later, though the focus began to shift to working with older adults.
In 1968, the focus of the agency began to shift towards working with older adults and in particular, shut-ins. Patteson traveled to Tyler to visit a program called "Meals on Wheels." The local Meals on Wheels program served 11 homebound clients on a $350 budget provided by Bernard Rapoport.
Meals were prepared in Mt. Zion A.M.E. church and distributed by 12 Jewish women three days a week. Margaret Young was the first coordinator of this program and she was quickly joined by Minnie Malloy, as other churches were added as cooking and serving sites. The program grew gradually as it received more federal funding and buy-in from church cooking sites.
In the years that followed, the agency added a rural transportation program for McLennan County seniors and then, with funding through the Heart of Texas Council of Governments, transit services for Falls and Hill counties. A group of senior centers also began operation under the organization.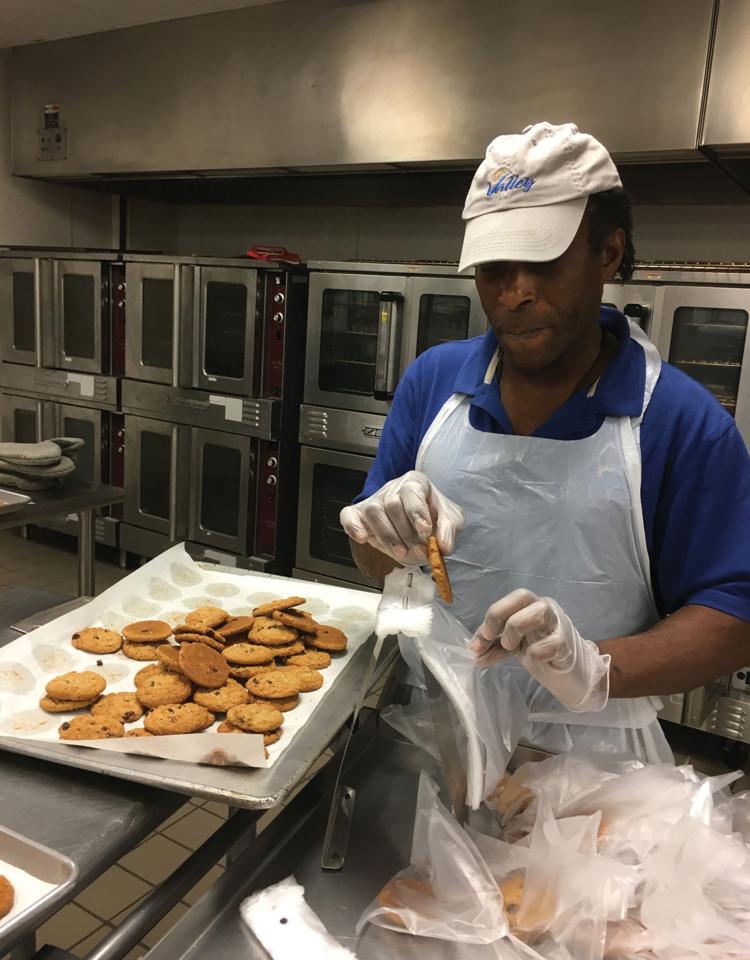 Melody McDermitt helped usher that growth in her 35 years as executive director and a total of 37 with the agency.
In the mid-1980s the name changed from Inner City Ministry to Central Texas Senior Ministry to reflect that it was serving the needs of older adults, and was no longer limited to the city of Waco. Many of the social-services programs had transitioned to Caritas and later to Mission Waco.
But the CTSM name was a bit confusing for people, so the public name became Meals and Wheels (because it delivered food and delivered people) in the early 2000s. Last year there was one more change to the public name: the familiar Meals on Wheels.
More than 1,000 volunteers serve more than 1,600 clients today, McDermitt said. Most of the meals are prepared in the Pat Clifton Senior Nutrition Kitchen at the offices on Waco Drive. From there the sealed hot meals are delivered to 44 serving sites utilizing 106 routes.
About half of the agency's funding is federal, while the remainder comes from the local community through donations and events like Sweet Sounds. Having enough funding to serve all the clients is always a concern, as is having plenty of volunteers. Some of the volunteers have delivered meals for 30 years, she said.
Meals and Wheels works with Caritas for a Groceries to Go program that provides eligible clients with a bag of groceries from Caritas. Volunteers will deliver those groceries separately for those clients unable to get the food themselves.
The agency also works with ABC Pet Clinic to provide donated pet food to clients who need help keeping their furry companions fed.
McDermitt said that beyond the meals, it's the daily visit of volunteers to the homes of older adults that means so much.
"We've seen it evolve in how we provide services," she said. "The focus used to be on how many meals we do. But it's the regular chats and visits with volunteers that you see what a huge difference it makes in their lives.
"Someone coming to your door with a hot meal in their hand, who greets you with a warm smile and gentle hug, says to an older adult you are not forgotten and someone cares about you enough to cook you a lunch and bring it to you still hot from the oven."
Grateful Recipient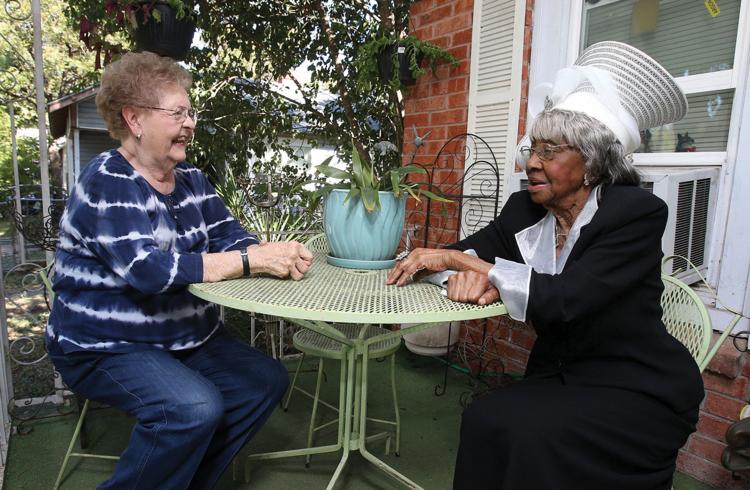 Laura Mack doesn't recall how long she's received her Monday-Friday meals from Meals on Wheels at her North Waco home.
But she knows she's always appreciated the food and the visits from the volunteers delivering them.
"They are all so very nice," said Mack, who turned 100 years old in April. "It's not easy just cooking for one person."
Mack has lunch and dinner out of the daily dropoff.
"All the meals are well-balanced meals," she said.
She admits to being a little slower these days, but she's been in good health and continues to serve as an usher at Carver Park Baptist Church. She lives by herself in her house, but has numerous relatives in the area who check on her and can take her to church and appointments.
A sign she was given for her 100th birthday lists the blessings of her family: one daughter, six grandchildren 16 great-grandchildren, 27 great-great-grandchildren and three get-great-great-grandchildren.
Originally from Madisonville, Mack has lived in Waco for more than 80 years, working more than 50 years for a local family before retiring.
Meals on Wheels volunteer Pat Sitton sees her on Tuesdays and Thursdays when she delivers meals to her and others on her route from Calvary Baptist Church.
Because Sitton has several stops to make, she doesn't get to visit long with Mack, but she said always enjoys the quick chat.
"She's just fun to talk to," Sitton said. "She's always happy. And is so appreciative and thankful."
Sitton also sees the struggles of some of the Meals on Wheels recipients on her route. Some of the houses are mostly dark and the air conditioning rarely runs to save on the cost of electricity. In the winter, the residents may be bundled up in the cold house, again to keep utility use at a minimum.
"It makes you thankful for what you have," she said.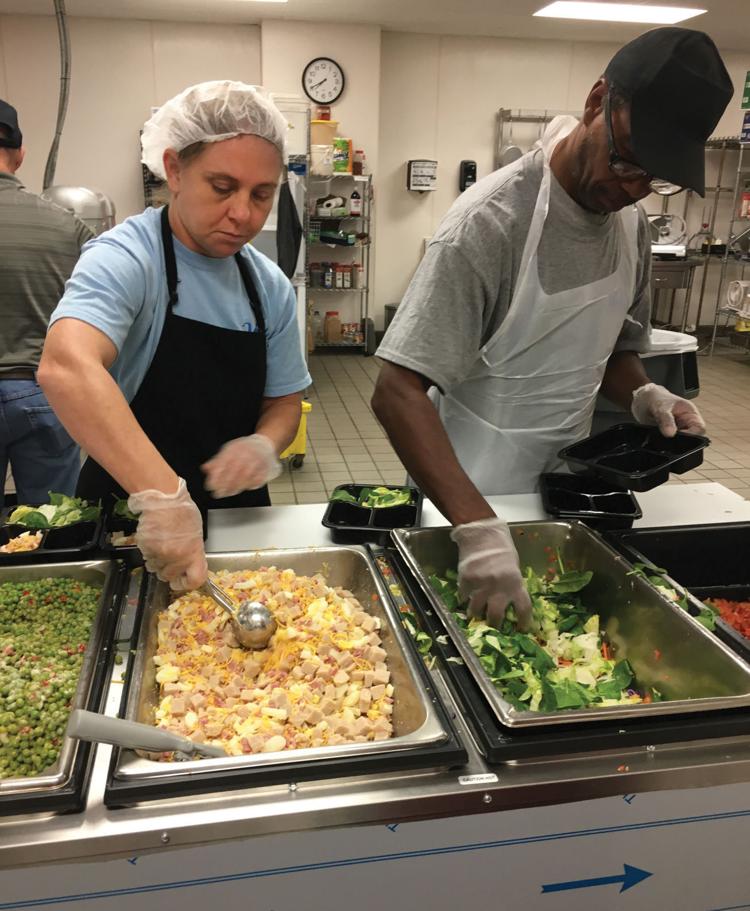 The food arrives hot at Calvary by 8:30 a.m. on delivery days. From there, drivers take four routes and deliver the meals.
Though the number fluctuates, on a recent day 39 meals were delivered from that location.
Sitton said the Meals on Wheels clients are appreciative of the meals and the chance to see a friendly face.
"They are so gracious and grateful to have it," she said. "It makes us feel so blessed. It makes you feel good to be a part of it."
Caritas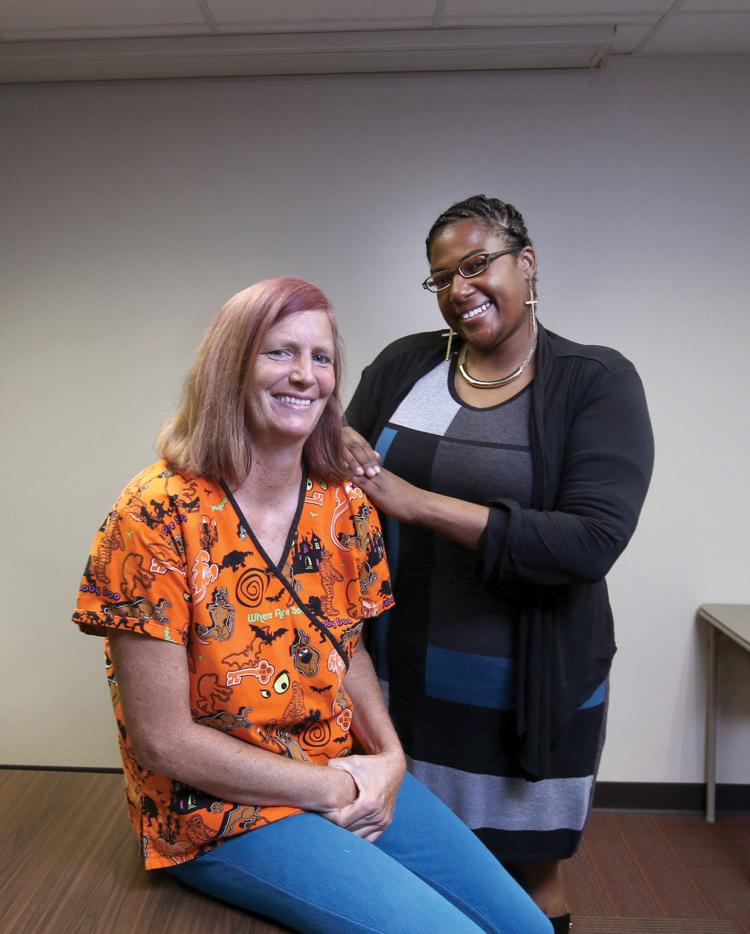 Caritas began as a Catholic charity organization, but after about a decade it became an ecumenical nonprofit agency that helps those in poverty get additional food, clothing and help in various forms.
Buddy Edwards has been executive director of Caritas since December 2008, but he's worked with the organization far longer.
A Richfield High graduate and the former director of planning and research and grants officer at Hillcrest Baptist Medical Center, Edwards was a volunteer with Caritas' public relations committee back when Dr. Eugene Jud headed the agency. Jud was executive director from 1978 to 2000.
Edwards came on staff in August 2007 as assistant executive director under Dr. Kenneth Moerbe, who retired in December 2008. Edwards was the obvious choice to succeed Moerbe.
"I was fortunate enough to be approved by the board," Edwards said. "I knew the history and the culture, and I had a belief in what Caritas did and continues to do."
With figures showing that Waco has about 30 percent of its population living in poverty, the need for Caritas is still there, he said.
When he joined the staff in 2007, Caritas was helping 1,200 to 1,400 families supplement their food supply in an average month. That number spiked after the economic downtown, and despite improvements since, the numbers remain high.
Caritas assisted 3,100 families in August, he said, adding that during the summer months when kids aren't getting lunches at school there is a need for more food.
But even September saw 2,700 families come to Caritas, he said.
Recent years have seen a lot of growth in what Caritas can offer.
The headquarters at 300 N. 15th St. under a $1.5 million facility upgrade in 2012-13 that expanded the pantry section and the waiting area. The added room meant more client services could be offered, he said.
Last year the Hidden Treasures by Caritas thrift store opened at 3912 Bosque Blvd., which is beneficial to the impoverished in that area.
"That's a significant enhancement for Caritas," Edwards said.
Beyond providing food as a supplement for families, Caritas also is working to teach clients about nutrition and eating healthier.
An ALCOA Corp. grant has enabled Caritas to provide a nutritionist/dietician on site.
"She can provide dietary education and nutritional awareness for our clients," he said. The nutritionist offers classes to prepare healthy meals with food straight from the pantry.
Thanks to the Central Texas Food Bank, which provides 80 percent of Caritas' food, the agency now has a refrigerated food container on site that allows Caritas to store fresh produce and share that with other food pantries.
Having that fresh produce option is another way that helps its clients try to eat healthier, he said.
"That's such an important component to what we're trying to do," Edwards added.
Caritas and other pantries will be gearing up for items from November's annual Food for Families drive, which always provides a boost with the holiday season coming up.
But while most people think of Caritas first because of its food pantry or thrift stores, there's much more at work in trying to lift people out of the cycle of poverty.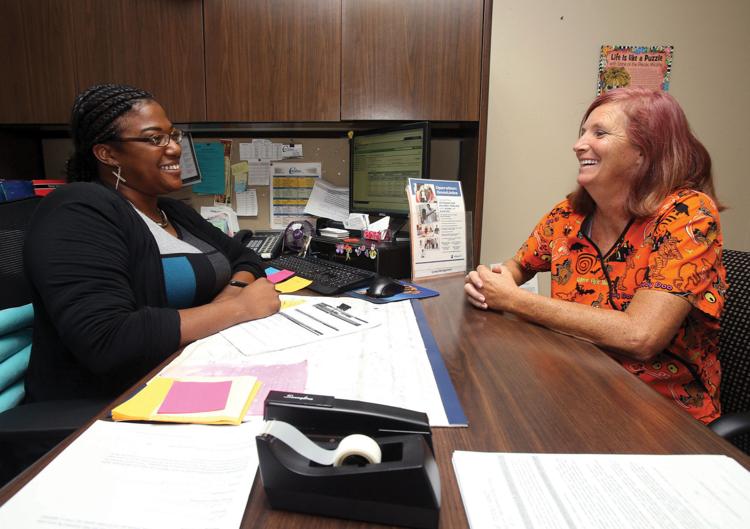 Edwards is especially pleased that in December 2013 Caritas launched its case management program, which helps clients learn ways to be more self-sufficient and have less need for emergency services.
The case managers meet with clients to help them create plans for overcoming poverty and food insecurity. They make an assessment of their situation to see what factors in their lives lead them to returning regularly to Caritas or other emergency assistance programs.
Managers then work with them to seek better-paying jobs, education or training programs, as well as better management of their household budgets. The program partners with McLennan Community College to offer General Equivalency Diploma and English as a Second Language classes. Caritas also operates a SNAP (Food Stamp) outreach program.
Giving a Lift
Among those thankful for the help of Caritas is Ruth-Ann Vorndran.
The 49-year-old Falls County resident came to the Caritas food pantry for the first time in 2013 after the death of her husband, Roger.
She was struggling at the time, she said.
In October 2012 she began to get sick, and might have had two strokes, she said. She was unable to work and had to be in a wheelchair.
Then her husband died. While she was sick she didn't renew her nursing license, not that she was able to work then anyhow. She also has full custody of her four grandchildren.
"She was able to live off the veteran benefits from her husband," veteran case manager LaTasha Davis explained, "but once you added the kids, then there were all the added expenses."
While at Caritas once day to get food from the pantry, she heard case management director Tammy Stevens doing the morning announcements. Stevens mentioned that applications were available for the veteran case management program, which helps both military veterans and their spouses.
Ruth-Ann's late husband served in the U.S. Army from 1958 to 1978. Her application was approved, and she began meeting with Davis.
Her health also has improved, which is beneficial as she cares for the three girls and one boy, who range in age from 6 to 11.
"They are my physical therapy," she said, adding that they call her "Mom." "I have the use of my left hand and my left arm and am able to walk after retraining myself."
She is busy these days with her grandchildren.
"I keep them active in school and sports and I'm an assistant coach for two softball teams," she said. "I see what these kids need and I try to be there for them."
Vorndran also recently finished a set of classes with an empowerment group. In that, a licensed counselor meets with other Caritas clients as they work to improve self-esteem.
"I've learned to put things into perspective," she said. "You can teach an old dog new tricks."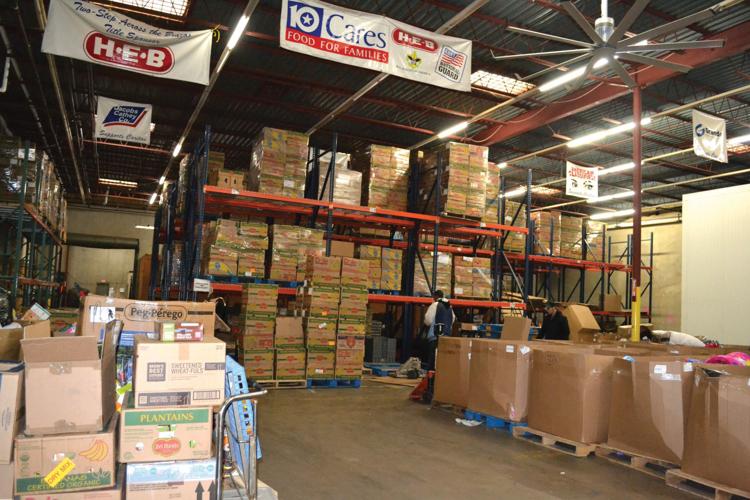 The empowerment group is another part of Caritas' efforts to help people become self-sufficient, Davis said.
"It's important to change their thinking to achieve goals to break through the cycle of poverty," she said/
Vorndran said she "lives a lot by faith," and Caritas is giving her that faith to persevere through clothing allowances and gas vouchers in the meantime, but ultimately in making her more self-sufficient.
"If it wasn't for Caritas helping me, I don't know how I'd make it through," Vorndran said. "Now, I can provide for the children, not just be there for them. When they ask, 'Mom, can I get these pants?' I can tell them, 'Yes, you can get those pants.'"
She's looking to the future, having recently gotten getting her nurse's license renewed and seeking a return to work, possibly at the Veteran Affairs Hospital where she had worked previously.
"I thank God for LaTasha and this program," Vorndran said.
---
For more about Caritas, go to caritas-waco.org, or call 753-4593. It also has a Facebook page.
For more about Meals on Wheels Waco, go to mowwaco.org, or call 752-0316. It also has a Facebook page.