While country music headliner Rodney Atkins sings about getting "caught up in the country," this year's Westfest-goers can get caught up in the good old days.
Organizers for the 43rd annual Labor Day weekend event said this year's theme, "The Good Ol' Days," will celebrate the area's Czech heritage and draw attention to its original purpose: using proceeds to benefit community groups.
"Everyone talks about the good old days," said Jessica Kapavik, director of marketing and promotions. "It's about nostalgia and anything vintage and thinking back to the Westfest that was."
Westfest began in 1976. Last year the event surpassed $1 million in total giving to the West community.
"Now that we made one million dollars, there is a lot of focus around reminding people why Wesftest started," Kapavik said. "Back in the good old days, business owners got around a table and made this idea of Westfest to celebrate our heritage and bring people together as a community, but one of the main drivers was to fund raise for local organizations and community programs. We've evolved and become this fest of 20,000 people, but we want to bring them back and remind them that it is a benefit for our community."
Community groups apply for funds after the event. Past recipients include West-area Girls Scouts and Boys Scouts, Little League, senior programs, Kiwanis Club, ambulance association, volunteer fire department, library, museum and others.
"The people in West benefit from our work in so many ways," board member Aimee Shelton said. "We are so excited to be serve these groups so they can continue to serve."
"Applications are due in the fall after each Westfest," Kapavik said. "Each group submits reasons for wanting funds. The board looks at the success of Westfest and, after everything has been paid, awards money after our November meeting."
Main Attractions
To help bring in funds, the directors and hundreds of volunteers work for months to find talent and activities for attendees to enjoy. Atkins will make his only Texas stop at Westfest while on his "Caught Up in the Country" tour. Known for hits like "If You're Going Through Hell (Before the Devil Even Knows)," "Watching You," and "These are my People," Atkins will perform at the preview party 10 p.m. Friday in the East Pavilion. Other Friday entertainment includes food booths and the all-you-can-ride carnival ride armbands.
"It's an awesome night to bring the kids," Kapavik said. "It's a good evening to kick off the weekend."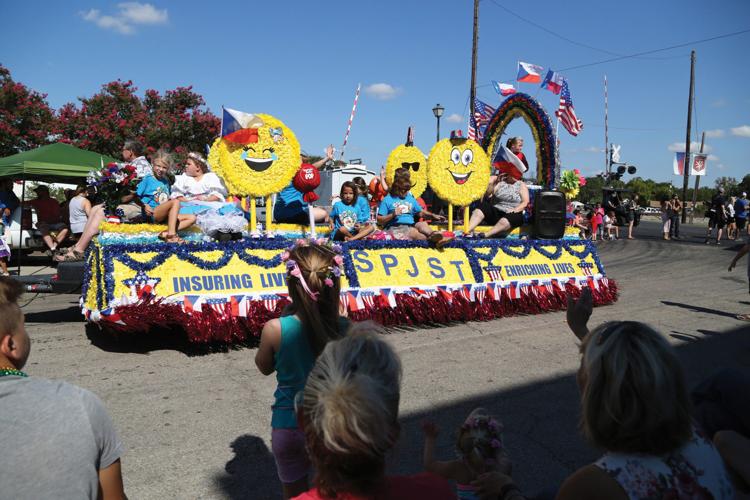 Westfest averages 18,000 to 20,000 visitors and organizers "hope to set a record number" thanks to Atkins' participation, Kapavik added.
Saturday activities begin with the crowning of Miss Westfest, followed by the free public parade at 10 a.m. downtown, and the beginning of nonstop contests, music and other activities.
Music 'All Day'
Musicians for Westfest reflect both old and new school sounds. Returning are favorites Brave Combo and Squeezebox featuring Molly B. and Ted Lange.
"We have some exciting artists who are new to the festival coming," Shelton said, "and can't wait to share with our visitors who are coming to not only listen but to dance."
The Bolzen Beer Band will make their Westfest debut Saturday and will bring their take on traditional German sound called punk polka.
"They are two guys out of Nebraska who have a really eclectic sound," Kapavik said. "They still preserve the heritage and culture of polka, but they do it with a young punk sound."
Kapavik also drew attention to the performance of a "Tejano sensation who will have a different spin on the accordion." Sunny Sauceda will make his fest debut Sunday. He is a three-time Grammy winner and recipient of 22 Tejano Music awards.
Closing the fest's sounds will be country music's Chris Knight, artist of "Oil Patch Town," "It Ain't Easy Being Me" and "Becky's Bible."
There will be no shortage of music during the two full days of the fest.
"In addition to all that we have eight more polka bands coming," Kapavik said, "so we've got polka music all day. That's the heart of the fest."
More than Music
While enjoying the sounds, fest-goers can also eat, shop, play and possibly win prizes in contests. Sunday begins with The Kolache 5K race and a free Polka Mass, and ends with another armband night for rides. Anyone feeling competitive can sign up for a kolache-eating contest, and tournaments for 42 dominoes, Taroky, horseshoes or washer throwing.
Attendees may also bump elbows with international delegates. Kapavik said. Westfest visitors "come from far and wide" including from West's sister city, Kunovice. Czech Republic delegates from there plan to attend the festival, she said. Also visible on the grounds will be Czech queens from events and festivals from all over the nation.
People can shop at more than 80 arts and crafts booths and in the air-conditioned "butik," located near the walk-in entrance close to the top pavilion.
"We doubled our merchandise this year," Kapavik said. "There is high demand in that space."
Merchandise there includes collectible mugs and T-shirts as well as an expanded youth and children selection, Kapavik added.
---
Westfest
When, where: Aug. 30-Sept. 1 at the West Fair and Rodeo grounds one mile south of downtown West on South Main Street.
Other: For more information on Westfest admission, info on the free parking shuttle from downtown, and an up-to-date schedule, visit westfest.com.