On a rainy December night in 2013, seven women met to form a new Lions Club in Central Texas. They shared ideas on ways to help others, elected officers, decided upon a name for the club, and the Waco Women's Lions Club (WWLC) was born.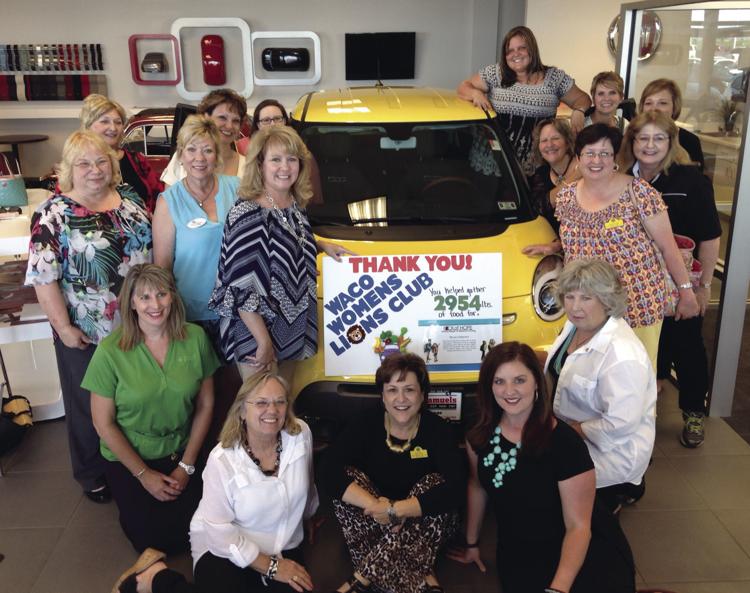 A group of 29 (including those unable to make the December meeting) celebrated the birth of the new club at its Charter Night reception on Jan. 25, 2014. The club recently celebrated its fifth anniversary of service, and looks forward to a bright future of continued service to those in need.
Lions Clubs began as the dream of Chicago businessman Melvin Jones. He was active in local business clubs, but wanted his peers to think beyond business to making their community better.
He and 11 others met in June 1917 and formed an organization they named "Association of Lions Clubs." Four short months later, the Lions' inaugural national convention was held in Dallas, with 22 clubs from nine states in attendance. Today, the International Association of Lions Clubs is represented in 200-plus countries by more than 1.4 million members, and is the largest nongovernmental organization associated with the United Nations.
Welcoming Women
In 1987, the International Association of Lions Clubs voted to accept women as members.
"The presence of women should add new life and vitality to Lions Club International," said then-Lions Club International President Brian Stevenson, "The problems of the world are too serious to limit their solution to only half of our population."
In June 2018, Lions' first female international president, Gudrun Bjort Yngvadottir was elected at the 101st international convention in Las Vegas.
Yngvadottir hails from Iceland and is a highly educated scientist. She joined a Lions Club in 1992.
"There were strong women in the club, all active in our community; professional women running businesses, or in politics. Their company and fellowship were meaningful to me," she said about her attraction to the group.
"The joys of serving as a volunteer comes from helping the world," she added. "You feel proud of yourself and your community. It's not always money that gives you satisfaction. It's seeing that you're making a difference in someone's life."
Local Involvement
Making a difference comes easy to the Waco Women's Lions Club. Members have proven to be a creative group with unique fundraising events like "Dinner in the Dark" — a dinner to provide guests with the eye-opening experience of being sight-impaired or blind.
To date, Dinner in the Dark has raised more than $31,000 to benefit Leader Dogs, an organization providing highly trained guide dogs at no charge to its clients (more information at leaderdog.org).
WWLC also created "Fill a Fiat" in 2014, with generous assistance from Allen Samuels Dodge Chrysler Jeep Ram Fiat, to park new Fiats around Central Texas to collect kid-friendly food items to benefit McLennan County Pack of Hope. Thus far, WWLC has collected 13,995 pounds of food and $13,508 for Pack of Hope's mission to help food-insecure students in 18 area school districts.
Traditional fundraising and Lions' service events have always been important to the club as well, including garage sales, serving meals to the homeless, working at Special Olympics events, collecting/mailing care packages to troops overseas, sponsoring Little League teams, working concessions at Baylor's McLane Stadium, hosting "Dine to Donate" drives at area restaurants, serving at H-E-B's annual Feast of Sharing, assisting with cleanup events on MLK Day and at Lions Park in Waco, collecting new toys for Fort Hood soldiers' children through their annual "Camo Santa" toy drive, hosting "Legacy Story" writing contests for seniors, and more.
Many Services
Funds garnered from club events allow WWLC to contribute to many Lions-sponsored service organizations, including the Lone Star Lions Eye Bank, diabetes awareness, childhood cancer, environmental concerns, hunger relief, vision preservation, eyeglass recycling, Texas Lions Camp in Kerrville, and many others.
WWLC has sponsored more than 30 children to attend a week at the camp, all at no charge to their families.
Many think of eyeglasses when they think of Lions in their familiar gold vests ... for good reason. In 1925, Helen Keller gave a powerful speech at the International Association of Lions Convention, challenging Lions in attendance to become "Knights of the Blind."
This mission continues today through the collection of used eyeglasses, providing vision screenings and eye exams, and creating new eyeglasses at the Texas Lions Eyeglass Recycling Center in Midland for those in need.
Lions also travel to third-world countries to assist with eye surgery camps for those with cataracts. Sharing the vision is more than just a motto for Lions around the world.
The Lions' motto is "We serve." Wherever there is a need, there is a Lion. In addition to WWLC, Waco is fortunate to have several Lions Clubs that have provided decades of service to our local communities, and it will continue.
---
Waco Women's Lions Club
Meetings: Noon luncheon the first Monday of the month.