Anyone strolling downtown during the day would have to be oblivious not to notice a Waco Tours van cruising down the streets of Waco.
Three years ago this month, Luke and Rachel Whyte and friend David Ridley took the guys' engaging personalities and Rachel's creative vision and with a single van began Waco Tours. Guests were treated to a 2½-hour trip through a portion of the city, while learning about Waco's history.
They took a leap of faith – as most entrepreneurs do – that they could tap into the growing interest people had with Waco, in large part from the appeal of "Fixer Upper" on HGTV, and showcase the city and its story.
While it has grown exponentially in a short time, Luke and David said they pumped the brakes a bit, waiting two years, for example, before adding the river cruise.
"We had a lot of different ideas for expansion," David said. "We talked about adding a zip line and fun stuff like that, but we knew we wanted to be on the water."
They are astounded with how the business has grown in that short time. That one van and three-person start has grown to a fleet of eight Mercedes sprinter vans, a river cruise, and 73 staff members.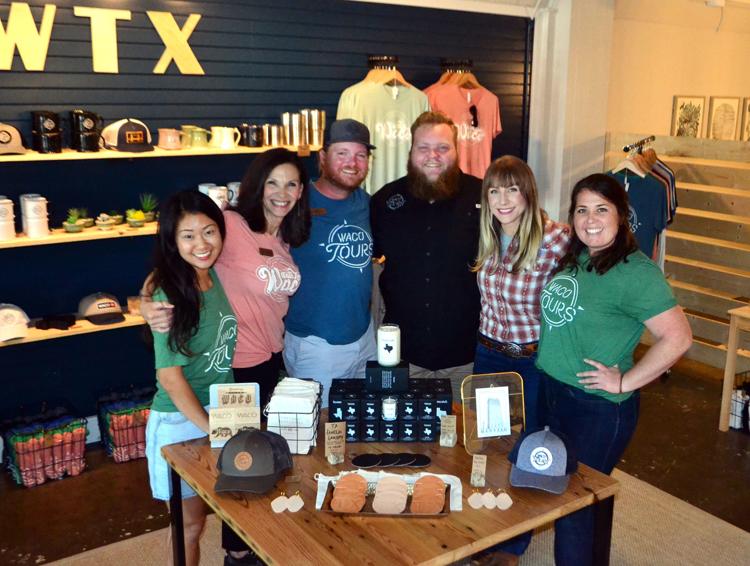 Waco Tours has hosted more than 48,000 guests. The tour numbers are astounding, too.
Luke said the first year they did 800 of the Classic Tours. Adding guides and vans, that jumped to 12,000 tours in 2017 and 24,000 in 2018, which includes the river cruise tour that began that fall.
New Additions
Recently added is the Texas Experience, which offers horseback riding on a 300-acre ranch and other "cowboy activities." On May 14 they opened Waco Tours Mercantile, 215 S. University Parks Drive, Suite 104, which serves as a central hub for the business and a place for guests to hang out before embarking on their tours.
The vans now depart for tours from that location at the corner of University Parks Drive and Franklin Avenue with the exception of Sunday afternoons, when the Mercantile is closed and vans leave from Hotel Indigo.
The Mercantile setting is open and homey. It has office staff and conference space.
"It was a pleasure to design the store with (store manager) Gracie Kim to create something that is peaceful and authentic, spacious and inviting," Rachel Whyte said. An 8-by-11-foot "With Love, Waco" mural by local graphic designer Jessica Hannan is a popular photo backdrop. Wood furnishings inside were created by Clint Harp of Harp Design Co. and a one-of-a-kind Jimmy Don metal sign hangs near the front door. Locally created items are sold inside.
Melinda Seibert, vice president of development for Waco Tours, said the growth in the business has been incredible. TripAdvisor reviews have been glowing, she said.
"We love being ambassadors for Waco," she said. "Our staff loves our guests and do excellent work with a servant's heart. We love growing it with people gifted in different areas."
The 2½-hour trip on the Brazos River is one of the top choices in an online USA Today contest for Best Boat Tour. Final results will be unveiled at noon May 31.
"We've been looking at ways to enhance people's experience of Waco," said Luke, who came to Baylor from Colorado and is the only non-Texas native of the owners. "We'd been thinking about every little detail. On the water it just feels so peaceful. Everyone who takes the river cruise says they feel fully refreshed. Some enjoy it for a date night.
"With the Texas Experience you get to ride through these beautiful bluffs that make you feel like you're hours from the city, but you're just 15 minutes from downtown. It takes people to what it was like in the 1800s. Have them envision the cattle drive of the Chisholm Trail, or how the settlers came upon the native Americans that were here."
David added that for those who don't want to ride a horse, Waco Tours has a UTV (utility terrain vehicle) to explore the trails.
He said they feel good about the experiences offered.
"Five percent of our guests come back to do the same tour," David said. "We've had people do all three tours. We had one couple from Australia making their first trip to the U.S. and they stayed three days in Waco because they said they found so much to do here."
"The Classic Tour is 10 times better than when David and I led the tour," Luke added. "Our guides have more of the facts and the story of restoration of Waco."
David and Luke are quick to point out that while most of Waco Tours' business is out-of-towners, local residents who take the tours tell them they learned things about Waco they hadn't known before. Waco Tours offers a discount for local residents; just ask about it.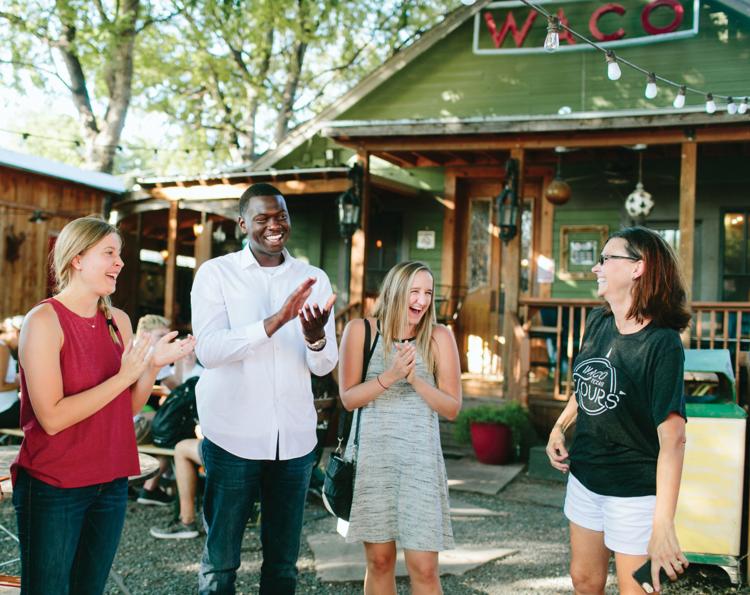 Changes
In the three years since Waco Tours began, the lives of the owners have changed, too. Luke Whyte is still the college pastor at Antioch Community Church, but their family has expanded from two kids (Haven, 4½, and James, 3) to three (Jacob, 1) with a fourth on the way.
Rachel's experience as a wedding photographer led them to branching out with friends to run the Old Bethany Wedding and Events venue at a large barn in Bruceville.
David, meanwhile, shed his "Fixer Upper" title as Waco's most-eligible bachelor when he married Rachel Rich on July 1, 2017, in Birmingham, Alabama. He now runs Waco Tours full time.
Although she wasn't part of Waco Tours at the beginning, marrying David brought the Texas City-born Rachel into the ownership mix. She has the title of communications specialist with the business, but jokes that it mostly means she responds to emails. Rachel also teaches adult education classes at McLennan Community College.
"I learned that there is a lot more about Waco Tours than the tours," she said. "It is about showing people the city, but it's more about our guides and drivers connecting with people. Because our guides care, they respond to people in a great way."
---
Waco Tours
Mercantile at 215 S. University Parks Drive, Suite 104