Perhaps it's impolite to ask a woman her age, but the ladies of the Waco Alumnae Chapter of Delta Sigma Theta Inc., an international African-American service sorority, are proud to say they're 75 years young — not necessarily as individuals but as an organization.
Sorority sisters as well as members of the public will celebrate the 75th anniversary with a luncheon on Saturday, Dec. 15, at the Bellmead Civic Center. Cerise Franklin, president of the local chapter and an educator, said that Cynthia Marie McIntyre, the 24th past national president of Delta Sigma Theta and a dynamic speaker, will deliver the keynote address.
The group will honor three individuals and two organizations for their service to the local community and for their advancement of the five-point thrusts, or goals, of Delta Sigma Theta.
Receiving awards will be retiring County Commissioner Lester Gibson, for political awareness and involvement; Rod George of the H-E-B grocery chain, for economic development; Holly Tate of Baylor University, for international awareness and involvement; the National Sorority of Phi Delta Kappa, Gamma Upsilon Chapter, for educational development; and a nursing sorority, Chi Eta Phi, Sigma Phi Chapter, for physical and mental health.
Also recognized will be women from the Waco, Marlin, Killeen and Temple chapters who have been members of the organization for 50-plus years.
Delta Sigma Theta is an organization of college-educated women, which was founded at Howard University in 1913. It is the largest African-American sorority in the nation with more than 1,000 chapters. The first project of Howard's Alpha chapter was to march in the Women's Suffrage Parade of 1913, an event that helped advance women's right to vote.
Waco Alumnae Chapter was originally chartered as Beta Rho Sigma before the national organization decided to name its alumnae chapters after the cities where they're located. Collegiate chapters still retain their Greek names.
Five-Point Thrust

The five-point thrust structure of the organization drives the local chapter's yearly program of social and civic involvement.
"We try to do something from each thrust every year," Franklin said.
For instance, under educational development, the group donates uniforms as well as books to the South Waco Elementary School's preschool program for children with disabilities and to the kindergarten classes.
Immediate past President Veta Reed, who retired from Waco ISD as a speech therapist, said the donated books are especially important to help the children "build their own home libraries."
Several members of the Waco chapter work in the education field or have retired from it, so it's only natural that they would remember not only the pupils but the teachers at South Wao Elementary, especially during high-stress times like testing.
"We give care packages — survival kits — for the teachers about twice a year," Franklin said. The packets contain crackers, candy and gum among other items. "It's just something to lift their spirits."
Another project that has proved highly popular is the healthy soul food demonstration, which the Waco Alumnae Chapter sponsors each April in partnership with H-E-B and other organizations.
"H-E-B sends a chef who gives us a demonstration of taking a recipe and substituting healthier cooking choices," Franklin said. "It's always great, and the community turns out. We do this project in partnership with the city of Waco, Baylor University Office of Community Engagement, McLennan County Health District as well as H-E-B. It is helpful to the community and especially those residents in the 76704 ZIP code area whom we try to target."
Additionally, nurses offer blood pressure and blood sugar screenings to those attending the event.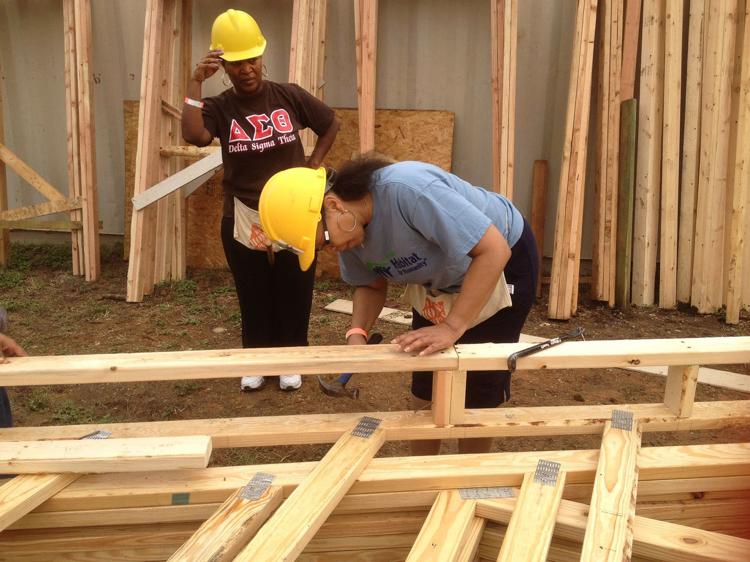 The busy women of the 61-member chapter have worked with Habitat for Humanity, both in helping build houses and organizing materials at Habitat's ReStore. They provide college scholarships each year for deserving students, have helped build clean water systems in Africa and recently walked as a team in the Susan G. Komen Race for the Cure.
"We have several members who are cancer survivors, and we walk for them," Franklin said.
Many of the women also volunteer with Hidden Figures, a Waco school district STEM program to help girls advance in science, technology, engineering and mathematics. And their newest project is to work with The Cove, a Waco facility that provides resources to youth experiencing homelessness.
Involvement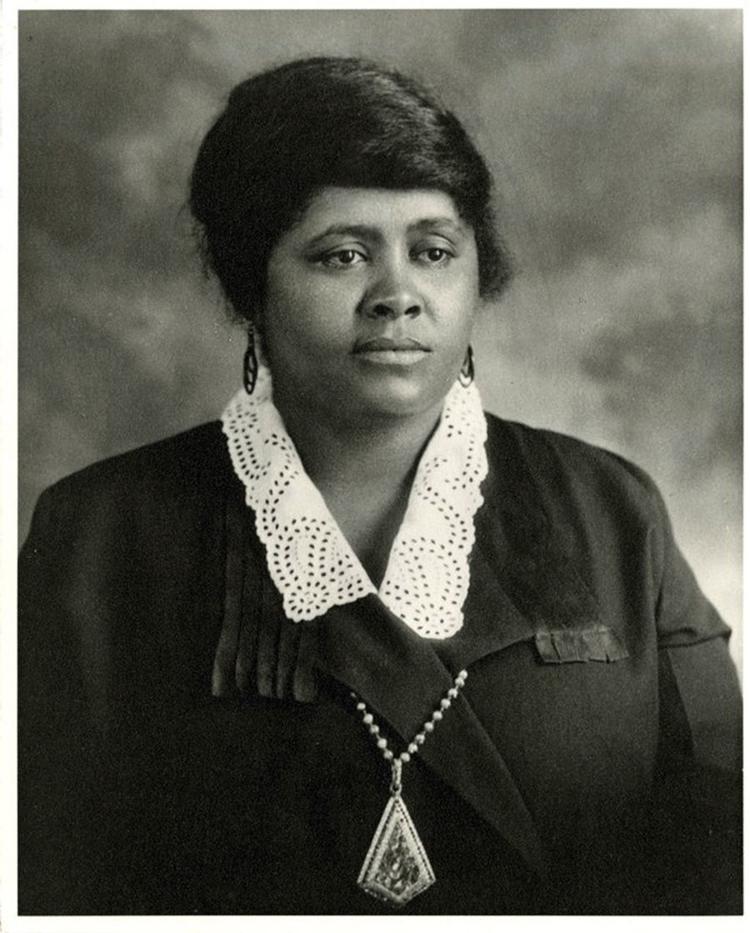 The Waco Alumnae Chapter has a proud history of leadership and social and civic involvement that continues today. Franklin said that in 1943 the young women who chartered the chapter "were the movers and shakers of the community. The people who have followed them have continued to be those people who 'move' the city, as far as the African-American community is concerned."
Dr. Vivienne Malone-Mayes, the fifth African-American to gain a Ph.D. in mathematics in the United States and the first black faculty member at Baylor University, was president when Franklin joined in 1994. Mayes' mother, Vera Malone, and aunt, Dr. Jeffie O.A. Conner, were charter members.
Dr. Mae Jackson, the first elected African-American mayor of Waco, belonged to the chapter and was a life member. Current city council member Andrea Barefield is the daughter of Jackson and a member of Waco Alumnae, as is Dr. Peaches Henry, McLennan Community College professor and president of the Waco chapter of the NAACP.
Waco Assistant City Manager Deidre Emerson, president of the Waco Chapter of The Links Inc.; Demetria Kennedy, president of the Waco chapter of Jack and Jill of America Inc.; Baylor professor Dr. Mia Moody-Ramirez; and Jocelyn G. Pierce, president of the National Sorority of Phi Delta Kappa Inc., are also all members.
Longtime sorority sister Dr. Hazel Rowe pledged Delta Sigma Theta in 1961 while a college student at Texas Southern University in Houston and then joined the Waco Alumnae Chapter in 1978 following her husband's military career.
Education is close to her heart. Rowe retired from Education Service Center Region 12 and especially likes the chapter's work with local schools. However, she also enjoys how the group keeps the older members involved.
"They stay in communication with us and provide activities for us," she said. "They keep us integrated in their activities and make sure we stay aware."
Camaraderie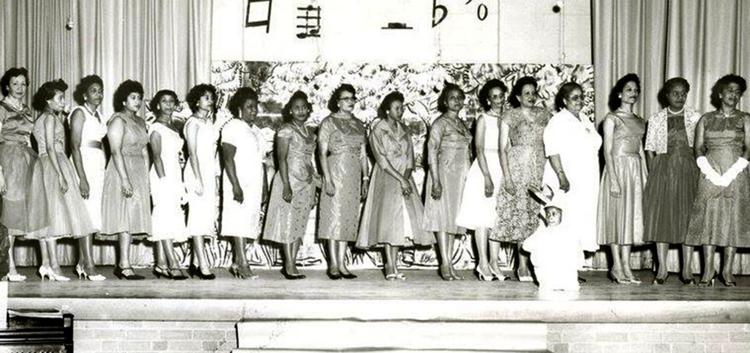 Reed has been a member since 1976 and served two terms as president. She enjoys the diversity as well as the camaraderie of the organization.
"I like the sisterhood," she said. "We're all from different walks of life and professions, a lot of people I otherwise wouldn't have crossed paths with. We have a great group of ladies… (willing) to serve our community when and where needed."
Franklin, the current president, grew up with Delta members in her church family, and she admired them. She has lived in Waco all her life and has been a member of the Waco chapter for 25 years. Throughout that time, she's been the treasurer, financial secretary and first vice president.
"Now I'm serving as president, and it's an honor," she said.
As to the chapter's success in remaining vibrant throughout 75 years, Rowe said, "A good part of it is the organizers of our chapter and the focus they had at the time. They inspired us to the whole idea of giving back, that link of not only your family but your community and the greater community beyond our shores."
---
Waco Alumnae Chapter of Delta Sigma Theta Inc.
For tickets to the chapter's 75th anniversary celebration on Dec. 15, go to the organization's Facebook page.