What do astronauts Eileen Collins and Fred Haise have in common with Congressman Bill Flores and state Rep. Charles "Doc" Anderson? Among thousands of others, all have enjoyed the fine cuisine at Texas State Technical College's Star of Texas dining room under department lead Len Pawelek.
The former offensive lineman at Baylor University admittedly "didn't think about cooking in college" in the 1990s but is now one of fewer than 100 certified executive chefs in the state.
A second-team All-State offensive lineman at Temple High, Adrian "Len" Pawelek Jr. was a scholarship player for Baylor who played in the 1991 Copper Bowl against Indiana. In 1993 he transferred to the University of North Texas in Denton.
While in Denton, Pawelek started cooking at Metzler's Restaurant because he needed a job, but soon found out he was pretty good at it.
"Until I met Chef Harry Mueller at the Inn at Scott & White, I was a cook, but he helped me become a chef, too," Pawelek said. "The main difference is that a cook knows how to do things, but a chef knows why we do things."
Mueller saw his apprentice cook's potential and took a special interest in teaching him how to cook as well as make ice sculptures and decorate the meals, all relatively new in the Temple area.
"At the beginning of our two years together, he was a nice, quiet guy and a good student, very easy to teach. He accepted everything I did," Mueller recalled. "At the time, I only had Len and one other cook I thought were truly interested in the profession, were quick to learn and prepared food the way I wanted it prepared, including continental and American cuisine, pastries and desserts."
Still not ready to finish his schooling, Pawelek worked a few more restaurant jobs while traveling around Texas and Florida through 2002, the year he earned an associate's degree in culinary management from Central Texas College. He added a bachelor's degree from Tarleton State-Central Texas in business administration in '04.
"I did some master's level work with Texas Tech and then went to work as a culinary arts instructor at CTC for two years," Pawelek said. "My dad worked at Piccadilly Cafeteria over 40 years, 25 as general manager, mostly in Temple, so I'm following his footsteps and go to him frequently for advice because he's seen it all."
He obviously put the two mentors' advice to good use, first teaching culinary arts at Texas State Technical College from 2004 to 2006 and then operating the Green Room Grille in downtown Waco nearly three years before serving as food service manager at TSTC's Tornado Alley Café in 2010 and resuming teaching there through 2014.
Back in Kitchen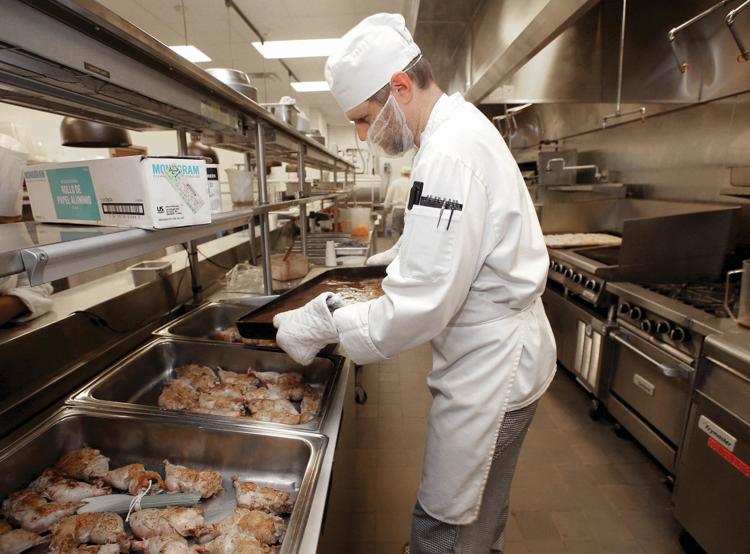 In September 2014, Pawelek earned a Series Seven license in financial advising and worked a year at McLean Group in Arlington before returning to his former TSTC instruction job and being promoted to department chair in the fall of 2016.
"After 10 years of working in the industry, I was inspired to become a certified chef," he said. "For six months, I studied 10 or more cooking textbooks to take a comprehensive written exam and also practiced twice a week to take a challenging practical cooking test to become a certified executive chef. People don't realize how much time, education and dedication go into refining culinary skills."
Four other faculty members, two lab assistants and one staff member work alongside Pawelek to train up to 125 undergrads in 16 culinary courses and regular academic ones as they work toward an associate's degree.
"We actively recruit from ProStart and SkillsUSA culinary high school programs with about half of our enrollment as career-change students mostly in their late 20s, but we've had them from (age) 18 to 80," Pawelek said. "The capstone course, RSTO 2505, is a senior-level class where they operate in the Star of Texas dining room, open on campus Wednesday and Friday from 11 a.m. to 12:30 p.m. for lunch.
"We put out amazing food at a great price for our students to practice their craft for the chancellor's office and other TSTC staff, but it's open to the public as well with room for 80 diners."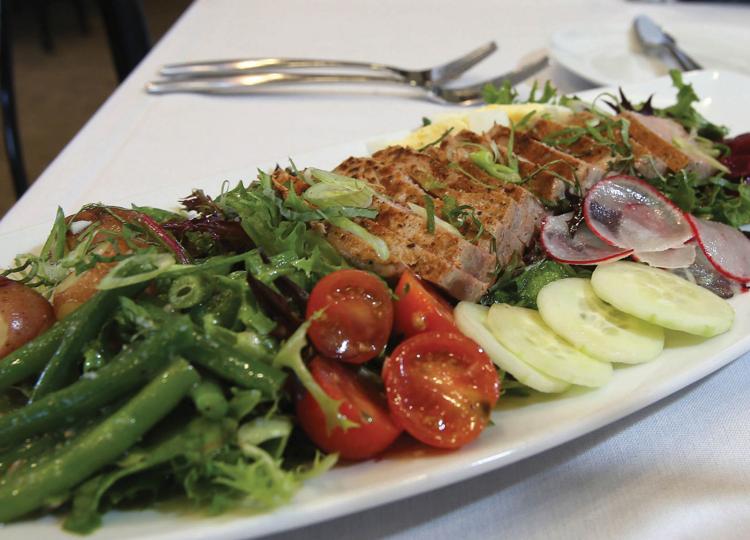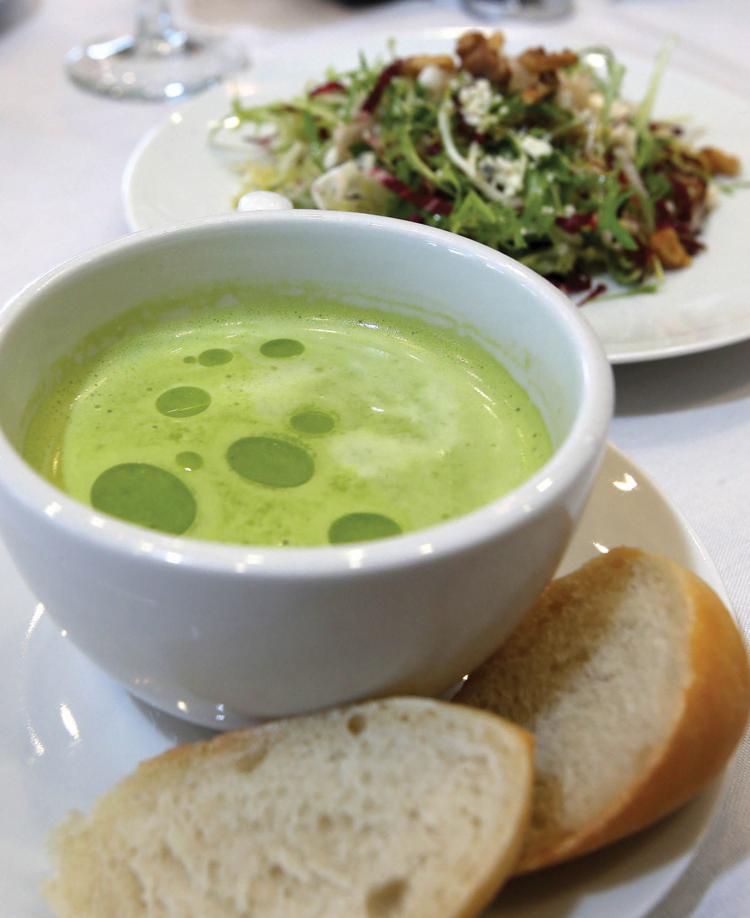 Making Plans
At the start of the semester, students have three weeks of intense planning running a restaurant with a notebook portfolio that they can take to a future employer showing how they can write menus, schedule the labor, and tend to all the other details of running an independent eatery.
"The instructor assigns the week to them and grades them on how well they do it," Pawelek said. "They have to look sharp, and we've had an overwhelming response. With an average age of 50 and older, these customers are our biggest fans, and we'll put up our food against anybody.
"No other restaurant does what we do. We have a menu that changes every week, with rotating kitchen station assignments, run by students. Every week we start all over again with new menus and new students, so overall, it's darn impressive."
Despite his enthusiasm for his chosen path, Pawelek also serves up a generous helping of realism along the way.
"We're honest about the culinary industry, telling students there are no million-dollar contracts, TV shows or book deals," he said, referencing the slew of reality TV cooking shows. "We tell them they'll be line cooks for a while, but that the money will come and that it's most important for them to love what they do."
At their first post-graduate jobs, students can expect to earn $8 to $14 an hour before possibly moving up to sous chef at $25,000-35,000 in a couple of years, then maybe executive chef or kitchen manager in the $35,000 to $60,000 range.
"If you want to be rich, it's the wrong career," the chef said. "I do this because I love to create food and see people happy with it, from decadent cakes and barbecue to slow food like braises, stews and grilling. You name it, I've cooked it: fancy dishes like goose liver (foie gras), Venison terrine (like pate) and Moroccan entrees to good ol' apple pie."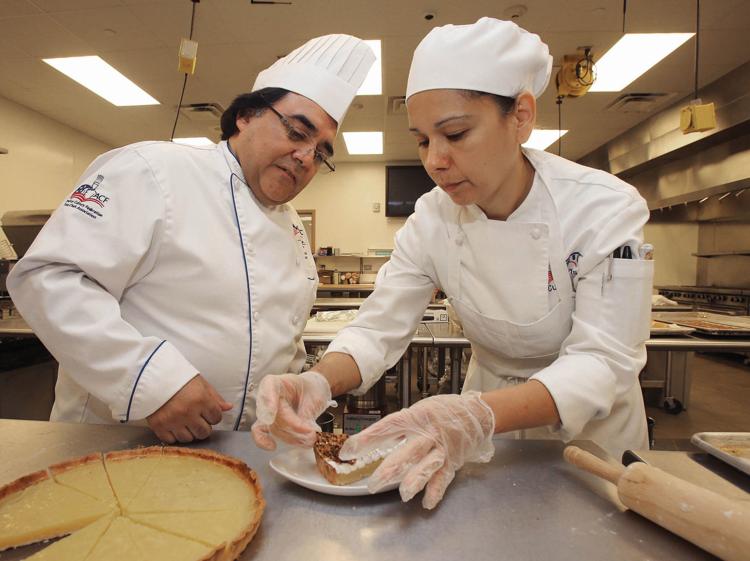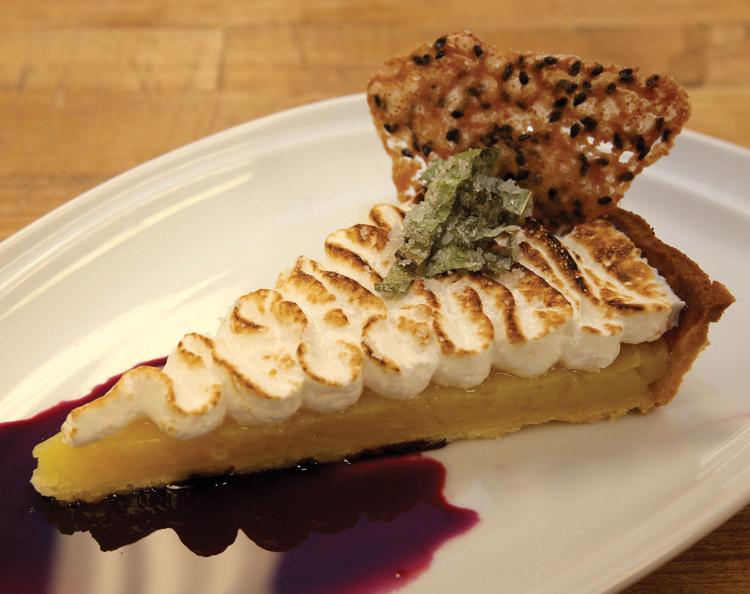 Away from Work
Pawelek's home meals don't quite match the fancy dishes at work. He's not home much and prefers simple and quick foods like cereal or a peanut butter sandwich because the cleanup isn't so bad, he said with a chuckle.
He'd much rather spend his time cooking meals for his church, Greater Waco Baptist, like for its Fourth of July pie contest and New Year's Eve chili contests, various missionary conferences, or the usual potlucks, men's breakfasts and father/daughter banquets.
The executive chef isn't above pulling pranks with new students eager to impress their staff, occasionally having them look for equipment that doesn't exist such as a parsley curler or bacon stretcher.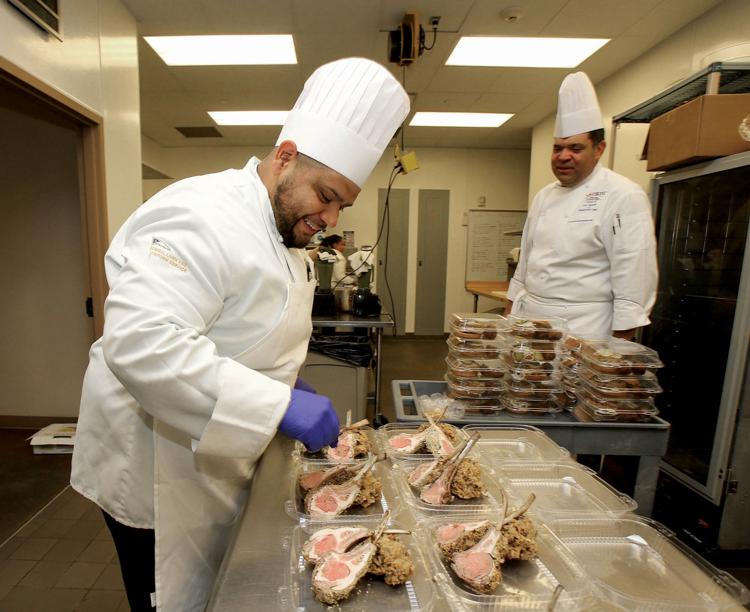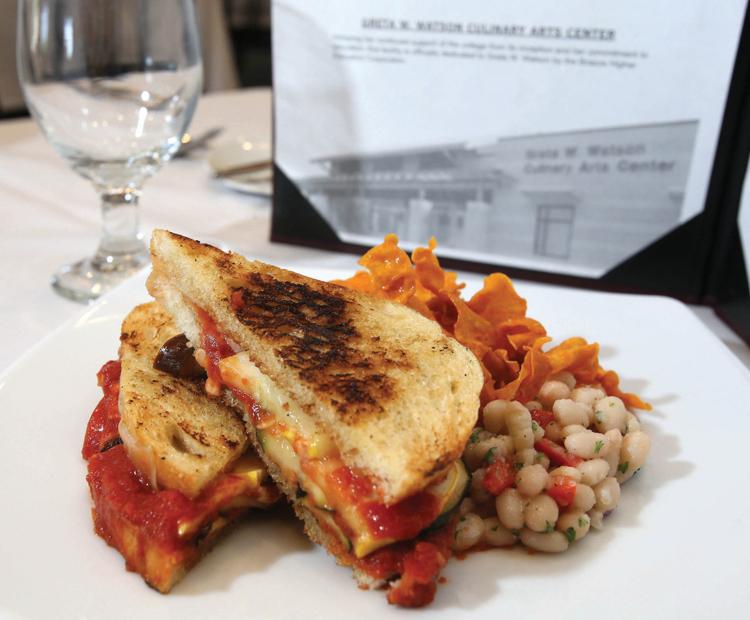 Other humor comes from the students themselves. A couple of years ago a student in a baking class was told to mix his batter by hand. He literally started stirring with his hands, no spatula, Pawelek said.
"It was all I could do to keep a straight face as I told him to get cleaned up, throw it away and start over," he laughed.
Pawelek knows plenty about culinary organizations as a longtime member of the American Culinary Federation and its sub chapter, the Texas Chefs Association.
For now, he likes education instead of starting his own restaurant because he believes Waco is saturated. If he did, it would be whatever the market wants — he thinks Waco needs more fine dining establishments with chef-created menus.
"In the end, I believe it's not just about what you did in this life, but whose lives you touched," he said. "As a chef, we touch lives every day in an intimate and meaningful way through our gracious service to one another and the food we lovingly craft.
"Chefs are servants at heart. It's what we do. I just want to be a good and faithful servant of my Savior Jesus and use the talents He's given me. I'm grateful the Lord is using me in some small way for His purpose."
---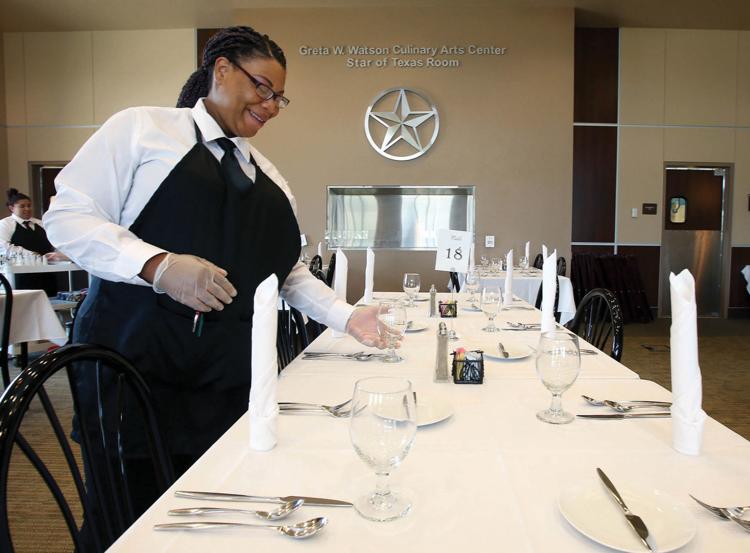 Star of Texas Dining Room
in the Greta W. Watson Culinary Arts Center
Eighth Street and Campus Drive at TSTC
Meals served 11 a.m. to 12:30 p.m. most Wednesdays and Fridays.