Amidst the often-crowded streets of downtown Waco, across from the Veterans Affairs Regional Office and just a few blocks from the Magnolia Silos, sits a not-so-little place called The Backyard just waiting to welcome you with a drink and a smile.
The name "The Backyard" evokes feelings of friends and family, barbecue and beer, and an outdoor game of washers under a shade tree — and this 14,000-square-foot venue delivers on all counts.
Owners Chris Cox, Brian Brown, Russell Clay and Chris Braziel are not new to the Waco scene. The foursome formerly owned the Waco nightclub Cinema and have been friends for years.
"I actually met Russell about 28 years ago when my car caught on fire," Cox said. "He gave me a ride home and we've been friends ever since — true story. We met Brian through the Sloppy Joe Band, and Chris Braziel was introduced through a mutual friend when we opened Cinema. That's how the Four Horsemen came to be!"
The friends had been talking about finding a larger venue to accommodate bigger bands when they were approached about buying the property on Eighth Street. Within a month the ball was rolling, and The Backyard opened in September 2015 — just one month before the grand opening of Magnolia Silos.
"We had no idea the downtown scene was going to be this big," Cox said. "I don't even think Magnolia knew. We just knew this was a great location and we were excited to be right in the heart of Waco."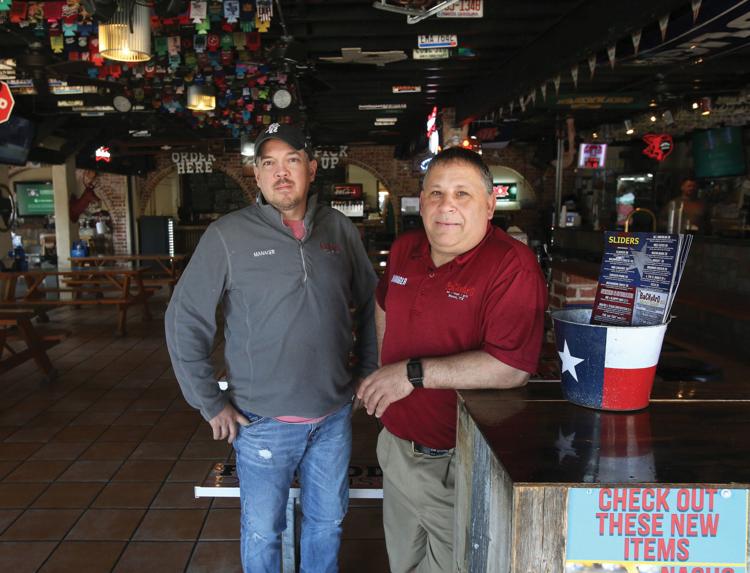 The Look
The inside is the epitome of a hometown bar. An eclectic mix of tourists with brown paper shopping bags wait in line alongside locals sporting Baylor ballcaps, and regulars can be found nursing a beer at the bar and shooting the breeze with Gary the bartender. George Strait croons overhead, and vintage metal signs adorn the walls.
You can often find kitchen manager Barry Muschaweck greeting customers at the door or making the rounds, answering questions about the collection of koozies hanging from the rafters or the various license plates scattered throughout the room.
"We're trying to collect one license plate from each state," Muschaweck said. "We're about halfway there now, and we get more each week mailed to us by people who visited here. Hawaii was actually our first plate — the couple took it off their motor home parked out front, signed it, and gave it to us right then and there!"
Muschaweck, a former manager with Aramark, does everything from buying supplies to creating new menu items. In fact, he played a major role in the recent menu overhaul. Cox was watching an episode of his favorite Food Network show — "Diners, Drive-Ins and Dives" — when he saw a restaurant that specialized in sliders and wanted to add them to the menu.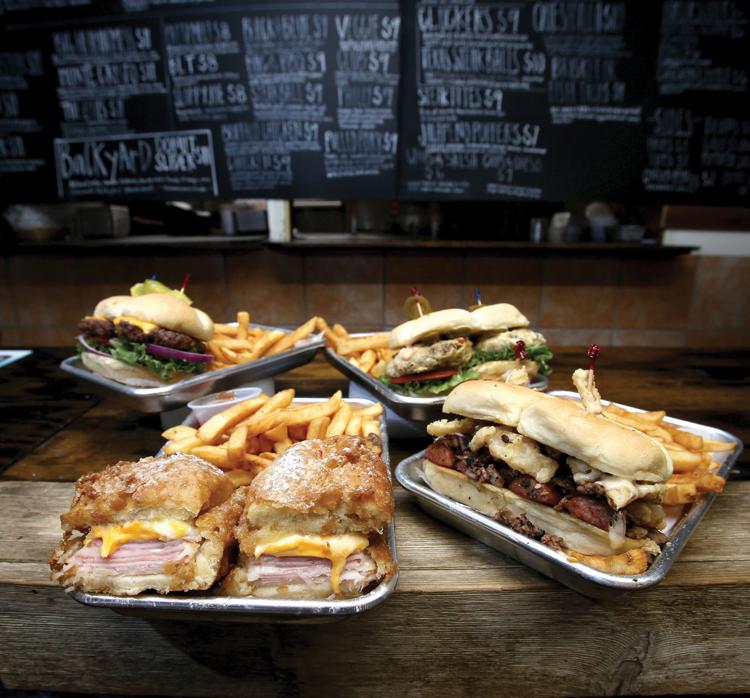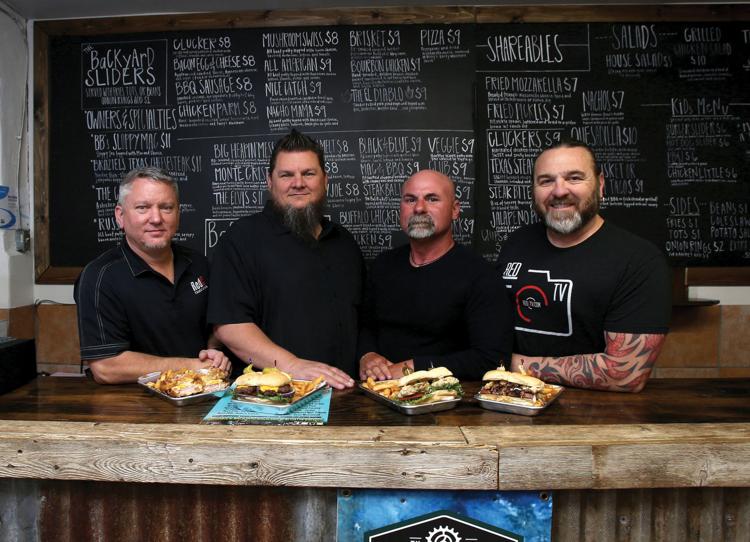 Sliders Everywhere
"We'd been thinking about expanding the menu anyway," Muschaweck said," but the more I thought about it that night, the more I liked the idea of going all the way with it. We'd been wanting to find something that was 'ours,' and I felt like this could be it."
After a lot of recipe testing and tweaking, The Backyard unveiled its new menu last month to include 35 different sliders.
"We only actually removed four menu items," Cox said. "Everything else has been recreated into a slider, so all the favorites are still there, just in a different form."
The sliders come two to an order, along with your choice of fries, tater tots or beans, for between $8 and $9. Onion rings can be substituted as a side for an extra dollar. Big sellers include the All American — an all-beef patty topped with American cheese, lettuce, tomato, pickle and onions; the Chicken Parm — a hand-breaded chicken breast topped with fried mozzarella cheese and Barry's original-recipe marinara sauce; and the Bourbon Chicken — a hand-breaded chicken breast smothered in tangy bourbon sauce and topped with mozzarella cheese and lettuce.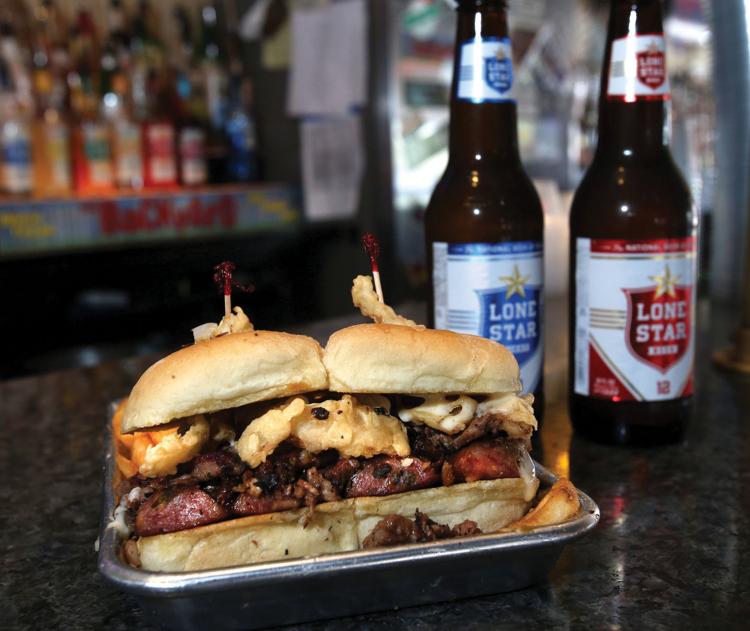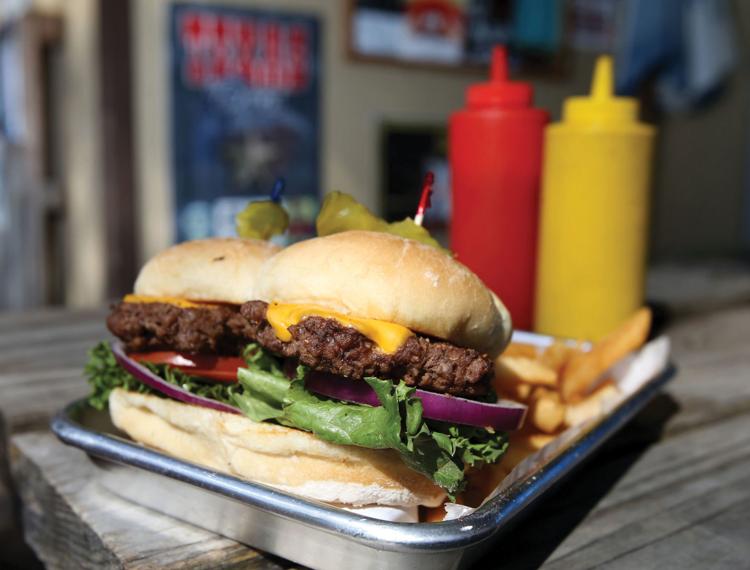 Regulars will be happy to know that their favorite appetizers, including fried pickle spears and jalapeno poppers, are still on the menu, and they're half-price during Happy Hour from 4 to 7 p.m.
Another signature dish is the BBQ Split for $12. This monster dish was also inspired by an episode of "Triple D" and is made to look like an ice cream sundae with a split sausage as the "banana" and scoops of potato salad and beans to represent the ice cream — all topped with a barbecue sauce drizzle.
"Owner Specials" are named after Brown, Cox, Clay and Braziel. BB's Sloppy Mac is a tribute to Brown's Sloppy Joe Band. There's also Braziel's Texas Cheesesteak and The Con"Cox"Tion, while Russ' Hangover is a beef patty "with everything on it and a fried egg on top — because Russell likes everything," Cox said.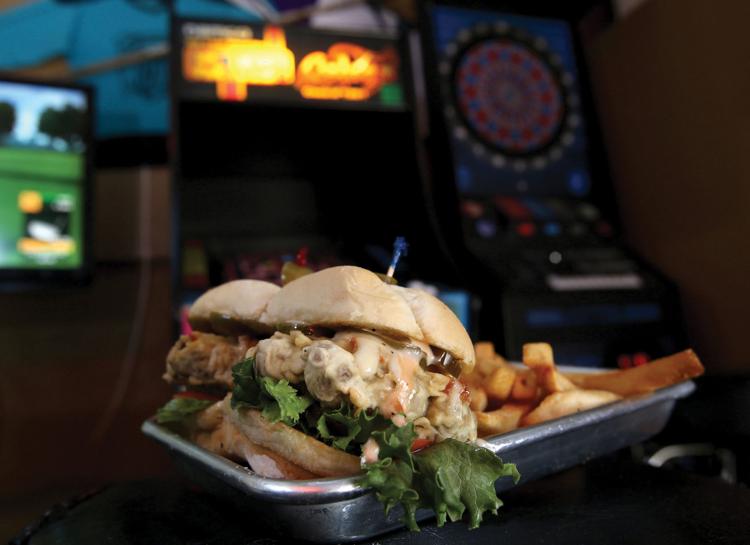 Staying Busy
Everything is made to order with fresh ingredients, which does lengthen the wait time a bit during peak hours.
"When the Silos are booming, we're booming," Cox said, "which can make it hard for the locals who need to park, eat and get back to work."
Muschaweck is looking for ways to accommodate more downtown workers, including the VA crowd across the street. The Backyard uses a texting system to let customers know when their order is ready, so they encourage those employees to call their order in and walk over when they receive their text to save time.
The restaurant is only half of the experience at The Backyard. Directly outside lies a massive courtyard area with umbrella-shaded picnic tables, a grassy lawn, and several outdoor games including cornhole, washers and outdoor billiards. The outdoor space has really become a family-friendly gathering place, and leashed dogs are welcome during daytime hours.
Sporting events are projected onto a 40-foot whitewashed wall throughout the year, and a large outdoor stage holds live music acts every Thursday, Friday and Saturday night. Roughly 85 percent of the acts are Texas country such as Pat Green and the Josh Abbott Band, but other recent concerts have included popular 2000s rock band Smash Mouth and a Selena tribute band. Concert tickets can be purchased online or at the door.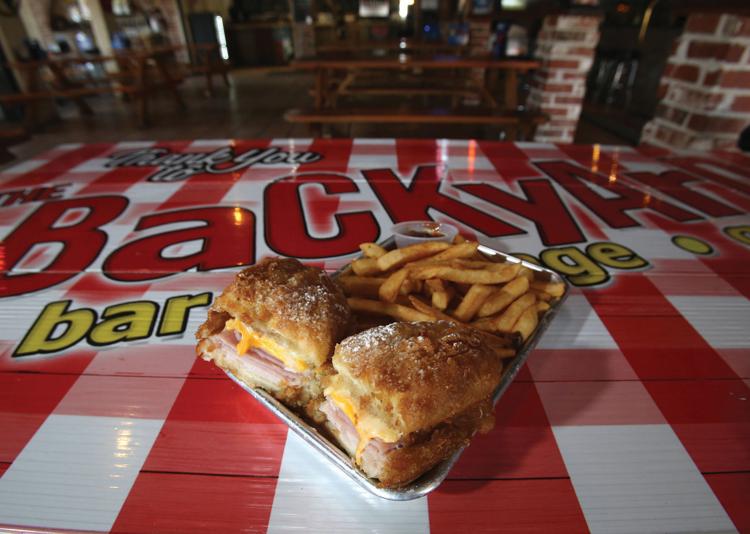 Other Ideas
As successful as The Backyard has been, Muschaweck and Cox both acknowledge there is always room to dream bigger. They are renovating the old Ice House on Fifth Street to create the Backyard Saloon — a low-key space for city workers to grab a drink after work and locals to meet up with their friends.
"I see it as an old West saloon meets a beer joint," Cox said. "There won't be any live music, but we'll play old country overhead during the day. You won't ever hear 'The Wobble' or any cha-cha slide over there — we want to stay true to what it is."
Muschaweck's dreams include the idea of having a food truck for events like the Heart O' Texas Fair & Rodeo or to better serve Waco citizens during lunch. A food truck would have been logistically difficult with their previous extensive menu, but he sees it as doable with a smaller menu of seven to eight different sliders. Nothing is planned as of now, but Cox said it's a goal they would like to explore.
As a spot for a night out with friends, a place to have a family lunch, or some big-city entertainment in the comfort of your own town, The Backyard is the place to be.
"I think it's really been a group effort to revitalize downtown," Cox said, "and right now we're just loving being a part of that."
---
The Backyard