There's nothing like a brand-new stadium to crank up the game-day experience for its fans.
Baylor fans discovered that last year with the opening of McLane Stadium. Baylor's $266 million structure on the banks of the Brazos River has all the aesthetics one would want.
But even more than watching the Bears' high-powered offense pile up points, fans are able to make a full day of it before they even get inside the gates.
Whether it's tossing a football or biting down on some brisket in the tailgate area or floating in a boat on the water -- sailgating -- fans can be thoroughly entertained.
Baylor Director of Athletics Ian McCaw said he couldn't ask for more since moving the Bears' game from their longtime home at Floyd Casey Stadium.
"We felt like the first year of McLane Stadium was extremely successful," McCaw said. "This is one of the most dynamic stadiums in the country. It has the modern technology, the Wi-Fi throughout. There's also so much to do outside the stadium, whether it's at Touchdown Alley or visiting the tailgating area."
Even though the stadium seats a modest 45,000, McCaw said it feels much larger.
"It's remarkable how loud it is once you're inside," he said. "If you didn't know better you'd think there were 75,000 people in the stands."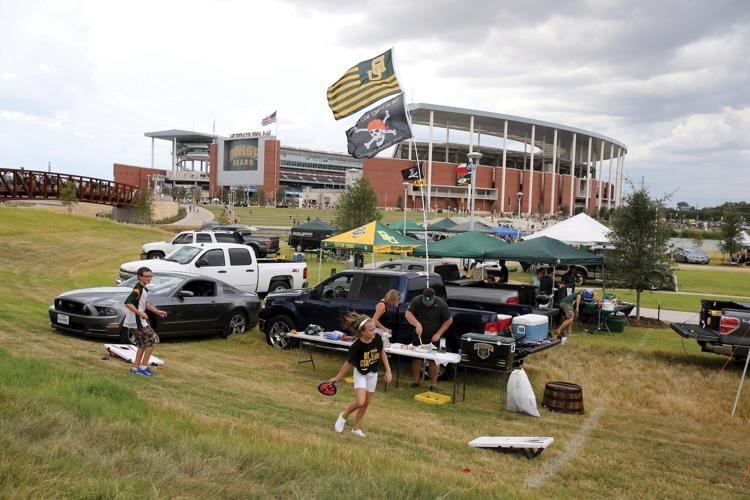 McCaw said he enjoys taking a stroll through the tailgating area and the Touchdown Alley before each game.
"I'm so impressed with how festive the atmosphere is," he said, adding that he's constantly invited to stop by a tailgate tent for something to eat.
"If I took everybody up on that, I'd be in trouble," he said with a laugh. He said additional tailgating areas will be available for the 2015 season.
The popularity of sailgating in the river caught him a bit off-guard, he admitted.
McCaw said he was amazed at the turnout of boats in the Brazos River alongside the stadium.
"There were more than 100 boats out there for a couple of games and people were swimming in the Brazos," he said. "It was really quite the scene and one that we weren't expecting (that much turnout)."
Jim Yowell, owner of Yowell's Boat Yard in Waco, said the sailgating near the stadium has really taken off.
In recent weeks, Yowell has been feeling the anticipation of football season amid the summer's heat as people continue to come to him looking to purchase watercraft.
"They can't wait to do it again," Yowell said. "There were even lots of boaters later in the season despite the cold."
He sold five pontoon boats last year to Baylor alumni wanting to get on the river, and the interest has continued this summer, he said, noting that he sold another pontoon boat the other day.
"Baylor has 18 slips out there and they're booked," Yowell said. "Those who didn't have slips would pull up along the bank."
Yowell would love to see Baylor add to the number of boat slips, which rented out at $3,000 apiece last year.
"Baylor could put in three or four times that many slips and they'd still fill it up," he said. "There's just a ton of potential down there. It's just another extension of the tailgate."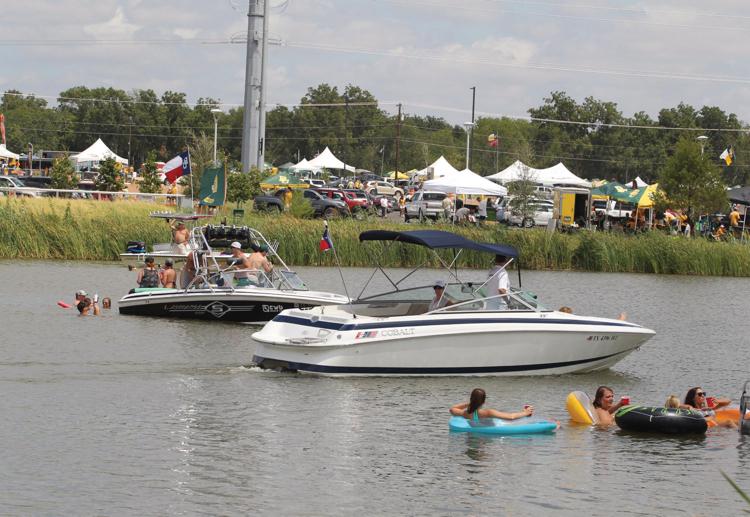 Yowell has seen the excitement first-hand, as he was on the water for each of the home games last year.
He was impressed by how polite the boaters were, especially at the loading ramp, which can sometimes get tempers raised with the numbers of people vying for that ramp.
"Everybody was pretty cordial," he recalled. "Everybody tried to help each other at the loading ramp. It was really something special."
One of the newest boat owners who will be cruising in the Brazos on game days is Allen Holt, a 1980 Baylor graduate.
He moved from Houston last year to Waco and purchased a home on the Brazos River, but wasn't able to buy a boat in time for football season.
However, he had friends with boats who had slips rented, so he was able to enjoy being on the water with them and going to the games.
His friends are fellow graduates from 1979 and 1980 who later all lived in Houston at around the same time. Baylor football games continue to bring them together.
Holt said it's only been the last few weeks he's been able to enjoy being on the Brazos River with his new boat. The heavy rains from the spring that caused flooding and churned up a lot of debris in the river kept him and other boaters off the water.
He's been trying to make up for lost time, he said, during the late summer.
And now he's ready to sail from his home down to the stadium for Baylor's first home game on Sept. 12.
"I'm definitely looking forward to it," he said.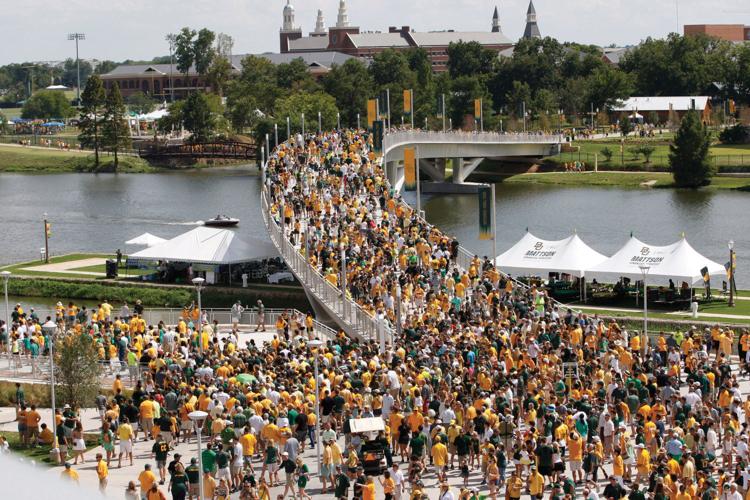 The move to McLane Stadium also has been good for Sammy Citrano, owner of George's.
Citrano did great business on game days with his George's Party Zone area when Baylor played at Floyd Casey Stadium.
That didn't appear to change with the relocation to the Brazos Parking section across Martin Luther King Jr. Boulevard from the stadium.
"I think it went fantastic, though the weather could have been better a couple of games," Citrano said.
George's Party Zone opens four hours before gametime with 14 TV screens tuned to games as well as live music and food and drinks to purchase. Citrano said he plans to make the stage for music a little a larger this season, but otherwise there's little to change.
Citrano said he's impressed with the tailgating scene outside McLane Stadium.
"People meet their friends, hang out, and go to other friends' tailgates and enjoy it," he said. "That's what it's all about."
Master tailgater Hobby Howell won't be changing his routine for the sailgating experience. Not when he's got people counting on him on cook up his savory ribs.
Although his walk into the stadium takes about 10 minutes when it used to be two from his tailgating spot outside Floyd Casey Stadium, that's about the only downside, he said, half-jokingly.
"It's much better (than the old setup), and I did not think that it could be," Howell said. "The experience for us is better."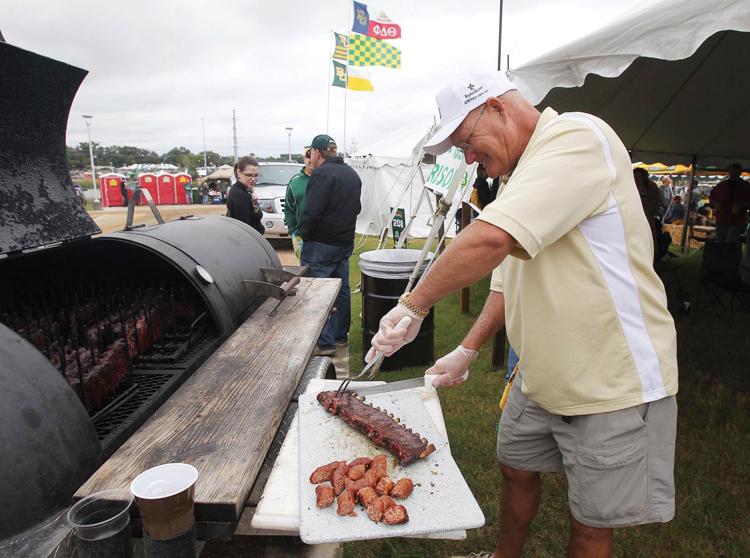 The 1986 Baylor graduate and Waco native has been tailgating since 1999 when he moved back to Waco from St. Louis in 1999.
He is part of a trio of tailgaters with Brett Beene and Jimmy Garrison. They were side-by-side when they tailgated their three spots at Floyd Casey Stadium. But with the move to McLane Stadium, they were able to get four spots, which backed up to each other so they were able to create a square with the four tailgating spots.
"At the old stadium we'd have these 10-by-10 tents, which meant you only had about four feet underneath to not get wet if it rained," he said. "Now we have a 30-by-30 tent set up for all of us to use. It really enhances the experience.
"There's a company that sets up the 30-foot tent and it stays there the entire season. We don't have to carry four, five, six of the (smaller) tents to the game like we used to."
Baylor also provides electrical outlets and cable cords that can be pulled to the tailgating spots, making it another thing he doesn't have to worry about for setting up his TV.
All that ease enables Howell to concentrate on smoking the 48 racks of ribs he brings to each game.
A policy change prohibits spectators from re-entering the stadium if they leave at halftime. A lot of Howell's friends used to take that time to chow down on his ribs. But now they can't return to the game.
"That has cut down on the halftime traffic," he said. "So I have to stage it differently. More are eating after the game."
All in all, Howell is thrilled to tailgate at McLane Stadium.
"I don't know if there's anywhere else in the country where you can have a nicer tailgating experience," Howell said. "Everything about it is first-class."