Holt Kelly may not quite consider himself a visionary, but he did have the foresight 20 years to expand his fireplace business to include installing solar energy systems.
Kelly, owner of Holtek Fireplace and Solar Products in Waco, shares on his website — www.holteksolar.com — the epiphany he had on a hot July day in 1999.
"I was sitting in my office realizing I would probably not have anyone want fireplaces or woodstoves 'til fall," he wrote. "The silence was only broken by the A/C cycling on and off."
He diversified the business with a solar energy component, which after its sluggish beginnings is becoming a viable option for more homeowners as well as a more climate-friendly one.
Kelly remembers the early days of solar installation when it was expensive and any return on that investment was a long time away. Not to mention the solar arrays mounted then were somewhat unattractive on homes.
Those negatives are falling to the wayside today, he said, as technological advancements have improved efficiency and more people want to make changes in their energy consumption.
"People are learning that 'Hey, it's OK if I put solar panels on the front of the house,' " he said. "It's not a ugly thing."
Kelly divides solar energy users into three categories: those who want to do solar because it's good for the environment; those who like the idea of solar and want to lower their energy bills; and those looking for a return on their investment.
Those in that last category are finding the technology has improved and continues to get better. Kelly said he doesn't make iron-clad guarantees because each home can be different, but some residents are recouping their installation expenditure for solar in as few as six to seven years.
Many Projects
He's installed more than 50 residential systems and estimates that about 90 percent of his business today is residential. He has done numerous commercial projects, including the Caritas building; Rapoport Academy, Live Oak Classical and Hallsburg school buildings; MCC (two projects; the 714 Lofts in downtown Waco and Mission Waco's Jubilee Market.
His website has links to real-time charts showing energy usage at some of those properties.
There also are incentives for going solar, like a 26% federal tax credit in 2020. But he also cautions that those tax credits are guaranteed year to year, so homeowners need to consider that.
He's loved watching the reactions of people when he's turned on their new solar energy system and they could see the electric meter start spinning backward (that is, when the meters still had those dials).
Questions
Kelly continues to field questions from homeowners on whether solar energy is right for them.
Cost is still a factor, but that continues to drop, he said. Even with cloudy skies, today's arrays can produce electricity for the home, Kelly said, but he has to examine the house and the sun exposure and landscape to determine the most effective place to put up the panels.
Another question he gets is whether hail can damage the solar panels.
"I have never replaced one," he said. "These things are tested to handle a 1-inch hailstone going at 63 miles per hour, perpendicular hit, and there's no damage. Now, if you get those big hailstones, that's going to do damage. But you'll also be replacing your roof. That's why you get insurance."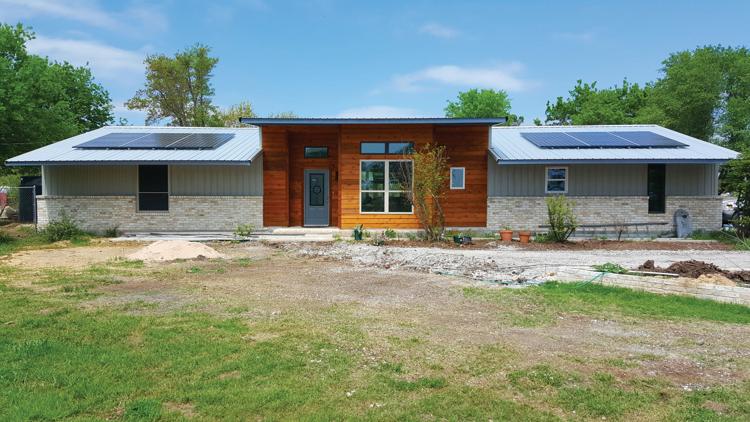 Anyone interested in the prospect of installing a solar array at their home has a prime opportunity on Oct. 5 when six Waco locations are part of the National Solar Tour.
The tour is sponsored by two nonprofit organizations that support the use of solar energy for homes.
"It's a great lineup," said Kelly of the sites involved. "For those who stop by my business (500 Jewell Drive in Waco), I can show them some real-world stuff."
Another improvement he's seen is the size of the unit used for converting the direct current of electricity collected by the panels into the alternating current used in the house. What was once an 80-pound piece of equipment is now a circuit board, he said.
The clear blue sky is the limit for the future of solar energy, he believes.
"The technological advancements in solar energy are amazing," he said. "In five to 10 years a lot of the systems will have batteries to use for backup power or self-consumption. That's coming."
---
Holtek
Solar Tour Waco
What: Six locations in the Waco area will have open houses on a tour that displays their rooftop solar arrays. Check website for locations.
When: 9 a.m. to 4 p.m. Oct. 5 (check the website for times; not all open houses are at the same times)
Cost: Free and open to the public.