Slow Rise Slice House may be an accurate name to describe the restaurant's pizza dough, but the establishment has quickly become a popular spot.
Just over a year ago, co-owners Jason and Shelley Brock and Brett Swartz, in partnership with Common Grounds owner Blake Batson unveiled their Woodway pizza house.
A building tucked off Highway 84, which previously housed Davis Coffee Company, hosts Common Grounds' second location, Native Sons Coffee Roaster, and Slow Rise Slice House.
Shelley Brock said the old building required a lot of work to renovate for their business. It took a year to gut the interior and transform the space into the airy, stylish spot it is today.
Slow Rise Slice House occupies the one side of the building opposite Common Grounds and Native Sons. Behind a long counter three steel ovens bake the pizzas. Dough sits on a shelf, rising.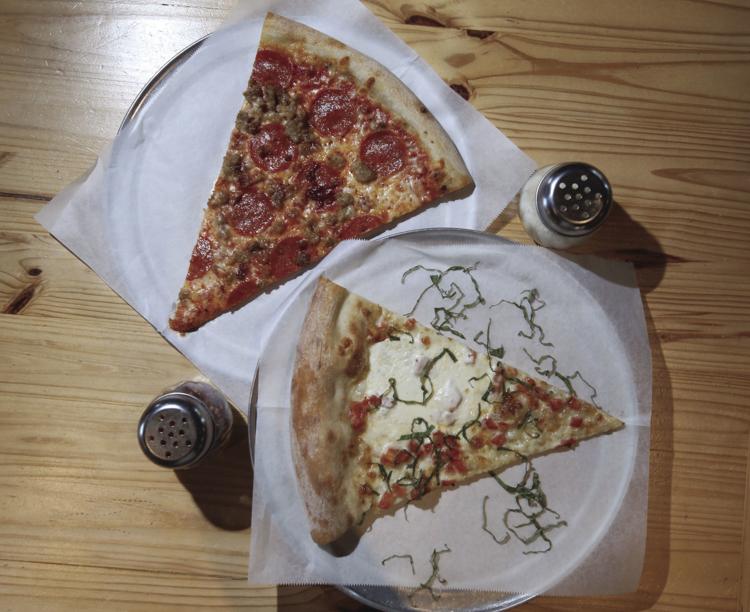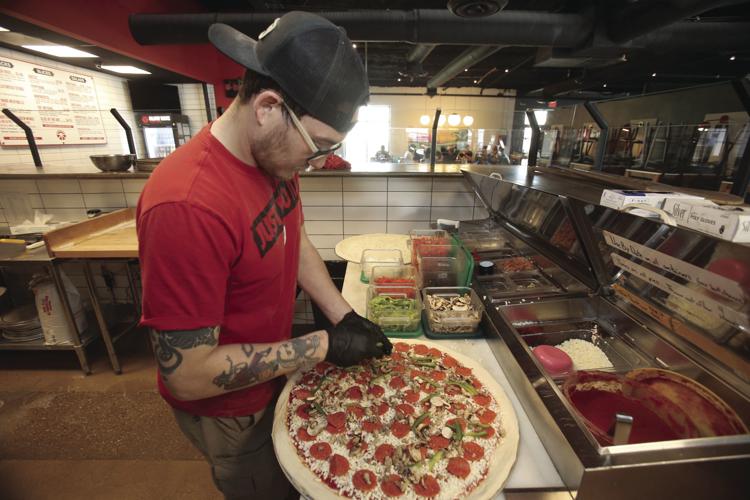 The coffee and pizza business relationship began when Jason Brock and Swartz first met. Shelley Brock said the two became fast friends — Swartz had experience running Shipley's Donuts franchises — and before she knew it, they hatched a plan for a pizza restaurant.
"Jason loves to cook, so he's always wanted to do something with that," she said.
Shelley Brock knew the business, having worked in restaurants during her college years. It was for that reason, she said, that she was reluctant to jump onboard.
"A friend came to me saying she'd seen plans for the restaurant," she said, stunned. "What plans?"
The plans were in motion. Recognizing that there were few places to get pizza by the slice in Waco, she warmed up to the idea.
Getting it Right
Jason Brock and Swartz spent months perfecting their dough recipe through trial and error.
After an early experimentation, Jason delivered pizzas to a friend's fantasy football league party. Looking back now, those early pizzas weren't that great, Shelley Brock said.
Slow Rise Slice House began in a food truck behind Common Grounds Waco under a different name.
"During that time we perfected the pizza and went through a name change," she said.
Pizza dough, Brock said, can be left to rise anywhere from a few hours to days. The name Slow Rise Slice House is appropriate since they give the dough 24 hours to rise.
"We found a niche for our dough," Brock said.
When it was time to expand the business, they looked for spaces specifically in Woodway.
"We love Woodway," Shelley Brock said. "The city was so influential to us — helping with everything from parking to police."
Swartz said the current parking lot size came at the suggestion of the city. He thought they wouldn't need that many spaces, but now he's glad the city insisted. And he appreciates that the neighboring businesses have been great about allowing overflow parking on their lots during the times when they are especially busy.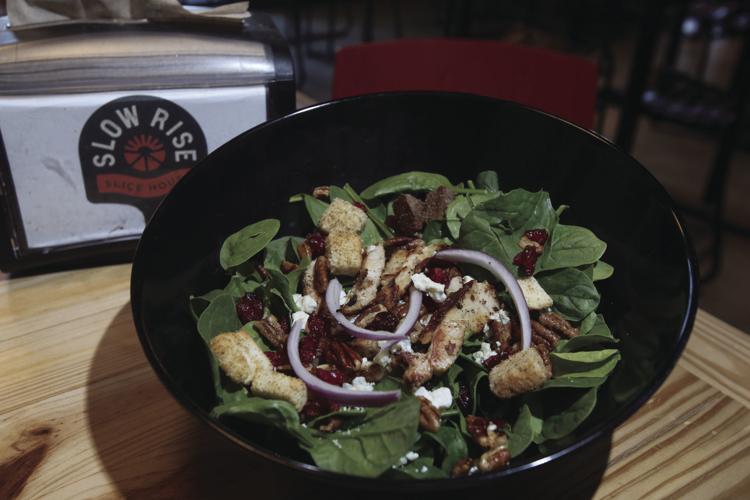 More than Pizza
Jason Brock continues to create an original experience for Wacoans by selecting unique menu items and drinks. He selected each of the 24 draft beers: local brews like Brotherwell Brewing, Bare Arms Brewing and a variety of IPAs.
Brock also credits the appetizers and salads to her husband. Like most everything on the menu, the house-made meatballs are rolled by hand in the Slow Rise Slice House kitchen.
"Our cheese sticks are made in-house," she said, adding that it took a little while to figure out the best process to make that work. "I don't know many places you can find that around here."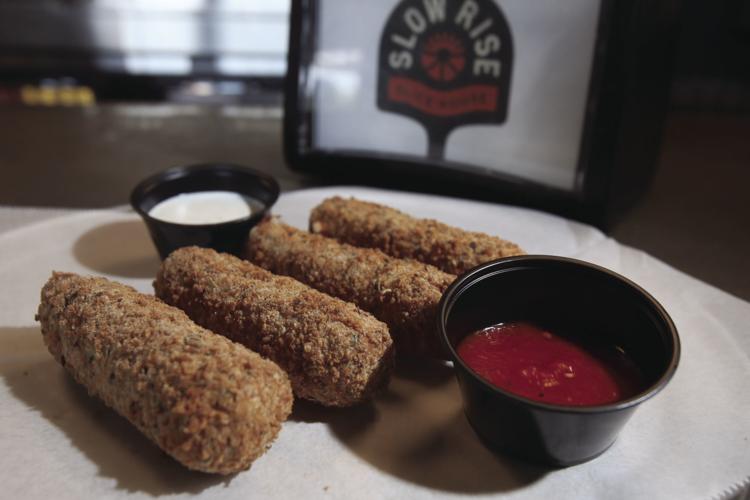 The mango habanero wings have been a popular item on the menu and they're half-price on Mondays.
The slice choices include four main flavors (like The Butcher, a combination of pepperoni, Italian sausage, hamburger and bacon) and one "Slice of the Day," which rotates throughout the week with anything from the Waco Works to Taco Pie, Texas Gold (honey mustard base with fried chicken), even a barbecue brisket option.
Any of those choices can be made on a smaller 14-inch pizza, Swartz said.
The daily lunch special is a slice of pizza with a small house or Caesar salad and a drink for $8.75.
The owners often experiment with different topping combinations for customers.
"We are always trying new things," she said.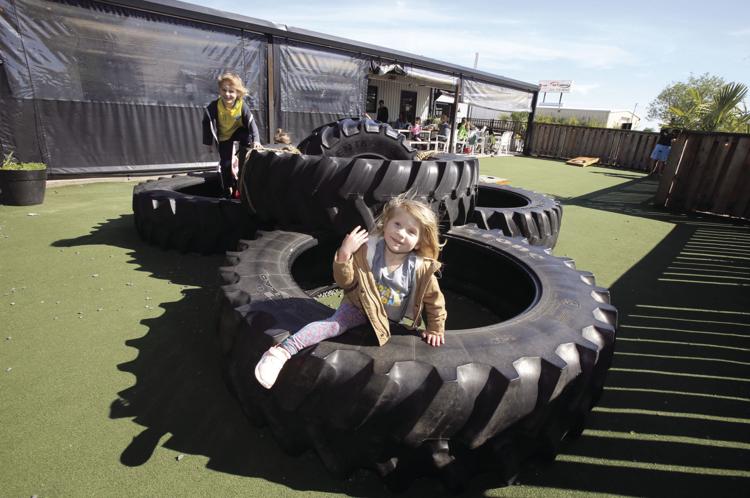 Slow Rise Slice House draws customers of all ages. Having been a full-time mom for 11 years, Shelley Brock knew adding a space for parents to bring their children would be an important feature.
"We just expanded our green space outside," she said. "That area is especially popular on weeknights."
Even her kids love to hang around the pizza-makers and do their homework at one of the tables.
"We want to be family-friendly," she said. "It's a hot spot for everyone and that's what we want it to be."
---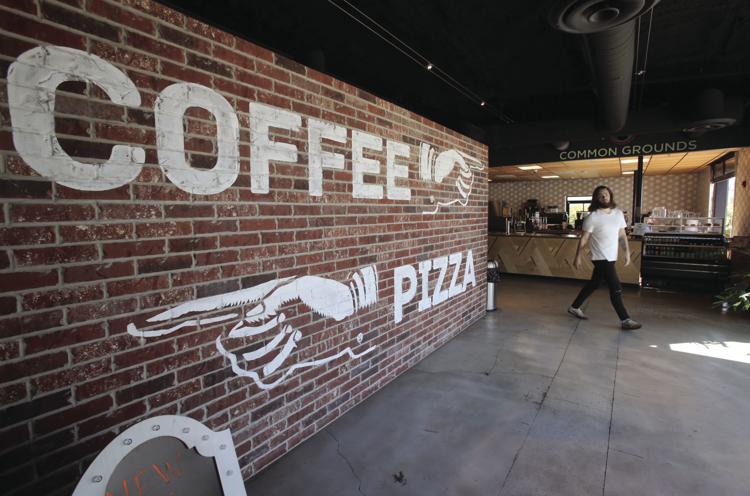 Slow Rise Slice House
Mon-Sun, 11 a.m. to 10 p.m.