Schmaltz's Sandwich Shoppe … for Waco residents the name conjures up a favorite dish, from the mouth-watering namesake sandwich to its Wisconsin cheddar cheese soup, salads and even jalapeno cheese bread, only offered a few times each year.
"I won't say we're the biggest seller in town, but according to local reader polls, we've been the most popular deli sandwich in town since around 2002," says longtime owner Nelson Rue. "A couple years ago, one statewide publication named the Schmaltz's the eighth-best sandwich in Texas, leading to many out-of-towners coming in off I-35 just to find us."
Indeed, the main menu item's reputation has been carried literally around the world with customers often inquiring how to take a few sandwiches on international trips or ship them overseas to friends and family. Because the condiments don't travel well, Rue once sent a customer on his way to Germany with the shop's special bread, a list of meats and condiments to pick up when he arrived, and instructions how to heat it all up. It worked out just fine, he said.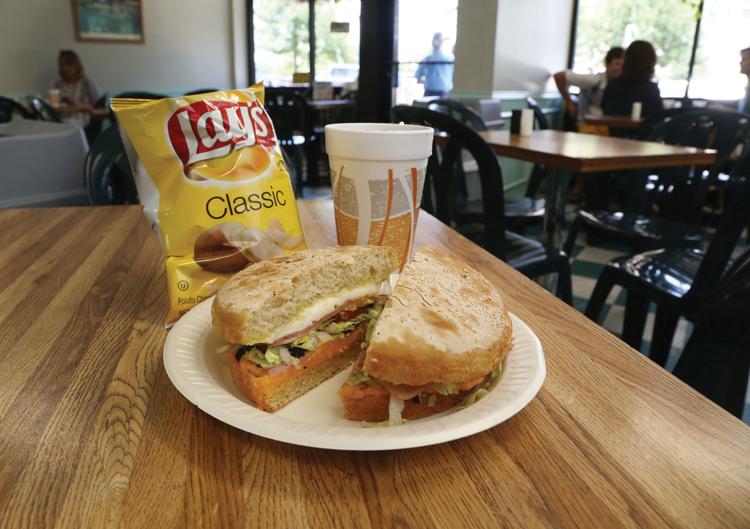 Another interesting story evolved around a woman whose parents divorced, with her dad remarrying and moving to Hawaii. The stepmother called her to ask what they could send him to lift his spirits. She said a Schmaltz's sandwich, so his ex-wife sent him one. He was completely overwhelmed, Rue said.
So what makes the artisan bread so tasty? Don't bother looking for the recipe online. It's not there. In fact, it's not written down anywhere.
"One of the original owners worked at an Austin Schlotzsky's, and that was the way they made their bread 40 years ago," the 63-year-old boss explained. "It's evolved over the years, but I've never seen a written recipe. I just learned how to make it and taught others over my 17 years as the only baker here."
Schmaltz's fans may know the story of the store's beginnings: Original owners Bob Rushing and George Geep opened the first shop in 1975 at Fifth and James (it closed in '82) and the present downtown location the next year, followed by a "shotgun" spot in 1977 three doors south of the present Townwest Shopping Center store. The Townwest store moved to its present location in 1990.
The newest one went through a $40,000 renovation in 2011 with new lighting, restroom fixtures and tile, a drink station, fresh paint and better seating. The Fifth Street shop has faithfully catered to the downtown lunch crowd despite a low profile.
"We're sort of the forgotten business downtown, even though we were here long before it was 'cool' again," the owner noted. "We've always had people downtown, but now we have them living here. I love the downtown revitalization, especially Magnolia bringing the development off Austin onto Webster and publicizing other nearby establishments, because I'm an inner-city type of guy."
Owner's Start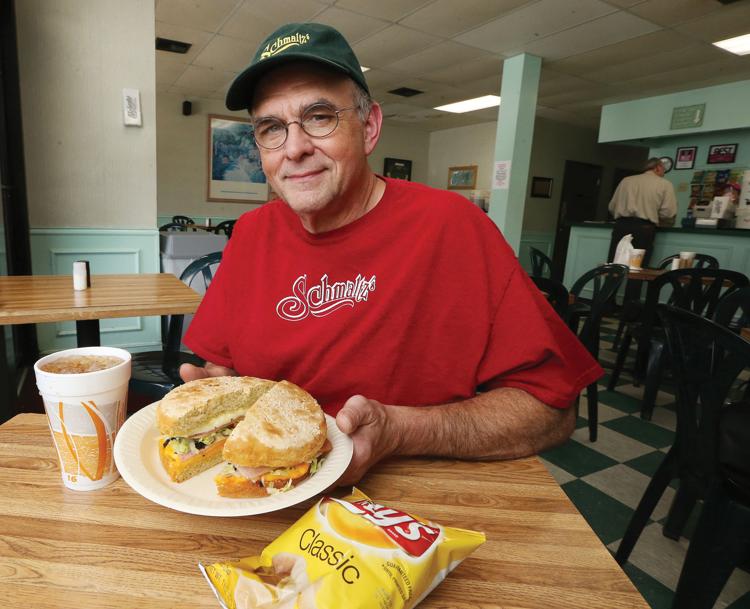 While attending Baylor for vocal music and having worked in restaurants, Rue applied for a manager's job at Schmaltz's and was a bit surprised to be offered the business. After working out the finances, he bought it from the owners in 1978.
Today, he typically spends up to 14 hours a day six days a week to keep on top of both shops. His day starts at 3:30 a.m. at the Townwest shop where he bakes the bread for both locations.
"Eighty hours a week is coasting to me," he laughs. "Originally, we had three people working, one taking orders, another working the oven, and the last preparing the sandwiches, but for a while, I did the 2 to 5 shift alone on all three jobs."
Don't think his life is all work and no play. His interests range from music to rugby (he played for years until an injury) and even running marathons later. Now, it's as many trips as possible to see his three children (Jennifer, Chris and David) and two granddaughters (Macy, 7, and Caroline, 4) with David and wife Hope's baby due in late July.
"If there are family events for kids or grandkids, he makes them, including college graduations in Lubbock and at A&M, even if it means driving half the night or going on four hours of sleep," wife Anne said. "Family and friends are everything. He's a people person, loving and thoughtful, who puts others before himself almost to a fault and even surprised me once at a birthday party singing 'You Are So Beautiful' in front of 100 people."
Locations
The Townwest store seats around 120 and has 12 staffers under manager Wanda Miles. Another five work downtown (seating is 54) under Heidi Hodge, a 22-year employee who usually works an additional three hours around the store's lunch opening from 10 a.m. to 3 p.m., and assistant manager Ronnie Torres.
The downtown site isn't open on weekends, except on Baylor home football Saturdays.
Both spots have had minor celebrities come through the doors.
Hodge recalls famed Waco photographer Jimmy Willis being a downtown regular and once bringing her a picture he had taken of Elvis Presley. Presley family friend Ed Fadal's daughter Janice still comes by frequently, especially when the jalapeno bread is available, Rue said.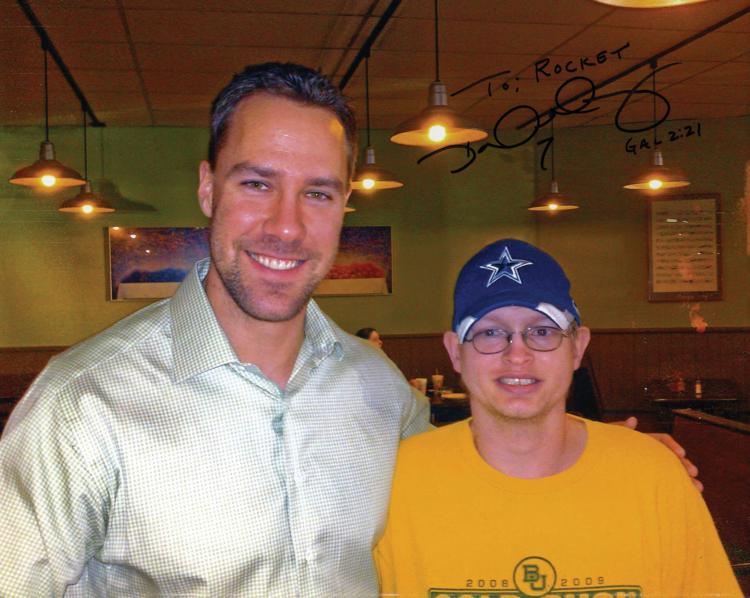 Former Texas Ranger and Baylor graduate David Murphy discovered the place while starring for the Bears' baseball team. His family often made sure to detour through Waco to Schmaltz's from their Houston home on their way to watch Murphy's games in Arlington. Years ago, the outfielder sent the crew 10 signed baseballs and autographed a photo of him with 2004 Robinson High grad Rubin "Rocket" Randolph, who handles a number of duties at the Townwest store.
"Back in 2004, Rubin was hired to wash dishes but became an important addition by doing all the little things around here like talking to customers, making sure they had everything, carrying boxes out, cleaning up and making sure everything is taken care of," Rue noted. We had another worker named Ruben at the time, so we asked if we could call him Rocket since he's a Robinson grad, and he loved it."
When he began the business, Rue had no formal mentor, learning by the "mistakes and oops" method, a slow but effective process that taught him how an owner is supposed to run everything.
"I knew percentages and the business side pretty well from being assistant manager at McDonald's and the Water Works, but with all the FICA deposits, paying sales tax and so on, you get behind and have to play catch up," he said. "One five-year loan became 20, and many would have said, 'I'm done,' but I thought, 'I owe some people money,' and decided to pay them back.
"I didn't make much early on, but everything is pretty stable now. A few years back, we even went two years with no turnover at either store."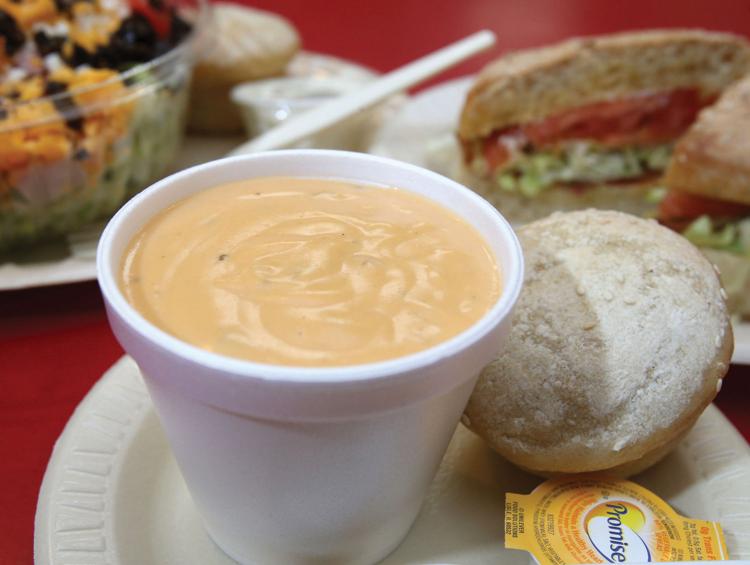 Rue's attention to detail led to a myriad of satisfied customers, such as Louis Muldrow, who has come in a few times a week for several years.
"One of my children was familiar with Schmaltz's and recommended it," he said. "Right away, I saw that the shop's service and sandwiches are superb, with cordial employees and prompt delivery. I order cheese soup three-fourths of the time or a small Schmaltz's Sandwich with extra mustard, and unsweetened tea. When I find something good, I stick with it."
Occasional Mess
Beyond the occasional mishaps of dropped food and spilled drinks, Rue recalls one particular messy incident.
"Once, I was starting to mix dry flour with water on the usual low-speed setting but didn't notice the mixer was turned to high," the owner remembered. "The mixture just exploded and was dripping from the ceiling and all over my body, too. It wasn't funny then, but was later on. I'm just glad no one took a picture of me because I never would have heard the end of it."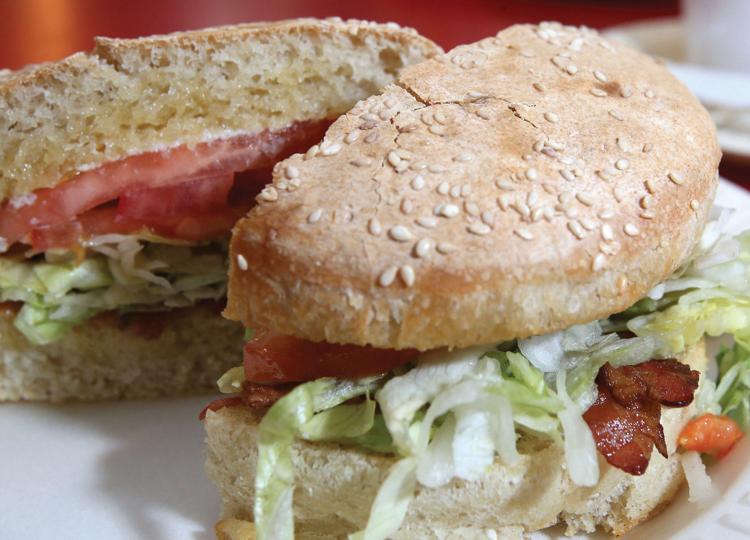 The Schmaltz's slogan, "Waco Born and Bread," was a spur-of-the-moment inspiration, the Amarillo graduate said.
"Around 2002, I rented my first billboard, and the lady asked me for a slogan," he said. "I was tired after a hard afternoon and just said, 'Waco born and bread.' She said, 'That's good. When did you come up with it?' I replied, 'Right now, it just came to me.' Mrs. Baird's bread ("Texas born. Texas bread.") came up with its similar slogan about a year later."
Schmaltz's is involved with the community, buying ads in many Central Texas high school yearbooks, giving free sandwich coupons to schools, churches and organizations for fundraisers, and sponsoring Waco-area youth sports teams. Photos of those teams are on the walls in the Townwest location.
So what exactly is in the signature Schmaltz's Sandwich? In case you want to make one yourself at home, the ingredients are mozzarella, cheddar, parmesan, ham, salami, lunch meat, lettuce, tomatoes, onions, black olives, mustard and garlic butter on freshly baked bread. But good luck reproducing the bread.
Rue said he's content with keeping the two locations and not expanding further. He plans to keep on doing what has worked for the past 40 years at least a few more and see what happens.
"All my kids have their degrees," he said, "so I doubt they'll take over, but as long as we put on a smile and put out a good product, we'll be fine."
---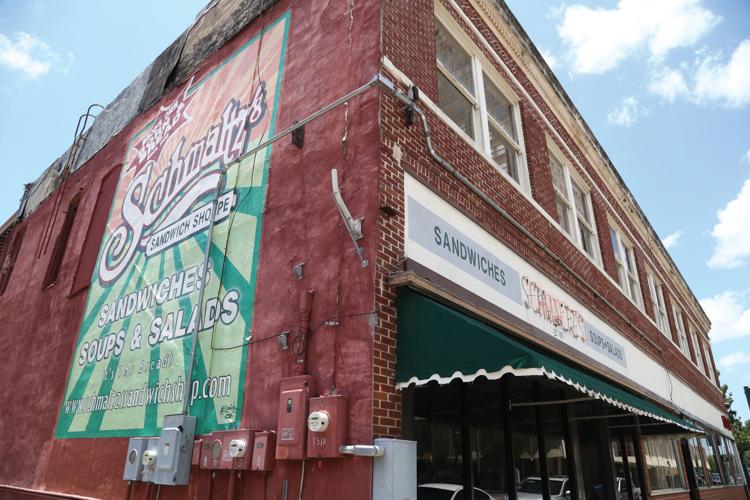 Schmaltz's Sandwich Shoppe
105 S. Fifth St. (downtown)
Mon-Fri, 10 a.m. to 3 p.m.
1412 N. Valley Mills Drive (Townwest Shopping Center)
Mon-Fri, 10 a.m. to 8 p.m.