Find Sally Brashier behind her food demonstration cart at the Woodway H-E-B Plus store and you've found a jewel of a partner (the term for an H-E-B employee), a newfound friend and a foodie.
Affectionately known as "Miss Sally" by many of her customers, she has an easy smile and an endearing personality that makes her a favorite among customers and partners, alike. It would be easy to think Sally has been in this role for many, many years, but that's not the case.
Brashier was busy finishing raising her children and participating in community and volunteer events when a change in life's circumstances forced her to find a full-time job outside the home, and find it fast.
A friend told Brashier about a job fair being held that day at the Woodway H-E-B Plus store, and at her friend's urging, she attended the job fair, was interviewed, and was hired on the spot to begin working in the bakery
More than Customers
After working two years in the bakery department, Brashier transferred to the deli where she eventually became known as a food sales specialist, though the more recognizable term might be the "food sample lady."
Love for her is apparent among her youngest customers, as evidenced by a young boy named Eli. He shops every week with his family, and weekly he'll speak to Brashier and tell her he loves her. At Christmas he brings her a small gift, and at Valentine's he presented a small box of candy.
Brashier remembers a customer who confided that she suffered from severe depression. She told her some days it was a chore to even get out of bed, but that she knew when she walked in the store and found Brashier at her food demo cart, she would make her feel so much better just by offering a warm smile and kind conversation.
Brashier recalls how that customer told her she really lifted her spirits on numerous occasions. Later, after learning the customer had passed away, her husband sought out Brashier at the store and told her what it meant to his wife to have Brashier as a friend during her battle with depression.
One customer even posted on the store's website that shopping when Brashier is off just isn't the same.
Brashier says customers inquire about her well-being after she's been off on extended vacation just to make sure all is OK. She keeps a pen and paper handy in her cart to jot down notes to help her remember the new faces she meets.
She smiles when she remembers Grace, a tween who reminds Brashier that gourmet cheese is her favorite and always asks if she might have a sample available.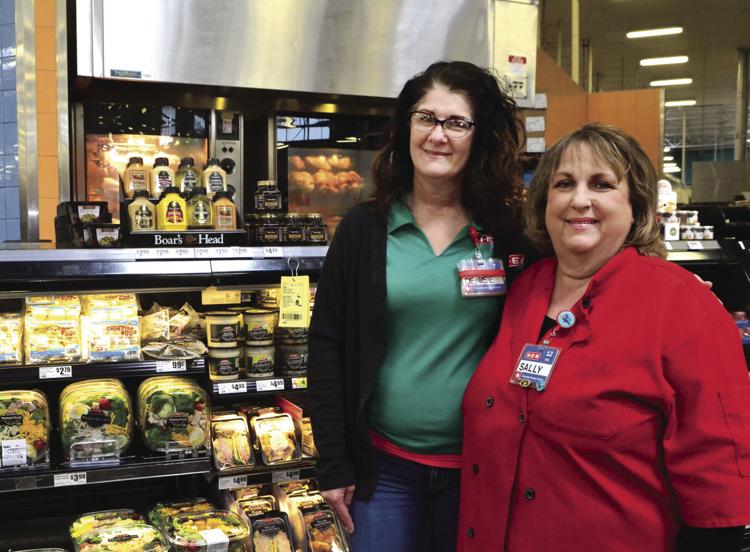 Recognition
Florence Butt opened the first H-E-B store in Kerrville in 1905, and providing excellent customer service was a key element in the growth of her grocery business.
It's this goal of excellent customer service that remains a bedrock for the company as H-E-B recognizes partners who exemplify noted customer service skills.
In 2000, H-E-B began its Women of Distinction Award. Brashier was a recipient from the Woodway store a few years ago. This award recognizes a female partner from each store across the state. The honorees are nominated by their peers and are recognized during a luncheon at Ridgewood Country Club. They are presented with a certificate and a diamond decorative pin to commemorate their achievement.
Last year Brashier was awarded the newly implemented Signature Partner award, which recognize partners who provide excellent customer service and have at least 10 years of service with H-E-B. She has worked at H-E-B for 12 years.
"They go the extra mile to serve our customers," Tamra K. Jones, public affairs manager for H-E-B in Central Texas, said of Signature Partners. "They help train other partners in hospitality, work processes, and inspire them to be the best they can be."
Friendliness and an outgoing personality are hallmark characteristics for this award. Brashier garnered another decorative pin to her employee badge that she wears with pride.
Amy Lanehart, general manager for two years at the store, marvels at how Brashier knows the names of so many of her deli customers.
She said Brashier always stands ready with a hug for partners and customers alike, and educates customers on new deli products.
Denise Wall-Babcock has been deli manager for four years.
"Sally is the face of genuine giving and she goes beyond the call of duty," she said, adding that Brashier is a model H-E-B partner and is "more than just awesome!"
Downtime from the Deli
Somehow, Brashier sandwiches in pet sitting with her full-time deli job. She enjoys animals, and some of her pet-sitting clients are also her deli customers. The Waco native knows many people through her volunteer work and deli work.
"Waco is still small enough so everybody knows everybody else," she said. When not pet-sitting or discussing a tasty new pepperoni, Brashier enjoys being with friends and family, and yes, she loves to cook and experiment with recipes. Mexican food is her favorite, she says.
The next time you are shopping at the Woodway H-E-B Plus store, stop and say hello to Brashier near the deli.
She makes the chore of grocery shopping more palatable. Just ask Eli.