Since March 18, Waco-area restaurants and their customers have adjusted to a world of take-out and delivery. One of the restrictions for healthy and safety in combatting the COVID-19 disease, was prohibiting dining in restaurants.
While restaurants are suffering revenue losses from the lack of those dine-in customers, they at least are open, deemed "essential businesses" and able to provide meals to patrons and employment to workers.
Whether it's large signs announcing they are open for curbside, take-out or delivery, joining other restaurants in digital and print ads to share that news, or through social media posts and Facebook, restaurant owners are trying to make the most out of the difficult situation.
"I told people the other day this is the hardest thing we've ever done," said Lynsey Castillo, owner of La Fiesta Mexican Restaurant, 3815 Franklin Ave. "Going from a full-course dining room to take-out only was a huge adjustment."
She and other restaurant owners and managers had to shift in how they serve their customers.
"We see a huge surge now at dinnertime," said Chad Trail, who owns Brown House Café in Woodway with his wife Holly. "Of course, now it's all through the drive-thru. People want to pick up a meal on their way home."
La Fiesta's Castillo said making changes on the fly from their usual way of doing business didn't happen quickly.
"It took us a while to get a routine and a pattern," she said. "We learned how to do it.
"We've got the drive-thru, but it took a while to figure out how to get all the meals packed right and get it to the car quick enough."
La Fiesta maintains its full menu, and Castillo can't imagine changing that while dining in is prohibited.
"I think people like having the variety," she said.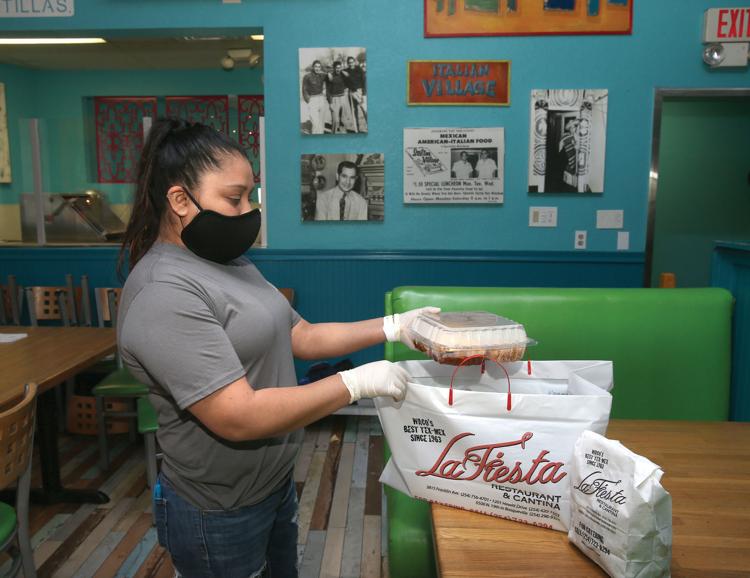 One change, however, is that La Fiesta lowered the cost of its enchilada family pack and the taco family pack by $12, making those packs cost $19.99 during this lockdown. She said it was the right thing to do.
"We want to give Waco something affordable to eat," she said. "I know it gets expensive to eat out all the time."
She hopes it can help customers stretch their food budget while also bringing business to La Fiesta during this stretch.
Other businesses have given back as well. On Good Friday, Guess Family Barbecue gave out free meals at the H-E-B Food Store on Valley Mills Drive. Poppa Rollo's offered free small pizzas that healthcare workers could order during a recent week.
Online Orders
La Fiesta provides third-party delivery through Waitr and Favor, she said, but most customers prefer to come and pick up their meals, probably even to justify getting out of the house for a few minutes.
While more customers still prefer to call in their orders, Castillo said she's seen a huge increase lately in online orders, which can be done through the Chow Now link on the La Fiesta website.
Trail at Brown House Café, 9110 Jordan Lane in Woodway, would like more of his customers to go the online ordering route for their meal pick-ups.
Online ordering has been offered at Brown House Café since January, a move Trail said was pretty much a necessity as their phone system can't handle multiple calls.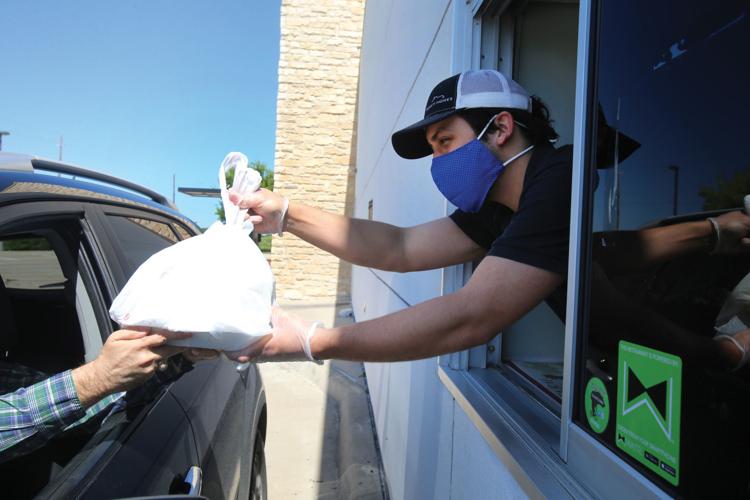 Even so, about 80% of the orders are still phone call-ins and Trail said they are encouraging their customers to go online to alleviate the influx of calls.
"We have a good social media presence to get the word out," he said.
Trail said one of his top concerns running the business right now is keeping workers scheduled.
"We don't want to lose people, and if you don't stay on schedules they'll try to find something else," he said. "We want to keep giving them some hours."
He also said he boosted pay for servers to $10 hour as another incentive to stay with the cafe even when hours might be fewer during the current situation.
"We want to make it worth their while," he said. "That's a hit for us, but I'm looking at the long-term viability of the business."
The Trails purchased the Brown House Café from previous owners Danny and Laurie Brown in October, and were making inroads on growing the business until the shutdown.
Trail said food sales are running less than 50% of where they had been because most of their crowd was dine-in.
Even so, having all the current meal orders handled through the drive-thru can be daunting, he said.
"We used to do $10,000 to $15,000 a month in sales through the drive-thru," he said. "Now it's $50,000 a month just in the drive-thru. It's like trying to flow the Mississippi down the Brazos River."
He has seen cars backed into the street during the surge in drive-thru pickup at dinnertime, adding that he is thankful for the support from customers.
"Our customers are extremely loyal," he said.
Delivery Time
With dine-in shut down at Our Breakfast Place, 4600 Franklin Ave., most of the meals are brought out curbside to customers, but if they have a delivery, owners Mike or Eva Beheler usually do that themselves.
"It's a fresh, quality product," he said. "I'd prefer to do it ourselves to get it to the customer."
With only take-out and delivery available for now, Mike Beheler said it made sense to add an online ordering option on the restaurant's website, which he did recently.
Some people like that "point and click" ordering process, he said.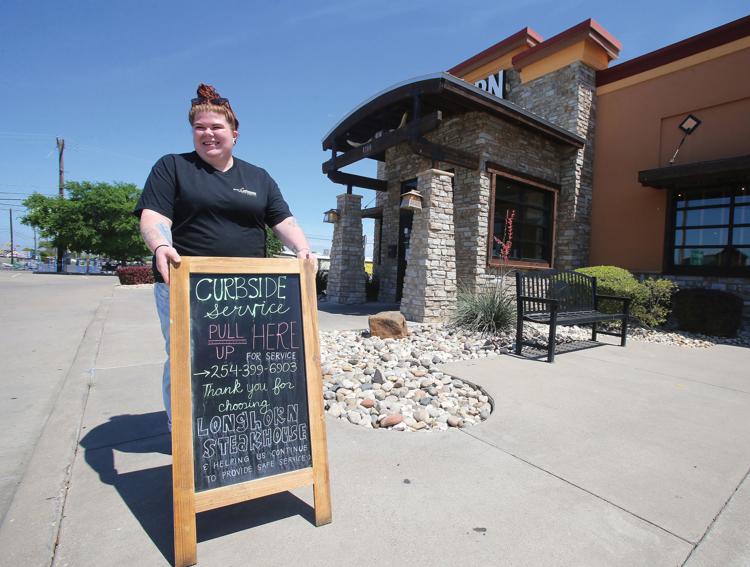 Beheler said as an appreciation to customers, the restaurant has been taking 10% off on orders. He said he realizes their meals are better quality and a bit more expensive than the fast-food options, so a little help on the price is worth doing.
"We're got a skeleton crew running right now," he said, but he is cautiously optimistic of adding staff once the lockdown ends.
Beheler likewise has been amazed by the support of their customers, many of which are regulars.
"We had one person call up with their (credit) card, and said, 'we don't want to order a meal, just put $20 on my card.'"
But it will be a challenge for a while, he said, noting that the volume of business is much below what it was.
"Each week has been a little better than before," he said. "We're hanging in there."
Surprising Trend
Justin Duty can't quite explain it, but two of the Poppa Rollo's family locations during the past month had days with enough of an increase in take-out and delivery orders to compensate for the loss of dine-in revenue.
"It's unexplainable," he said of the longtime Valley Mills location he manages and the Hewitt site he owns. The first two weeks after the shelter-in-place was ordered business was down considerably, he said, but those sites were bouncing back.
The 900 Degree Pizzeria on University Parks Drive co-owned by Justin and his brother Caleb Duty remains heavily affected, down about 90% from its usual business, he said. That's understandable, he said, considering it's downtown and places like Magnolia Market at the Silos are closed during the lockdown.
But perhaps because pizzas are often more convenient, Poppa Rollo's has been affected less, he said.
With the dining room of the Hewitt Poppa Rollo's not serving customers, it's been turned into the to-go working area, he said.
Duty said he felt encouraged on recent Friday and Saturday evenings when the line of cars to his business stretched back onto Hewitt Drive.
"But I know that's the opposite from what other places are experiencing," he said.
He's also seen some families picnicking with their pizzas in the parking lot to get some semblance of the dining out at Poppa Rollo's that they'd usually do.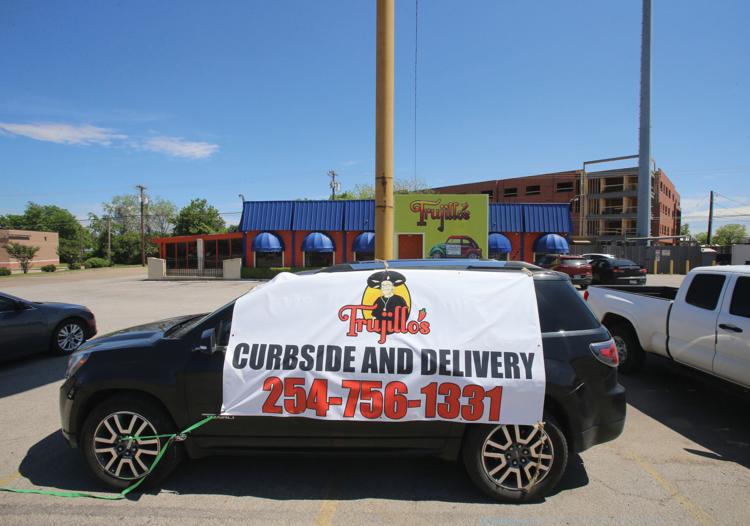 Alcohol Sales
La Fiesta's Castillo said a big boost to restaurants came when Gov. Greg Abbott issued a waiver on March 18 to allow restaurants to deliver alcoholic beverages with food purchases.
"Alcohol-to-go was a huge game-changer for us and a lot of other restaurants," Castillo said. "That had a huge impact on this industry."
She said the response of Waco residents to support her restaurant and other local eateries has been inspiring.
Chain restaurants also employ local people, she said, so being able to provide jobs for workers during this time and having people support those businesses by purchasing meals is important.
"It's been so very rewarding to see the response of the public," Castillo said.
"Waco has such a big heart and they've showed up so well," she said. "You've really seen it at this time."