Kimberly Green, the owner of The Skin and Body Refinery, says she has a passion for this line of work. This line of work meaning anything from a relaxing massage to a medical-grade treatment on the face or body
In fact, there is a long list of treatments that clients are able to choose from after considering the desired health outcome they are looking for at the spa.
Sure, The Skin and Body Refinery offers all the popular massages and facials, but upon closer inspection of the treatment menu it is easy to see this won't be another ordinary spa day.
"I am very passionate about educating and providing my clients with their individual skin-care needs," Green said.
So, while the one-stop shop at The Skin and Body Refinery could include a hot stone massage with an aromatherapy add-on, a client might also want to consider a medical cupping treatment, which is a holistic treatment that helps to stretch out muscles through negative pressure that releases built-up tension.
Maybe you had a medical chemical facial peel in mind. But wait, because there are more choices, like the 24 Karat Gold Facial that involves cryotherapy, a clinical skin-freezing procedure used to increase cellular turnover along with a collagen ampule and a 24-karat gold mask. Or, there is the Three-step Snow Ball Facial involving a SkinCeuticals micro peel with a three-step procedure combining exfoliation, chemical-peel solution and cryogenic therapy.
Green said alongside the medical treatments available at The Skin and Body Refinery one must not forget the importance of ultimate pampering. For that, clients might choose a Swedish or deep-tissue massage combined with a M'lis Contour Body Wrap, a detoxifying wrap to help the body get rid of toxins, resulting in as much as 4 to 14 inches lost in one session.
Other treatments include laser hair removal, eyelash extensions, Botox, fillers, needling, platelet-rich plasma treatments and even a therapeutic waterless pedicure.
"With providing these services, it is not only about giving facial treatments and selling skincare products, it is about helping create change and therefore lives," Green said.
Experience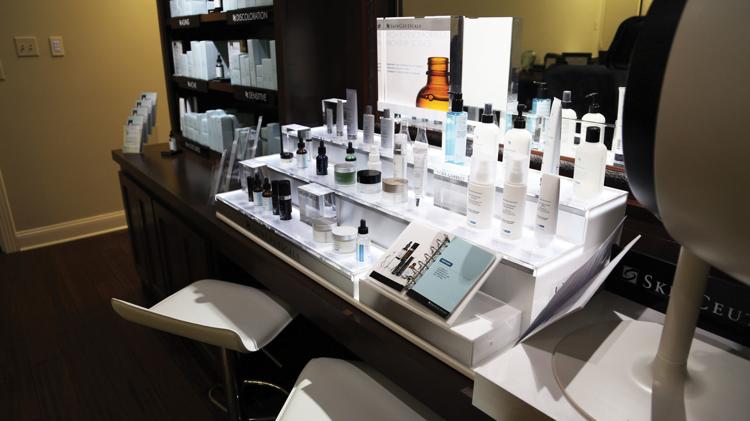 Green has owned The Skin and Body Refinery in Waco for a little over two years, but she has been in the business for more than 10 years. Prior to owning The Skin And Body Refinery she worked at the Spa at Canyon Oaks.
"It has always been a dream of mine to own my own business in this field," she said. "Actually, since I was a little girl. I started the journey by receiving my license and shortly after began working in the industry to gain experience and knowledge of the business. After working there for 10 years, this opportunity arose, and I quickly jumped on it … and have been on this journey ever since."
With six staff members working with her, Green's desire to make people feel and look happy and pampered makes her feel happy, too.
"I have always had a passion for skin and love to make people feel good, as it in turn, makes me feel good. I stay excited about the endless opportunities to learn and the constant need to stay up to date with what is going on in the industry to stay on top of the game," she said.
The name of the business came to Green when she was thinking of what she would be offering clients overall.
"I thought, we treat the skin and the body, and we are trying to improve it by making small changes, like refining it," she said. "Our quote is 'Where we refine your natural beauty.'"
All the company's procedures are supervised by a Skin and Body Refinery medical director. The aestheticians on hand are trained in a variety of innovative technologies so there is something for everyone, she said.
As for the future of the business, Green said, "I feel that we will continue to grow for many years as long as we keep our passion to give knowledge to others and continually stay up to date with new and up-and-coming trends."
So, while a spa like this is perfect for reducing stress, it's also a great way to get rid of or manage fine lines and curtail the aging process just a little, Green said, particularly if you return on a weekly or monthly basis taking preventative measures to stay healthy and happy.
"I have a passion for helping improve people, so if I wasn't doing this, I would probably be volunteering my time to touch lives, because the power of touch is healing," she added.
---
The Skin and Body Refinery
Tue-Fri, 9 a.m. to 5 p.m.
First Sat of every month, 9 a.m. to 3 p.m.
Other Saturdays, 9 a.m. to noon