Students are back in the classrooms, but for two Vanguard College Preparatory School graduates, their college experiences received a big boost thanks to their school.
Uriel "Udi" Ibarra, is seeing his dreams come true through the QuestBridge Scholar program. Ibarra received a full, four-year scholarship to the University of Notre Dame.
Fifteen thousand students across the country applied to QuestBridge, and Ibarra was one of the 1,044 students chosen for the scholarship.
Chelsa Ressetar, director of advancement at Vanguard College Preparatory School, said that to her knowledge, Ibarra is the first student in Waco chosen for a QuestBridge scholarship.
Ibarra is thankful for the scholarship.
"QuestBridge really helps students like me get into top-tier universities without having to worry about the financial aspect," Ibarra said. "A lot of really bright students don't even bother applying to some top colleges because they won't be able to afford it, and QuestBridge eliminates that barrier."
The college freshman will major in chemistry.
"I like the balance chemistry has between math and science, my strongest subjects," Ibarra explained. "I believe majoring in the field of science will help prepare me in the hopes of getting into medical school."
Ibarra learned about QuestBridge, a national college match program founded in 1994, during his junior year. He said several faculty members at Vanguard encouraged him to apply for the scholarship, which connects high-achieving, low-income high school seniors with full scholarships to the nation's top colleges.
"The whole process was pretty strenuous, but given the results I got, I would not hesitate to do it again," Ibarra said. "My priorities have always stayed the same, too. I've always wanted to go into the medical field because I feel like that is how I can give back to the community in the future
"I don't know what I want to specialize in yet but I'm excited to explore the possibilities."
Life's Next Chapter
The Waco native, whose parents Maria and Artemio are originally from Mexico, said he is "excited and nervous to start the next chapter of my life."
However, he is well prepared. QuestBridge has allowed him to dream big and make his family proud, he said.
"Being the first generation of my family to attend higher education in the United States was kind of tough because I had to familiarize myself with the whole college admission process and the dynamics of the American education system," he said.
Vanguard counselor Hannah VanDyke guided Ibarra through the challenging scholarship process.
"From my perspective as a high school college counselor and former college admissions counselor, Udi meets every aspect of the type of student who deserves this scholarship," she said. "I started receiving emails from QuestBridge shortly after I started at Vanguard in 2017 and started to research about the organization and talk to other college counselors about it.
"Not every student meets the qualifications QuestBridge requires, and not every student has the stamina to see the application process to the end. It is a rigorous process."
Ibarra stood out for the QuestBridge Scholar program for many reasons, she said. One was certainly because he earned his way onto the honor roll every quarter throughout high school. He is a National Hispanic Scholar and an AP Scholar with Honor. As a junior he was inducted into the school's National Honor Society and that same year served as the NHS vice president. In his senior year he was president.
Michigan-bound
Aaron Melveney will also be attending a top-tier university after his time at Vanguard.
Melveney came to Vanguard in the 11th grade from Connally High School and became a member of Mu Alpha Theta (the mathematics honor society) as a senior. He was a National Honor Society members and received the Vanguard Shining Star Award this year.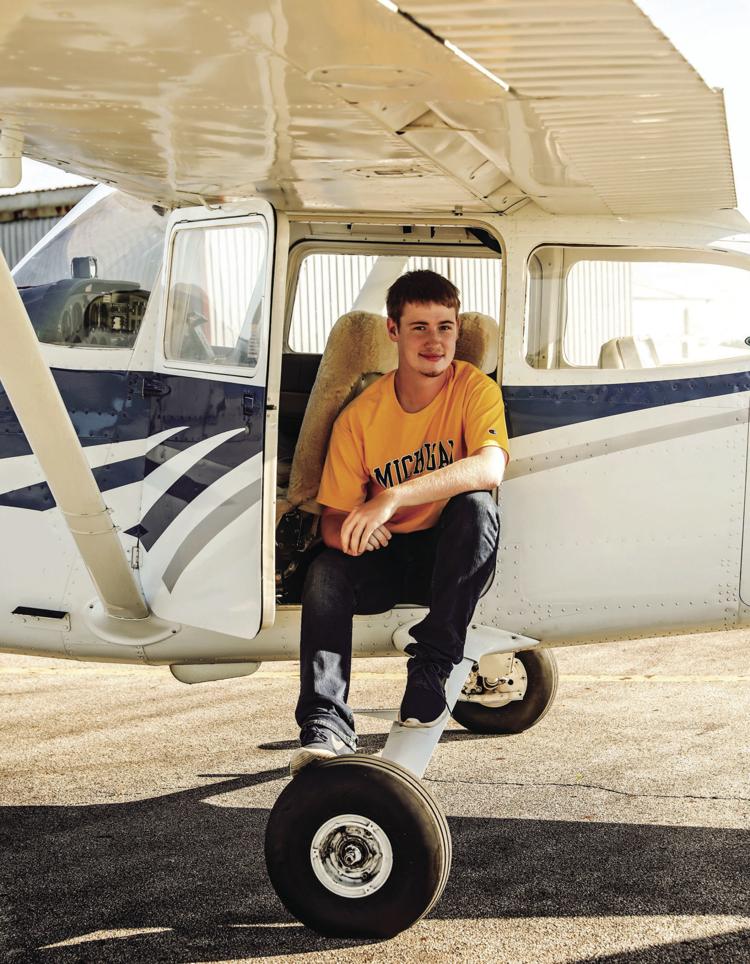 He will be attending the University of Michigan at Ann Arbor, majoring in aerospace engineering, which makes perfect sense since he earned his private pilot's license two months after turning 17.
During a summer trip to Alaska after his eighth-grade year, Melveney said he was fascinated with all the general aviation happening in that state. He returned home and looked into taking private lessons at McGregor Executive Airport. He soloed as a student pilot when he was 16.
Although he did not get help through the QuestBridge program, Melveney did receive scholarship money thanks to financial awards from the University of Michigan.
The Elm Mott resident is the son of Christina and Charles Melveney. He has a younger brother, Adam, 12,
He credits his ability to work through the college admissions process and financial aid system because of the help he was given by his Vanguard teachers and counselors. They were a catalyst of encouragement for him to apply for and receive financial help from his university of choice.
"I learned a lot about financial aid opportunities through my high school counselor and a college prep course I took at Vanguard that taught all the ins and outs of the college application process," Melveney said. "They really guided me through the unfamiliar college process as a first-generation student."