The family dynamic has changed a bit, but the Playdium Pool in West remains a family effort that keeps its visitors cool during the hot days of summer.
For more than a quarter-century Jimbo Kolacek and his family have owned and managed the pool.
"My enjoyment is seeing the kids come here and having a great time," Jimbo said.
The pool is open from Memorial Day weekend through the Labor Day weekend.
Daughter Kristyn remains involved, but less than in past years. She is on the road a lot now as a pharmaceutical representative and got married earlier this year to Corey Pavelka.
Mom Christy continues to help out on weekends because she at work weekdays at Heart of Texas Smiles in Waco. Their son Karson also pitches in when he's not competing in a rodeo.
The massive pool holds 1.2 million gallons of water, spring-fed from an artesian well. Chlorine is added when the water goes through a filter before entering the pool.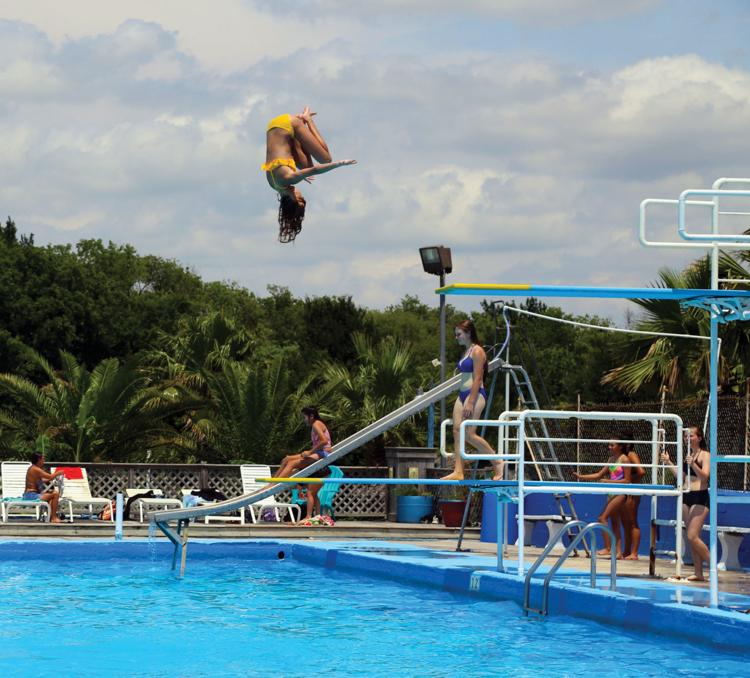 All that water provides lots of space for floating, swimming or sunbathing around the pool.
A basketball goal sits in the shallow end for those wanting to shoot hoops. Two concrete pillars in the middle are popular with swimmers to climb on top of and catch some rays. Especially fun for the kids (and age-restricted to the younger crowd) is a trolley -- some might call it a zipline -- that riders can slide down and hit the water with a splash.
The deep end of the pool has high and low diving boards as well as a slide.
Beyond the water, a covered area includes picnic tables and is situated close to a window where burgers, fries, pizzas and cold drinks can be ordered. Adult beverages are available as well.
Palm trees fill the back and side perimeters of the pool, where patrons have the option of games such as volleyball or horseshoes.
Beginnings
The pool's construction dates back to 1945 when owner August Dulak had two teams of mules pulling scrapers to remove the dirt, Jimbo said. Because of World War II, there was no metal or rebar available to use in the pool's construction. It is built completely out of concrete.
Dulak brought in a cement maker from Czechoslovakia to oversee the concrete work.
Jimbo recalls spending his summers enjoying the Playdium Pool. For much of the 1970s and '80s it was owned and operated by Georgia Lyons, Dulak's daughter.
The Kolaceks leased it from Lyons in 1991 and purchased it the following year when Kristyn was 6 months old.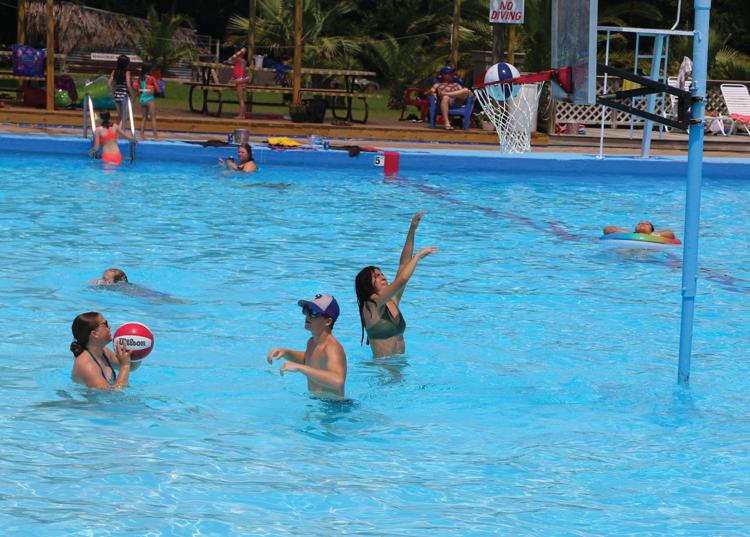 There have been various upgrades since then, including palm trees along the edge of the property, and the addition of a volleyball court and horseshoe pits. An expanded deck area that provides some shade was added two years ago. The snack bar was there for years, he said, but the kitchen was refurbished and upgraded after they took ownership.
Jimbo said he hopes to make additional improvements for next year.
Getting the pool ready every year can be a challenge, he said, but one advantage of this year's wet spring was that it took about half the time to fill the pool. The process usually takes 10 days.
Weekends are busiest at the Playdium. There's often a couple of parties every weekend, whether it's birthdays, Little League gatherings, reunions or church events.
Those looking for a smaller crowd should come on a weekday, Jimbo said, adding that those days are popular with moms and their young children.
The pool opens at noon on weekdays, and at 10 a.m. on Fridays, Saturdays and Sundays. Check the pool's Facebook page for special deals and if weather forces a closure that day.
---
Playdium Pool
200 Playdium Drive in West, off Cottonwood Road north of downtown
$11 for ages 12 and younger; $14 for age 13 and older; season passes are available.