Chip and Joanna. Say their names and people from Waco and beyond instantly know whom you're talking about.
As the telegenic couple from HGTV's "Fixer Upper," Chip and Joanna Gaines have garnered fervent fans to their home improvement show, their renovation business, and to Waco. The city has benefited to the point that some of Waco's newer residents moved here as a result of the positive image the Gaineses display.
It's their uplifting take on the city, one that they are quick to share with others, that earns them recognition as the first Persons of the Year by Waco Today magazine.
To say 2015 was a big year for the Gaineses might be an understatement. Not only has their show been a ratings hit for HGTV, their renovation of a warehouse and silos downtown as their new home for Magnolia Market has been a huge draw for downtown Waco.
The grand opening of Magnolia Market at the Silos in late October drew such interest that they expanded the festivities from one to two nights. Despite cold and rainy weather, their fans turned out in abundance.
People continue to stream to the new Magnolia site, with some folks hoping to catch a glimpse of their favorite home improvement couple.
Waco Today recently caught up with Chip Gaines as he was wrapping up a long day in New York City where he and Joanna had been doing interviews, including three different "Today" show segments, as part of HGTV's promotion of "Fixer Upper."
Being able to promote Waco means a lot to both of them, he said.
"Honestly, Jo and I both are just passionate about Waco, Texas," Chip said. "The fact that the country has gotten the opportunity to see the elements that as Wacoans we all know about our town we are thankful for and proud of."
Neither grew up in Waco, but have made it their home for the past two decades. Chip graduated from Grapevine High School in the Dallas area and attended Baylor University. He graduated with his Bachelor of Business Administration in 1998.
Joanna was raised in Kansas, but her family moved to Austin and later to Waco when she was a high school junior. A Waco Christian School graduate, she also attended Baylor and considered a career in broadcast journalism. She had an internship with CBS News and anchor Dan Rather in New York City. Joanna earned her bachelor's degree in communications in 2001.
They met when Chip came to get his car serviced at her father's business, Jerry Stevens Firestone. The couple married in 2003 and have four young children.
Chip noted that he's glad that "Fixer Upper" can be bright counterpoint to the occasional negative stories that sometimes come out of Waco.
"So for our show to cast a positive light on our town, we just could not be more excited and truly thankful," he said. "We've been allowed to share that positive message with the country, but we can't take all the credit. The city of Waco has done great things for us in support of Jo and her business before anything like this became a national thing.
"We also appreciate the clients that supported us during the lean real estate years. Then there's (the success of the) Baylor Bears and the football team and the stadium. There's just many things going in the right direction that we feel we're just part of the bigger picture."
But that picture they exhibit through their show, has drawn others to Waco. In fact, three of the 13 homeowners who are featured in Season 3 of "Fixer Upper" moved to Waco to be a part of the show.
"We're thankful and honored for that opportunity to do our part," he added.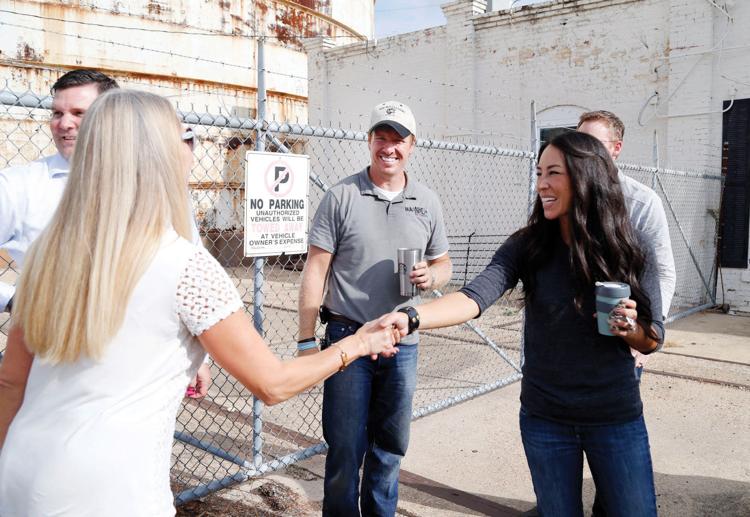 Both are popular on social media. Joanna has more than 1.1 million followers on Instagram. Chip prefers his Twitter account, which has a healthy 110,000-plus followers.
"I'm pretty passionate and engaged with my Twitter followers," he said.
So it shouldn't surprise them that their fans really love them, right?
It's a bit unbelievable, he said.
"It didn't hit me like a ton bricks until we were up at the silos a month or two back before we had actually opened," Chip recalled. "We were up there doing some work and I just happened to step outside on Webster, on that main drag right in front of the silos. I stepped out on the street because I was trying to keep something in perspective, and this guy with a camper trailer on his truck pulled up and his wife started freaking out. I mean, like she'd seen Elvis or John Lennon or something.
"And the husband said, 'Oh, my goodness! I've got to shake your hand.' They were completely overwhelmed and I was a bit taken aback, like, 'Are they serious? Are they talking about me?' "
He said he asked the couple where they were from. The man replied that they were from the northwest corner of Colorado and had spent 18 hours or so driving to get to Texas.
Chip said he asked. "Did you come all the way from Colorado to Waco for us?"
"Oh, my goodness. You're our first stop," the man told Chip. "We came straight here and then we're gonna go south to Austin and then south to San Antonio."
The exchange left Chip bewildered, he said.
"Jo and I both were just freaking out, thinking, "What Twilight Zone did you ever think you would be in where a couple from Colorado would want to stop in Waco, then Austin, and then San Antonio to culminate their trip to Texas?
"We're just in awe about this experience and can't believe how people have connected to our town and our show and our family. We're just thankful and overwhelmed about that."
As busy as 2015 has been with the renovation and move to Magnolia Market at the Silos and "Fixer Upper," Chip thinks 2016 could even be more hectic.
They will be doing retail with the home decor sold at Magnolia Market at the Silos. Joanna the designer is launching her Magnolia Home furniture line, and she's also planning to unveil a line of paints. There will be a fourth season of "Fixer Upper" to film in 2016.
That all looks daunting, but Chip said they wouldn't change a thing, he said.
"Jo and I are real high-capacity people," he said. "We've always been hard workers; we've always had big ambitions. Now this certainly has exceeded anything that was in our wildest imaginations, but we've always been optimistic that we're gonna be folks that impact our city in our positive way."
He said they are appreciative of the help their family provides for the times the show has them away from their kids, such as the whirlwind of interviews in New York.
"Big picture, we were sort of built for this, to some extent," he said. "We feel like God prepared us for this. We've got the four kids at the house and a really strong family. Her mom and dad. My mom and dad. We've got brothers and sisters and aunts and uncles to the kids who have really helped out, so we feel covered from almost every angle."
Through it all, they hope "Fixer Upper" can continue to highlight what's great about Waco, he said.
"For people to finally see Waco for the things that we've always been interested in and about is really fun."