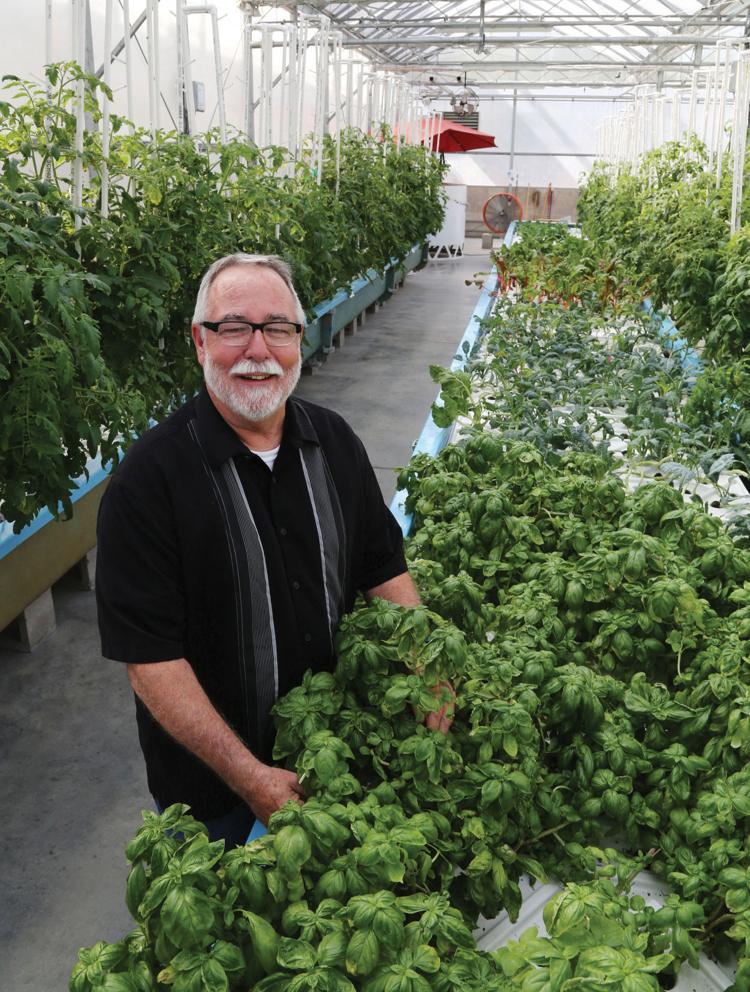 Person of the Year: Mission Waco's Jimmy Dorrell finds new ways to help others
As Jimmy Dorrell leads a tour of Mission Waco's Urban REAP facility, it's evident that it's hard to contain his excitement at the newest project designed to help the community.
He points out the Swiss chard, basil, kale and cilantro growing in the aquaponics greenhouse, adding that the 135 Prime restaurant on Hewitt Drive is buying some of the produce.
He motions toward the 500-gallon tank filled with purified rainwater and hybrid striped bass. The waste they produce serves as food for the plants growing in the aquaponics.
REAP, which stands for Renewable Energy & Agriculture Project, includes an aquaponics greenhouse, solar energy array, rainwater catchment and purification system, composting system and a training center.
"It's about being better stewards of God's green earth," Dorrell said.
Mission Waco this year also purchased the former Martha Jane's liquor store that sits across from World Cup Café with plans to renovate it for use by Mission Waco programs.
It is this continued revitalization at 15th Street and Colcord Avenue and the ongoing ministerial work throughout Waco that earned Dorrell recognition from Waco Today as the 2017 Person of the Year.
Mission Waco marked 25 years of service in the community earlier this year, but it continues to find new ways to affect the community and to transform lives.
"I've admired Jimmy for years and seeing his work in the community just impresses me," he added. "My freshman year at Baylor I went to Church Under the Bridge and it changed my paradigm for who God is and how we should live. It's an example of how God loves his people and how we fit in with that."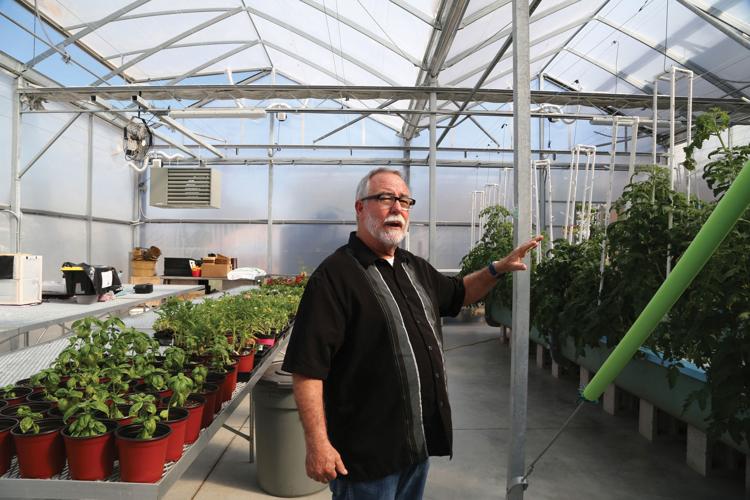 What happened and continues to occur at that North Waco intersection where Mission Waco has its offices, the Jubilee Theatre and World Cup Café, as well as the Jubilee Food Market, has been phenomenal, Meek said.
That intersection will be one of the most desirable in the community, he believes.
"You see families who live in the neighborhood and they'll go eat at (nearby bakery) Baked Bliss in the morning, then go to the Jubilee Market and get their groceries and walk home. It's a beautiful sight.
"And Urban REAP. What a forward-thinking, progressive approach to learning and business engagement."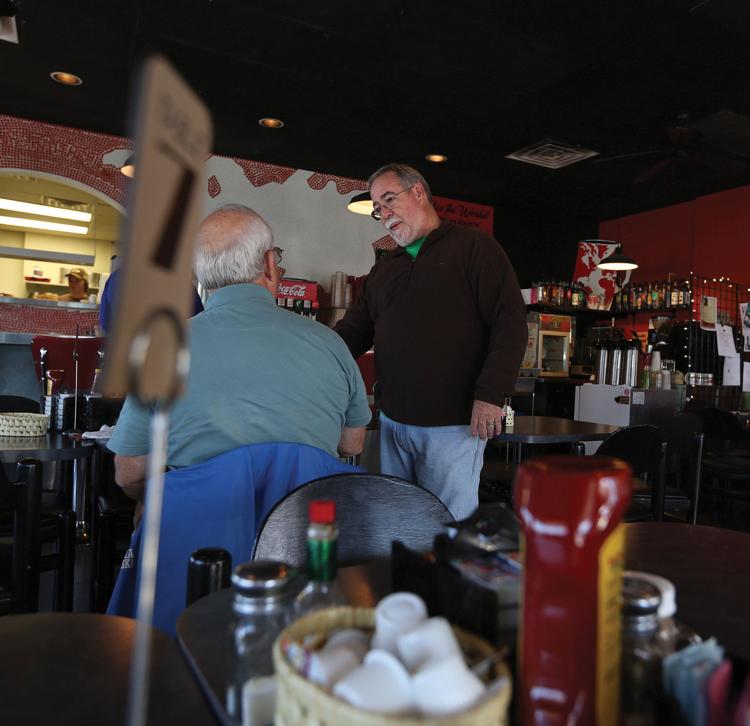 Dorrell likes to see the change as well. In the Fair Trade Market Room behind the World Cup Café, he said there's a weekly bridge game held by women who used to be frightened about coming into that neighborhood.
Dorrell is quick to note that all of the recent projects don't happen without a great deal of help. He's thankful to Green Mountain Energy's nonprofit Sun Club, which provided a $234,000 grant to help make REAP a reality. Thirty-six solar panels above the facility provide power for the greenhouse.
REAP itself sits directly behind the Jubilee Food Market, which opened last year in a former convenience store to provide healthy food options and items at grocery-store prices. A red-tagged house was donated to Mission Waco and then torn down to make room for the REAP facility.
REAP also has a $30,000 composting machine that turns out 175 pounds of compost soil a day from table scraps that come from Mission Waco's World Cup Café and neighbors who were provided with buckets to fill with scraps.
Baylor University senior lecturer Larry Lehr and lab coordinator Doug Nesmith, who work in environmental science, helped get the composting project going, Dorrell said.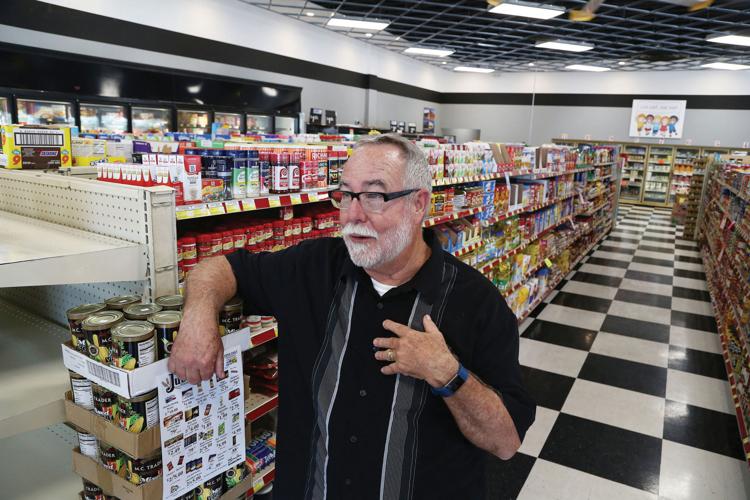 Even as Dorrell thanks those in the partnerships for getting the projects completed, he is still counting on a buy-in from the middle class to shop at Jubilee Market and make it profitable.
"We live in collaboration," Dorrell said. "By and large, people really do care for others. We have to break this historic cycle of poverty."
Coming to Waco
Helping the marginalized has long been the focus of Dorrell's ministry.
A native of Conroe "before the lake was there," he said God called him at age 17. While majoring in religion at Baylor, he became a youth director at Highland Baptist Church for five years.
From there, is work at the Waco State Home (now the Waco Center for Youth) with dependent and neglected children set him on a path to help the poor, struggling and unchurched.
Dorrell met his future wife, Janet, when she volunteered with him at the State Home, and the two moved into that neighborhood 41 years ago when the area was much rougher. They raised their children in that neighborhood, instilling in them a love for others and a desire to help.
They went to Houston to do church work from 1979 to 1982 and then visited spots around the world where they saw the overwhelming needs of the hungry, the poor and the marginalized.
The Dorrells said they felt a conviction to return to Waco and tap into the hundreds of churches and many Christian students at Baylor, ultimately forming a foundation called Christian Mission Concerns, which eventually became Mission Waco.
Today Mission Waco extends its compassion in many areas, from job training at the Meyer Center, My Brother's Keeper homeless shelter, to the Christmas Toy Store, which allow people to purchase Christmas gifts at discounted rates.
Allowing people to purchase gifts instead of just having them donated to them provides a degree of empowerment and self-worth, Dorrell said.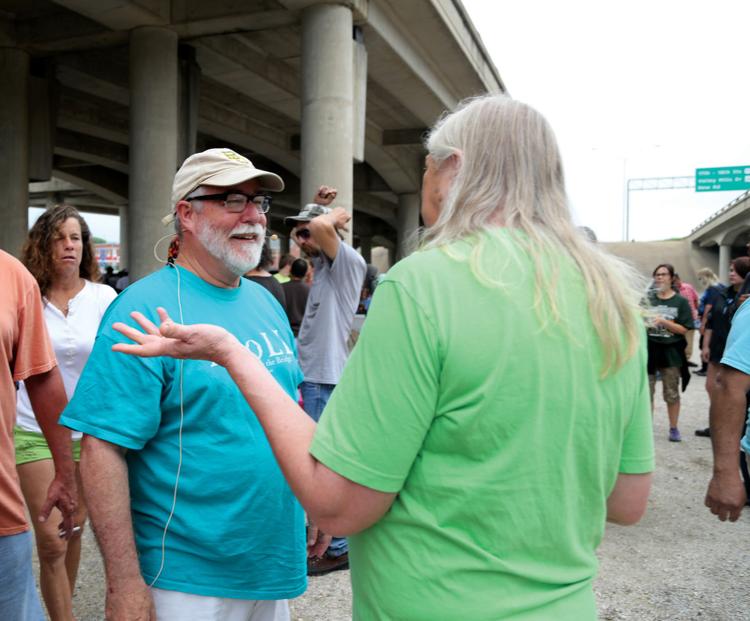 Mission Waco also teaches. Dorrell said 24,000 people have participated in Mission Waco's poverty simulation, which gives individual s a first-hand experience in what it's like to be hungry and homeless.
Dorrell is well known for leading Church Under the Bridge, which meets Sunday mornings under the Interstate 35 overpass at Fourth and Fifth streets. But Church Under the Bridge is technically separate from Mission Waco, he noted.
Continue the Mission
Mission Waco has a 20-member board of directors that oversees its work and helps maintain its vision of mission as noted on its website: "Provide Christian-based, holistic, relationship-based programs that empower the poor and marginalized. Mobilize middle-class Americans to become more compassionately involved among the poor. Seek ways to overcome the systemic issues of social injustice which oppress the poor and marginalized."
He's touched that so many of those who work with Mission Waco have done so for years.
He's also proud of the Texas Christian Community Development Network, where he and others have shared the lessons on how to work with the marginalized.
"It's really an extension of the training and teaching of Mission Waco," he said.
For all that Mission Waco does locally, it does extend itself globally. Mission Waco ministers in Mexico, Haiti and India. Microloans to women have empowered them to start businesses, he said, and currently 96 percent of those loans have been repaid. The Fair Trade Market inside World Cup Café sells goods made across the world using fair-trade practices
All Together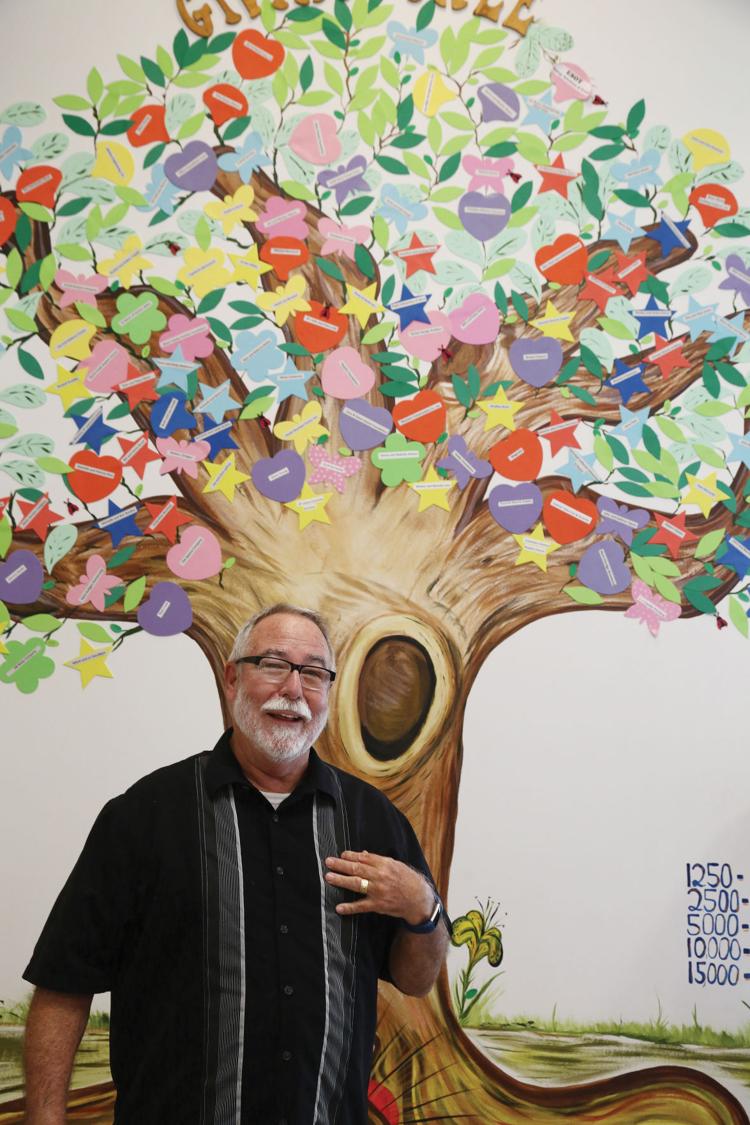 But more than anything, it's about being there for others, he said.
The Latin meaning of compassion is "to suffer with," Dorrell said. "It's about us being there in the midst of the pain."
Meek, the city councilman, said the compassion is evident in all that Mission Waco and Dorrell does, especially with the transformation at 15th and Colcord.
"It shows his heart and love of his neighbors," Meek said.
For Dorrell, though, it's about people doing it together.
"We live in collaboration," Dorrell said. "By and large, people really do care for others. We have to break this historic cycle of poverty. We've got to deal with those issues of. It's about being transformative in the midst of the culture."
---
HONORABLE MENTIONS
Two other individuals were among the contenders for the Person of the Year honor.
David Garland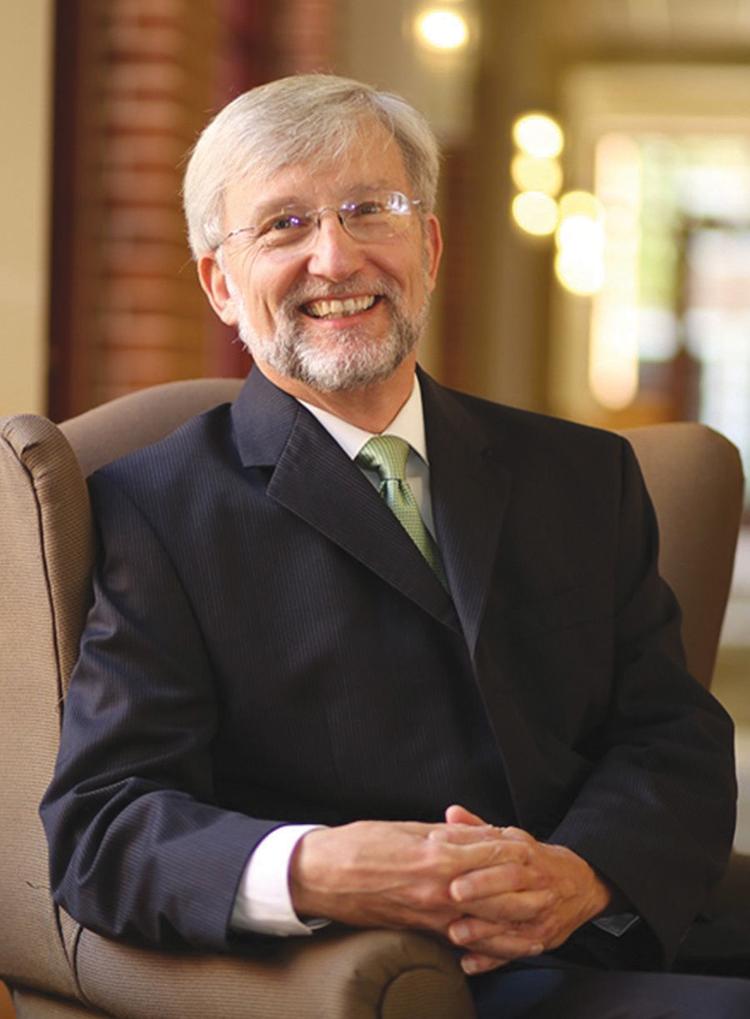 Baptists often describe exemplary people as having a servant's heart. That certainly would describe David Garland, who twice filled the unenviable role of interim president at Baylor.
Garland served as Truett Seminary's fourth dean from June 2007 to June 2015. But he answered Baylor's call to be the interim president on two occasions — 2008-10 after the departure of John Lilley and 2016-17 after Judge Ken Starr.
The position after Starr's exit was particularly difficult as Baylor was caught up in a sexual assault scandal that also cost head football Art Briles and Athletic Director Ian McCaw their jobs.
While Baylor was entrenched in nasty fallout from the scandal, Garland maintained dignity and class throughout his time as interim leader. He stepped aside once Linda Livingstone became Baylor's 15th president in June.
Baylor University's Board of Regents established the David E. Garland Scholarship Fund in appreciation of his "unselfish and extraordinary" service to Baylor.
Wiley Stem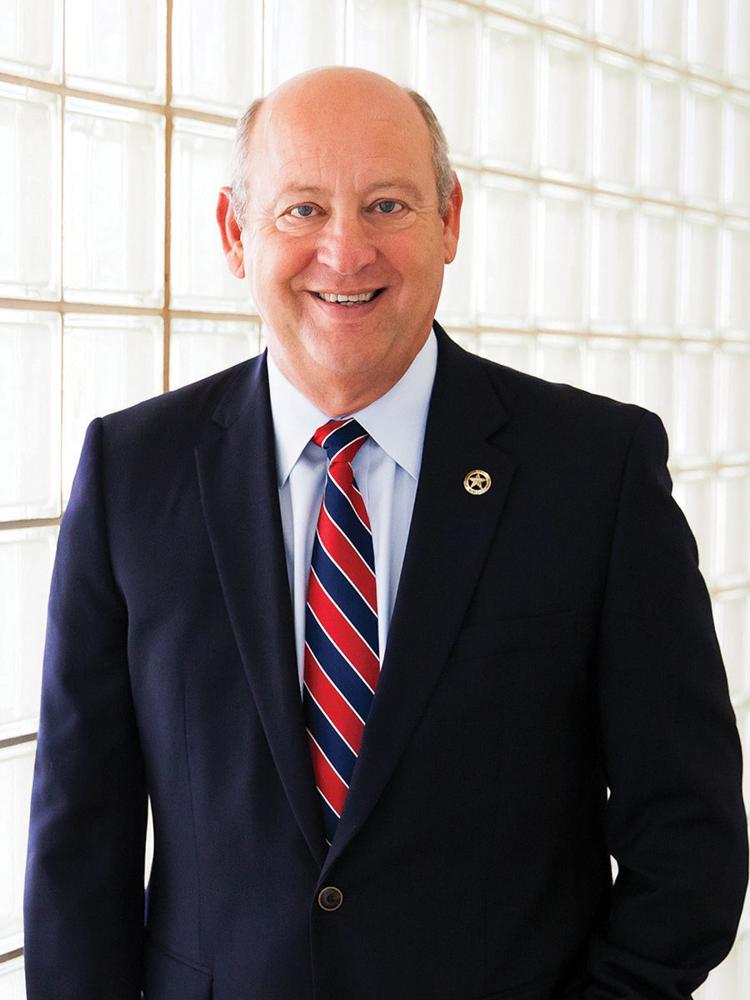 Wiley Stem III wasn't considered as Person of the Year because he's been chosen to become Waco's city manager next year after Dale Fisseler retires.
It's because he continues to coolly and thoughtfully help lead the city, particularly in regard to downtown revitalization. He has served more than 40 years at Waco City Hall, involved in projects such as overseeing water-treatment capacity increases; raising the level of Lake Waco to increase water capacity; creating and developing the Waco Metropolitan Area Regional Sewerage System; dealing with water-quality issues in the North Bosque River watershed; and more.
More recently he helped raise funds to renovate and make operational changes at the Waco Animal Shelter, leading to an improvement in live exit rates for the facility. He's been busy lately planning for the next city landfill. The list goes on and on.
Stem is 65, but his best years with the city may still be ahead.