It's often love at first sight when a bride-to-be or a prom-going girl walks through the door at Pat's Gowns in Robinson.
Once inside this unassuming building off the I-35 South frontage road, choices galore await customers in search of that perfect dress for one of life's milestones. The store offers an array of bridal gowns and dresses for special events such as military ball, prom and quinceanera.
Pat's Gowns, named after Pat Whorton, who began the business in 1985, takes pride in offering dresses to fit any budget, and layaway is available to help manage the cost of a special event that many women have dreamt about since they were young.
Pat's daughter, Ivy McCarn who is co-owner of the store with sister Debbie Hallman, enjoys telling the story of their mother's early life.
"They were migrant farm workers in California," McCarn said. "Mom learned to hand-sew to help keep everyone in the family clothed."
Their mother began her own love story when she met Wilburn Whorton and they fell in love as teenagers. She dropped out of 10th grade to marry Wilburn. Their marriage produced seven children and they recently celebrated their 60th anniversary.
"Mother made all of our clothes growing up," McCarn said. "I never had a store-bought dress. She even made suits for Daddy." She recalls that they were fortunate enough to have a neighbor who was a seamstress and would offer a hand on sewing projects if Whorton needed assistance.
Trans Am and Tulle
When the last couple of Whorton children were still at home, McCarn said her mother had another reason for sewing: She wanted a red Trans Am car. She began doing alterations to make money in hopes of one day buying her dream car.
Her first alteration job was putting in a zipper, which earned her $5. She began buying used bridal gowns to redesign them. She would eventually rent the dresses at a time when rentals were in more demand than dress purchases.
Whorton began sewing in a back bedroom at the house, but demand for her dresses quickly necessitated securing a larger space. She moved her sewing business into a trailer housed on the family property.
Whorton officially opened Pat's Gowns in 1985, and her husband built the current shop in 1989. In the early days, McCarn recalled her mother even making costumes for various occasions. It wasn't long before Whorton was zipping around town in her dream car.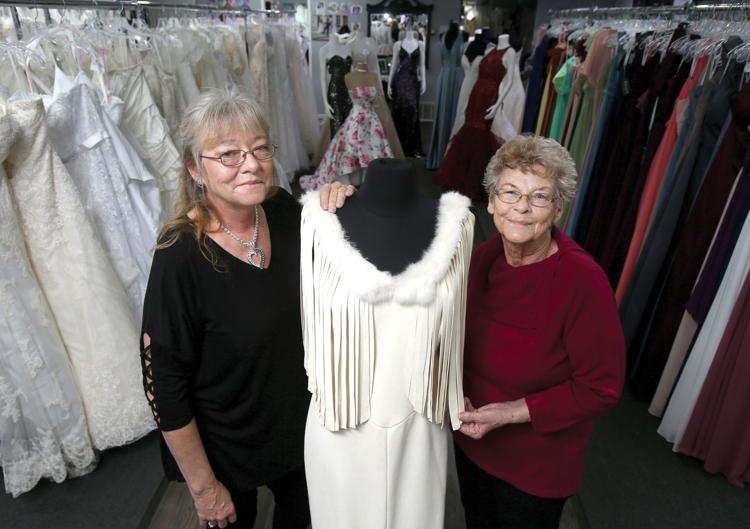 Family and fabric
The daughters were pursuing their own lives when they got a call from their mother more than two decades ago telling them to come help at the store.
She was overwhelmed with all the sewing jobs, and she knew something needed to change. Hallman and McCarn together bought their mother's business 20 years ago and were able to pay off the business loan in 2019.
McCarn laughingly said, "We paid more for the name than we did for the property."
Regarding selling the business to her daughters, Whorton said, "I felt it would do good. I always enjoyed the people."
She added that she always treated customers with respect and knew the family-owned business would remain in good hands.
McCarn describes her mother as "feisty." Long gone are the days since Whorton was boss, but McCarn said, "Mom is always just a phone call away and she'll answer any questions I have."
Over the years, many family members have worked in the business doing a variety of jobs. One brother made the outside signage. An older sister who was an educator had a special knack helping high school girls when it came time for prom dress shopping.
Gray skies on a recent cool Saturday morning were no match for the cheerful chatter inside the store. Prom and bridal season were in full swing as Hallmans' grandchildren were busy helping customers.
Writing up sales invoices, restocking dresses and answering questions were the order of the day and family employees performed their given jobs with the precision of an air traffic controller. Hallman reminded her young charges to dim dressing room lights.
"It'll give the girls an idea what the dress will look like as it sparkles under dimmed lighting," she said.
A dress that elicited "aahs" and a spin around on the platform under shimmering lights usually meant that dress had found a home.
Although Pat's Gowns doesn't buy back any dress, the employees suggest the girls donate their prom dress to the Waco Methodist Children's Home. The donated dresses will get a second life during prom season at Methodist Home festivities.
Life isn't always roses in a family-owned business, and the sisters agree challenges had to be ironed out in the beginning years of business partnership. McCarn said in the early years they would shout at each other across the store, in anger.
"Those early times threw us into early menopause!" she said with a laugh. Happily, over the years, the sisters have mellowed. McCarn admitted they spend more time with one another than they do their own husbands, and if the sisters have a riff, she said, "We only stay mad at one another for about two seconds."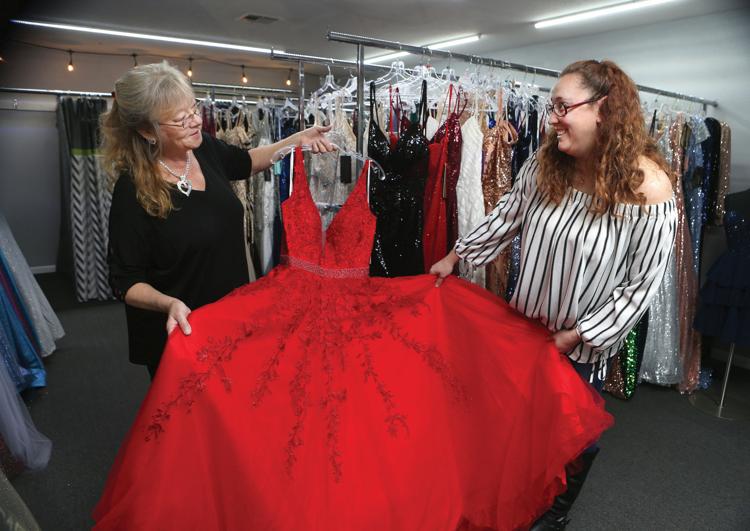 The business has weathered some trying times. Flooding several years ago forced customers to remain in their cars on the edge of the parking lot and employees carried dresses out to the cars. The I-35 expansion caused customers to maneuver around twists and turns just to arrive at the store.
Phone calls were always the norm in notifying customers when dresses were ready for pickup. However, in this age of technology, employees send a text when the dress is ready, as a lot of people won't answer a phone call.
When the recession hit in 2008, the store saw 21 dress cancellations in one month alone. McCarn said she learned her lesson, saying, "I now watch the stock market because I have to plan."
Each sister appreciates what the other brings to the job. McCarn says she handles the daily business side of things while Hallman brings creativity to the table.
"Debbie is good with redesigning a dress. She's a true artist and seamstress," McCarn said. "She and our mother have that gift of redesigning dresses. They can just look at a dress and tell if it's made incorrectly." Both sisters do alterations on site.
Happily Ever After
Thank-you notes from brides and their mothers dot a front wall by the counter. Expressions of gratitude for excellent customer service and beautiful dresses are the common thread of the notes. A few notes include a picture of the bride and her attendants.
When asked about what the best part of the job is, McCarn quickly said, "The smiles. It's the smiles, and we get to be part of their special memory that will live forever."
Hallman added, "I like to make peoples' dreams come true."
Third-generation customers now visit the store to find the perfect dress. They know they'll find friendly employees who treat them like family as they prepare for the commitment of a lifetime.
When asked what advice Whorton would give couples ready for marriage, she replied, "Respect and cherish each other."
Hilda's Corner
Perhaps one of the most poignant examples of marital respect and cherish in the store is situated on a dress form in the bridal section.
Hilda Hess wore the Chantelle lace bridal gown, accented with English net around the V-neckline when she wed Richard Cornelius in March 1958. The gown has a full skirt, flowing ruffles in the back and a chapel train. Lace-covered buttons complete the delicate look.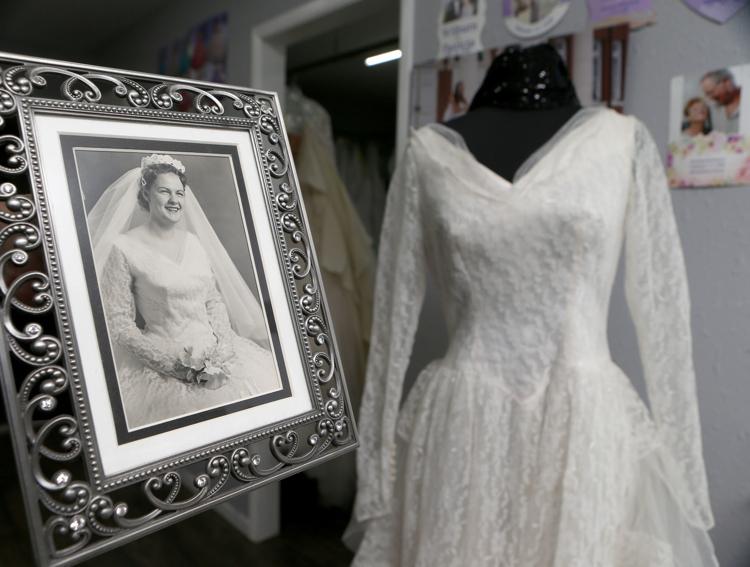 Many women ask to buy the gown, but it's not for sale.
Displayed beside the gown is a bridal picture of Hilda. Her kind eyes, soft smile and youthful face offer a glimpse of a hopeful future with the one she loves.
Hilda died in 2016 after 57 years of marriage. Richard donated her gown to the store a week after what would have been their 58th anniversary. Attached to the gown on a nondescript slip of white paper are these words Richard wrote: "I belong to Hilda Cornelius. My wedding date is 3/15/58. I married Richard."
Richard passed away in 2018 but not before he showed younger generations at Pat's Gowns the importance of putting love on display.
---
Pat's Gowns
(just south of Baylor Scott & White Medical Center Hillcrest)
Mon-Fri, 10 a.m. to 6 p.m.