Headed west on Chapel Road toward Lorena, past the 2016-constructed traffic circle where Chapel intersects Ritchie Road, it's not uncommon for motorists to slow, roll down their windows and even pull onto the shoulder to glimpse one or more four-hoofed members of the unusual menagerie occupying Karen Keith's property.
"Originally, my husband and I purchased nine acres in 1991," explained Karen, 61, whose late husband, John Keith, was a hunter and outdoorsman and the owner of eight Keith Ace Hardware stores acquired between 1983 and 2006. That number has since grown to 14 stores under the leadership of Tom Cox and Beau Nickel, two longtime employees who Karen brought on as part owners after her husband's passing in February 2007.
"Then there were 25 acres next door that Margaret Blanton owned, but was not willing to sell for less than her set price," she said. "We felt it was priced too high, but after years of trying to negotiate, we paid her asking price."
Over the years, the Keith property in Lorena has been a home for dozens of exotic species including gemsbok, waterbuck, blackbuck and addax — the type of creatures one might sooner expect to spot on safari in South Africa than on a drive to the H-E-B in Woodway. Indeed, these animals are eye-catching for their uncommon coloring and long, distinguished horns.
"When my husband started acquiring these animals, it was really his thing, so I wasn't privy to all the details," Karen explained. "I want to say the first animal we had here was an elk or maybe a red deer — I can't quite remember."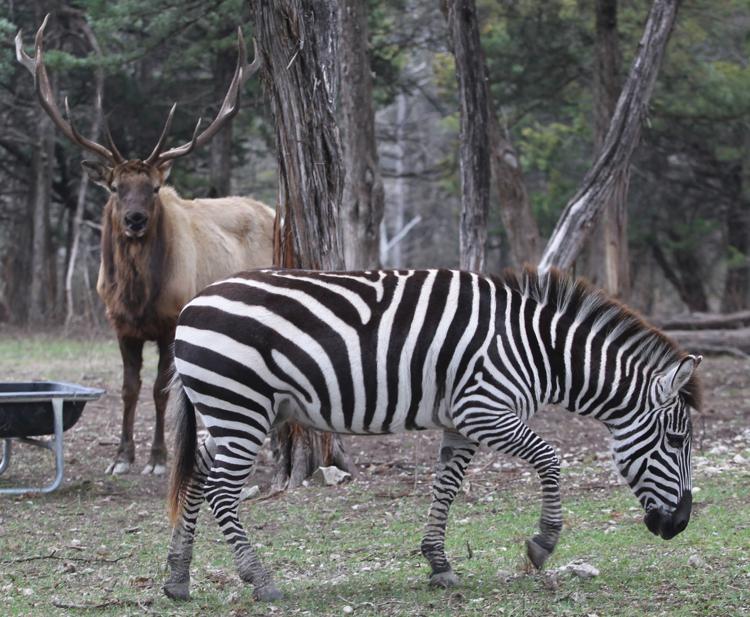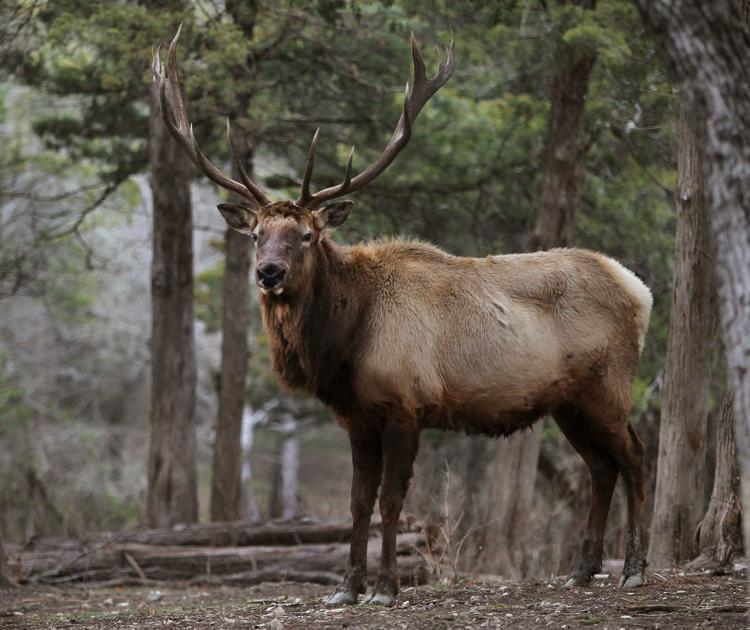 As animals have come and gone, one constant, however, has been the elk.
"My neighbor calls him King Kong," Karen said.
The one zebra Karen Keith owns now is frequently visible around dusk at the feeders near Chapel Road, along with five whitetail deer and 15 to 20 axis deer that bound about as a herd so tightly, they resemble a flock of birds. There is also a small family of elk (a male, a female and their baby), four fallow, four oryx and even three feral hogs. The hogs, Karen said, have all been neutered and are fed often — both measures taken to curb their reputation for destruction.
"The hogs really are getting too big now," Karen says. "I'm going to need to think about doing something with them. My son, Brian, who runs the (Keith Ace Hardware) store in China Spring, has named them Bacon, Egg and Cheese."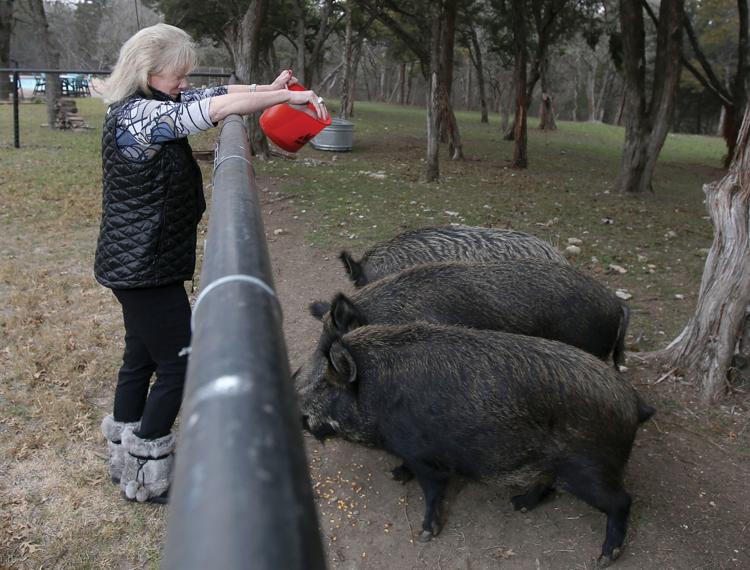 Exotics Ownership
Of course, the sight of a zebra in an increasingly populated area raises a few questions: Where does one even purchase a zebra? Is it legal to own a zebra, or any other of the exotic beasts loping around the property for that matter?
"You'd be surprised! Ranchers have exotics — especially game ranches. I have a guy who will call me up and let me know he's got a blackbuck to sell," says Karen, whose in-laws own the Barnes-Keith Ranch in San Saba. "I wanted to take the blackbuck, but right now I need to work on thinning out the animals we have before we add more. They keep breeding and it just gets to be too many mouths to feed. When we're ready to sell, I call up my guy. The animals get picked up, trailered and delivered to the buyer."
Perhaps unsurprisingly, exotic animal ownership in Texas isn't too heavily regulated. Texas Health and Safety Code prohibits only a short list of dangerous exotic animals, including several big cats and non-human primates. But, owning a zebra (or an oryx for that matter) is perfectly legal.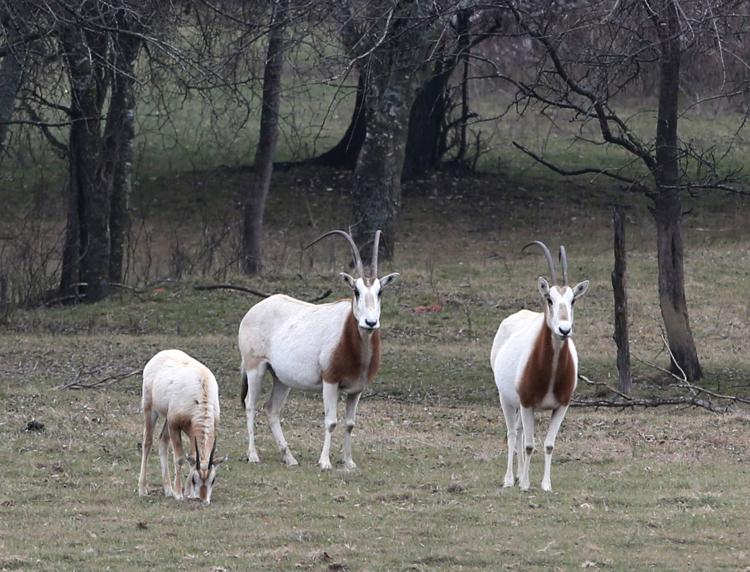 Nationwide, the International Zebra-Zorse-Zonkey Association (yes, zebras are readily crossbred with donkeys and horses) estimates that more than 3,000 zebras call American backyards their home. However, Karen emphasizes that these are still wild animals and are never to be touched or fed by the roadside.
"It's not a petting zoo. These are not animals that you can walk up to and pet. They are wild," Karen said. "They're bigger up close than they appear as you drive by. When you see how massive they really are, you don't want to get close; you get a sense of how risky it would be to try and touch them — especially the ones with horns. You never know whether something might startle them or they might feel threatened, and the males can get aggressive when female animals are in heat."
Not long ago, three zebras could be seen around the property—a female, an adult male and a juvenile male. But one afternoon, Karen returned home around 3 p.m. from a day in Austin to find the young male zebra lying down in open pasture. Equine animals are known to sleep either standing up or lying down, but Karen found this sight unusual.
"I saw him out there and thought, 'What's he doing?' I was able to drive up close and he still wouldn't move. Then, when I got out of the car and was next to him, I could see his head was turned all the way around, 180 degrees."
With the one female zebra in heat at the time, the older of the male zebras had kicked the younger so violently as to break his neck.
While it was a loss and a lesson in the cruelty of nature on a National Geographic scale, the animal did not go to waste.
"I had a friend come over to skin and butcher it," she said. "I couldn't eat that meat. My son tried it, but I just couldn't — just knowing it was our zebra. My son said it was actually rather good!"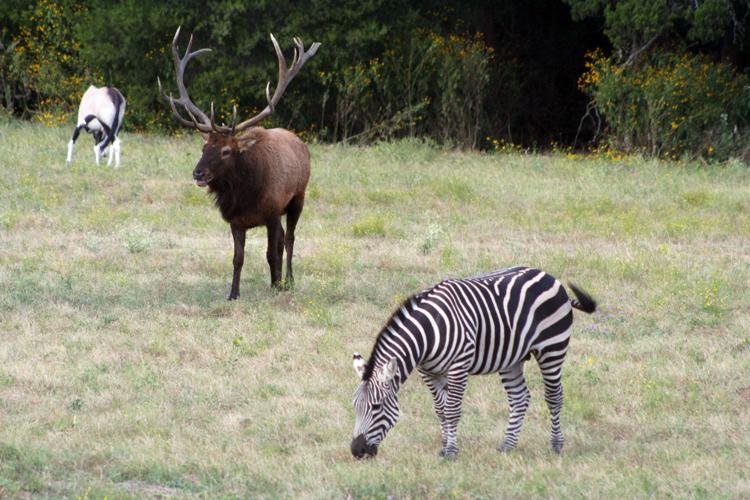 Worthwhile
Outside of the odd purchase of a new animal, it costs Karen around $3,000 annually to keep the animals fed, a smaller figure than some might expect and a line item that reduces Karen's property tax bill under Texas' agricultural exemption.
Still, one question lingers: Eleven years after her husband's passing, why does Karen keep it up? (Hint: It's not just for the agricultural exemption.)
"I do it because people enjoy it," she said. "People have always told us how much they enjoy looking at the animals, so often that when John was alive, he moved the feeders toward Chapel Road so the animals would be more visible.
"My husband was an avid hunter and my son is a hunter now also. Still, John didn't buy the property or the animals for hunting. He just loved them; he loved to look at them. I just keep doing this for the people who enjoy it."