Kate Ramirez is the head woman at LaSalle Shoppes, an antiques and collectibles mall at 2223 La Salle Ave., which means her job entails a variety of tasks. She examines a tricycle across her counter — a children's tricycle completely coated in reddish rust.
Intuitively, she knows its price. After writing the number down on a white tag, she ties it to the handlebar.
LaSalle Shoppes was born from within the Unpainted Furniture store, which was owned by her father, Bill Ramer. It was here that Ramirez spent much of her childhood, learning her father's business.
"I lived here," Ramirez said. "I knew how to stain furniture from a very young age."
The building itself was built in the 1940s. Ramirez opened an old photograph of the original building. Facing the street hung signs for a drug store, an appliance store and The Loop Hotel painted in scripted black letters.
It was a welcome sight to visitors traveling on Highway 77, the main route before the construction of Interstate 35.
Seventy years later in 2011, Jean Ramer retired from a 20-year teaching career and began inviting vendors to open small booths in her husband's store. Eventually the initial few vendors grew to dozens, and today Ramirez manages around 60 vendors within the shop.
"My mom does the bookkeeping," Ramirez said. "She still likes to keep her hands in the business."
Ramirez began a tour around the shop, starting with the far left side of the building where a husband and wife had expanded their original corner booth into an entire wing of the store. Some vendors have started taking multiple spaces, she said.
Lots of Variety
Each vendor has its own flavor. Strolling the aisles, she pointed out one space with Parisian-style handbags, another with tall racks of vintage clothing, and one with farmhouse-inspired home and kitchenware. Others are themed: teapots, comics, iron works, and, in one of the most popular booths, records.
The variety is endless. In the couple's far left room, a shelf stretching to the ceiling is littered with teapots of all sorts. You may spot a bamboo-wrapped handle connected to a green glazed pot or an elegant silver tea set on an elevated platter. A black lacquered chest sits majestically against the wall.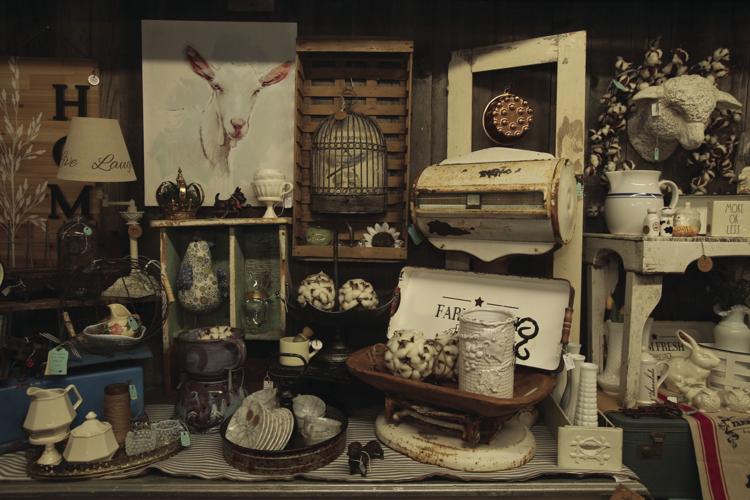 On the opposite end of the store, in the shop called "Listen to the Music," visitors and locals thumb through boxes of records. Classics like The Allman Brothers Band's "Eat a Peach" sit in clear view.
"The owner of the records booth drops by every Friday to change out his inventory," Ramirez said. "So there's always something new to find."
Toward the back of the store she stopped at two of her favorites, comic book vendors Bankston's and Mr. Jay's. It was at an event at Bankston's, the long-standing comics and collectibles store on Valley Mills Drive, that Ramirez and her future husband Armando struck up a conversation. He had frequented LaSalle Shoppes to purchase comics from Mr. Jay's comic booth, making the booth a particularly sentimental place in the store.
Stories like these that make it evident that, for Ramirez and her vendors, the shop is more than just a home for the nostalgic.
"With that many people in here every other day, it's kind of like a second family," Ramirez said. "The vendors were at my wedding and some even join us for Thanksgiving."
The first vendor was one of Jean Ramer's teaching friends, and she leased the booth for $40 or $50.
"Her friend put a sunshine yellow TV cabinet in her space," Ramirez said. "It had coral, purple and blue hand-painted flowers."
It was the first item sold.
"You never know what will sell. Vendors bring things in that I think will never sell … and then it's out the door," she mused.
Popularity
This proved true especially since the dawn of "Fixer Upper" and most recently, the Magnolia Table just down the street on the traffic circle.
"It's changed drastically," she said about the influx of customers since Magnolia Table.
Joanna Gaines shopped frequently in the store when the show aired. There are some scenes of her perusing the store.
"When Joanna called and asked if a camera crew could come by, I didn't think anything of it," Ramirez said. "That was until they needed someone to speak on television."
Ramirez left that to her mother.
"Everyone loves my mom," she explained.
On one of those occasions when the camera crew took a few shots in the store, Jean Ramer met Chip without knowing it. The crew was setting up the microphone on Mrs. Ramer when, nervously chatting to the man standing next to her, she asked if he'd ever met Joanna.
"Yes," he said. "I'm married to her."
In one "Fixer Upper" episode, the side of their building was in a scene for a few seconds, the painted numbers of the 2223 La Salle Ave. address in view.
"This is it, isn't it?" they'd say," Ramirez said. "Isn't this the store from 'Fixer Upper?'"
Turns out LaSalle Shoppes is the only 2223 address in Waco, she said. Fans were calling in droves. Magnolia at the Silos and Magnolia Table visitors stop in frequently to buy novelty items (at least ones that can fit in the car).
With the growth of Waco visitors, she is increasingly thankful for her business and is excited to bring the growth and renewal to La Salle Avenue.
"I'm very blessed because I get to work with my family and my best friends," Ramirez said.
---
LaSalle Shoppes
Tue-Fri, 10 a.m. to 6 p.m.