Julie Brinker says once she began her career in mortgage lending, she never looked back.
"I love making a difference in families' lives and being a part of the American Dream of homeownership," she said.
Born and raised in Waco, Brinker considered becoming an accountant because of her love for math. Mortgage lending came easy to her, she says, because it utilizes those math skills.
"I began my career in mortgage finance in the '80s where I worked at Pioneer Savings and Loan," she said. "I have worked for Wallick & Volk Mortgage since April 2008. My role is branch manager and licensed loan originator."
Her branch consists of five licensed loan officers, one transaction coordinator, two loan processors, one loan closer and a receptionist/setup clerk. It's one-stop shopping for their clients.
"We originate, process the files, draw the closing documents and fund the loans," she explained. "This allows our team to be constantly hands-on with the borrower's transaction.
"In our day and time, many of our competitors originate their loans then ship the loan files to a centralized office to process and close. I am proud that we not only provide excellent customer service but we also provide jobs in our local market."
Brinker says she was drawn to working with Wallick & Volk Mortgage because it is a family-owned business that has thrived since 1932.
The company is built on mortgage knowledge and an unwavering commitment to clients to provide the highest standards of customer service, knowledge and integrity, she said.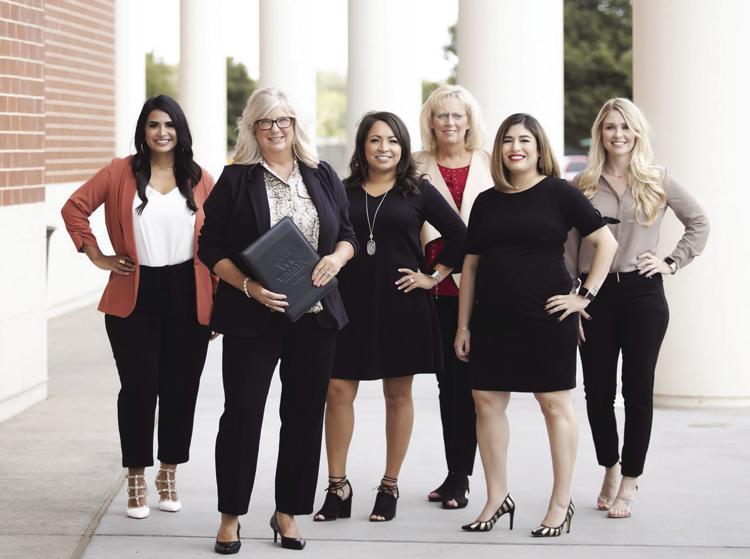 As a branch manager, Brinker is responsible for all phases of leadership and management direction in the Waco office.
Wallick & Volk, which has corporate offices in Cheyenne, Wyoming, has branches across seven states.
Level of Excellence
A top loan originator in the company, Brinker has reached the company's President's Club status every year since she joined Wallick & Volk in 2008. To qualify for President's Club, an individual must originate and close a minimum of 100 loans or have $18 million in closed loans during the calendar year.
During 2019 the Waco branch assisted 331 families in purchasing homes, resulting in more than $70 million in production, she said.
"Over the past 30 years there have been so many changes in our industry," Brinker said. "I love my job because it is challenging, constantly changes and is so rewarding to make a difference in families' lives."
She sums up her life away from the office as a "Christ follower, wife, daughter, mother and Mimi to two beautiful grandchildren."
Clients can expect that Brinker will be heavily involved with working alongside them on the mortgage process.
"I am very hands on," she said. "Myself and my team take pride in walking clients through the process, explaining what to expect, what to do and what not to do, which eliminates transaction surprises and delays."
Brinker said the Wallick & Volk Waco branch provides its clients with value-added products such as FHA, VA, USDA and conventional loans, and the experience of loan professionals who can see it through.
Wallick & Volk Waco has earned its reputation as one of the premier, service-driven, family-owned companies, she said.
One of the best compliments Brinker said that she and her branch receive is from its Realtor partners who say that they can rest easy knowing that there will be no surprises and the closing will be on time.
"When we make a promise to close a loan on a specified time frame, we live up to that promise and close on schedule," she said.
---
Wallick & Volk
Julie Brinker, branch manager
919-D N. Valley Mills Drive