Waco's iconic diner on The Circle drew celebrity attention when Elvis Presley visited while he was stationed at Fort Hood in the 1950s.
As the decades have rolled by since the King's appearance, what was once known as The Elite Café has served thousands of diners who have stopped off while traveling or local residents who cherish its history.
Fast-forward to the latest celebrity fascination to hit The Circle. Renamed, revamped and remodeled, the new Magnolia Table is attracting fans of the HGTV program "Fixer Upper" in droves.
"We're really grateful for the response the Table has gotten so far," said Chip Gaines, who hosts the program with his wife, Joanna, and has made the Magnolia brand a tourist draw. "From what I've heard, folks are really enjoying it."
The nearly 100-year-old café at 2132 S. Valley Mills Drive endured Waco's deadly tornado and the ups and downs of time. It originally opened in 1919 but finally closed in 2016, leaving a cultural void for Wacoans and visitors.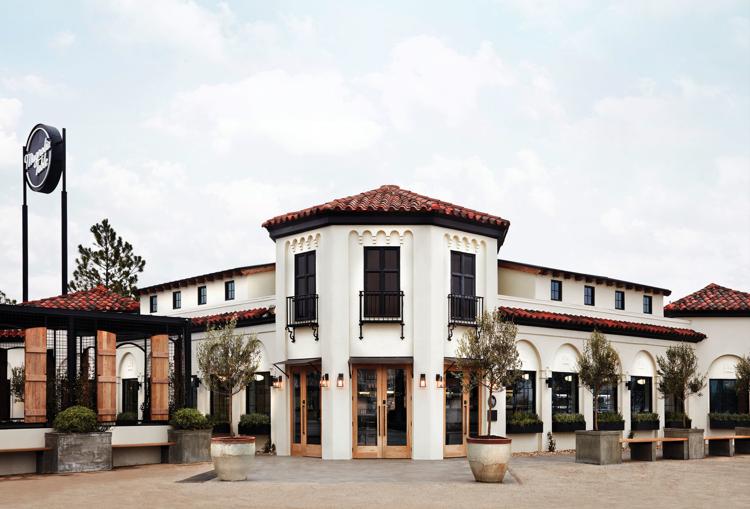 The Gaineses stepped in and purchased the building, setting in motion a yearlong renovation and menu development project that was featured on season 5 of "Fixer Upper."
"Jo and I have lived here for roughly 25 years and like so many other Wacoans, we made a lot of memories at the Elite," Chip said.
"It's an important part of our city's history and it was a priority to us that we honored that history in its renovation. Overall, we knew we wanted to keep this building's original character and nostalgia, while also giving the place a fresh and updated look."
The Magnolia touch is evident throughout the Table with the cozy yet simple design elements that "Fixer Upper" followers love. The eatery's design reflects the home décor style that shoppers seek at Magnolia Market at the Silos at 601 Webster Ave.
"We've been fortunate to welcome a lot of folks from all over the country to the Table," Chip said. "We're always blown away when we hear about people traveling from nearly everywhere to visit the Silos, and now that seems to be the case for the Magnolia Table, too.
"We've gotten a lot of good feedback from our locals and out out-of-town visitors alike."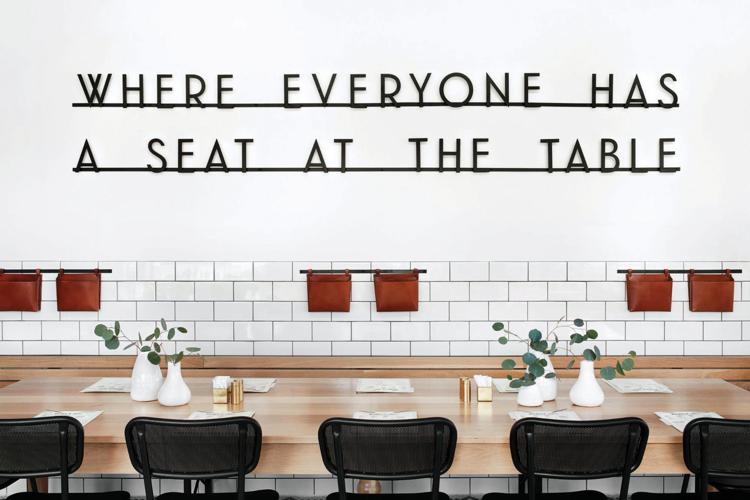 Feeling at Home
The idea is that guests feel at home when they walk in the door to enjoy a meal.
"Jo and I wanted this restaurant to be a place where everyone feels welcome," he said. "We even have a few community tables at the restaurant where you and your party might end up sitting close to a group of complete strangers.
"The idea that people from different places, with different stories, can gather around a table for a meal together was something we were passionate about from the start — it is not uncommon to see one of those tables occupied by a mix of Wacoans and out-of-towners."
The Table's breakfast and lunch menu serves farm-fresh food with an old-fashioned flavor. Seasonal local produce and eggs from Joanna's chickens delight guests who enjoy tasting the Table's staple items like grass-fed burgers and freshly squeezed lemonade.
"Jo and I had a ball coming up with the menu — the kids loved being our taste testers, too," he said. "Luckily for me, this was all going on while I was training for the (Silos) marathon, so I was able to shed those pounds almost as quickly as I put them on."
Vegetarian and vegan options are available and as well as a children's menu.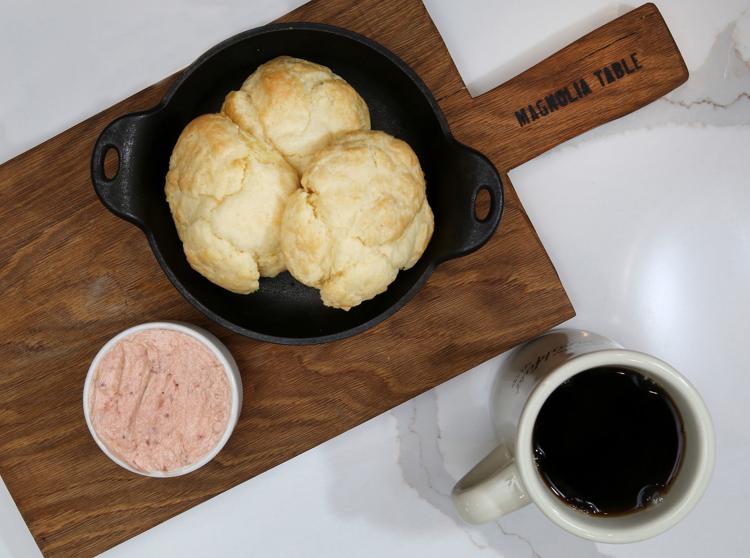 Variety on Menu
"Our goal with the menu was to try and find a way to have something on there for everyone," Chip said. "From the very beginning, we knew we wanted the Table to be a breakfast joint, but we decided that adding a really good, locally sourced burger, and some brunch items would give people a bit more to choose from.
"The whole menu is served all day — so, yes, you can order a burger at 6 in the morning or the pancakes at 2 in the afternoon."
The menu is fresh and simple with a variety of specialty juices, bakery goodies, brunch and lunch offerings and desserts.
The breakfast menu is reminiscent of what grandma might have served at her family farm with fluffy pancakes, thick-cut peppered bacon, cooked-to-order eggs and homemade tater tots tossed with parmesan and fresh chives.
Lunch features specialties as the 1919 Pimento Cheese Sandwich honoring the history of the original diner and the Magnolia Burger with grass-fed beef and heirloom tomatoes on a toasted brioche bun.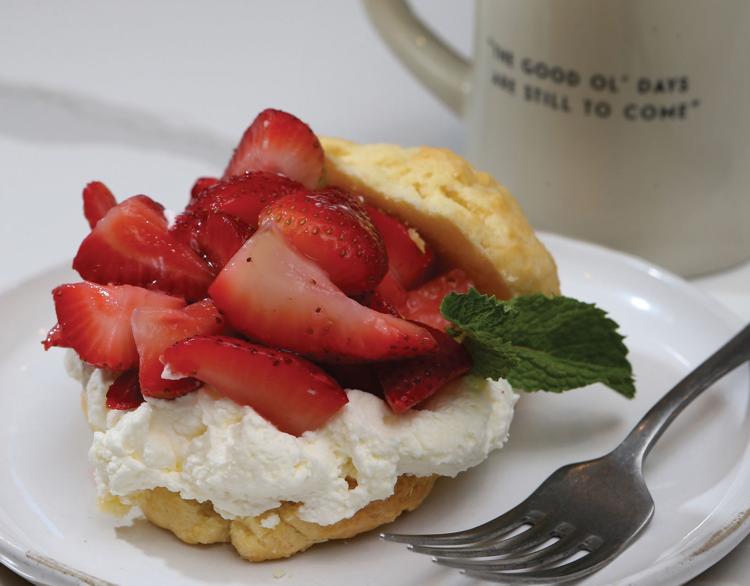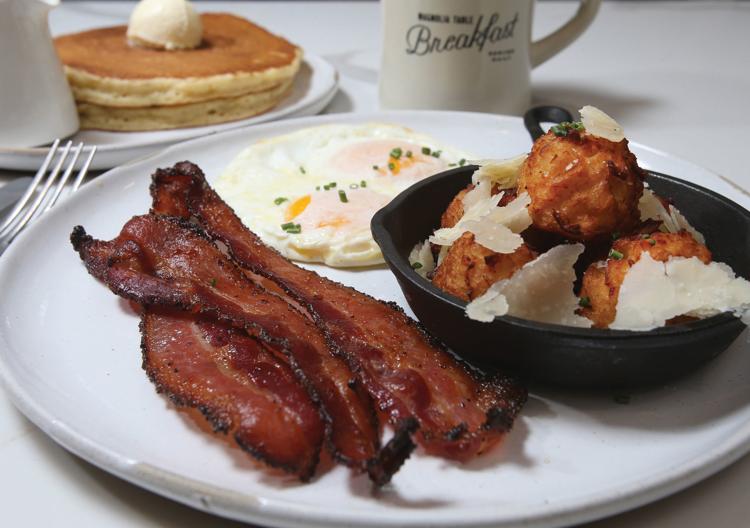 Salads focus on freshness and soups warm the palate with the season selection of the day. Desserts do not disappoint with throw-back treats such as vanilla bean ice cream, classic cakes and pie flavors and banana pudding and strawberry shortcake with house-made whipped cream.
The Table is just one of many ventures the Gaineses have embarked on together to collaborate their respective talents.
"Jo and I have tackled a lot of really fun projects together, but opening a restaurant is in a league of its own," Chip said. "I think the beauty of enjoying a meal at a restaurant is that you get to sit back, relax and really enjoy the experience. You very rarely think about what's going on behind the scenes, There's a real science to that kind of operation and I think that's the part that really surprised me.
Magnolia Table is open from 6 a.m. to. 3 p.m. Monday through Saturday.
The kitchen closes at 3 p.m., so based upon current wait times, the wait list may close before 3 p.m. to accommodate guests waiting to be seated. Magnolia Table does not accept reservations.
Parking can be a little dicey with the large crowds coming to the restaurant.
"I know things can fill up pretty quickly in that parking lot, so we recently opened a new 82-spot parking lot on Circle Road," Chip said. "It's open to the general public, so those spots are available to anyone looking for nearby parking for any of the surrounding restaurants."
---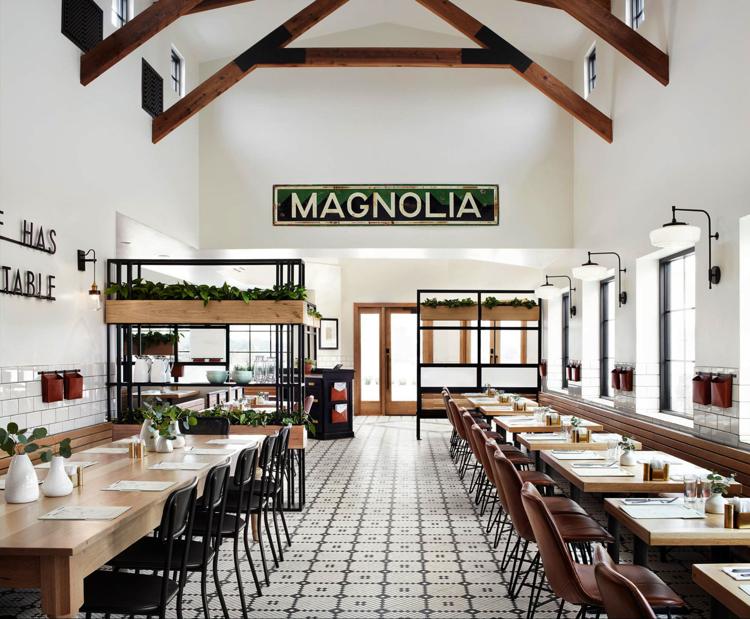 Magnolia Table
2132 S. Valley Mills Drive
Mon-Sat, 6 a.m. to 3 p.m.