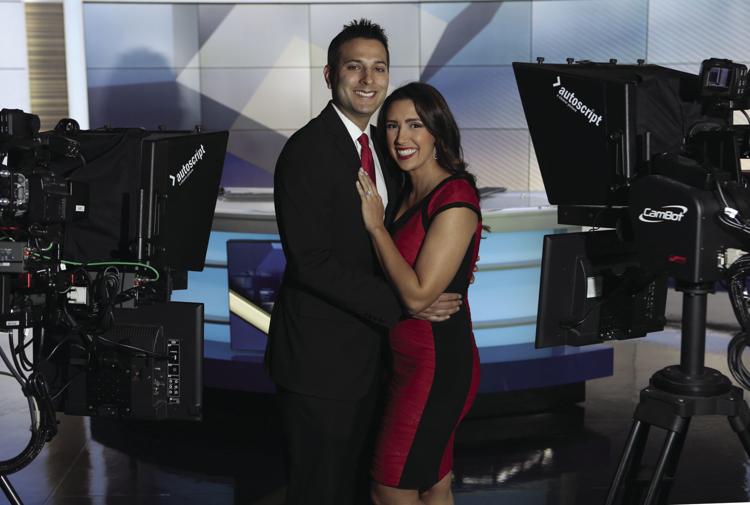 Valentine's Day comes every February, and while couples don't need a specific date to celebrate their love for each other, it usually prompts spouses to think about and honor their marriage.
Waco Today takes this opportunity to visit with two couples familiar to Waco residents: TV anchors Taina Maya and Nick Canizales, and Baylor's First Family, Linda and Brad Livingstone.
Taina and Nick's marriage is particularly interesting because they work for competing TV stations in Central Texas. Taina rises in the wee hours and helps viewers start their day on KWTX-TV's morning show, while Nick is the sports anchor for KCEN-TV's evening broadcasts.
The Livingstones returned to Waco after 15 years when Linda was chosen as Baylor's 15th president and the first woman to hold the position. Consequently, that meant husband Brad, an educator as well, became the first First Gentleman in Baylor's history.
Let's find out how these couples became a match.
Nick and Taina Canizales
Wedding date: April 18, 2015, in San Antonio
Theirs was a workplace romance that turned out great; but their boss had to step in and help make it happen.
Nick and Taina were working together at KBTV in Beaumont in 2011. Nick was the weekend sports anchor while Taina was the weekend news anchor.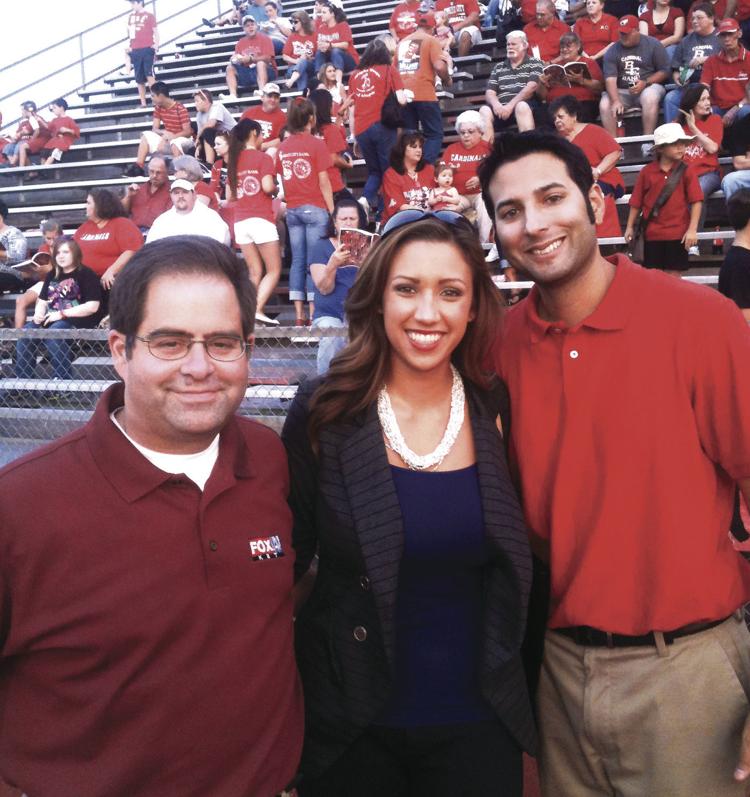 Their news director, Angel San Juan, was constantly trying to get the pair to go on a date with each other, and ultimately decided to get sneaky about it.
"He asked me to be his guest at an event, while at the same time asking Nick to attend the event in his place," Taina said. "The rest is history."
But their first date after that didn't go quite so well.
"Nick invited me over for a spaghetti dinner, but he so was nervous that he forgot to rinse the noodles," she said. "When I twirled my fork the whole bowl of spaghetti lifted up. We looked to each other and busted out laughing."
Nick remembers the occasion.
"Let me tell you, it didn't turn out the way I had envisioned," Nick said. "Talk about an embarrassing moment when you are trying to impress someone. Nowadays, I just stick to grilling while she does all the cooking!"
Proposal
Both were married previously and each had a young child. They dated for three years until Nick proposed on the top of the replica Eiffel Tower at the Paris Hotel in Las Vegas in 2014.
"I had been in contact with the Paris Hotel for months, telling them my plan about proposing," Nick said. "On our way to dinner, I told Taina that we had to stop by the Paris Hotel because I got us tickets to overlook Las Vegas from the Eiffel Tower.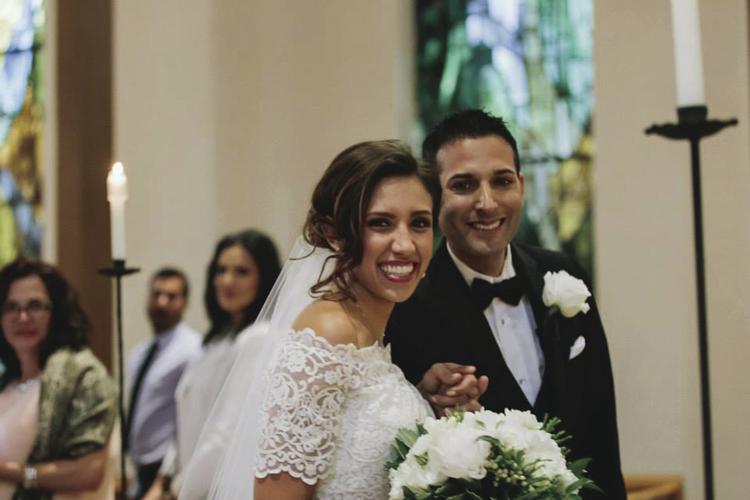 "Everything that I rehearsed for weeks went out the window when we stepped on the viewing deck. I drew a blank, started rambling and dropped to a knee. Thankfully, she said YES!"
Today, they raise their children while juggling high-profile, TV schedules that has them working opposite hours. Time is always at a premium.
"Finding time (for each other) isn't easy with our opposite schedules," Taina said. "When you add in my love for non-profit work and two children who play sports … sometimes watching a show in the middle of the afternoon on a Tuesday is all you can spare, but at least it's something."
Nick agrees that some of their bonding time, when it's not being with their kids, is watching shows they enjoy on Netflix.
Best Traits
Each shared a trait that they appreciate in the other.
"The way Taina juggles so many different things while going on four hours of sleep amazes me every day," Nick said.
For Taina, it's Nick's friendliness.
"Everyone always says, 'Nick is the nicest guy you'll ever meet,' and it's true. He knows no stranger!" she said.
With their opposing schedules, both said maintaining that contact can be a challenge, but it's so important.
"Working opposite schedules for many years can be really tough, but you find ways of showing and expressing your love when you are not there," Nick said. "We write messages on Post-It notes, Facetime or text a lot."
Those Post-It notes mean a lot to Taina.
"Over the years while working at competing stations and opposite schedules Nick has continued to write Post-It notes to me randomly," she said. "If there's a big game late at night, he'll sometimes write a few talking points for me to use on the morning show.
"We usually go the whole week without seeing each other, so even just a short 'have a great show' reminds me that he's always thinking about me."
---
Brad and Linda Livingstone
Wedding date: Sept. 24, 1983 in Perkins, Oklahoma
Basketball genes were strong in Brad Livingstone and Linda Parrack, who met as student-athletes at Oklahoma State University.
Brad's father Ron was the sixth pick overall in the 1949 NBA draft by the Baltimore Bullets but was traded that season to the Philadelphia Warriors and retired after the 1950-51 season.
Linda, meanwhile, was Oklahoma basketball royalty. Her father, Doyle Parrack, was a star player on the 1945 Oklahoma State (then Oklahoma A&M) national championship team and also played professionally for the Chicago Stags, the predecessor to the Chicago Bulls, in 1946-47.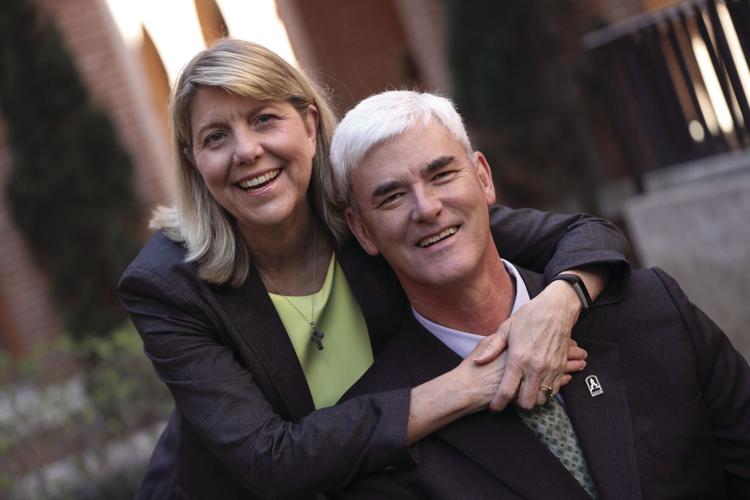 Doyle Parrack went on to coach at his alma mater as well as the University of Oklahoma (where he coached against his daughter her freshman and sophomore seasons) and Oklahoma City University. Linda was an All-State player at Perkins High School and was named Oklahoma MVP her senior year in college in 1982.
They both became educators and school administrators. Brad, a World War II scholar, taught history courses at Vanguard College Preparatory School in Waco and in California. Linda left Baylor to serve as dean of the business schools at Pepperdine University and George Washington University before returning to Baylor as its president.
It was in college where they became a couple.
"Our teams practiced back to back in Gallagher Hall so we would see each other frequently in the gym," Brad said, "We were also very involved in Fellowship of Christian Athletes and got to know each other at FCA meetings and activities as well.
"Between practices in college we would play games of HORSE. There was a no-dunking rule, which resulted in Linda winning every HORSE game we played throughout our college years."
Brad was admittedly taken with Linda and her competitive nature. On Halloween of their junior year Brad was hanging out with his best friend and his friend's girlfriend, who worked in a florist shop. She was finishing work for the day and about to throw out some of the older roses.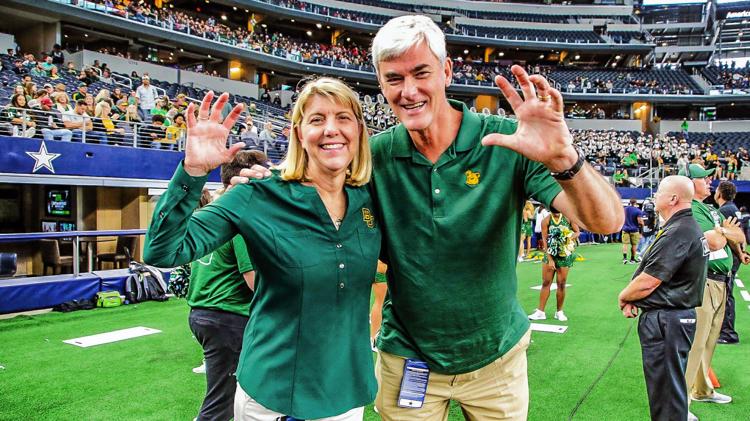 Brad asked if he could take them instead and give them to someone so they didn't go to waste.
After reflecting for a few minutes on whom he should give them to, the three of them headed over to Linda's residence hall. They had the front desk call her room, left the flowers with the front desk, and then went up the stairs to hide in the second-floor mezzanine waiting for Linda to come down.
When Linda arrived at the front desk, she was completely surprised and confused to see three dozen red roses waiting for her with no card attached. She took the roses and began to head back to her room when Brad and his friends yelled, "Surprise!" After a few moments of catching up, the two couples headed out to enjoy the costumes and trick-or-treating around campus.
"We consider this our very memorable first date," Brad said.
They dated for 2½ years until Brad proposed in the summer of 1983. Brad had recently completed his bachelor's degree and Linda had just finished her MBA. Brad was going to play basketball for Athletes in Action in Europe and upon his return work for Fellowship of Christian Athletes in Woodward, Oklahoma.
While they were not engaged at the time, Linda did begin to look at job opportunities in Woodward. The day before Brad was to leave for Colorado Springs for AIA training camp, they were in Woodward where Linda interviewed for a position as assistant director of Kids Inc., the regional recreation program based in Woodward.
She was offered the job and knowing that they both had jobs in Woodward, Brad and Linda returned to Oklahoma City where Linda's parents lived.
Out for a walk that evening, they stopped at the local elementary school jungle gym where Brad (romantic that he is) popped the question. Over dinner that evening with Linda's parents, Brad asked for their blessing, which they happily gave.
Right after that, Linda's mom got up from the table, walked into the other room, and returned with a sign that said, "Congratulations, Brad and Linda!"
"It was clear we had not surprised anyone with our announcement," Brad said. "Thirty-five years later, it seems to be working out quite well."
Both said their favorite advice to young couples is to marry your best friend and keep it that way.
Best Traits
Brad said there is so much about his wife that he appreciates.
"Linda is the most brilliant, funny, Godly woman I have ever known and is a blast to be around," he said. "As brilliant as she is, she has an amazing ability to take any complex situation, good and/or challenging, and come up with a solution that works well. She also has an incredible memory that forgets very little. This is probably why I don't think I've won an argument since we've been married!"
Linda is constantly impressed by Brad's strong faith.
"Brad is a prayer warrior, which I appreciate deeply," she said. "Not just for his prayers for our family, but for his deep compassion for others and his diligence in praying for them consistently over the long run. Brad also has an amazing sense of humor, loves me and (their daughter) Shelby with all of his heart, and is my best friend.
"I also love that he loves sharing his passion for World War II with others. Oh, and Brad rocks being the First Gentleman of Baylor!"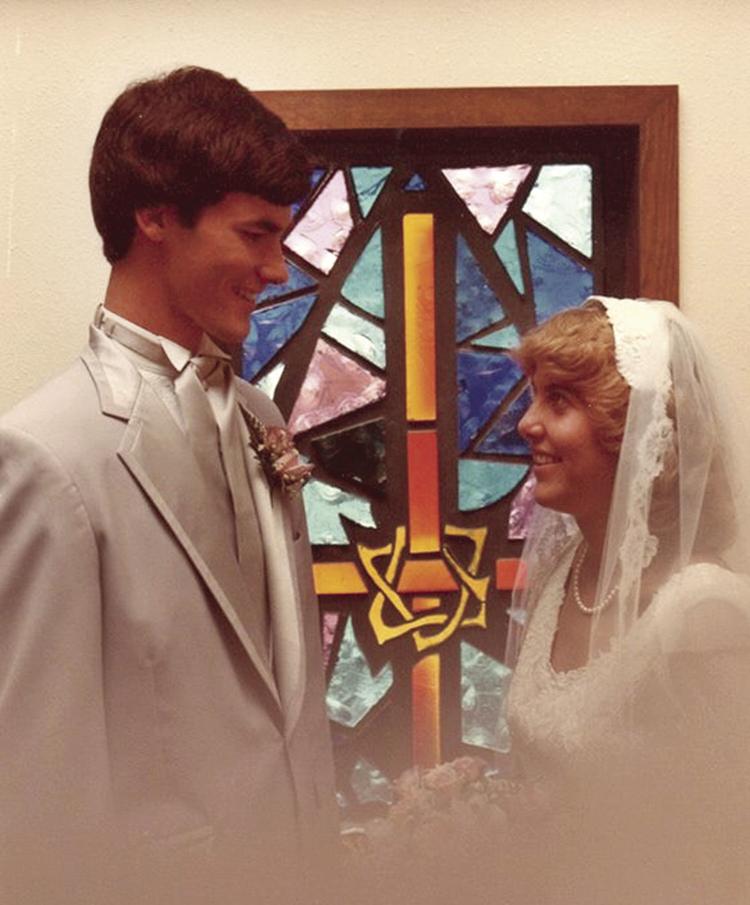 Dad's 'Involvement'
Both enjoy sharing the story of how Brad's father helped "coordinate" them getting together.
The first semester of their freshman year (two years before they started dating) at Oklahoma State, they both had classes in the "Classroom Building." A couple of weeks into the semester they ran into each other in the hallway between classes.
Brad told Linda, "I have a funny story to tell you. There was an article about you in the Oklahoma State publication that goes to all employees (Brad's dad worked at Oklahoma State Tech in Okmulgee, Oklahoma). The article was about you being a good student and an athlete. It also had your picture. My dad sent me a letter and the article, circled your picture, and wrote beside it: 'These are the types of women you should be dating.'
"Isn't my dad hilarious?"
Linda did not come away from that conversation thinking the same thing.
Instead, she thought, "That is the worst pick-up line I think I've ever heard."
"We promptly filed that conversation away and forgot about it until we were engaged and meeting with the pastor to plan our wedding ceremony," Linda recalled. "Brad found the article and letter, shared it with our pastor, and he used it in our wedding ceremony. Brad's dad was always quite proud of 'being responsible' for bringing us together."