Waco's Brazos Bar & Bistro is home to a variety of menu items, some of which are named for local and visiting guests. Located inside the Hotel Indigo Waco-Baylor at 211 Clay Ave., this colorful downtown eatery offers drinks and dining throughout the day for guests who live nearby or for those visiting Central Texas for the weekend.
"We really care about the people of our community that support us and allow us to create strong connections and lifelong bonds with them," said Cassie Garrett, sales manager with the hotel and restaurant. "We offer locally inspired seasonal dishes along with the finest Scotch and whiskey wall in Waco. Our wine selection is hand-picked by our house sommelier, Blake Seidler, who does a phenomenal job in keeping top-quality, globally favored brands and varietals."
One example from the menu that reflects local inspiration is the Raffertini, which Garrett said is a Mexican martini named after Waco veterinarian Dr. Barney Rafferty and his wife, Vicki.
"They had asked for a special cocktail which we made for them every time they came and other guests would ask what it was," she said. "It became so popular that we put it on our menu."
Seidler said another fun addition to the drink menu was named for a couple from Longview, Brad and Wendy Steele.
"The Steele Rita is one of our signature cocktails that is very popular and inspired by one of our dear patrons," Seidler said. "The Steele family has been great friends of ours since we opened and we felt like it was only right to pay them tribute by naming Wendy's favorite drink after her."
Start with Brunch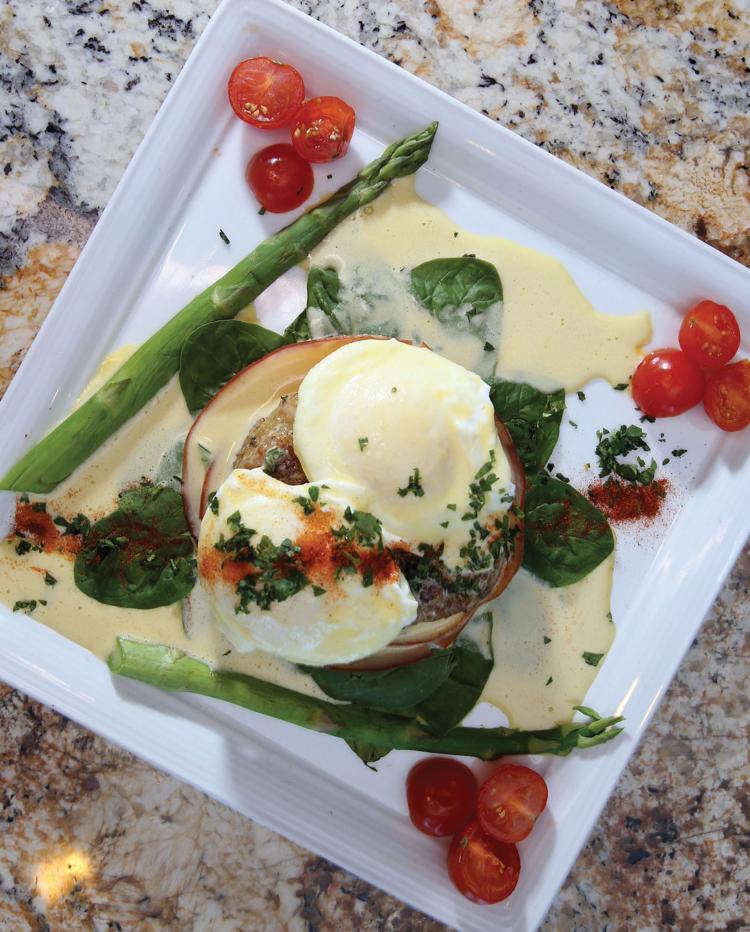 From the 4th Street French Toast — a Frosted Flakes-crusted sourdough bread topped with strawberries and pecans — to the Veggie Frittata, Brazos Bar & Bistro's brunch menu provides a number of unique selections, Garrett said. Another favorite is the Smoked Salmon Deviled Eggs.
The restaurant began serving brunch on the weekends earlier this year.
Lunch features include something hearty for bigger appetites, although lighter options are available, too.
The Maverick Black Angus burger is topped with a fried egg and jalapeno avocado aioli.
"It is a little messy to eat, but so worth it," Garrett said. "Our Teriyaki Lime Ahi salad is amazing and a perfect lighter option when you want something fresh and healthy."
Dinner Choices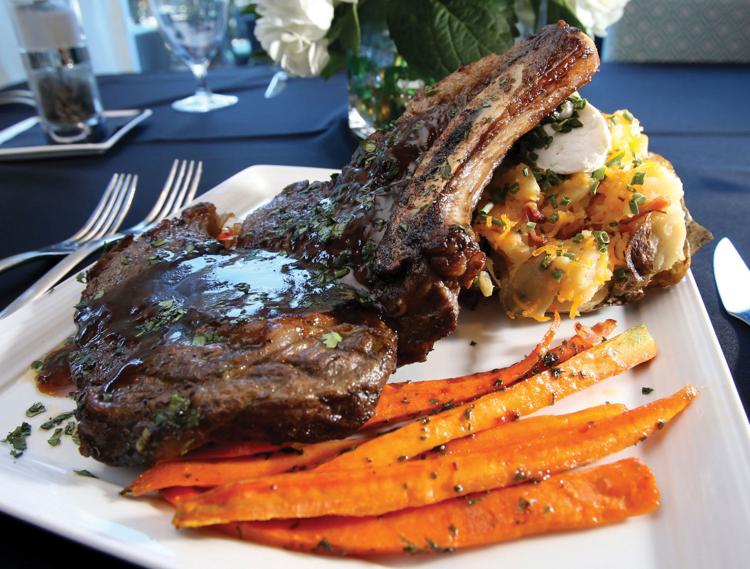 Popular dinner items are the Tomahawk Pork Chop, the Chilean sea bass and the Weaver Rumble.
"A new menu favorite is the Weaver Rumble," said Garrett, referring to the 20-ounce, bone-in, French-cut ribeye, braised with a Balcones Rumble demi-glace reduction. Use of the Balcones product in the meal is another example of the restaurant's commitment to local options, she said.
"We named this dish after a local couple, Billy and Carol Weaver, who have been weekly regulars and great supporters of ours throughout the years," she said. "Billy Weaver asked us to add a bone-in, high-quality steak to our menu and we delivered our promise and rightfully named it after him."
Great Ambiance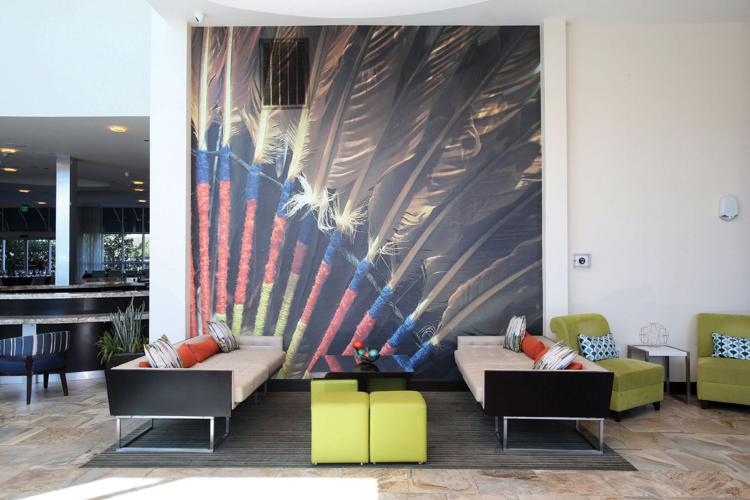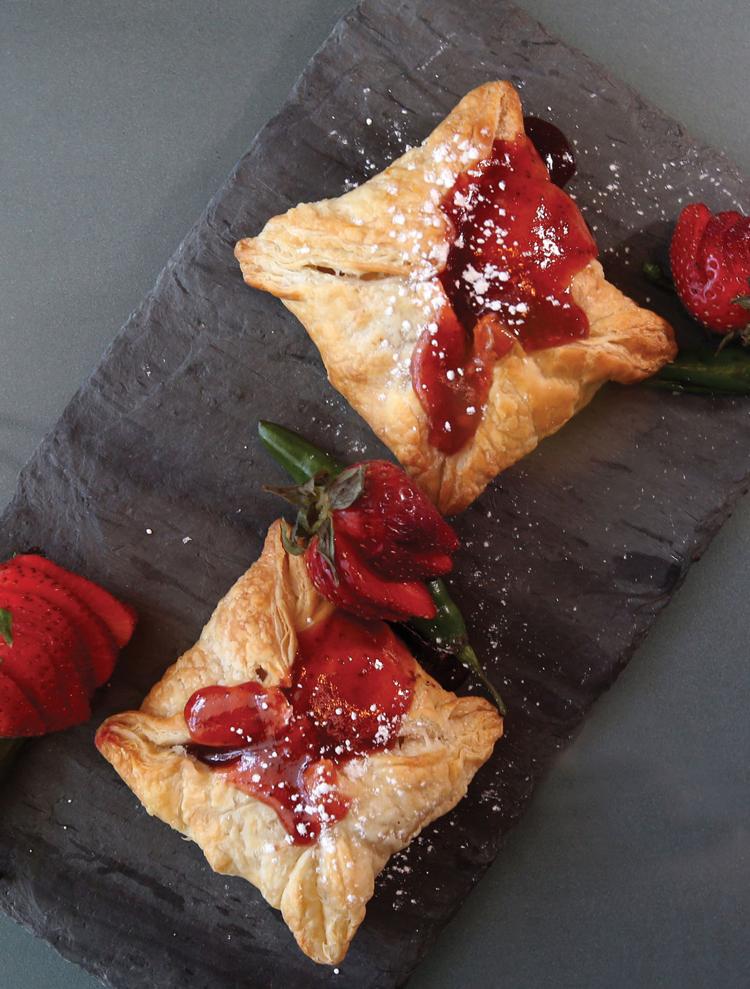 If the food and drinks aren't enough to capture the attention of patrons, Garrett said the ambiance will.
"Guests and locals are drawn to our contemporary and stylish design, and become regular patrons once they experience our energetic atmosphere and well-seasoned service team," she said.
With the capability to provide a local venue for parties and special events, Garrett said they welcome just as many local visitors to the restaurant as hotel guests, if not more.
"It's safe to say we have a wide variety of reasons the Waco community comes and spends time at Brazos Bar & Bistro," Seidler said. "We've been successful in assembling an elite group of team members that aspire to leave a lasting impression for every occasion."
From the extra special to the everyday, Seidler said occasions to consider hosting at Brazos Bar & Bistro include brunch with friends, wedding group weekends, business meetings, anniversary dinners, baby showers, meals to accompany downtown events, surprise birthday parties, or even having a relaxing drink on the patio or an upscale dinner to impress out-of-town guests.
Weekends draw out-of-towners to the Hotel Indigo for Baylor University football games as well as other campus events, Garrett said. Such gatherings bring in repeat guests to the restaurant, as well.
"We have an amazing regular customer base," she added. "The parents and families that stay will us often call us their second home."
Seidler, who explained that his job entails "understanding the complexities of wines and spirits, and being able to relate them to our guests," said he wants locals to feel as welcomed at the Brazos Bar & Bistro as those visiting for weekend events.
"By having such a pivotal location downtown, surrounding most of the upcoming growth, it makes the choice very convenient," he said. "I'm confident that any newcomer will leave inspired by our incredible team."
Once a month, guests can check out the First Friday Special. This coincides with the monthly downtown event that features deals and other specially planned happenings at participating Waco merchants and businesses in the area.
Garrett said visitors can make online reservations through Yelp, as well as view the current menu. She also said food can be delivered through Sic'em Delivery while specials and events can be found on the Brazos Bar & Bistro Facebook page.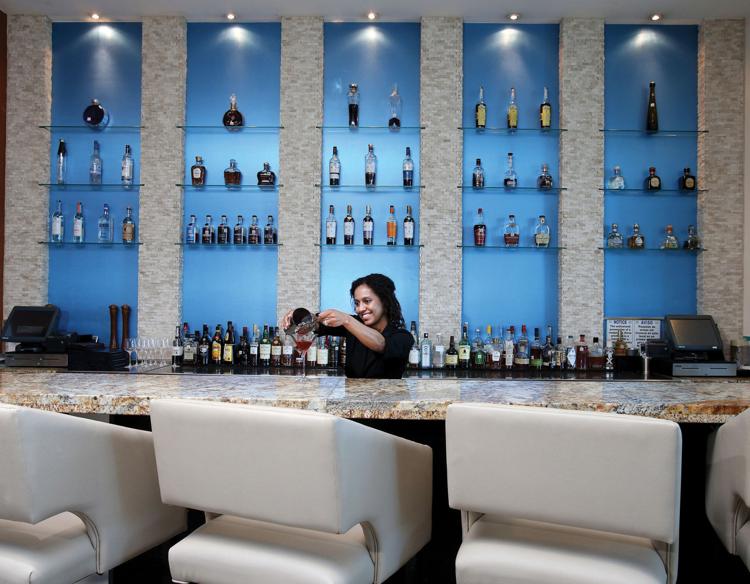 ---
Daily, 6:30 a.m. to 2 p.m., 4:30 p.m. to 12:15 a.m.
Brazos Bar & Bistro is on Facebook