Lake Air Pool Supply owners David and Charlotte Jordan were not considering a career in swimming pools when they met as teenagers. Instead, they met over a different shared passion.
"We were horse people!" David said. "Charlotte was a barrel racer and I was a bull rider."
David worked at his family's grocery store, Jordan's Red & White in McGregor, after school and on weekends. He always thought he'd stay in the grocery business. The couple married in 1978, and by 1982 David was working for Charlotte's family at Lake Air Pool Supply (LAPS) constructing swimming pools.
When they had the opportunity to buy the business from Charlotte's parents 24 years later, the couple jumped at it. Today, they can't imagine being in any other profession.
LAPS is a family-owned business which spans four generations and 60 years of service to Central Texas customers. The business no longer constructs swimming pools, but specializes in pool service and equipment repair; and sells the highest-quality hot tubs and swim spas in the industry.
Besides David and Charlotte, the staff of 25 employees includes the couple's two sons and their wives, and some members of their extended family. The Jordans' grandchildren and three standard poodles also are frequent visitors.
"People come in and say, 'I don't have a pool, but I hear you have poodles," Charlotte said. "They stop by to see the poodles!"
"Lake Air Pool Supply is sometimes known as Lake Air Dog Care … or Lake Air Child Care when the grandkids are all here," David added.
The Jordans say the family atmosphere at LAPS is one of their greatest assets.
"The pool industry is a family-driven business, and there are many three- and four-generation companies," David said. "As with any family business, everyone has a job to do, and we all function to make it work. I won't ask any employee to do something that I won't do myself. If your name is Jordan, you don't have a day off!"
The family's dedication and attention to customer service has proven to be the formula for Lake Air Pool Supply's six decades of success in Central Texas.
How It Began
Charlotte's uncle, Bob Hollingsworth, was a local businessman who saw the need for a swimming pool construction company in Central Texas. He and his wife, Alice Schraeder Hollingsworth, founded Lake Air Pools Inc. in 1959 from their home in Robinson with three other employees: Charlotte's father, Charles Schraeder; uncle, Bill Schraeder, and cousin, Bernie Schraeder.
The Hollingsworths named the business "Lake Air," despite its Robinson location, hoping to dovetail with the community's excitement surrounding the soon-to-open Lake Air Mall on Bosque Boulevard. By the early 1960s, Lake Air Pools moved to Dutton Avenue near the former site of Baylor's Floyd Casey Stadium, and added a service department.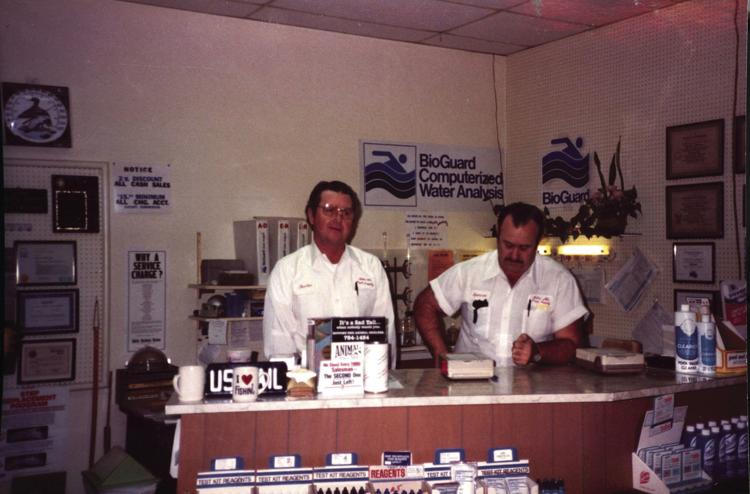 In the 1970s, Lake Air Pools opened the first retail location in Southgate Shopping Center on South Valley Mills Drive. From 1959 through the '70s, the company built city swimming pools in Robinson, Gatesville, Lewisville, Lufkin and Palestine; most of Waco's hotel and apartment pools; and several local residential pools.
Charlotte's father and mother, Anabell, along with Spencer and Delores Johnson purchased the retail and service departments in 1982, and changed the name to Lake Air Pool Supply. David joined his parents-in-law in the business, while Charlotte worked at Success Motivation Institute (SMI) and then Baylor University. The business continued to grow and moved to its current location at 3342 Franklin Ave. in 1985.
When the Schraeders and Johnsons retired in 2006, David and Charlotte bought Lake Air Pool Supply. Charlotte left her job at Baylor to join the business full time. Their oldest son Ryan, a Baylor graduate with a degree in aviation, and younger son Cody, a film and digital media student at Baylor, came on board next. When the two daughters-in-law joined the business, the entire Jordan family was employed at Lake Air Pool Supply.
Service and Repairs
When the Jordans bought Lake Air Pool Supply in 2006, gasoline prices were at an all-time high. People weren't travelling but, instead, began putting money into their backyards. David took note of the trend.
"I told everyone, 'We better get our bootstraps on because we are fixing to get busy,'" David said. "And we did!"
Lake Air Pool Supply employs trained technicians who have more than 150 years of combined experience in pool service and equipment repair. The professionals can customize a water care plan that makes pool maintenance as simple as possible. They service 250 to 300 swimming pools, with more in the summer and on a waiting list, according to Cody Jordan, service manager
They are able to repair or replace any pool equipment including filters, pumps, motors, heaters and pool cleaners.
"We can fix anything," Cody said. "We do it all – from the plumbing to the electrical. We are all certified and receive extensive training to do our job. I don't like subpar work. When we do it, I know it's been done right."
David agreed. He said online stores like Wayfair may offer pool motors for a cheaper price, but they won't come to the home to install it. If the customer installs the part themselves and the motor burns up, the insurance company will deny the claim because a licensed professional didn't install it.
"We are experts at what we do," he said. "You might find it cheaper somewhere, but you won't find it better."
Highly trained technicians are even more important when caring for today's sophisticated swimming pools. Unlike those of the '60s, contemporary swimming pools are more automated, yet more cost-effective and environ-mentally friendly. Pools can also be designed with the latest high-tech features such as LED colored lighting, underwater sound systems and computerized waterfalls.
"Pools have become so automated that they can be programmed from an iPhone," Cody said. "Someone can literally fly in from a trip, use their iPhone from the airport to program the pool, and have it ready to swim in when they get home."
More than Pools
Those interested in healthy lifestyles have discovered the health and wellness benefits of owning hot tubs and swim spas. Lake Air Pool Supply recently opened a showroom to feature Hot Spring Spas and Endless Pools Fitness Systems.
Ryan Jordan, pool and spa specialist, confers with customers and helps them find the right product to suit their personal fitness goals.
Some people envision coming home after a stressful day and relaxing in a hot tub while visiting with a loved one or a few friends. Others may be more interested in the hydrotherapeutic benefits of the warm water to relieve arthritis and other joint and muscle pain.
An emerging number of fitness enthusiasts are turning to spa pools as an alternative to swimming pools for training and exercise. Endless Pools Fitness Systems, a spa pool available at Lake Air Pool Supply, is like an aquatic gymnasium with optional underwater treadmill, rowing, strength-training exercises and hydrotherapy.
The Endless Pool swim machine creates a swim-in-place experience using a hydraulically powered propulsion system creating a current that feels like swimming in open water. The system's smaller size allows swimmers the ability to swim laps without worrying about turns or paying for big pools. A fitness system does not take as much room as a traditional swimming pool and it's mobile, so it can be moved if the owner moves.
"Endless Pools offer benefits for everyone, from the senior citizen who likes water aerobics to the athlete training for a triathlon," Ryan said. "The human body is 75 percent lighter in water, so swimmers use minimal effort to achieve maximum efficiency."
Ryan swims in an Endless Pool for more than an hour a day, and professes to the benefits of aquatic exercise.
"The body works better in water," he said. "It just makes sense."
Ryan's wife, Katie, works in Lake Air Pool Supply's accounting department and shares her husband's enthusiasm for health and fitness.
"Wellness in Waco is on the upswing. People are doing yoga and riding bikes," Katie said. "Offering this type of equipment positions us right there in the health scene. It's not just 'boring pool stuff.'"
Family Connections
Although Ryan and Cody didn't plan to work in the family business, in retrospect they have no regrets.
"We were totally raised in this building," Ryan said. "Cody used to take naps in the closet. Now our own kids are growing up here."
"And more than half of the kids can test water samples," Katie added.
"I never expected to be in this business, in fact I tried to get far away from it," Ryan said. "But it's like a tractor beam . . . it drew me in."
Ryan said work is never far from his mind.
"I live it and breathe it," he said.
Ryan believes being part of a family business is like marriage. It's always a challenge and it takes work.
In the rare times when family members don't agree, they talk about it to determine the best decision.
Cody said he and his wife Katlyn, the company's service dispatcher, may disagree about something at work, but they rarely disagree at home.
Katlyn agreed. "We leave work at work."
She said working together has allowed the family to be a close-knit unit.
"There are many smaller partnerships here, like father and son; brother and brother; and wife and husband," Katlyn said. "David and Charlotte convey an attitude that values family connections and wants the whole thing to benefit."
The family atmosphere sets the tone for the relationships they have with customers, as well.
"We know 90 percent of the customers who walk through the door," Katlyn said. "We know their kids' and dogs' names, too."
"We've laughed and cried with them at the counter," Katie added.
Every one of the Jordans agrees that the best part of being in a family business is the fun they have.
"Why wouldn't this be a fun place to work?" Ryan said. "We sell the coolest stuff on the planet!"
---
Lake Air Pool Supply
Mon-Fri, 7:30 a.m. to 5:30 p.m.
Also on Facebook, Instagram, Twitter