It was jaw surgery that ended a potential career in music and opened up dentistry for Dr. Charles Town.
Town will have had Stonehaven Dental and Orthodontics for five years in Waco this June. It has a second location in Harker Heights.
As a student at Saginaw Boswell High School in Fort Worth, Town was an All-State tuba player and was considering majoring in music and playing professionally.
But his mouth was a mess. He wore braces, had silver caps on his teeth due to decay from milk, had a bad underbite, and TMJ pain.
"I didn't smile," he said.
He got all of that fixed during spring break of his junior year.
"I did a 180 with my self-confidence," Town said. But there was one downside.
The underbite that served him well playing the tuba was gone.
"It totally changed the way I played," he said. "I'd get this numbness in my lips and I couldn't do it anymore."
Change in College
He entered TCU as a business major, "but my heart wasn't in it," he said. "I did an internship in Fort Worth but I couldn't get into that business cubicle culture."
That's when he remembered his personal change after jaw surgery.
"I realized I wanted to be part of that, to help people change their lives through dentistry," he said.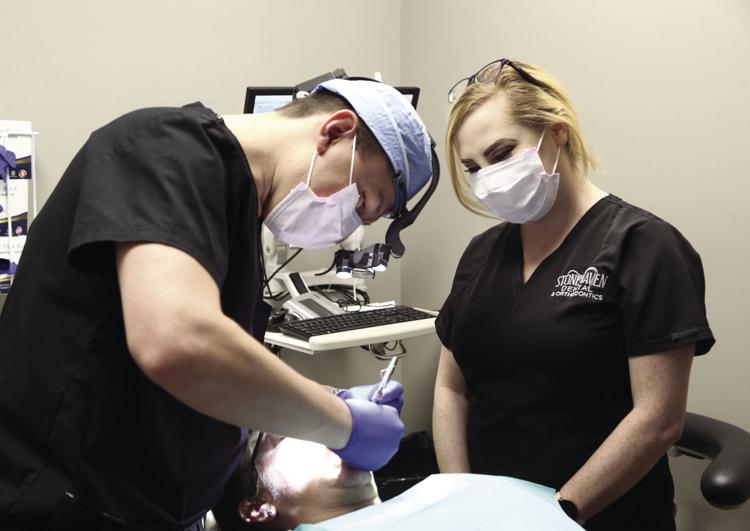 Town became a biology major with a minor in chemistry, earned his undergraduate from UNT and attended Baylor College of Dentistry, where he received his Doctor of Dental Surgery degree.
He worked for two years at Element Dental in Bryan when he decided to strike out on his own and picked Waco.
He and his wife, Christy, had no ties to Waco, but it had the small-town feel they were seeking and it was in a good location. Christy has family in Arlington while Charles' mother and sister live in Fort Worth and work at Lockheed-Martin.
They met during his senior year. Christy was a sophomore art major at the time. She does artwork on commission and does live video art, where she'll take a blank canvas and within two hours turn out a masterpiece, Town said.
They have a fur baby, a mutt named Cooper.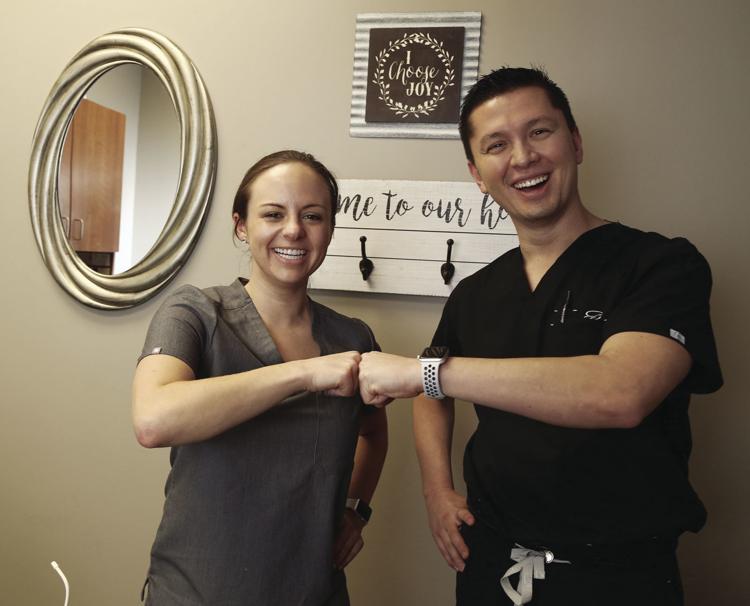 Blessings, Growth
Town said he feels blessed to be working in dentistry in Waco and has seen incredible growth in his practice. But more importantly, he said he enjoys seeing the changes in patients after they've fixed their dental problems.
"We have a high-tech office, do a lot of implants, full-mouth reconstruction, cosmetic veneers," he said, adding that his staff is knowledgable about handling medical billing if the treatment requires that, such as providing an oral appliance to aid with sleep apnea.
He points out that his staff his great about following up with patients the day of surgery to make sure they are recovering properly.
Town also is an active member in the American Dental Association, Texas Dental Association, Central Texas Dental Society, Academy of General Dentistry and American Academy of Implant Dentistry.
Other dentists in the practice are Dr. Dan Bowcutt, orthodontist Dr. John Alexander and newest member, Dr. Melissa Kupfersmith, a Kansas native who came to Waco after dental school at The Medical University of South Carolina in Charleston.
She joined the practice last June and she said enjoys the variety of dental work they are able to do.
---
Stonehaven Dental and Orthodontics
824 Hewitt Drive, Suite 300