Portofino Italian Restaurant is the kind of place where everybody knows your name. Old World class, made-to-order cuisine and service that makes customers feel like family have earned the restaurant a loyal following.
With dishes on the menu like Chicken Albanese and Joe's Garden Special, New York Style Pizza and lunch specials that include hot and cold sandwiches, pastas and salads, Portofino's is both elegant and efficient.
A quick walk or drive for people who work downtown, the restaurant's location at 725 Austin Ave. transforms into a fine dining — but affordable — dinner destination for a special date night. Cloth-covered tables, comforting earth tones, art with a European flavor and music reminiscent of a 1940s bistro create a delightful ambience day and night.
Formerly on Lake Shore Drive, Portofino's moved downtown in 2014 bringing along customers who had fallen in with love their authentic cuisine.
Owner Nick Colaku was born in Macedonia, formerly Yugoslavia, before moving to Rome where he found work in a pizza restaurant.
"He started as a dish washer and watched them make pizza. Little by little, he started to learn to cook," said his daughter, Jamarbra Coma, 25.
Colaku came to America in 1974 working in restaurants in New York's Little Italy. He was 17 and only spoke Italian and his native language from his home country.
"That's when he really fell in love with food," Coma said.
His experiences have melded into a menu that offers dishes "based on what he learned in Italy and what he learned at the restaurant in New York and his own creations."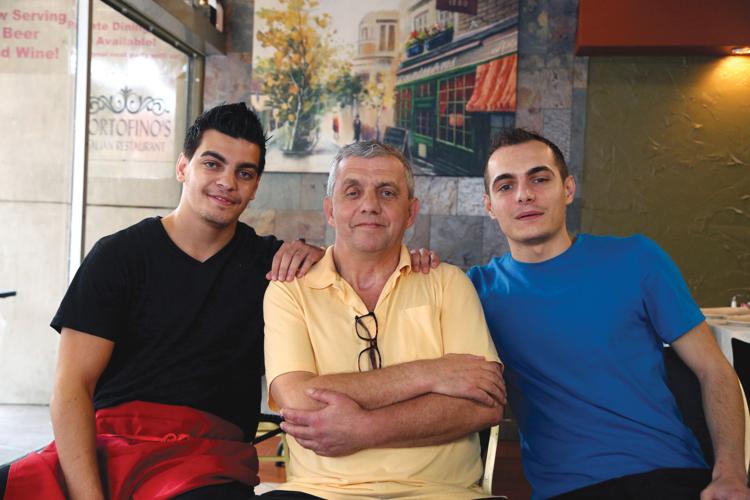 Colaku first came to Texas in 1999 to visit his older brother who was living here. When he returned to New Jersey, he knew wanted to live in Texas, so he came back and opened a restaurant in Fort Worth. He moved his family to Waco about 10 years ago.
Colaku's personal favorite on the menu is Joe's Garden Special, named for his brother.
"We do a breast of chicken sautéed with baby spinach and vodka in heavy cream mixed with marinara sauce, different spices and fresh tomatoes on the top. It's very popular," said Colaku, 58.
Coma's favorite dish is Chicken Bruschetta, "chicken breast dipped in eggs and sautéed a little bit and cooked with butter, garlic, red onions, white wine, fresh tomatoes and mozzarella cheese on top.
She said Portofino's dishes will often surprise customers because of their unique freshness.
"There are things that everyone knows of like lasagna, but everyone has their special recipes," she said.
They added Nona's Trio to the regular menu because it was so popular.
"It gives everybody a little sample of the favorite foods, fettuccini, lasagna and chicken parmesan."
Chicken Piccata is another favorite with its light butter lemon sauce with capers while Chicken Fettuccine is a little heavier with Alfredo sauce and fettuccine noodle.
"We want to make sure it's fresh for every customer," Coma said. "We use organic spring mix for the salads, the best cheeses. When you put good ingredients in, you get good dishes. We are not only feeding the customers, we eat there, too. We want to serve our customers food we enjoy, too. When a customer asks us for a special dish, we make it."
Colaku likes to try out new recipes with his customers and will ask them for feedback.
"Nothing is premade. We have signature dishes," he said. "You go everywhere in the Waco area and in Texas, I don't think you will find it except our place."
Colaku knows that customers come not only for the delicious food he serves but for the friendship they experience.
"When you go to a franchise restaurant, they don't know who you are, but when you come to my restaurant the first time or second time, I will know who you are and I will make you feel welcome," he said.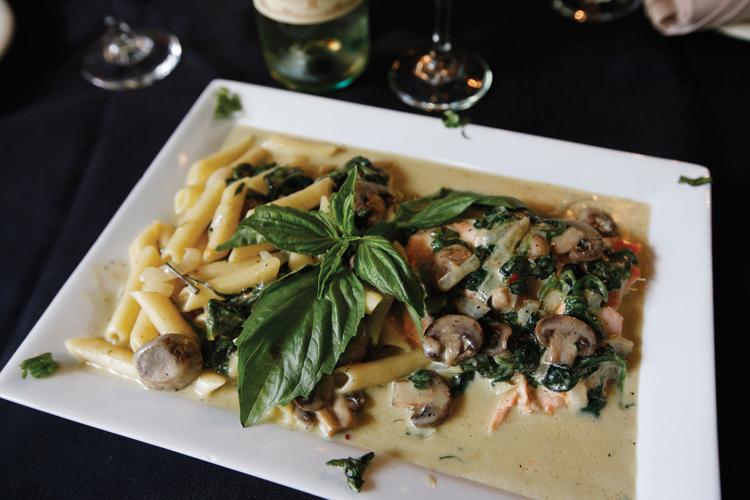 Also working in the restaurant are sons Arbnor, 24, Hajrijon, 23, and Colaku's wife, Sophia.
"My brothers and mother and father love seeing smiles on people's faces. They genuinely enjoy going there and getting to know their customers," Coma said. "They have met some of their best friends in the restaurant."
Those conversations have inspired some of Portofino's "off the menu" specialties.
"We are always trying to come up with something new and different," Coma said. "Now that my brothers are cooking, we are always working off of each other and always trying to change it up. People are trying to get healthier now, and we are always trying to get customers what they want."
Selami Fazziy, head cook and Colaku's brother-in-law, said he enjoys taking a traditional recipe and adding this or that, changing the sauce and varying the ingredients to create something entirely different.
"You can do a lot of dishes here that are not on the menu," said Fazziy, who worked at Colaku's restaurant in Fort Worth before he came to Waco.
His personal favorite dish is Chicken with Vegetables in a light lemon white wine sauce with broccoli, onions, mushrooms, spinach and bell pepper.
Fazziy loves to make a favorite for his customers, Chicken Mushroom Spinach, in a whisky pink sauce.
"It's not on the menu; it's in my mind. People love it," he said.
Other specialties are his fettuccini with garlic oil, basil, fresh tomatoes, shrimp and white wine sauce and salmon with mushrooms, spinach, onions and white wine cream sauce.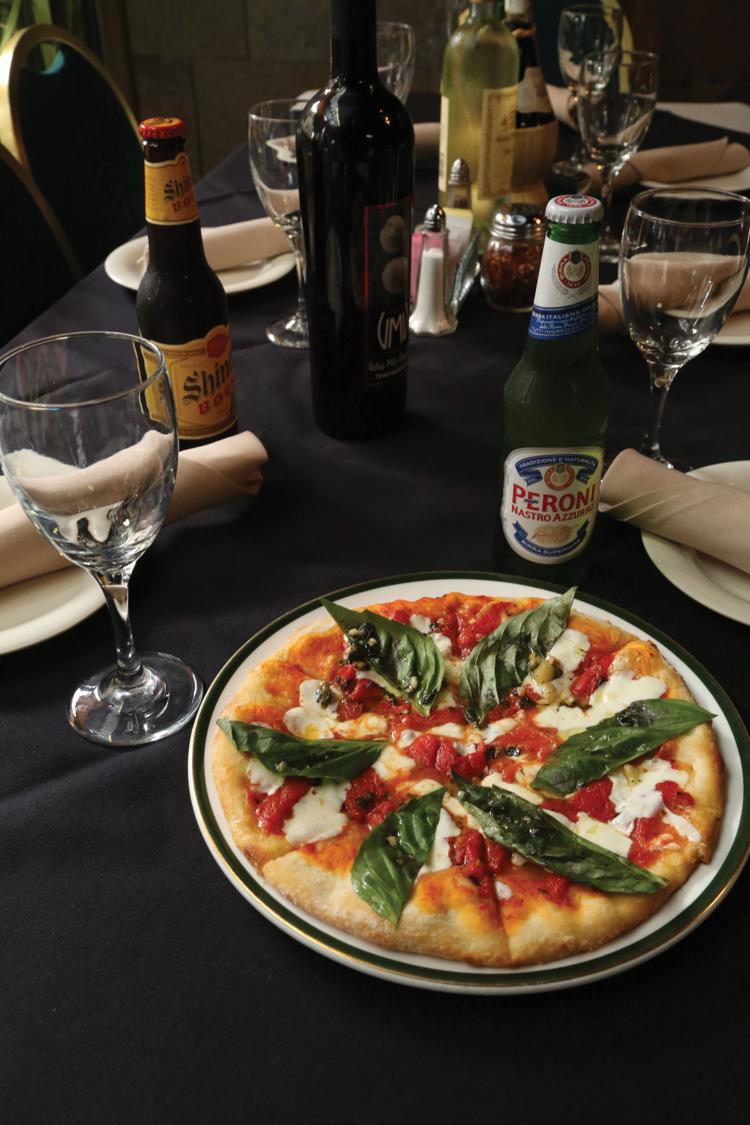 All the sauces at Portofino's are house-made and change the nature of the dish, he said.
That includes the pizzas with their homemade dough and marinara pizza sauce and freshest ingredients. Margherita Pizza is topped with fresh mozzarella, diced tomatoes, roasted peppers, fresh basil and garlic. Other popular pizzas on the menu are Alfredo Pizza with chicken or spinach, Bruschetta Pizza with red onions and spring mix and Philly Steak Pizza.
Pizzas range in price from $8.99 for a 10-inch cheese pizza up to $14.99 for the Philly Steak Pizza, and 16-inch pizzas range from $12.99 to $24.99.
"We make homemade pizza sauce fresh every day from scratch," Colaku said. "It's New York-style pizza, which is thinner than Chicago's deep dish."
Lunch specials are served from 11 a.m. to 3 p.m. Monday through Friday with pasta dishes and sandwiches at $7.99. Salads range from $4.99 to $7.99.
Lunch specials featuring a pasta entrée are $8.99 and include a salad, iced tea and homemade bread.
"The first customer's request becomes the lunch special for the day, whether that's lasagna or chicken fettuccine or anything," Colaku said.
The bread is made fresh every day. "Our customers love it. They go crazy about our bread," he said.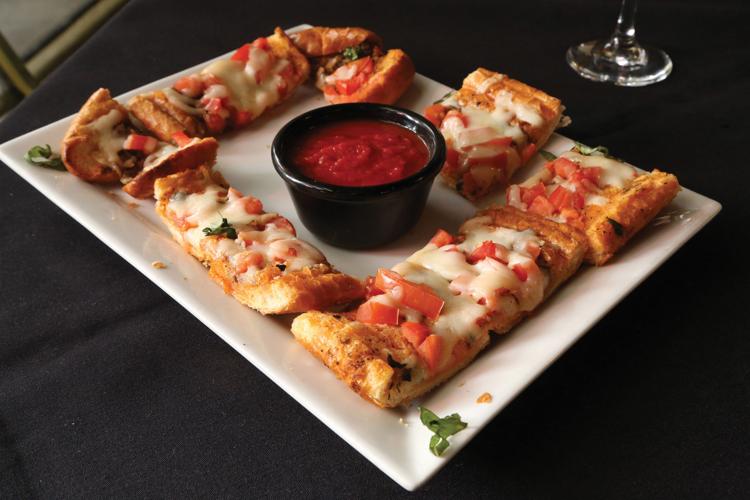 Garlic cheese bread topped with diced tomatoes is a popular appetizer.
"As far as our lunches, there are a lot of businesses downtown, so we get a lot of people on their lunch breaks," Hajrijon said. "Our hot sandwiches are popular with the lunch crowd. We make everything from scratch, but people need to get back to work so we try to be quick and still keep the quality."
Hajrijon's favorite dish is Chicken Albanese. "It's a dish my dad created. I love the sauce with cheese and ham adds flavor. The chicken is dipped in egg and cooked."
The boneless chicken breast topped is with Canadian bacon, spinach and mozzarella cheese in a garlic olive oil sauce over penne pasta.
Portofino's seats 85 downstairs, and an upstairs party room can seat an additional 40 guests. The room can be reserved for a private event for $200 a night plus food. Guest reservations also can be made for dining in the downstairs room.
Desserts include romantic favorites such as tiramisu, cannoli, Italian cream cake, chocolate mousse cake and New York cheesecakes.
Portofino's also caters and will deliver in the downtown area with a minimum order of $10.
Portofino's serves beer and wine or customers may bring in their own bottle of wine for a small cork fee.
Taking care of customers is what they do best, Coma said.
"We've always been a close family," she said. "My dad, when he came here, we lived here for a long time with my uncle as a tight family. That's just the way they all grew up."
Hajrijon echoes that feeling.
"Working with family is mostly a good thing, most of the time," he said. "The family cares for the business no matter what, and we depend on each other."
His mother, Sophia, brings her own brand of customer care.
"She's the best worker we've got," he said. "She does everything and anything. She puts a lot of effort into everything she does."
When customers feel welcome and enjoy the food, they come back and bring their friends, he added.
"It's always a good thing if they try different things and bring in new customers," Hajrijon said. "We try to create a good atmosphere, and hopefully, they don't hear the family yelling at each other. It's kind of just how they talk."
Portofino Italian Restaurant
Daily, 11 a.m. to 10 p.m.
On Facebook at Portofino's of Waco