Heading west on U.S. Highway 84, drivers can be forgiven for not noticing the non-descript white building with a temporary Remax Centex Realtors sign out front just before the Londonderry exit. Just inside a door with an ominous "Enter at your own risk" warning is a typical gym with gray walls, yellow insulation, and mirrors, and a wide-range of music blasting, chosen by whoever is first to Pandora.
Maybe it's not so typical after all.
Its name, HighPower Fitness, is a tribute to the heavenly intervention in its start-up. Muscular owner and fitness coach Kelvin Robinson, an accomplished bodybuilder and decorated lifting competitor, prayed 20 years for the right doors to open and endured the passing of his brother, Harvey Cooper IV, to give his life a new direction.
"Harvey is the reason I do what I do," Robinson said. "His death from obesity two years ago made me resolve not keep others from enduring similar trials."
Robinson's wife, Julia, saw his life-changing determination find its path.
"Kelvin's brother's death gave him a different focus because he realized people with weight problems can't afford to ignore their health problems," she says. "If they do, that may well mean a walker or oxygen tank in their 50s or 60s and not enjoying grandchildren in their golden years."
Robinson moved to Waco from Marlin at age 4 with his family and attended Carver, G.L. Wiley, and the Ninth Grade Center before graduating from Waco High. He opened his business in friend Joe Delaney's Underground Performance on Dutton Avenue hree years ago but desired his own place and soon found his current facility in a most untypical way.
"The money was there from working for Packaging Corporation of America when one of my clients, realtor Donna Dwyer, said she wanted me to look at a building, and all I could ask is 'Why?' " he remembers. "When I did, I saw it was perfect, a mixed martial arts facility that I received the keys to on the first anniversary of my brother's death. That was another reminder of a higher power involved."
And exactly what did Robinson have to move into his new gym? Nothing. Instead, he called around and found that friend Jerry Current had bought out the former Ironhorse Gym's equipment and stored it in a Mexia shed, only requesting that the HighPower boss prep him for a show and give him access to his gym.
For the next 30 days, the Robinson clan made three U-Haul trips and numerous smaller ones to load and transport a complete set of free weights to Waco, enduring wasps and spending countless hours sanding and painting everything.
Not a public gym like Waco X or Gold's, HighPower has grown every year. Robinson currently trains 37 people, most at his gym and a few on-ine and through video chats. The gym offers a wide range of workouts from NUBody Boot Camp (run by Franny and Doug Cochran), catering to those needing to lose a few pounds with light lifting or aerobics, to Camp Hulk Boot Camp with its hard-core sprints and free weights for serious fitness buffs and bodybuilders bulking up for competition.
"My main goal is for clients to leave better than they came in," Robinson says. "Nobody is at the same level, so everything I create is designed for the customer because no one size fits all. I never have to ask my clients their fitness level. All I have to do is look at them and watch them. I know what to do."
Once a 130-pound skinny teen, Robinson began bodybuilding early in life, highlighted by a second-place showing in his first major competition, the Texas State meet. He was hooked and kept going, finishing sixth at junior nationals in Chicago in 2000 and National Physique Committee nationals in New York City in '04.
Since then, he finished first or second in each of his 16 competitions, earning him a nickname "Quadzilla" for his devotion to workouts designed to max out his quadriceps and lat spread with peaks of an 855-pound dead lift and 2,400 pounds in leg pressing, including lifting the back of a compact car 20 times in a Strongman competition.
Even now, he's a man on a mission, to qualify for nationals in Miami next November, and along the way, he found time to complete his arts and sciences degree online from the University of Phoenix and become certified as a trainer.
Yes, fueling those manic workouts means a lot of food, 8,500 calories a day (although he doesn't always have time for enough chowing down), starting with two Lolita's elephants or a half-pack of bacon with eight or nine eggs, a footlong Subway meatball sandwich three hours later, and two huge plates of spaghetti before workouts, then a large Chipotle bowl or six wings afterward with a protein bar and lots of water.
"I'm passionate about everything I do, and I hate to lose more than I love to win," he explains.
That drive infects his clients daily, partly through Camp Hulk, which goes from 6:30 to 7:30 p.m. Monday, Wednesday,and Friday, usually with between five to 15 people warming up with a half-mile jog down the street six to eight times, then 10 different exercises in three successive rounds concluded by a cool-down with body squats, core work and a few more sprints.
"Those who aren't in shape sometimes lose it afterward (their most recent meal, that is), but everyone is going to have some pain and fatigue, no matter what shape they're in," Robinson added. "I push and motivate people and cry with them, anything to get more involved with them."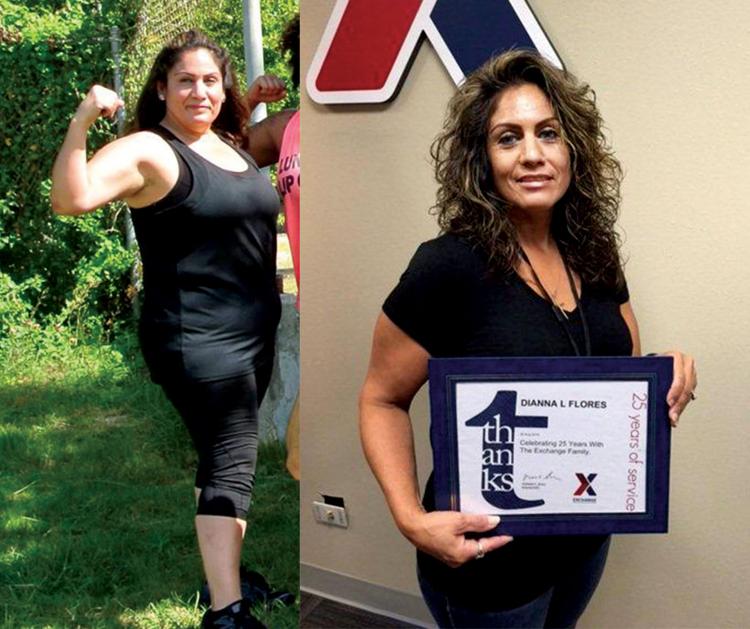 One of his hardest workers is Diane Flores, a mother of two daughters, two adult stepsons and four grandchildren, who is aptly nicknamed "The Beast" for her zealousness. When a doctor visit nearly two years ago revealed she had tipped the scales at nearly 200 pounds, she realized she needed a major lifestyle change.
"Since diabetes runs in my family, my first thought was high blood pressure medication and insulin shots daily, so I resolved to take care of it the right way, through exercise and a new diet," she says. "Working with the NUBody Boot Camp is the best thing I have ever done to improve my health, as I've lost 43 pounds and want to be toned around 140 with the help of the trainers like meal planner Damon BeShears from Meta-Fit Training Systems and working out with my sister, Debbie Turner.
"I even walk at lunch and hope to inspire others by showing them they can do it too. All it takes is commitment."
Not a heavy lifter, Flores doesn't need a huge intake of calories a day. Instead, she begins her morning with a 1/3 cup of oatmeal sweetened by a teaspoon of peanut butter, 6 ounces of grapefruit juice, and an 8-ounce protein shake. A mid-morning snack (three hours later) consists of a banana with 2 tablespoons of peanut butter. Lunchtime brings a 4-ounce chicken breast, a half-cup of brown rice and water, a dinner consists of chicken or 97 percent fat-free ground beef, 4 ounces of green vegetables and more water. The snack before bedtime is a chocolate protein shake.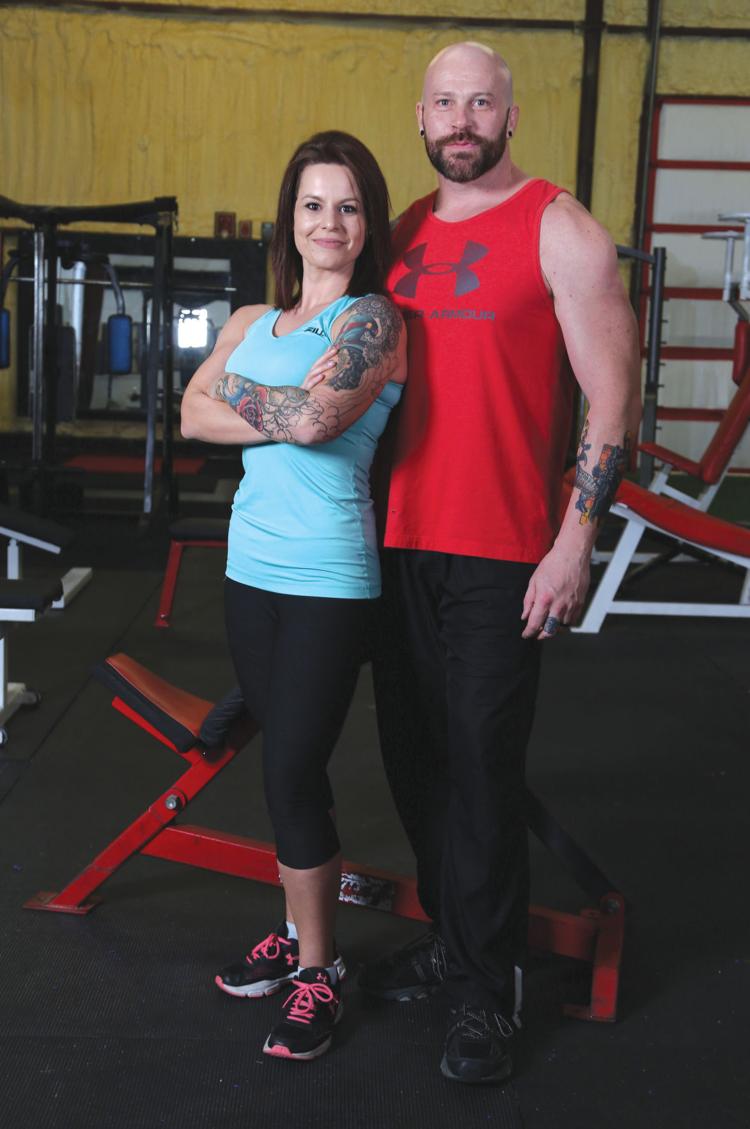 Part of her training involves a friendly competition with Franny Cochran, a Waco Tribune-Herald advertising saleswoman and native of Gainesville who has lived most of her life in Waco. An overweight child, Franny tried various yo-yo fad diets, but they never worked until she became active and started eating right.
She also battled a three-year eating disorder and realized she needed to drop 100 pounds after her then-5-year-old son once shook her stomach and said, "You're fat!"
She lost the extra pounds through a combination of twice-weekly boot camps, hiring a personal trainer, and taking up running, enabling her to finish dozens of 5Ks, two half-marathons, and three Spartan races, one five miles and another 12 miles, both with 20 obstacles.
"I watched a documentary on Netflix called 'Hungry for Change' that night and cleaned out my pantry and refrigerator the next day," she remembers. "I literally took a carload of food to my parents and started the Paleo diet (basically, if a caveman couldn't eat it, then neither can you).
The success of this lifestyle change led her and husband Doug to start a NUBody Boot Camp after he had run a similar workout program before they married in March 2016. They also offer personal training, a Battle Up! ropes class, and a step aerobic class starting the first Saturday in January. She also teaches Pilates but has put that class on hold until warmer weather.
Together, they have teamed up with other trainers to give back to the community by hosting a free fingerprinting digital ID event in October, a Caritas food drive in November, and a Christmas food and unwrapped toys collection with monetary donations to assist local families in December.
"We've gone from six to eight in class attendance to sometimes over 30 during busy months," Franny says. "We do it because we love it, and we love helping people. Everyone's weight loss story is unique and personal, and it's such an honor to be allowed to be a part of the journey no matter how big or small."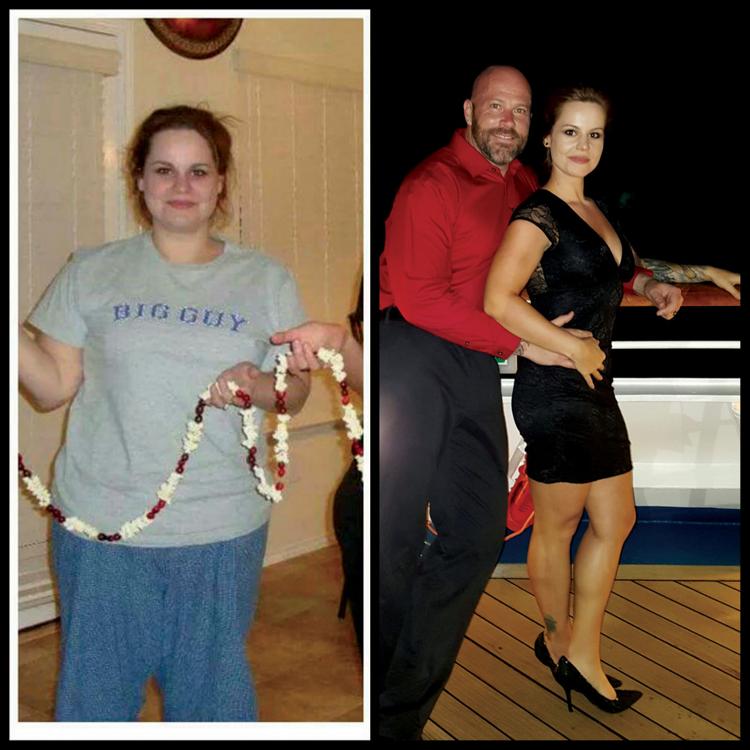 For anyone thinking workouts are always drudgery, there's always a lighter side. One time, Franny accepted a racing challenge from Diane, who carried two farmer's handles (heavy metal bars with varying weights) while her competitor did the same on the prowler (a metal triangle on plastic discs with two 25-pound weights). As Franny went for the lead on the home stretch, she slipped and lost her grip, going to one knee and allowing Flores to ease to victory.
She vows revenge and marvels how The Beast can hammer away for an hour and look good afterward.
"She's this strange creature with perfect makeup that doesn't even run after she sweats through a tough workout," Franny says of Flores
Her husband Doug runs Tuesday-Thursday boot camps.
"Here, everyone encourages and helps each other like a family," he said. "Whoever comes in finds people just like them, and no one embarrasses anyone else. That's what drives us to do what we do."
The trainers have taught their clients well, especially in being self-motivated.
As Flores says, "You have to do this for yourself ... you have to want it," Flores said. "No matter how much support you have, it doesn't make a difference if you can't motivate yourself."
That's the key to a "typical" weight-loss success.
(owned by Kelvin Robinson)
6807-B Woodway Drive,Suite #6
(owned by Doug and Franny Cochran)