Call this a Valentine's story if you want, but four of the businesses now open in the Mary Avenue Market on Sixth Street have a special connection: they are husband-and-wife teams who run their businesses.
Each partner brings his or her own skills and passions to the business, but together they manage marriage, children and their businesses.
Not surprisingly, these entrepreneurial couples at Mary Avenue Market have bonded with each other, too, offering a helping hand or even a little baby-sitting since they opened last year.
"We are like another family," says Kelly Moorhouse, who owns Iron Willow with her husband, Errol.
Waco Today visits each of these couples at their shops.
Iron Willow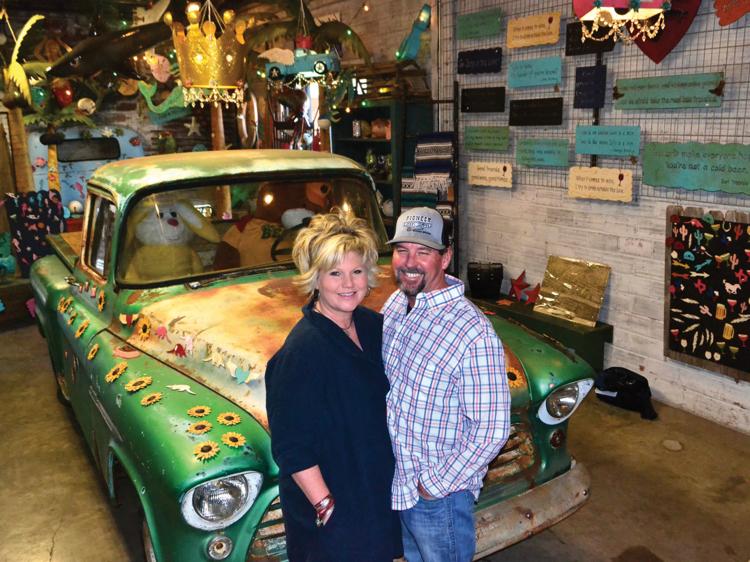 Kelly and Errol Moorhouse have gotten used to the odd looks on faces as people walk into Iron Willow, which is awash in color and loaded with her original designed and painted metal work everywhere in the store.
Kelly said it used to bother her a bit when people admitted her whimsical style wasn't to their tastes, but she's found plenty who do enjoy the items.
There is a lot to take in at the store, whether it's an old rusted truck (Errol's favorite touch) to a large painted palm tree.
"What you see in the store is what goes on in my head," said Kelly, only partially joking.
Kelly and Errol are the oldest married couple in Mary Avenue Market at 27 years of matrimony, but it's only been the last three years that Errol, who had worked 16 years for Nemmer Electric, decided to go all in with the business.
He helped her take her items to the Canton Trade Days and had done welding and cutting for many of her metal pieces, but now he's completely in on the store. He has begun designing pieces himself and even arranges the items for display.
"We know where we need to be and what we're doing," Errol said, adding, "If she doesn't like something, then she's change it."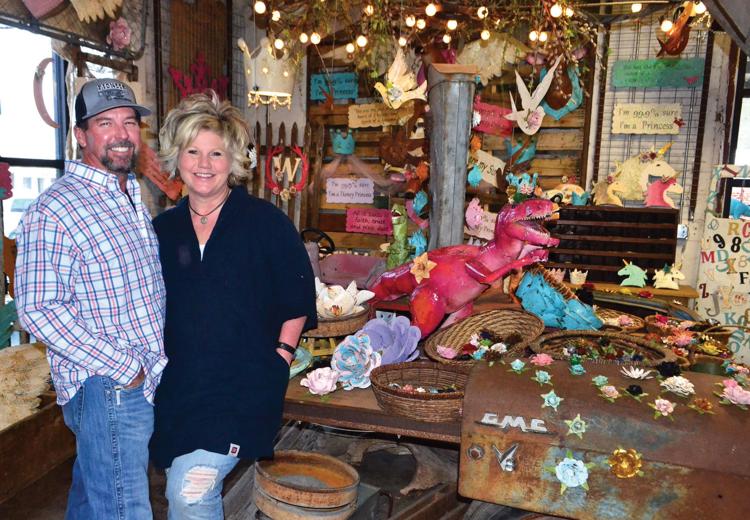 The couple met in Dallas in the 1980s when they were out clubbing. They found fireworks in the Confetti's parking lot, Errol recalled, when he just decided to kiss her.
"It was a good kiss," he said with a sly smile.
Kelly admitted, yes, there was an attraction and the sudden kiss was out of the ordinary for her.
"It's not something I would normally do," she said.
Kelly graduated from Plano Senior High, while Errol attended school at Connally and Waco Richfield High School, but ultimately graduated from Olney after a family move.
Fast-forward to today and since that kiss the longtime Lorena residents have two grown children, Colton and McKenna.
After 1½ years in California studying theater arts, Kelly returned to Texas. She had started a career in medical sales but didn't enjoy it. That opened the door for a return to her artistic side.
She created garden art and Mexican metal items and sold them at Sironia initially and then in Spice Village 15 years ago.
Kelly credits Honey Rader of Honey's Home+Style with giving her that next push.
Rader commented to her about the metal stars that Kelly hand-painted with her particular flourish.
"Honey told me, 'Nobody paints like you do. This is what you do and you need to do more of it,' " Kelly recalled.
And she did, doing more stars, but also flowers and other handmade items.
She would take those items to sell at shows, such as Round Top, and was a regular at Canton Trade Days until the tornado last year that damaged the giant flea market was too close for comfort.
"I had been through four tornados there, but after that one, I said, 'I'd done,'" she said. "We all got lucky."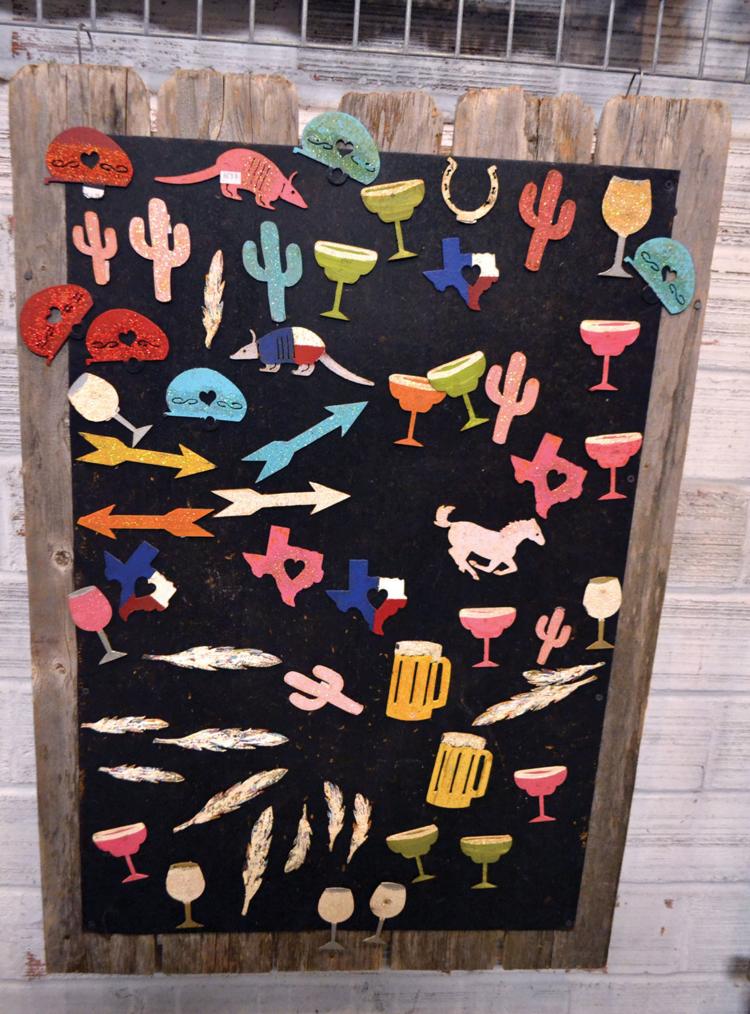 The store is a little more "manly," Kelly said, as Errol added the old truck, car parts, John Wayne items and truck magnets to the store's options. He does the plasma cuts on signs for walls.
Kelly said unlike Canton her smaller items sell better her. She attributes that to visitors coming over from Magnolia Market but they don't want to buy bigger items to haul home.
But she did sell one of those metal palm trees to a Florida couple who loved it and told her they couldn't find anything like that in their home state.
Pretty much everything that they had in Canton is now in the Mary Avenue Market store. Although she did enjoy Canton, the items were on display and sold only the four days each month the Trade Days were held. The rest of the time they were in storage.
"In the end, it needs to be here," Kelly said. "So it was perfect."
GoodTimber Furnishings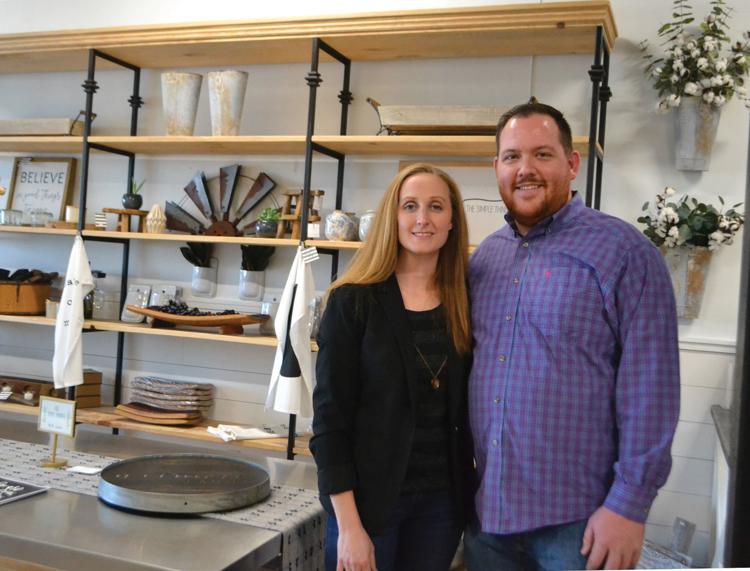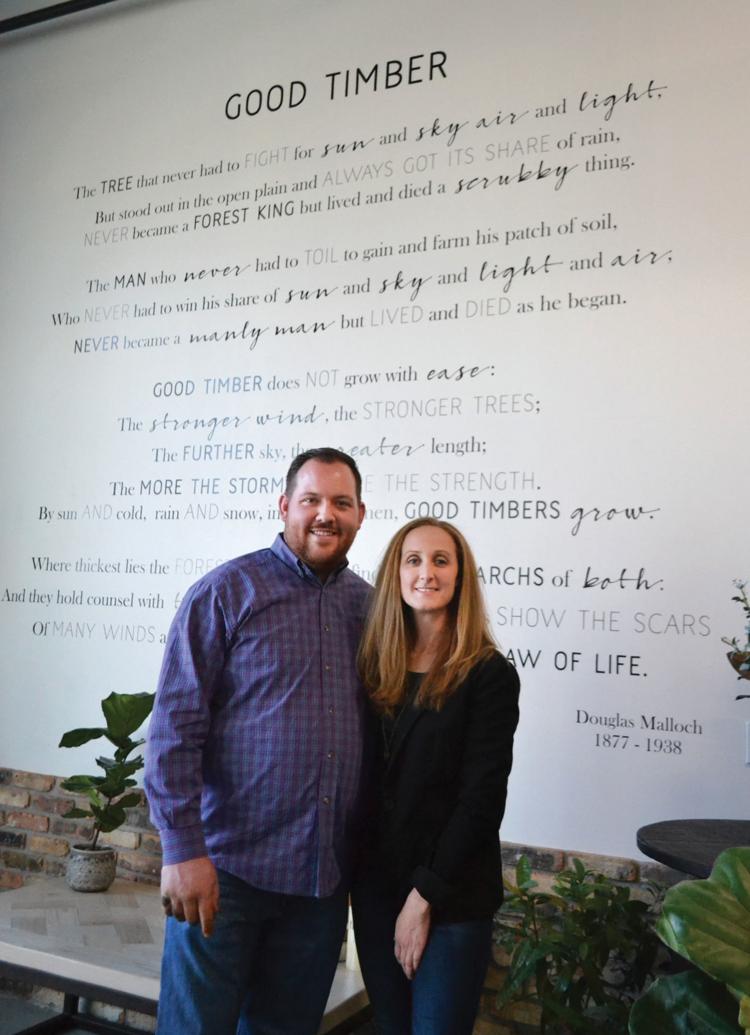 A large portion of a wall in Chris and Kisha Atkin's GoodTimber Furnishings is dedicated to Douglas Malloch's poem "Good Timber."
Scrawled in large letters are the words describing how the stronger the wind blows the stronger the tree becomes. It's an apt metaphor for the Atkins' lives as well.
The couple recently brought the last of their belongings from their home in Katy, which was devastated by Hurricane Harvey. The two were in the process of getting the store, which specializes in refurbished wood products, ready when Harvey's floodwaters did widespread damage in their neighborhood.
Now with that house finally behind them, the Atkins can focus fully on their new store.
In the Houston suburb, the pair ran Katy Barrel Company, which initially took wooden barrels and Chris transformed them into farmhouse tables and other decorative pieces. They had been looking for a new storefront for 1½ years around Katy without success, when Kisha suggested checking out Waco because of the all the talk about how Magnolia had re-energized the city.
"I wanted to see what's going on here," she said. "We parked on Sixth Street, pulled up to the building and I thought, 'Well, this is something.' My heart skipped a beat. I believed it was just where we were supposed to be."
Changing the business name to GoodTimber Furnishings made sense, too, Chris said.
"Barrel really didn't fit what we did anymore," he said. "I was crafting farmhouse tables, making Lazy Susans …"
"It didn't fit," Kisha interjected.
The couple met 10 years earlier in Flagstaff, Arizona, at church, although they amazingly discovered that Kisha's roommate at the time was Chris' sister.
They dated and married quickly, and now have two sons ages 9 and 7 who are learning to work with wood themselves.
"They are the reason we are in business, but they are our priority," Kisha said, adding they've learned how to buff out a table.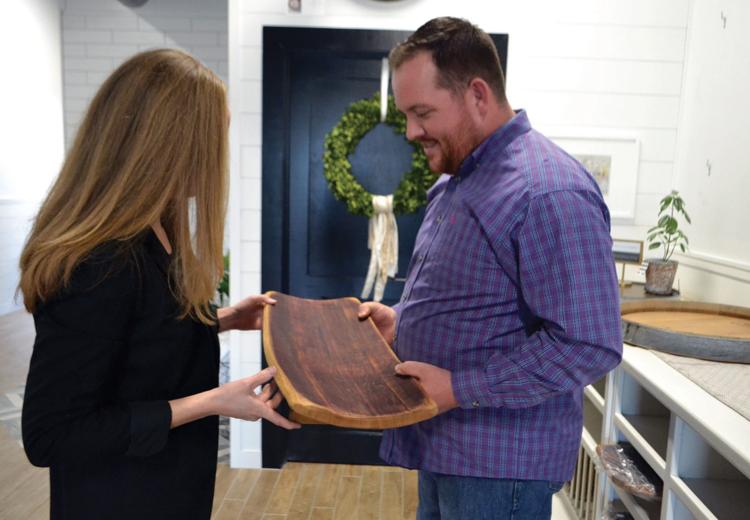 In Flagstaff, Chris did kitchen and bathroom renovations while Kisha handled the business' paperwork. They later left for Katy and the Houston area, thinking he could find more work there. But ultimately it wasn't fulfilling for Chris.
"I made cabinets for different houses, but they were the same cabinets," he said. "I did that again and again and again."
"He's a creative guy," Kisha said. "He wanted to pursue his own thing."
So they took that leap of faith with Katy Barrel Company and Chris applied his vision to taking reclaimed wood and making something new of it.
"It's amazing how things come together when you're crafting," he said.
Kisha added, "The pieces we love to make is what people really like."
These days, the wood projects are a joint effort, they say. Both can see the design for a piece of wood, Kisha said, but Chris is the one who executes it. Kisha then pitches in with sanding, staining, waxing or whatever finishing touches are needed.
"She can stain with the best of them," Chris said.
They have a dynamic that works, both said, which is great when they're pulling 15½-hour workdays, especially trying to fill orders for Christmastime.
"We have a unique balance," Chris said.
They've also been touched by visitors who come to their store and share their stories of losing their home to Harvey, only to learn that the Atkins suffered the same fate.
"We're ever more grateful for what we have," Chris said. "It's more about people and making connections."
"We still have a vision for this place," he added. "But it's not there yet."
Pie Peddlers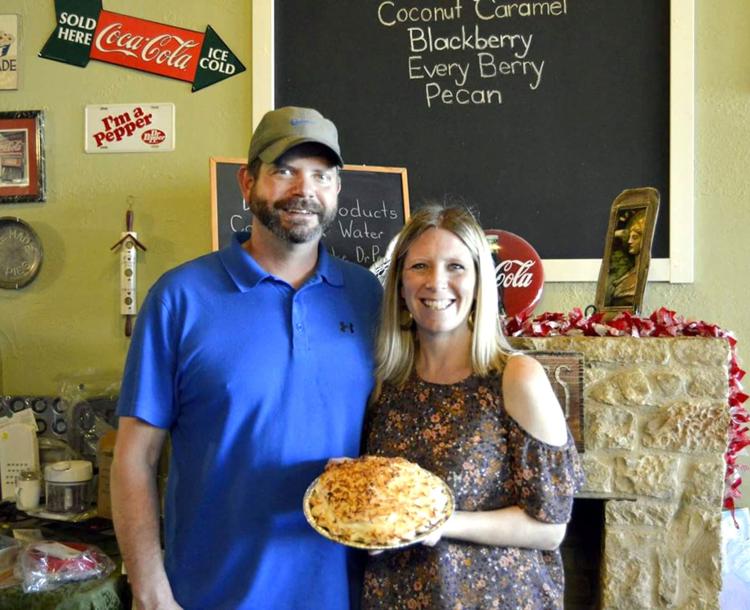 For Pie Peddlers owners Wade and Summer Redwine, it's a divide-and-conquer approach to running their business.
That's because there are two locations. The newest one opened last June in Mary Avenue Market. The original has been in downtown Glen Rose for the past 15 years.
Wade runs the Glen Rose location while Summer makes the trip to Waco every day.
Summer said it took a bit of coaxing to talk Wade into a second location, but she felt the interest around a rejuvenated downtown Waco was worth it.
The Pie Peddlers in Glen Rose was established by a pair of retired schoolteachers, Summer said. She had a boutique store downtown and she and Wade later ran a soda shop that was next door to Pie Peddlers.
When the women decided to get out of the business three years ago, they sold Pie Peddlers to the Redwines.
Summer is a native of Hamilton, while Wade is from Hico. They were set up a blind date, but things clicked and they have been married for 13 years. Their blended family has seven kids, ranging in age from 6 to 20. And they were all helping at the stores last summer, she said.
At Pie Peddlers 18 flavors are offered, including raspberry rhubarb and strawberry rhubarb.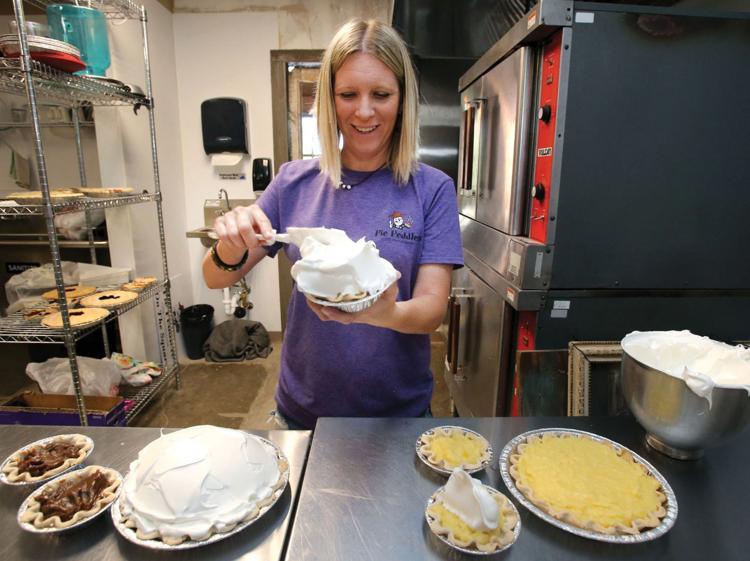 More than 75 pies (full-size and minis) are made from scratch, including the crusts, on weekdays, and more than 100 pies are created each Saturday. Pie Peddlers offers pies whole or by the slice and lets customers dine in or take their order to go.
The Sampler Pie is the regular price for a whole pie, but it includes six slices of any flavor. Pies can be made gluten-free or sugar-free.
Summer admits to being a little surprised not to have more customers coming over from the Silos to have a slice. But she is seeing plenty of repeat customers, from a group of homeschool moms to couples on a date night after eating out at Hecho En Waco Mexican Cuisine in the Market or another downtown eatery.
"We're open late Friday and Saturday for Pie Date Night," she said. "On your fifth visit, you get a free slice."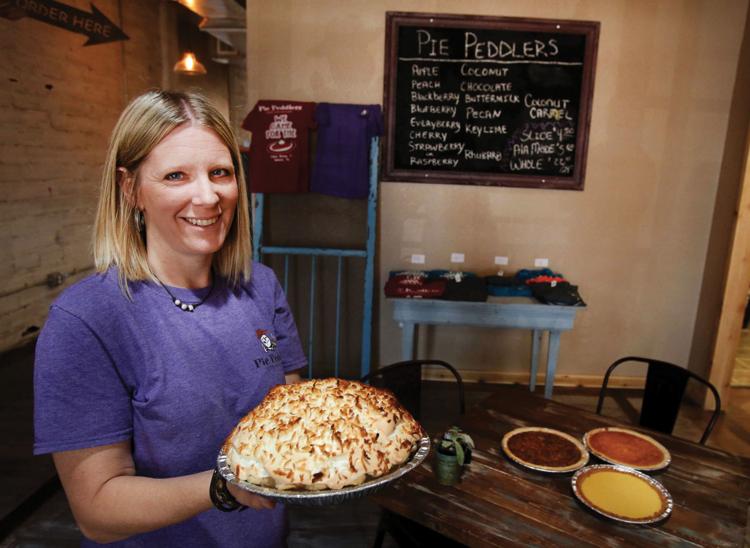 She said the Glen Rose location tends have mostly tourists, so it's interesting for her to see more locals in Waco.
She also wanted to mentioned that parking around Mary Avenue Market is not as bad as people say, and a spot close by isn't hard to find.
"I hope Pie Peddlers is a place to go for an experience or a memory," she said. "We had one older man come in and try a slice. He had tears running down his face, and told us, 'This tastes like my mother's pie.' "
Fox and Gray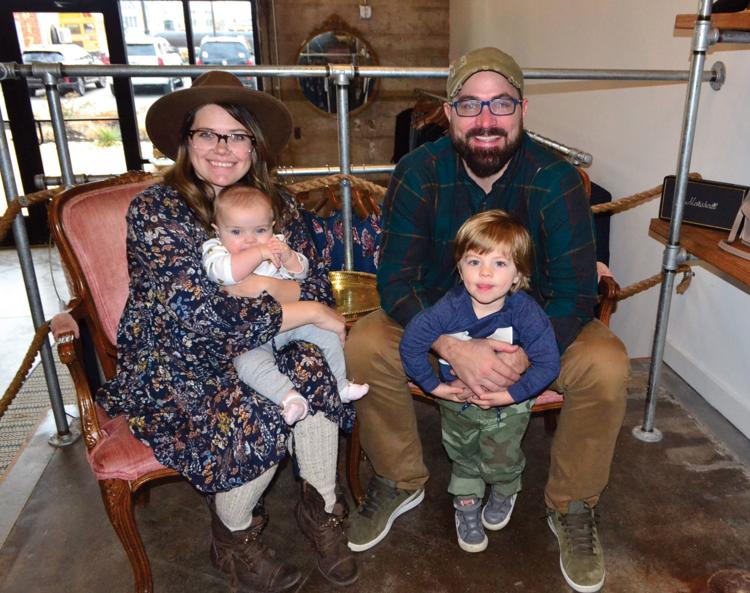 No one can say Summer Herriage and Joey Oglesby think small. That might be due to the years these Texas natives spent in Los Angeles, but they both are hoping to make a big splash with their Fox and Gray boutique store.
Summer is a former L.A. buyer and stylist while Joey is an actor who has work on "Friday Night Lights" on his resume.
Summer grew up in Seminole in West Texas while Joey is from Plano and graduated from Baylor University. Like a few other alums, including Angela Kinsey ("The Office"), Derek Phillips ("Friday Night Lights") and Allison Tolman ("Fargo"), he was drawn to performing in Hollywood.
Joey said they met at a play he was performing in. Summer came to see a friend but Joey caught her eye, and well, they're now together.
But after 10 years in Los Angeles and having a young child, Joey felt it was time to get closer to family. A resurgent Waco seemed like a good move.
"We moved here to be a part of a booming city with a lot of young entrepreneurs," he said.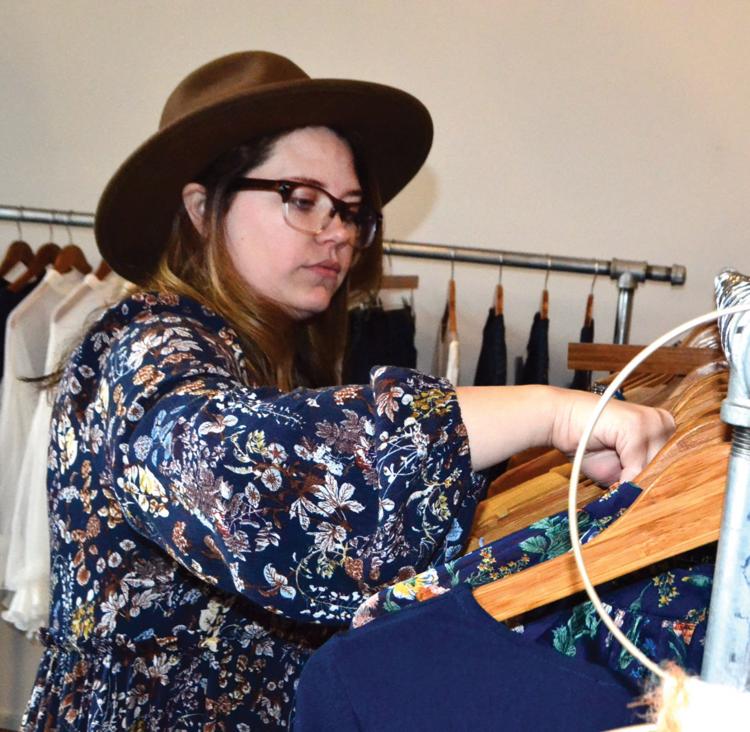 Fox and Gray seems like a natural for Summer, who as a buyer worked with stores in college towns to provide fashionable options. Joey said she has a great sense of what can sell.
College students help fill out the staff at the store, he noted, and model the clothing that goes on the website, Facebook and social media.
Her focus with Fox and Gray is to provide contemporary affordable women's clothing, accessories and gifts. No item in the store costs more than $100, she said, and Fox and Gray has no more than six of any one clothing item. Fox and Gray carries sizes from XS to 3X.
The store is named after their children's middle names: 2-year-old Jameson Fox and 6-month-old June Gray.
While Summer has the fashion sense, Joey handles the more mundane aspects of the business, like payroll. He and his dad built the fixtures for the store.
Summer also does some jobs as a consultant who can rework a client's wardrobe. She still styles actors like Phillips and Tolman for awards shows and red-carpet events.
Joey said there is a healthy Baylor contingent in Los Angeles. They could fill up a sports bar to watch a Baylor game.
"Believe it or not, you could hear lots of 'Sic 'em, Bears' in L.A.," he said, adding that Summer is an "honorary Bear."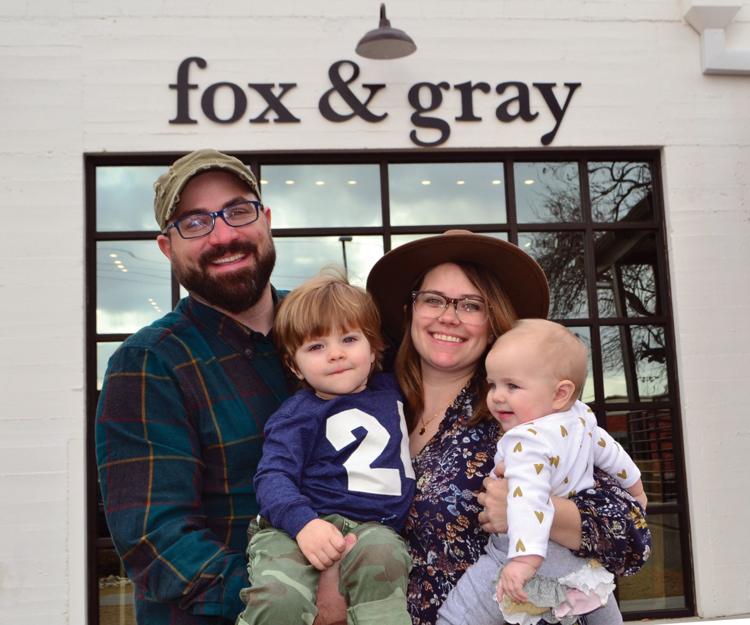 But Fox and Gray is not the only thing on this young couple's plate. They run the Summer Snow snowcone stand at Magnolia Market, and Joey is working on creating a family-oriented beer garden that he thinks would be a good fit for Waco.
He still wants to do some acting and believes professional shows with Broadway-level talent are possible.
"We do have a lot of balls in the air," Joey said. "Waco has opportunities to create our own adventures."
"The possibilities for growth are endless," Summer added.
---
Mary Avenue Market stores
Owners: Kisha and Chris Atkin
Handmade furniture and wood décor
Owners: Summer Herriage and Joey Oglesby
Store has affordable women's clothing, accessories and gifts.
Owners: Kelly and Errol Moorhouse
Whimsical unique and painted metal work.
Online on Facebook and Instagram
Owners: Summer and Wade Redwine
Eighteen flavors of pie in full pie, mini and by the slice options.
Online on Facebook and Instagram
Owners: Pedro Leon and Lupita Leon (brother and sister)
Online on Facebook and Instagram