Few Wacoans can remember a time when Westview Nursery and Landscape Co. was not present on Valley Mills Drive offering colorful flowers and growing greenery of all kinds.
"We opened up here on Valley Mills Drive when it was the middle of farmland with a single lane and nothing within two or three miles. Now, we are in the middle of the main road in Waco," said Keith Houck, now president and co-owner of Westview Nursery.
"My grandfather and dad actually were the first to open it up. They were in the theater business, and the tornado in 1953 demolished one of their locations. Then TV came out in the '50s, so the theater business started going down."
The men were seeking a new way to make a living.
"We had a relative in Tennessee who was in the nursery business, so that's what made them think about going in the nursery business," Keith said.
"My dad was in the Air Force and when he got out my dad and grandfather decided to go in the nursery business. This was just kind of out in the middle of nowhere when they built this 65 years ago."
Brother Gregg recalls those early days when he was just a boy.
"I was very young, and out here in front of us was Highway 6," he said. "It cut through to Valley Mills. It was a grand road with Cogdell's at New Road and across the street was Westview Lounge and back there across the street was Shellenberger's, and that was it on Valley Mills Drive."
The original location was down the street for about a year before moving to its current long-standing location, he said.
Strong Legacy
The Houck family carries on the tradition that began all those years ago when Eugene Houck, patriarch of the business, started his new venture.
While Eugene passed away in January, he left a legacy that sons Keith and Gregg honor by continuing the solid business practices and excellent customer service that created a loyal customer base.
Keith expresses his pride in the business his father and grandfather built.
"Dad was very active all the way through. This was his legacy and his business that he built up for his boys." Keith said. "That was one thing he wanted when he passed away. He was the one who made this company what it is."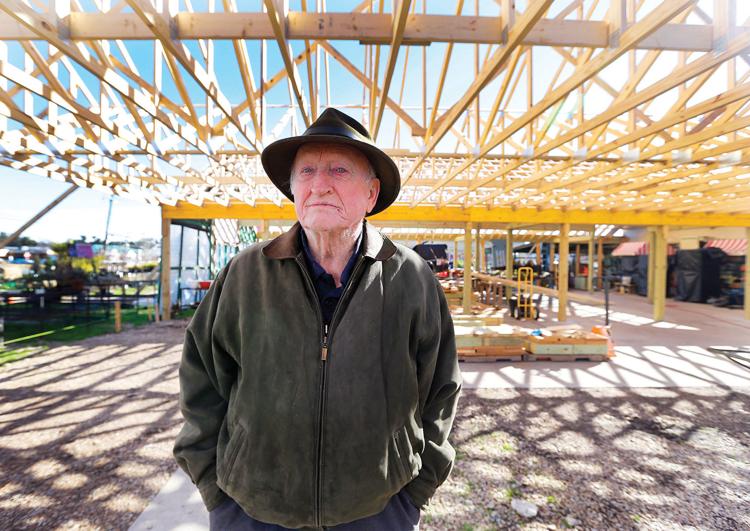 Loyal customers from the earliest days of the nursery still come in to spruce up their yards and chat with the Houcks. They called the senior Houck "Red," his high school nickname.
"He was one of the hardest-working men I have ever known in my life," Keith said. "He was a very smart businessman. Everybody you talked to would tell you they respected him and his work ethic and his business sense. He was very well-respected all around town.
"He had been here for so many years and knew so many people. He was a big athlete when he was back in high school and was real popular."
Keith said his father's drive to make his business successful was evident every day.
"You would see him out here with three or four people around him and he would be the one digging the hole," he said. "Every truck that came in he was in the middle of it. He was at the front counter and was very big on customer relations and customer service. His work ethic was none like you've ever seen.
"At 5 o'clock in the morning he would be one of the first people here and one of the last people to leave."
Challenging Time
That determination was tested in October 2014 when a fierce wind trampled through Valley Mills Drive, leaving a path of destruction where the beloved nursery had been for so many years.
People asked if Westview would return. For the elder Houck, that was never a question.
"That was pretty devastating," Keith said. "That was getting in Dad's later years in being the nursery business. He was always very family-oriented and did this for his family.
"He didn't want to leave this earth without knowing we had jobs and security. We did rebuild it and never one time did we ever think about selling it. He wanted this legacy to last for many, many more years, so we got it built back up and open for business.
"That's just the way he was. He was all about family and making sure they were taken care of down the road."
Keith, 61, and his brother, Gregg, 62, are carrying that family legacy on with their own sons. Their older brother Barry was involved in the nursery business, too, until about 10 years ago.
Gregg said he enjoys the sense of family as they work together to manage the company's two locations and other services.
"I feel like we're going to move forward fine," Gregg said. "I've got two sons in it and Keith has a son in it and we're going to keep doing what we've been doing for 65 years.
"My oldest son, Colt, does the landscaping and the outside work. He draws up all the plans for our customers and anything that needs to be done. My youngest son, Will, runs my other location out in Woodway, and he does all the buying for it."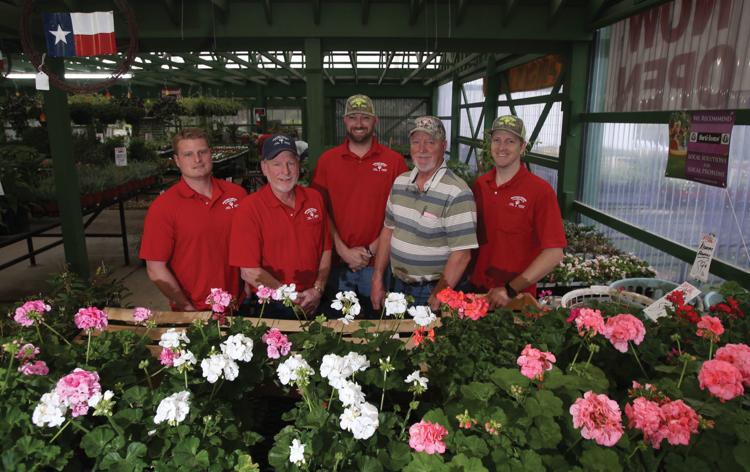 The Woodway store is located at 10000 Woodway Drive.
"My nephew, Keith's boy, Derrick, does all of our irrigation work, and he does selling, too," Gregg said.
With about seven employees at the Woodway store and 16 at the Valley Mills Drive location, Westview Nursery has ramped up for spring and continues to serve the community.
Maintaining Reputation
Going on four generations now, Westview Nursery manages the business with the same tenacity and service that created their excellent reputation.
"One thing we all think is very important is customer service," Gregg said. "We take care of our customers as quickly and as knowledgeably as we can."
Keith agrees that this business philosophy has sustained their business through the years.
"We've got some of the best, oldest, most reliable customers who have been coming in here for years," he said. "We have a reputation for customer service and quality. When someone comes in here they are going to get waited on, probably before they even get out of the car.
"We have customers who have been coming here since it opened up about 65 years ago.
"That's what dad did. He built up customer service. People enjoyed coming in here and having people greet them and offer the knowledge they needed. When people came in here, they knew they would get the right analysis and the right chemicals and the right shrubs. We always try to teach ourselves the type of plants, what takes shade, what works."
Providing that level of expertise advice extends to landscaping as well.
"Most anyone in here could walk around and do a little design for them and solve their problem, whether they had a fungus problem or another problem," Keith said. "When people come in here they know they are going to get the right product."
---
Westview Nursery and Landscape Co.
1136 N. Valley Mills Drive
Mon-Sat, 8:30 a.m. to 5:30 p.m.