Dr. Linda A. Livingstone's return to Baylor University as the school's 15th president is a full-circle journey. She began her career at the school and is now making history as the first female president of the world's largest Baptist university.
Livingstone served as a faculty member and associate dean in the Hankamer School of Business during her previous time at the Waco campus from 1991 to 2002. She has since made stops at Pepperdine University in Malibu, California, and George Washington University in Washington, D.C., where she expanded her leadership roles.
"This is the first place I've been where I was coming back," Livingstone said. "Everywhere else I've been it was the first time I was there."
This return allows for insights into her role and perspective on how progress is made over time.
"You do know a fairly significant number of people," she said. "You also have an understanding of the mission, which I think is especially important at Baylor.
"It's a different place and it's a better place. The breadth and depth of the academic experience that students have access to is even richer now than it was when I was here before. Baylor was a great place when I was here then and to see how much more it has grown and developed, and how we can expand our mission because of the progress made during the time I was away is amazing."
Early in her career at Baylor, Livingstone was afforded an opportunity that redirected her steps into the administrative realm.
"I don't think anyone goes into higher education intending to go into the administrative side. You do it because you love to teach and do research and then you have opportunities that take you down a path to administration," Livingstone said.
"I had the opportunity to chair a committee that was revamping the MBA program. Dr. Terry Maness (dean of the Hankamer School of Business) invited me to be associate dean of graduate programs. I enjoyed administration and that set me on a path to work in administration on a more significant level. I'll always be thankful to Terry Maness for that opportunity that led me to where I am now."
Challenges
She becomes president during a turbulent time for the school. Baylor is dealing with the ramifications from a sexual assault scandal that began in 2015.
At this pivotal time in Baylor's 172-year history, Livingstone's top priorities are broad and focused on staying true to the school's mission.
With her sights set on strengthening Baylor's mission to "educate men and women for worldwide leadership and service" with a focus on academic excellence and Christian commitment, Livingstone believes the school's future is secured by becoming a Tier 1 research university.
"We will continue to look at our curriculum and everything we do as a university from a 30,000-foot view," she said. "We are continuing to take a look at our Christian mission, as well.
"Also, as a university our aspiration is to be a Tier 1 research institution while maintaining the integrity of our Christian mission. We will continue to put emphasis on the student experience and what we are doing to support our students with regard to their safety and well-being and to help them grow personally and professionally. We will be fleshing out more specific initiatives in each of these priorities to continue to expand our mission."
Livingstone's role as facilitator and strategist in accomplishing these initiatives positions her to set a course for the future. Baylor joins other schools of higher learning that face challenges in modern education.
"I think Baylor faces many of the same challenges that many institutions of higher education face, including the cost of higher education and the burden that has on students," she said. "That is not just here at Baylor but at other schools as well."
Ever-changing technology and using it most effectively for students is another factor in education that Baylor considers important and that every school must set as a top priority, she said.
While Baylor shares these issues with other schools, as a Christian university a higher standard comes into play, she said.
"The nature of education has become so global. Our mission talks about preparing students for worldwide leadership," Livingstone said. "I think at Baylor because we are focused on maintaining the integrity of our Christian mission as we move forward with our academic mission, there are unique challenges that we see. I have great confidence that our academic mission aligns with our Christian mission and we will continue to make strides."
Making Her Mark
Livingstone's tenure as president will go down in the school's annals as historic because she is the first female president of the university.
"I have to say that the response I have gotten very uniformly from faculty, staff, students and the community has been overwhelmingly positive," she said. "There is a piece of that that is because I'm the first female president here. I think the female students are particularly excited about that. It's been unbelievably positive and exciting. They see the possibilities of what they can aspire to.
"It also comes from the fact that I have a history at Baylor, and I have experience at two other exceptional universities. My experience as a collegiate athlete is another unique characteristic that I bring to this and is part of the positive response."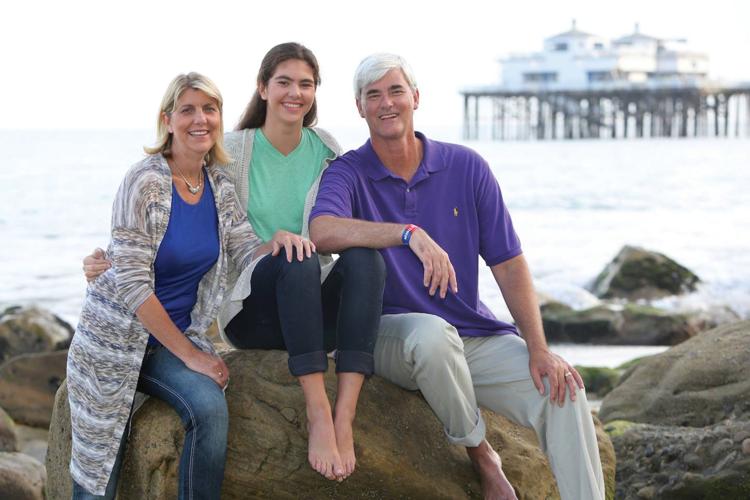 Her two prior academic roles offered important — but different — experiences that enrich her breadth of leadership now. Livingstone served as dean of the Graziadio School of Business Management from 2002 to 2014 at Pepperdine. She oversaw a $200 million expansion of the school's graduate campuses and major progress in the MBA programs, entrepreneurship and scholarship support for students.
"I had great experiences at Pepperdine and GWU (George Washington University). Pepperdine is also a Christian university but from a different faith tradition, Churches of Christ, and also in a different geographic location that was more of a challenge than being a Christian university here," she said.
Livingstone led the George Washington University School of Business since 2014, overseeing undergraduate and graduate students and more than 57,000 alumni worldwide. She initiated a program to capitalize on the school's culture of service, establishing a strong financial base.
"GWU, which is a Tier 1 research university, is an urban university and a secular university," she said. "Because it was a Tier 1 research university, you saw what it took to recruit faculty and retain faculty at that level and support their funded research. It was also interesting being a Christian at a secular university and seeing how your faith plays out in that setting. It causes you to be more thoughtful about your faith so that it is reflected in your leadership and how you work with people. It broadened my skill set in a different way than at Pepperdine."
Livingstone is poised to bring her varied backgrounds to her new role as Baylor forges ahead into the next few decades as a faith-based institution of learning.
"Because we approach education from a faith-based perspective, it creates a different context for the learning experience for the students," she said. "I would hope that because they have a bit different learning experience and co-curricular experience that they approach the world with compassion and think outside of themselves and not just what's in their best interest to be successful professionally but how they can impact the communities they are in much more broadly."
This idea aligns with Baylor's core charge to have a global Christian impact.
"Our mission talks about preparing students for global service and leadership," she said. "We want Baylor to prepare them to have a servant's heart and help others. That perspective has a huge long-term impact on others."
These values are also the foundation of the school's efforts to become a Tier 1 research university, she added.
"As a research university, you have faculty and students asking questions about issues that impact the world," Livingstone said. "They may lead to social solutions and scientific solutions that make the world a better place. When you are asking questions such as 'Why?' it makes your work and research more meaningful from a Christian viewpoint."
From There to Here
Livingstone's upbringing on a family farm instilled in her the values that have guided her throughout her personal and professional life, she said.
"I grew up in a small town in Oklahoma. My graduating class had 58 people in Perkins," Livingstone said. "You have a great sense of community and ownership in who you are. Everybody sort of bonds together to make the community a better place.
"That sense of connectedness to a community kind of carries with you as you go forward. I grew up in a family where my dad was a coach and my mom was a teacher and we had a farm, so I learned to work hard at a very young age. You learn to appreciate and rely on your family a lot."
She also excelled as an athlete, earning All-State recognition in basketball, and has carried those lessons forward in her leadership roles.
"I can't say how valuable that experience as a student athlete was to me in terms of preparing me for leadership," Livingstone said. "I was also a serious student. It certainly taught me discipline, which is extremely important in the position I am in today. You learn to work as a team with a diverse group of people to accomplish a goal. You learn how to win and you learn that you don't always win and how to take the losses and get better from those and move forward."
Livingstone was a four-year letter winner on the Oklahoma State University women's basketball team from 1978 to 1982 and was named a Big 8 Scholar Athlete. She earned her Bachelor of Science degree in economics and management, Master of Business Administration and doctorate of management and organizational behavior at OSU. Her husband, Brad, also played basketball there during those years.
Return to Waco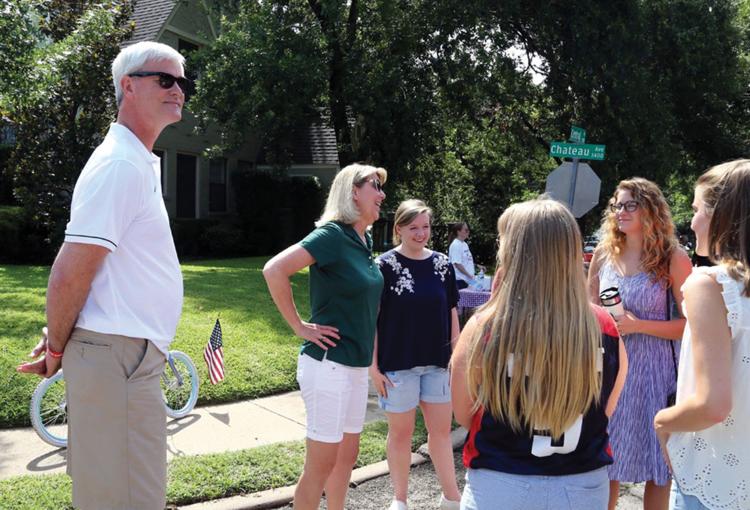 Brad Livingstone joins his wife as a history-maker as the first "first gentleman" of Baylor University. Brad said he embraces his new role.
"Within the Baylor community, since they have never had a first gentleman before, someone mentioned that I would have the opportunity to write that chapter in the Baylor log because I'll be blazing a new trail as a spouse that happens to be a husband," he said.
Primarily, he sees his most important function as being the biggest fan of Baylor's new president.
"I want to make sure I am as supportive as I can possibly be for Linda as the new president of Baylor," he said. "I've had an opportunity to meet with a number of people here on campus and I'm excited about the opportunities that are in the future."
Brad most recently served as the dean of students and history teacher at Trinity Christian School in Fairfax, Virginia. Now that he is back in Waco, he is returning to the history department at Vanguard College Preparatory School and reviving a World War II history class he taught there in the mid-1990s.
"It's a semester course, and the purpose is to bring in World War II veterans who can share their story," he said. "In many cases, they were the exact same age as many of the students (when they served in the war). Thankfully, we still have a number of World War II veterans in the area. If they aren't mobile, we can go visit them in their nursing homes or wherever they might be."
The Livingstones' daughter, Shelby, plays volleyball for Rice University in Houston where she is a senior.
"We are thrilled to be back closer to Shelby," Linda Livingstone said. "To be just up the road from her is fabulous. We will do everything we can to be at as many of her volleyball games as possible and still attend Baylor games as well. I hope Baylor fans will understand when I wear a Rice shirt when we play Rice."
As a busy couple, the Livingstones occasionally find time outside of their family and career commitments.
"Much of our free time over the last number of years has been spent watching our daughter play volleyball through high school and college," she said. "We also like to do anything outdoors. We love to hike, love to bike, love to read, which I do mostly when flying on airplanes, and we love sports and attending sporting events."
The Livingstones are reconnecting with friends from their earlier time in Waco.
"One of the things that has been so impressive to us is the way this community of Waco has developed since we were here before," she said. "Downtown has grown so much, and the choice of restaurants has developed dramatically. We have recently visited the farmers' market, and of course, the Magnolia Silos. We've enjoyed reconnecting with some of our friends who we knew before. It's been a lot of fun to come back. We've had a lot of fun sort of re-introducing ourselves to Waco."