Customers entering the new brick-and-mortar location of Helberg Barbecue on Highway 6 near F.M. 185 are greeted by the luscious smell of meat smoking in a wood-fired pit, a handwritten butcher paper menu hanging on the wall, and the somewhat surprising motto "It's all salt, pepper, and a whole lot of prayer."
That sentiment pretty much sums up the first six months of Phillip and Yvette Helberg's business in Waco, which started in April 2018 when they opened a barbecue food trailer on the 23rd Street side of Pinewood Roasters on Austin Avenue. Most Baylor students left town for the summer a few days after their opening, and business slowed to a crawl.
Those beginning weeks proved tough for the young couple who had just recently moved to Central Texas from Southern California, hoping for a successful start in Phillip's home state.
"We worked tirelessly through the first summer," Phillip said. And even though they were scratch cooking, making their own sausage, barbecue sauce and pickles, nothing seemed to bring in many customers.
"People weren't showing up," he said.
They persisted, however, having faith in the quality of their food. Their fortunes started to turn when they were able to relocate their food trailer to the Austin Avenue side of Pinewood.
"Our sales increased substantially," Phillip said. "It was just a visibility thing. People couldn't find us."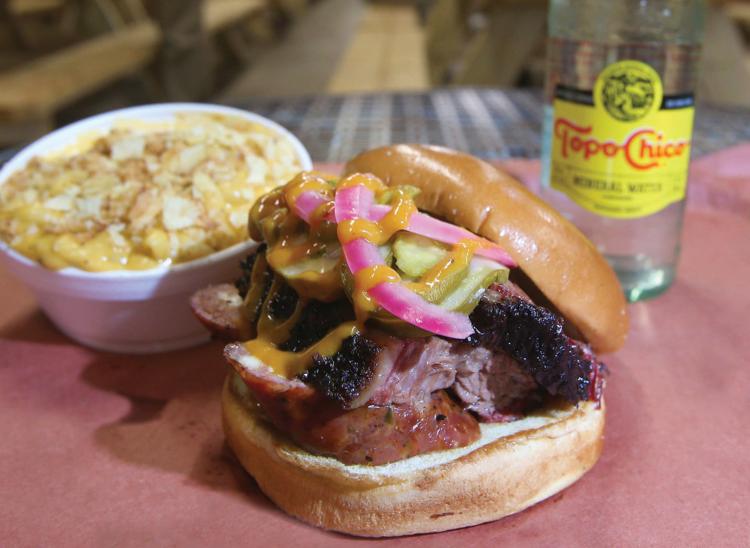 Just one short year later, in May of this year, Texas Monthly magazine named Helberg's one of the 25 best new barbecue joints in Texas. Heady stuff for the young 25-year-old Yvette and almost 25-year-old Phillip.
The magazine's announcement and a story about it in the Waco Tribune-Herald and on a local TV station proved another game-changer. Business doubled as soon as the word got out in Waco. The couple started seeing 20 to 25 people line up to order at the food trailer, something they considered a standard of success.
"We never thought that would happen to us," Phillip said with a hint of amazement in his voice.
On May 22 the couple opened the 4,000-square-foot Highway 6 restaurant, located in the former Valley Mills Winery tasting room. They have gone from only two employees — Phillip and Yvette in the first year — to 16 currently, providing new job opportunities to the Waco area in a short time. Phillip thinks they'll probably hire one or two more staffers when the fall semester starts at Baylor.
Houston/Fresno
Originally from the Houston area, Phillip grew up helping his dad prepare meals. In high school he began cooking by himself, experimenting with foods and trying to get better in the kitchen. When he and Yvette lived in California, he had a small barbecue catering business. So it seems only natural that he would go all in for a food career.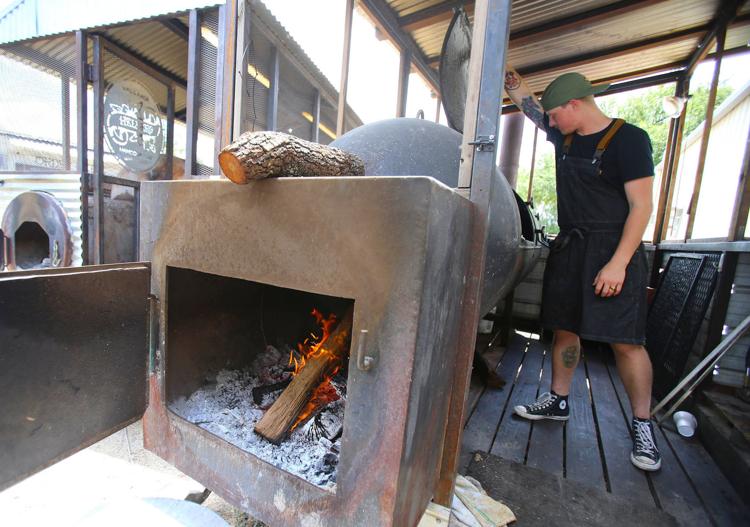 On the other hand, Yvette, who grew up on a grape farm near Fresno, California, was not very interested in the culinary arts.
"I'm not much of a cook," she said. "But I'm learning."
She majored in public relations and worked for a California firm. She never saw herself in the food industry but thought corporate or baseball public relations was in her future.
The barbecue business has changed her mind.
"I love it," she said. "It's hard work, but this is a lot more gratifying and way more rewarding (than PR)."
The Crawford residents also bought and operate The Amsler wedding/party venue in downtown Crawford.
Perhaps Yvette doesn't acknowledge the credit due her. At least one delicious item on the menu came directly from her — the barbacoa and cheese stuffed zwieback, a savory yeast crust with an Eastern European origin that she learned to make in a high school home economics class.
Sales of the zwieback have been limited here.
"We understand it's been sort of an uphill battle trying to sell them under a name no one can pronounce," Phillip said. "But for those who know about them, it's a little cult following."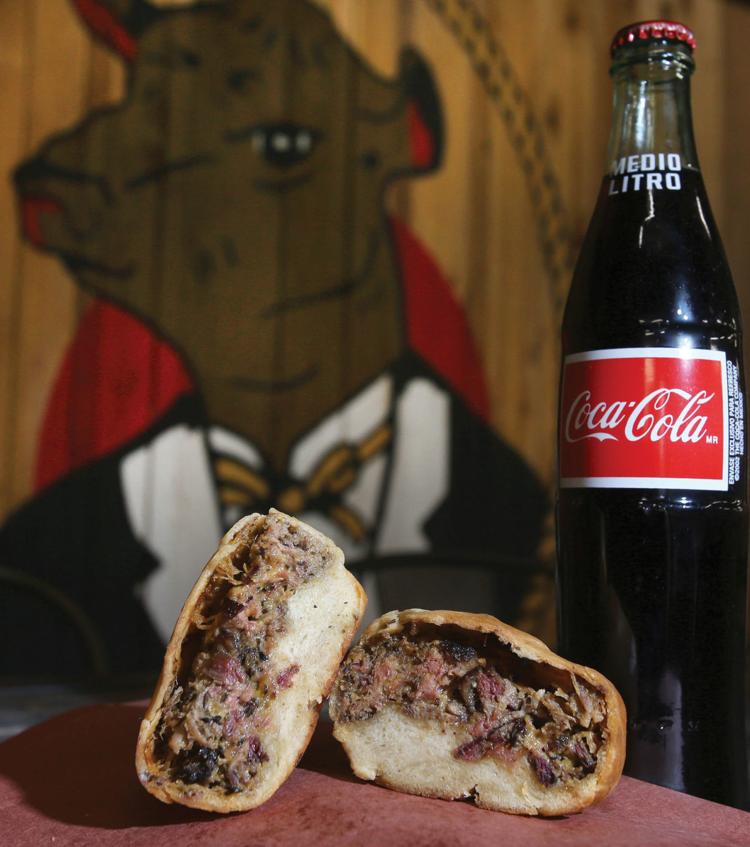 Several people in the know and other barbecue pit masters have posted about the zwieback on Instagram.
"It's something different you don't get at every barbecue place," Phillip said.
Breakfast, too
Their brick-and-mortar location started serving breakfast in early July, and the Helbergs are hoping that Yvette's zwieback will turn into a big seller for that meal.
For now, one of the most sought-after items on the menu includes their high-quality brisket, which they often smoke for 15 to 16 hours.
"We source an amazing all-prime black angus — no drugs or antibiotics," Phillip said.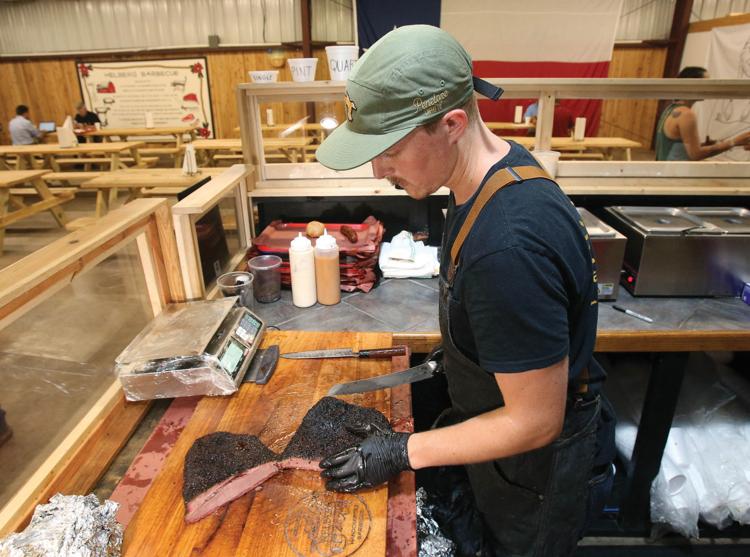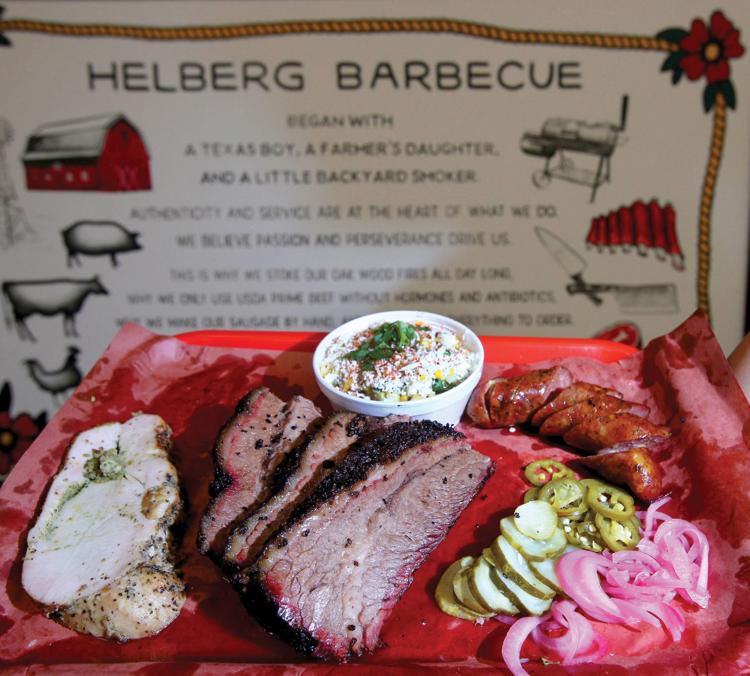 Another major seller is the pesto stuffed turkey, which they "never intended to be a big hit." They had not had much success with regular smoked turkey and were ready to pull it from the menu. Instead, they tried it with a pesto twist and stumbled upon a new reason to keep customers coming back.
Beef cheeks is one of the more unusual dishes. They serve it a couple of times a month and always sell out before the day is over. Some customers call the rich meat "face brisket."
Every Saturday, "monster ribs" are on the menu. They are beef and sometimes weigh 1½ pounds per rib.
The smoked gouda cheese and macaroni is a popular side, as is their Mexican street corn salad made with creamed corn and queso fresco, cilantro and chili lime salt toppings.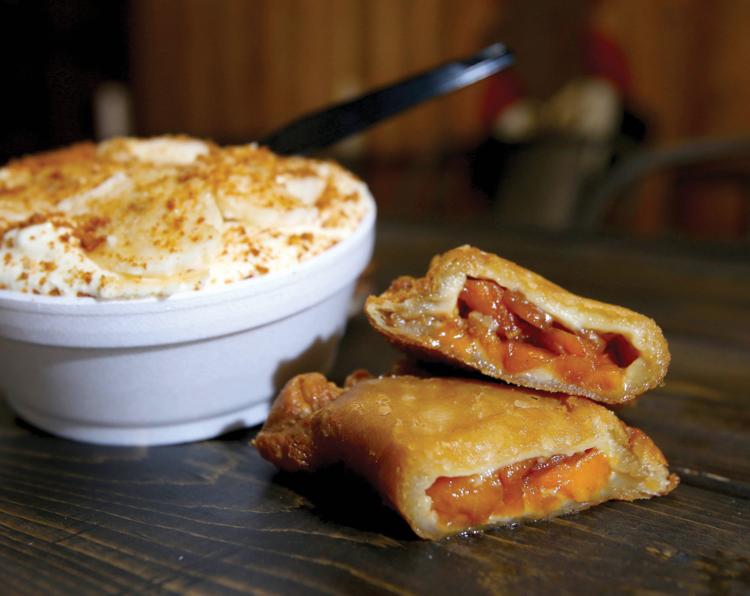 Desserts include Phillip's "Mimi's" banana pudding and seasonal fruit fried hand pies. The couple has added a dedicated dessert cook. "It's really cool to be able to specialize," Phillip said.
Of the rising popular barbecue world, Phillip said, "It's kind of like its own cult, so competitive but so friendly. Craft barbecue is the new craft beer. It's really big in Texas and is spreading. It's not stopping any time soon."
---
Helberg Barbecue
(just north of State Highway 6/F.M. 185 intersection)
Wed to Sat, breakfast 6:30 a.m. to 11 a.m. or until sold out
Wed to Sat, lunch and dinner 11 a.m. to 9 p.m. or until sold out
Food trailer
(outside Pinewood Roasters)
Daily, noon to 9 p.m. or until sold out