Baked Bliss owner Kim Cutler says she likes to refer to her tasty piece of paradise on 15th Street in Waco as a celebration of all things baked. In other words, if you have a sweet tooth and are looking for the best cinnamon rolls in town, Baked Bliss' family recipes is a delicious way to get your fix.
Baked Bliss also features favorites like bacon cheddar and fruit scones, cupcakes, savory kolaches, muffins or cakes and pies to order.
"The cinnies (short for cinnamon rolls in Cutler's vocabulary) and bacon cheddar scones are always a favorite," she says. "But also, our cranberry orange scones and kolaches. We have a fairly extensive line of gluten-free products, as well."
Customers have driven in from Austin and Houston to purchase her gluten-free pastries.
"It boggles my mind when I meet people who drive from other cities to purchase goodies from us," Cutler says. "But it's also a blessing, for sure."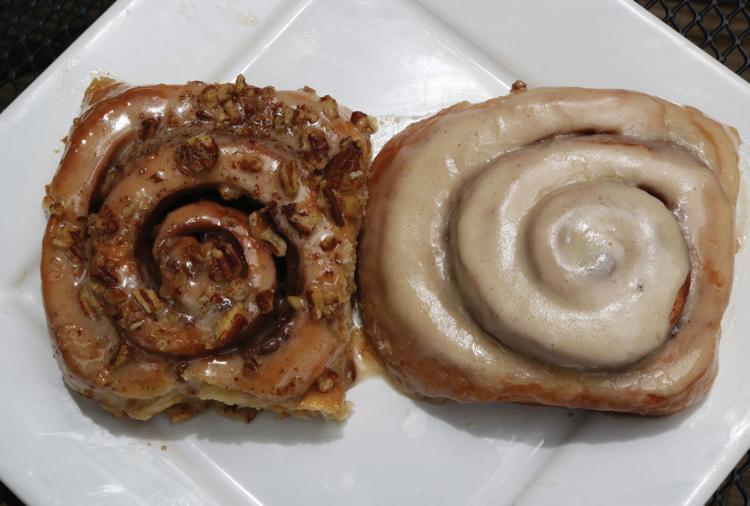 Maybe it's the family recipes that Cutler, originally from the Dallas area, has been perfecting for the last 33 years that has folks coming back for more.
"My mom inherited all of my grandmother's recipes," Cutler explains. "She was going through them one day and found an old recipe for cinnamon rolls. She gave it to me, and I started playing with it and came up with what we use today. Several of our other recipes are old family favorites, too, and some I've just made up over the years and others I've just picked up along the way."
Getting a Name
Cutler says the name, Baked Bliss, means "heavenly joy" or "happy place."
"It came from the fact that people always talked about my food being 'heavenly' or 'heaven on a fork' or 'taking them to their happy place,' so since we started making baked goods it just seemed the most logical name," she says.
With a team of five plus her at the bakery, Bakes Bliss is located in what began as a gas station and repair shop built in 1936.
"I've had different customers who've come in and said that they remember coming as a child with their parents and waiting for their car to be fixed," Cutler says. "Over the years, it's been a liquor store, taco stand, small diner and storefront for a catering business. Then it sat empty for about a year before we moved in."
Her 75-year-old dad bought a former FEMA trailer that he gutted and put in a kitchen. Baked Bliss sells its goodies out of the trailer. Her father also built the adjacent deck and her mother arranges the flowers scattered around the deck.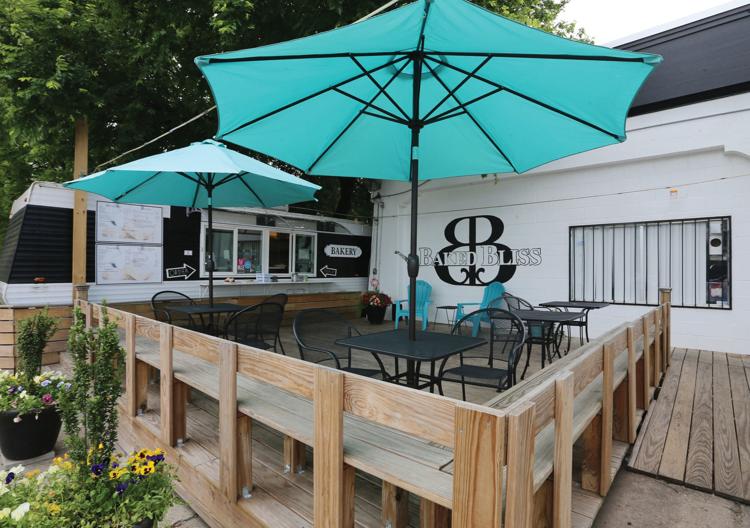 Both of Cutler's parents and her brother, from a distance, are involved in the business. Her parents drive down every couple of weeks and help around the shop. Her father takes care of the accounting side of things and her mother, Cutler says, "has been my mentor in baking and cooking since I was a child, so we always say that she's in charge of R&D."
Cutler's brother worked in the catering industry in New York for 14 years, so he gives his sister valuable input and ideas as well as helping with the carpentry and practical things to keep improving the storefront.
Getting Started
Baked Bliss began in Cutler's home kitchen because she says she knew she wanted to get into the bakery business but wasn't sure what the Waco market needed.
"There were already several great bakeries that made custom cakes and cupcakes, so I wasn't quite sure where to start or what products to sell," she says. "My friends told me to just start baking out of my house and let them know what I was baking.
"So, in 2013, I started something called 'Fun Fridays' and would invite people into my home to purchase baked goods. It gave me a low-risk opportunity to see what people were wanting."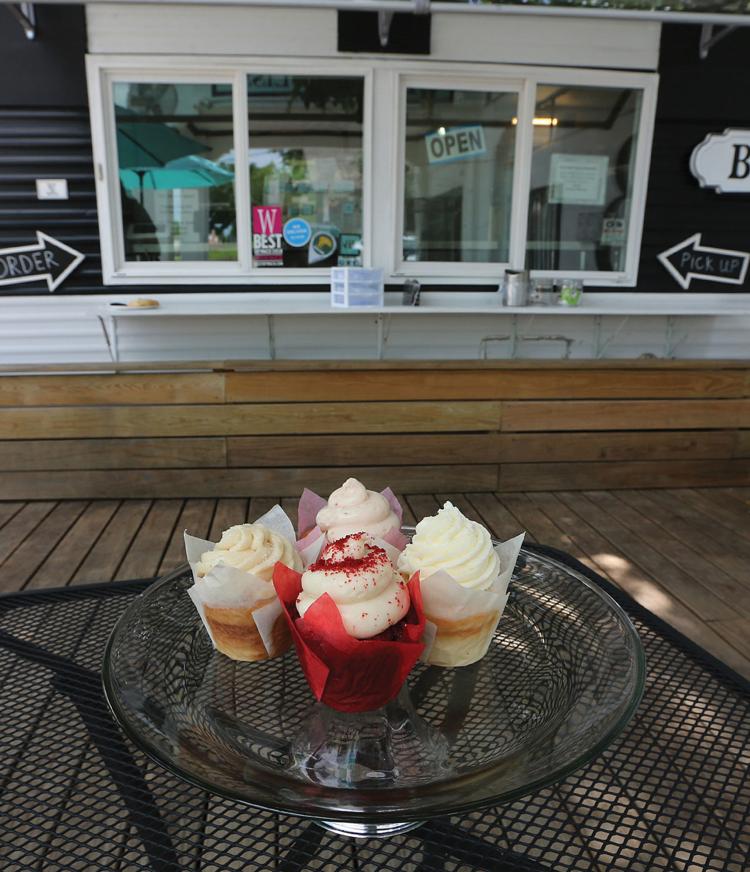 Cutler offered all kinds of recipes on Fridays and it was then that the bacon cheddar scones and cinnamon rolls became so popular.
In the spring of 2016 she was offered an opportunity to bake wholesale pastries, but since she was still baking out of the house, she knew she had to find a place to bake commercially.
"We only had two weeks to let our potential wholesale customer know if we'd found a place," she says. "A friend and fan of the business found the building where we bake currently. I moved Baked Bliss out of the house and into the current location in May of 2016. I took the first year and just baked wholesale baked goods. By June of 2017, we had fixed up the trailer and built the deck and opened for business to the public."
You can usually find Cutler as early as 7 a.m. at the shop to begin her day baking because she says "a majority of our product is from scratch and made with quality ingredients."
Discovery
She also discovered another little secret to go with the family recipes: her baked goods taste better the next day.
"So, we bake a day ahead," she says. "I started out making everything the day of and getting up way early, but one day I accidentally left out some pastries. I tasted them and they were so much better. I like to think of it like a good pot of chili or spaghetti, you're giving the ingredients a chance to marry overnight and have flavor babies."
Baked Bliss also sells custom and wedding cakes and recently began selling a limited lunch menu and caters breakfast, lunch and dinner.
When you walk up to the building, Cutler says everyone's tendency is to go inside, but the trailer and deck area are designed with ramp and stair access to make it easy for customers to come up and order.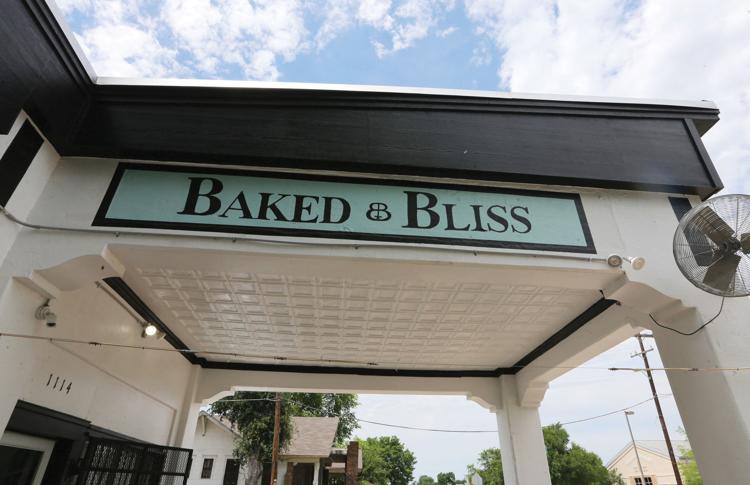 Cutler's friends painted the huge Baked Bliss logo on the front wall of the building, and she says many customers who come by will sit or stand in front of it and take selfies.
"Someone told me it's on some Waco bucket list somewhere to get a picture in front of the logo," she adds.
Customers can dine on the deck or take it to go. She says Baked Bliss is all about a comfortable dining experience even though it's outside.
"There's a lot of shade on the deck and we have fans and misters running in the summertime," she says. "So, it is really quite pleasant."
Across the street is West Avenue Elementary. Teachers come over for breakfast and lunch. Baked Bliss returns the favor by delivering coffee and goodies when the teachers are not able to leave the school.
"I love serving our teachers," Cutler says. "I feel like it keeps me connected to what's going on in our school district. Teachers and administration do so much for the children and families in our community. It's an honor to serve them."
Cutler graduated from Baylor Business School in 1990 and while she has worked at a few jobs since beginning Baked Bliss, these days her business keeps her life whole.
"I love that Baked Bliss gets to be a part of people's special moments and sweet celebrations," she says. "I get to meet people with such beautiful stories and lives. And my team is such a cool group of people to work with. We do have challenging days, but we always find ways to enjoy each other in the midst of the stress."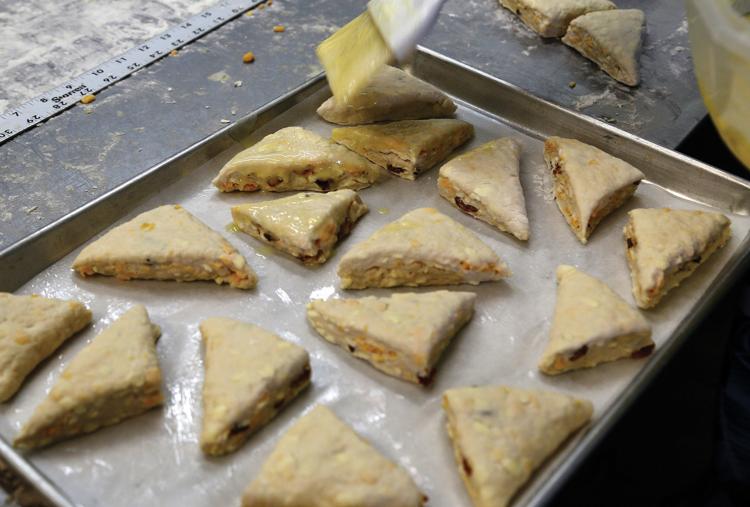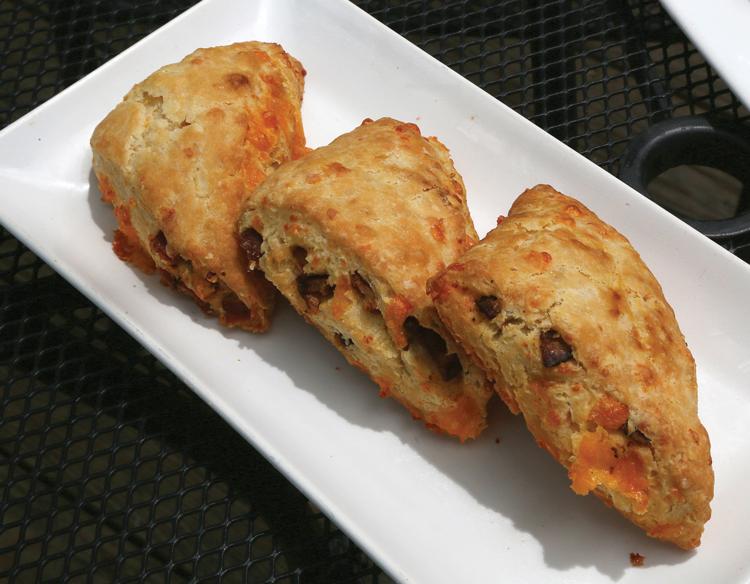 Future Plans
Changes in the future include growing the business and enclosing the front area of the building and adding indoor seating. Cutler says she would also like a small kiosk or store front for Baked Bliss possibly downtown as well as opening in other cities.
For now, there is a website, www.bakedbliss.com, where customers can order and pay for most of the baked goods online and then pick up or have the items delivered.
Cutler believes there is nothing like being able to create something with your hands that helps makes another person's day more special.
"One of favorite memories is when a customer had not been able to eat sugar for several months due to gestational diabetes," she says. "The first thing she wanted after her baby was born was a Baked Bliss cinnamon roll. It makes me feel like we're a part of people's family experiences."
---
Baked Bliss
Mon-Fri, 8 a.m. to 2 p.m.