Welcome to Heartbreak, Texas, where the only thing as simple and straightforward as it seems is the pain of a cactus thorn in your heel, the unrelenting heat of summer, or the startling beauty of the season's last bluebonnets. Sally Rae and I run The Waterin' Hole Café. We're the crossroads, most days, of the town's many interactions. Of course, the other crossroad is Cottonwood Baptist Church. This last week I got stuck in the crosshairs of this intersection, café and church, to my immense discomfort.
---
John Weaselton was the sort of Christian we have all met — unfortunately. In the first minute of any conversation with a new victim he would slip in, usually three or four times, what a "Good Christian Man" he was.
He would go on and on about how he had six children, and doing honest work, mostly on cars, was how he barely managed to feed those young 'uns.
Next, he usually managed to get a "loan" of $200 or $300, and a promise that he would fix your car up (need it or not). Most folks needed an oil change or a taillight or something, so they would bring it in — poor suckers! The bill was usually about $200 or $300 more than the loan, every time. John was a confidence man, masquerading as a mechanic, and darn, he was good at it!
Getting any money back from John was a different story. Like a lot of folks, he set up a monthly payment plan for family meals for him and his family. When it came time to pay his tab, he forgot his billfold or ran out of checks. Finally, when I cornered him out of earshot of his family, he got down to his real hard bargaining.
"Now, Dave, I don't see no way it can be $650!" he protested.
"It's really $679.48, John." I didn't want him rounding downwards.
"Whatever. Why my three littlest ones just eat off our plates."
"I can show you the receipts, if you wish."
"Well you just do that! I'm a Good Christian Man, my word is my bond. I'm good for it, but that's a real chunk o' change for grub I coulda fixed myself at home, and fixed heathier and better!"
I'd dickered with a few men like him before, so I cut my losses.
"How about this, John. You pay me $25 cash today, and from now on, everything else is cash on the barrelhead."
I figured he would have either paid up or taken a swing at me, but to insult a man, well, first he has to have a speck of dignity. John pulled out a $20 bill and said, "That's all I got on me, take it or leave it."
Then John walked out to his family and said, "All taken care of. Let's have those rib-eye steaks tonight!" He did know how to feed his family. I briefly fantasied about killing him outright, provided I could get tried in Heartbreak by a jury of his victims.
One might wonder why I'd put up with such a man. The answer was simple: Miss Annie Lou, his wife.
Annie Lou is the stuff that saints are made of. Her straight brown hair framed a face that stopped just one notch short of downright plain. Her three boys were just at the age when enough-is-never-enough. Her three girls were just as mousy as Annie Lou herself, but waifs have their own way of tugging at your heartstrings.
John insisted that she home-school all those kids to keep out foreign, sinful ideas. A funny thing, both John and Annie Lou had college educations, but somewhere along the way John's considerable religious feelings persuaded them that ignorance was their children's best protection.
I once asked John point-blank why he didn't send his kids to public school, what with the free lunches and all.
"Sex education, Dave! Sex education! I won't have it." He looked me in the eye and said, "Some things are more important than money, Dave."
True ignorance is impossible to argue with. I knew for a fact that sex education at Heartbreak High School got no further than "He/she, him/her, his/hers" in the English class, but John had made up his mind, on religious grounds, no less, and so I knew it was pointless to argue further.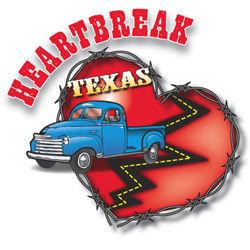 By the way, I sure hope that no one thinks I'm anti-Christian. I am a Baptist myself, and I try, however futilely, to act like I say I believe. It's just a particular bone with me when someone claims Christianity to cover for their own weaknesses, irresponsibility and (in John's case) run-away fertility.
About three years after the Weaseltons moved to Heartbreak there was an accident. John had crawled under a car that was unsecured. The chain hoist failed, and he was crushed.
Rumor had it that he and Annie Lou had been talking about having another kid, and God himself stepped in to exercise a little Divine Birth Control, but I discounted this rumor as mean-hearted (though not without possible foundation). In any event, God kept His own counsel, and I, for one, cannot testify to the truth, one way or the other.
The rub came the next day when I called on the Widow Weaselton with a basket of food. It was the least I could do, I thought.
Apparently, Annie Lou thought the same.
"Dave, thank you so much. You know, I need to ask another favor in my time of sorrow. Could you deliver John's eulogy tomorrow at the funeral? I know public speaking isn't your thing, and there's so little time, but well, I asked Tom Bradley, our lawyer, and he declined. Overwork, he said."
"I, I ..." I sputtered, to no avail. She dissolved into tears.
Sometimes a firm "no" is just not an option. I know when I'm trapped.
"Sure, I'd be honored, Annie Lou."
First, I went to Rev. Hollis.
"Reverend, I'm in a fix. I'm looking for a loophole," I started.
"Most people are in a fix when they come to me, Dave, and loopholes are the main thing they expect me to find for them. So, what do you want to get away with?"
Lordy, he could cut right to the heart of the matter.
"I am supposed to deliver the eulogy for John Weaselton tomorrow. The way I see it, I can lie to the whole town or embarrass a new widow and her orphans. I don't know what to say."
"Dave, the Bible has a lot of wisdom, but sometimes we have to look for other sources of inspiration. I'm thinking of Henry Kissinger. He had an especially useful phrase, 'constructive ambiguities.' "
"No. You're on your own. Better give it some thought, though. Funeral starts in, ah, about 22 hours."
"We are here today to celebrate the life of John Weaselton, a husband, and a father of six beautiful children. I knew John well, as did many of you. Like you, I knew that when John met a new person, the first thing he did was proclaim his Christianity. Nothing said could shake him from that stated belief. John loved his wife and family above all others. He had a set of principles held sacred between himself and God, and no other. He followed a time-honored profession and worked it hard all his life. He treated other people's money like it was his own."
Tom Bradley may have been too busy to write a eulogy, but he sat on the front row. At this point he leaned forward, and his shoulders began to shake.
"John exemplified the expression, 'Neither a borrower nor a debtor be.' He does look so natural, and so at peace. Looking at him now, I feel a certain peace of my own. John showed his character in his actions, not mere words. I think of John as a great teacher. Those of us who learned his lessons will never forget them. Mitch Albom said, 'Death ends a life, but not a relationship.' We will all remember John for who and what he was."
More and more people leaned forward, heads bowed, shoulders moving rhythmically up and down.
"John was not a big man, but he left a big impression with all who experienced him."
Cliff Upshod, one of the ushers, never could keep a straight face. He abruptly went outside.
"Even Winston Churchill said, 'Sometimes it is not enough to do our best; we must do what is required.' John understood this dictum and practiced it daily. Indeed, I can say without fear of contradiction that John faced the trials of life, and even death, almost daily, without a change in his behavior. I know that the whole community rejoiced when John was summoned home.
"If children are the only form of immortality, we can be sure about, well, John certainly assured his own immortality. Indeed, children, I know you have lost your father, but I am sure that the whole of Heartbreak will support you in efforts to reach, no, even to surpass your father's many achievements. May God bless you, John, and speed you to your just reward."
By now, almost every head was bowed, and many, many shoulders shook uncontrollably. Random high-pitched expressions of emotion filled the room.