When Lynn Franklin was 79 years old, she knew her usual energy that fueled her active lifestyle was declining.
She consulted her family doctor, who had been monitoring a heart murmur. He sent her to Waco Cardiology Associates, where she learned of a simple treatment that could restore her health.
Dr. Brian Barnett, an interventional cardiologist and director of the cath lab and Structural Heart Program at Ascension Providence, suggested that Franklin consider TAVR -- or transcatheter aortic valve replacement.
The procedure simplifies the traditional open-chest approach to heart valve replacement for easier recovery and minimal time in the hospital.
"Dr. Barnett is a very straight-forward, tell-you-like-it-is doctor, which I like very much," Franklin said. "He told me without the surgery, he thought I had about a year and I told him I didn't think it was my time. I had total confidence in him and I had no fears."
Waco Cardiology Associates has teamed with the Heart Hospital at Ascension Providence to transform the more complicated open-chest procedure to a catheter approach similar to that used for stents and other artery treatments.
"People normally had their heart valve replaced for aortic stenosis with open-heart surgery," Barnett said. "They would come in and it would be a six-week recovery."
While that option is still available, some patients and their doctor may decide that TAVR can solve their aortic stenosis, narrowing of the valve in the large blood vessel branching off the heart, with less time in recovery.
"My recovery from the aortic valve surgery (catheterization) was immediate," Franklin said. "I felt great! I had more energy immediately. I highly recommend it to anyone who needs it to go do it. I knew that I was slowing down, so what Dr. Barnett said made sense."
Quick Recovery
Barnett said Franklin's experience is typical as most patients easily recover and resume normal activities quickly.
"The difference is we are able to do it less invasively," he said. "Patients come in and have their procedure and they are up walking within six hours and most of the time they can go home the next day."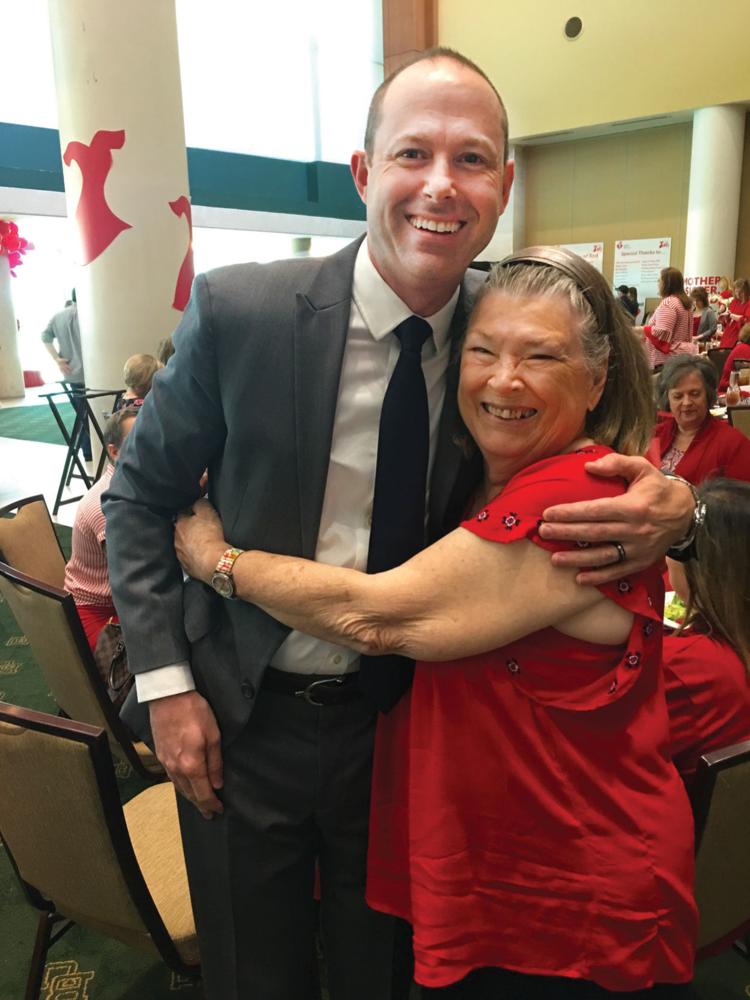 Once home, patients can skip the rehabilitation and gradually adjust to their renewed energy, he said.
"They can walk around and do many other things other than lifting anything heavy and then no restrictions after 10 days," Barnett said.
The reason for a new heart valve or TAVR is to get the mechanics of the heart working efficiently again, he said.
"If you are unable to get blood out of the heart, it is unable to make it to the rest of the body, and if you can't get into the rest of the body you can't live," the cardiologist said.
This process requires a fully working heart valve.
"What we normally tell patients is if you have surgery for an aortic valve replacement, a heart surgeon will open up the sternum, the big bone across the chest, and replace the valve," Barnett said. "Then they will close the chest and suture it back up. It takes time for that bone to heal."
The recovery time from the TAVR is less because the chest is not opened and the bone is not severed.
"What we do instead is similar to an angiogram or a heart catherization," he said. "We go up through the groin and close the incision with little bitty sutures. We stop the heart only for about 10 seconds and replace the valve and after the heart restarts people do fine. We aren't cutting someone open. We are using a needle to get access to the artery that leads to the heart."
The heart has four valves and the aortic valve is the last step for blood to leave the heart to make it out to the body, Barnett explained.
"When we do a TAVR, we are replacing that valve. The aortic valve like everything else in the body breaks down. It gets calcified and just isn't able to get blood to the body."
Traffic Analogy
That life-sustaining function is similar to traffic on Interstate 35, he said.
"A bypass is like if you were trying to drive from Waco to Austin but somewhere around Bruceville-Eddy traffic stops because there is plaque in the heart, so you take Highway 317 instead to get down to Austin," Barnett explained.
"Aortic stenosis is where you are going down I-35 where you have three or four lanes but now you have half a lane and blood (or traffic) isn't going through, so we take that section and replace it so now you have four lanes instead of half a lane."
TAVR only has about a 10-year history so longevity of its effectiveness has yet to be determined. It can be the best option for patients with certain factors, Barnett said.
"The previous way, we have more data because we've been doing it for decades," he said. "We have a pretty good idea of how long those last whether it's a pig valve or a mechanical valve."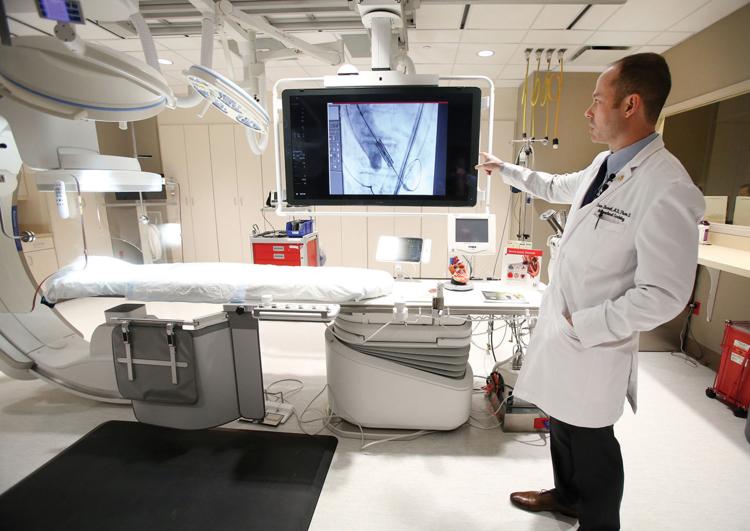 While TAVR is a newer procedure with less predictive data, it offers certain advantages, including being able to do it inside of an existing valve replacement, he said.
"There are a number of patients out there where they live in an area where they can't get a valve replacement or they have too many comorbidities (additional chronic diseases or conditions for open-heart surgery). Now they can have this and I'm just glad we are able to do it in Waco and be able to offer it to patients."
Barnett and his associates Dr. Adam Falcone, cardiologist at Waco Cardiology, and Dr. Jeff Young and Dr. Richard Helmer, vascular surgeons at Ascension Providence, consider the patient's age, history and overall health.
"We see these folks and we evaluate them, and we try to give folks the most information possible so they can determine what kind of procedure they want performed," Barnett said.
"When you start adding comorbidities, the chances of going to surgery decreases. An 85-year-old person who has had bypass and maybe has bad kidneys or other issues is a candidate for this procedure because they don't have to go on the bypass pump."
Some stronger patients may elect to have the traditional open-heart procedure because of the proven longevity of the procedure.
"As patients get older, 60 and above, it becomes clear what kind of procedure and what kind of valve replacement should be performed," Barnett said.
Procedures
Barnett and his colleagues have performed about 90 of these procedures since October 2018. The average patient is about 75 years old and closely divided among male and female. However, they are typically in one of two groups healthwise.
"We have one group of patients who are really healthy and their family physician has been watching a murmur on their echocardiogram and they have noticed their physical function has started to decrease," Barnett said. "Their valve has crossed a threshold where they were asymptomatic to now it's more severe and they are having to back off on daily activities. Maybe they are feeling chest pain."
Other patients may present with more complications, he said.
"Then we have another group who has not seen a doctor in a number of years and they end up in the hospital with damage to their heart or another issue and we need to remedy their valve issue where they can get back to a normal level of function."
Patients usually are walking around in about six hours and spend one night in the intensive care unit.
"Usually, their hospital time is less than 24 hours," he said. "I just ask that they have family around so they don't lift anything heavy for 10 days."
The Federal Drug Administration in 2019 approved for TAVR to be made available to low-risk patients, as it was originally only approved for higher-risk, inoperable patients.
"Each patient is different and each patient is a special case and that is part of the shared decision-making," he said. "Patients should have a right to be presented with all options and be able to decide. A low-risk patient may choose this route due to an easier recovery time and less time away from work."
Extra Caution
The COVID-19 pandemic causes physicians and patients to consider the timing of their treatment.
"Having a bad valve is not something we really want to wait on, but we are really trying to take those right now who are most needing it because it does require quite a bit of resources," Barnett said.
"Once a person is symptomatic due to aortic stenosis, it's a 4% mortality risk per month so it's not usually a procedure to delay. If they are asymptomatic, then we usually wait until they have symptoms."
Waco Cardiology Associates is in the top 10 percentile for the procedure related to mortality, length of hospital stay and other metrics, Barnett said.
"We are doing very well," he said. "It's something that is a passion of mine, and I'm glad we are able to offer it here. The people of Waco need it."
Franklin echoes that sentiment.
"I even came home wondering if they had even done anything to me," she said. "The surgery took 22 minutes. They sent me back home quicker than I was at the hospital the day before."
Since she had the TAVR, Franklin has resumed her activities with her usual vigor.
"I've had a wonderful year," she said. "I got to do the main thing on my bucket list. I got to go to Hawaii for Christmas and then I got to go to my son's home in Mexico for my 80th birthday. And I highly doubt if I had not had the surgery, I would have been able to do those things."
She also is enjoying her life every day.
"I like to work in my yard," she said. "I have a lot of flowers, and I live alone. I do my own housework, and I'm pretty active for an 80-year-old."