In fighting a virus that has yet to have a vaccine, doctors and nurses around the country and the world have stood up to the challenge and are heroes for all of us.
That is equally true in Central Texas as healthcare personnel face the COVID-19 pandemic first-hand, whether it's in the Baylor Scott & White Health system, Ascension Providence, Family Health Center and long-term care facilities.
Dr. William McCunniff with the Baylor Scott & White Hillcrest Midway Clinic said "Healthcare chooses us. We have an innate desire to be there for our patients throughout their best times and during their times of greatest need."
McCunniff said living through a pandemic such as COVID-19 has certainly emphasized a desire to be present, adaptable and educated on the current threat in order to best care for the patients.
"I feel blessed with the opportunity to help care for our community with an incredible team of other physicians, nurses, therapists and staff at our clinics and hospitals throughout the city," he added.
McCunniff, who graduated from Baylor University before going to Texas Tech University Health Sciences Center School of Medicine, has been in Waco since 2012 when he began as a resident at the Family Health Center.
As a physician in a family medicine clinic, these days his day starts early as the clinic is the initial point of contact for those with potential COVID-19 symptoms.
"For anyone who may have symptoms of fever, cough or shortness of breath, we start with a video visit to triage the severity of their symptoms," he explained. "If symptoms are severe or we have concern about possible pneumonia, then these patients are directed to our respiratory clinic at another physical location in the city."
For those with milder symptoms, they are tested for COVID-19 and told to self-quarantine at home while keeping in close communication with the doctor.
The clinic also tests each employee's temperature twice daily along with every patient who enters the facility.
And while there are indeed health challenges as the pandemic continues, McCunniff is also quick to caution people to keep any other healthcare issues in check, too.
"The continued threat of COVID-19 is still keeping people on edge about their healthcare," he said. "Daily I am answering multiple questions about whether a cough or fever could be due to the virus or an alternative cause.
"While we must continue to pay close attention to COVID-19, it is important that people do not ignore their other chronic medical conditions such as diabetes, asthma, COPD (chronic obstructive pulmonary disease) and congestive heart failure."
Making sure that people continue to manage these conditions appropriately in the COVID-19 environment is a challenge, but the doctor said he has been having multiple conversations with patients about ensuring healthy outlets during periods of stress such as exercise, eating healthy, praying and getting sleep.
"I have walked with several patients through this diagnosis and recovery period and am grateful that none of my patients have had to be hospitalized at this point," he added. "This disease continues to affect people to differing degrees and those with certain medical comorbidities (chronic diseases or conditions) are at highest risk."
McCunniff does see his family at home, but takes precautions.
"As soon as I get home, I change clothes in the garage and place my scrubs in the washing machine," he said. "I sneak past the kids and shower before coming into contact with my three children or my wife.
"We are all frequently washing our hands or using hand sanitizer and wiping down surfaces in our house. As long as I do not have a fever or cough, this is working for now although my wife may have other plans for me should I develop any symptoms."
McCunniff says he does have colleagues who have their family stay at another location during the pandemic. He has heard of others staying in an RV in the driveway.
"Wacoans continue to support the clinicians in times of need," he said. "Whether it's sewing homemade masks, providing food and prayer, donating unused personal protective equipment and also just staying home to avoid overwhelming our health system, we have felt encouraged by our community's persistent support."
Precautions
Dr. James Morrison, chief medical officer for Baylor Scott & White Hillcrest Medical Center, says his hospital has been focused on preparation for the fight against COVID-19 while continuing the essential services it provides every day, including unexpected illnesses, trauma, and other issues the patients can't control and depend on them to treat.
"We've placed a heavy emphasis on increasing our capacity, especially in regard to critical care, as we've seen hospitals across the country struggle with patient surges," Morrison said. "So, we've reoriented entire departments of our hospital to shift over in preparation for expanded critical care access.
"This requires not only physical changes to the hospital but retraining and education for staff. At the same time, we're focusing on safety for our patients and staff."
Morrison says they have worked tirelessly in a joint effort with all the hospitals in the health system to acquire adequate supplies to stop the spread of the illness and care for patients.
"Additionally, this has truly been a community effort," he said. "We've worked to integrate with our other community resources to protect not only our hospital but our entire community. We've developed a comprehensive community plan along with Ascension Providence, Family Health Center, city and county public health, and emergency management resources. We feel confident that this cooperation will be the key to protecting our community."
McCunniff agreed that the hospital system has been pivotal in protecting both the staff and patients.
"They have directed the coordination of multiple monitoring stations and limiting access for visitors," he explained. "The hospitals are striving constantly to provide adequate protective personal equipment for us and have developed multiple other mechanisms and provisions to ensure our safety."
Nurse Perspective
Registered nurse Amanda Grant said Baylor Scott & White Hillcrest has given them all the tools to be safe.
Grant has been a nurse for six years and has spent most of her time in the emergency room. She says she chose that department because it provides a constant learning experience.
During the outbreak the hospital has set up strict enhanced screening stations at all entries to keep staff safe, she said.
"If the patient is symptomatic, we provide a mask to the patient to protect themselves and others around them," Grant said. "We provide patient education upon discharge regarding signs and symptoms to be aware of, as well as self-quarantine practices. Our administration provides resources for the employees to monitor themselves throughout the day."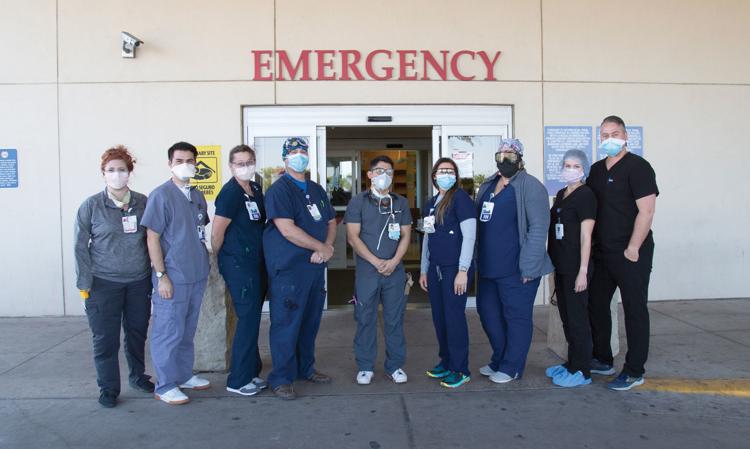 She says the CEO and executive leaders have done an amazing job sending out multiple emails, texts and messages educating and updating the staff in real time.
"This has been extremely helpful as the information regarding the virus has changed continuously as we learn new things," Grant added.
Grant looks at the COVID-19 pandemic as "an up-and-down roller coaster of emotions. Initially, the uncertainty of not knowing what to expect was trying. Our management has been extremely open and willing to answer or find the answer for all questions. I, along with our staff, have been vigilant in staying up to date on new practices."
She said everyone is acutely aware of the ever-changing environment and they work together to provide emotional support to each other.
"We share funny memes with each other and attempt to keep our spirits high during what is an emotionally trying time," Grant added.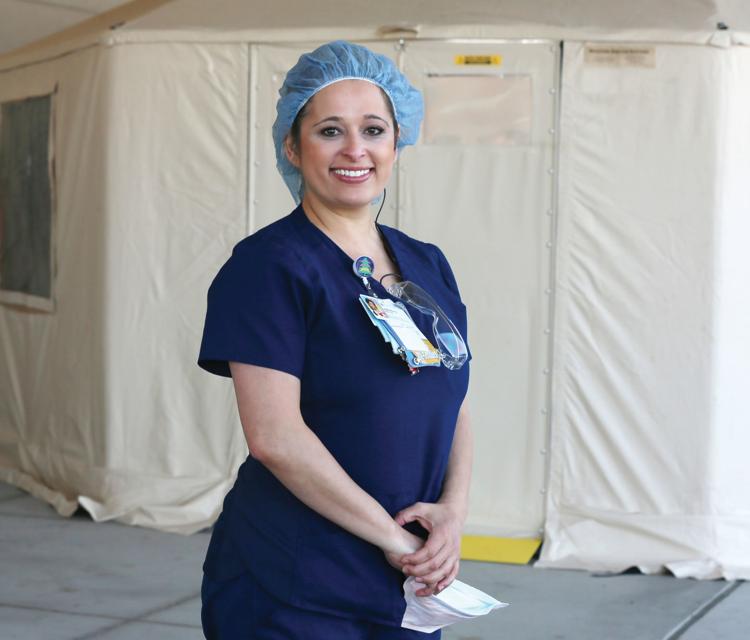 A day in the life includes arriving to work and picking up masks, receiving assignments, and sanitizing all the work gear.
"Not much has changed other than we've changed our practice as far as what PPE (personal protective equipment) we wear into patients' rooms," Grant explained. "We have an extensive list of symptoms that we screen patients for. We wear gowns, gloves, masks, goggles into the patient's room if they screen positive for any of the questions.
"All our staff follow the same protocol, including our environmental services crew. This practice is implemented to not only protect our staff but our community as well."
Overall, the biggest challenge continues to be the uncertainty.
"We walk in preparing for the worst, and so far, it hasn't happened," she said. "The anticipation may be worse than actually trying to prepare."
She says most of her colleagues as well as herself have medical professional friends in areas that have been heavily hit, "so we're able to hear their stories, which is both a blessing and a curse. That being said, being able to actually have time to prepare and educate ourselves has been helpful."
When she goes home, she has a husband and three children.
"My family lives in other areas of Texas so it's just my husband and I here with my three kids under the age of 6. Therefore, we're not able to quarantine away from each other. When I get home, I immediately undress in my garage, roll all of my clothes up together and go directly into a shower that we have right next to our garage."
Like McCunniff, Grant says she does not see her children until she is completely scrubbed down. She washes her clothes separately and she says she believes her entire departments is doing the same thing when they go home to their families, plus taking plenty of multivitamins, vitamin D and herbal supplements to help the immune system.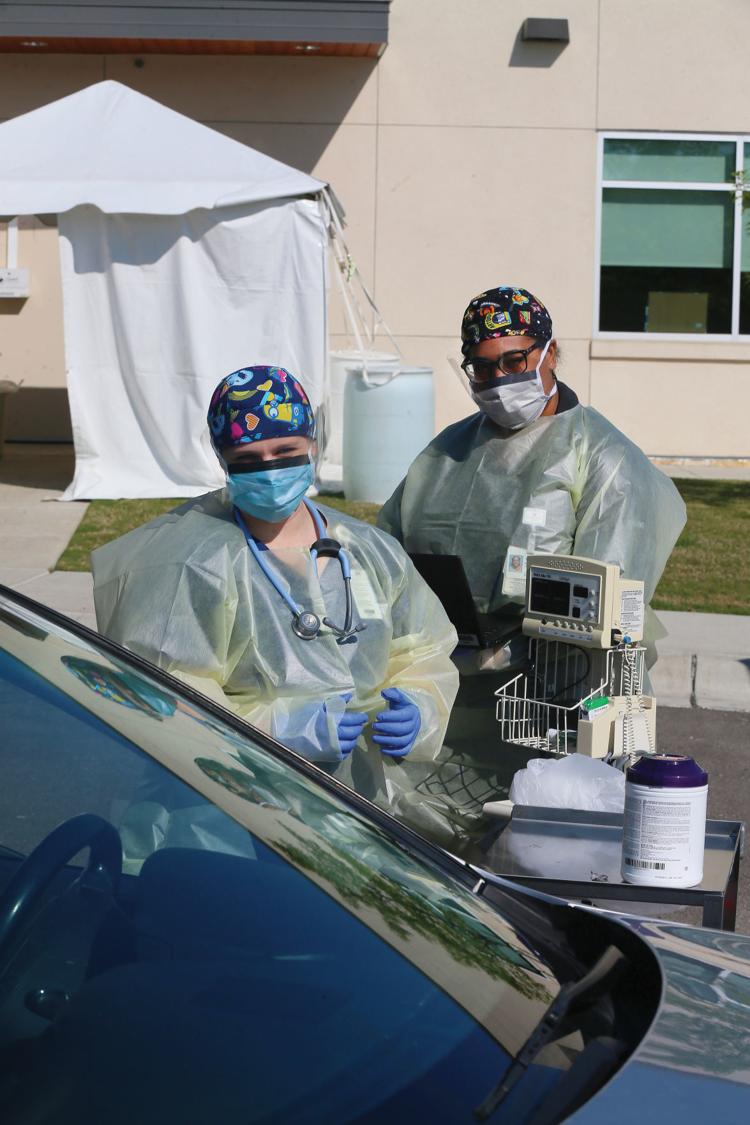 Community Support
Like McCunniff, Grant said the community has been amazing.
"There really are no words to what they mean to us," she said. "We've had countless donations, thank you cards and well wishes," she said. "I can speak for myself, but I believe others feel the same. Our community has lifted our spirits daily. Not only have they provided food and goods, but our community has greatly assisted in decreasing the transmission of the COVID-19 virus. They've heeded the warnings and practice shelter-in-place and we have seen the effects at our hospital."
All are thankful that McLennan County's numbers have not been comparable to other communities with similar populations.
"We're doing an amazing job as a community protecting each other," Grants said, adding that her colleagues are also like family, as they all have each other's best interests at heart.
Grant cites the example of one of the physicians, Dr. Brett Marvel.
"He comes in on his days off at 7 a.m. to pray for the off-going and on-coming staff," Grant said. "This has provided peace to us as our day progresses, and we are so thankful for his sacred work."
Morrison says he is proud of his staff serving on the front lines throughout the pandemic.
"They've been willing to quickly adapt to changing guidance and best practices, as our knowledge about this new virus evolves," he said. "They've done this all while dealing with the same challenges the rest of the community faces; social distancing, disruptions in childcare and school, and all of the other difficulties that have arisen as we, as a community and as a nation, battle this illness.
"This is a testimony to their commitment to selflessly take care of others, despite the obstacles they face. And this is not just the nurses and those who directly interact with patient care, this includes those cleaning rooms, serving food, and so much more. Their passion and sacrifice are an inspiration and displays the best of what makes our community thrive."