Texans are proud statesmen with many bragging rights. We are hard-working, courageous, no-holds-barred fearless people. Our can-do, and most often, will-do attitude makes our great state stand tall and proud.
So it should not go unnoticed that while we are referred to as the next Napa Valley (Fredericksburg, that is), Texas is being hailed as the next frontier in the American whiskey revolution in the larger world circles.
Bert "Tito" Beveridge II, of Austin, originally from San Antonio, pioneered through the maze of red tape to procure the first distiller's license in Texas since before Prohibition, and thus became the creator of the American Craft Distillers. Tito did this on his own, maxing out around 19 credit cards in the process because when no one else had the faith, he kept his own. To this day he has no investors and his company is worth around $2.5 billion.
While the Tito's Vodka label still says "homemade", it is now mass-produced to keep up with the demand. That's OK with us.
Tito paved the way, and we certainly owe him a debt of gratitude. There was zero support or interest in starting up any kind of distillery in Texas in the 1990s, but through his dedication, sometimes a little starvation, he showed others that it can be done. From there, others started branching out into rum, gin and Americans' No. 1-distilled beverage: whiskey. Or is it bourbon?
History Lesson
Just the words whiskey or bourbon conjure thoughts of Tennessee and George Jones, and Kentucky and Dierks Bentley. These two states put whiskey and bourbon on the maps in the United States, no doubt. Most of the original recipes were handed down generation after generation dating back to when whiskey was used as currency during the American Revolution.
Even George Washington had his own distillery. There's no doubt that the South has huge shoes for us to follow. But as Texans, we tend to do things our own way, and we definitely have those entrepreneurs here that are blazing their own way. Whiskey in Texas is still very young -- only 10 years old. In Tennessee and Kentucky, recipes and their distilling are about 200 years old.
Federal guidelines constitute what is a whiskey or a bourbon. Whiskey goes through a Lincoln County process that involves the use of charcoal filtration; all other whiskey is then labeled a bourbon. Calling a Tennessee whiskey a bourbon devalues its rich process that it goes through to receive its special classification.
Bourbon whiskey received its name most likely from Bourbon County, Kentucky, where its name can be traced back to the 1820s with consistent use of the term from 1870. The invention of bourbon is attributed to Elijah Craig, a Baptist minister and distiller from Kentucky. He is said to be the first to age his product in charred casks, which is a hallmark of all bourbons. In 1964, the U.S. Congress recognized bourbon whiskey as a "distinctive product of the United States."
While bourbon can be distilled anywhere in the U.S., it is the iron-free waters of Kentucky naturally filtered through limestone, and unique to that area, that is touted by distillers as the signature step in their bourbon process.
Federal standards of identity for bourbon made for U.S. consumption is:
Produced in the United States.
Made from a grain mixture with a minimum of 51 percent grain (corn).
Aged in new, charred oak containers.
Distilled to no more than 160 proof.
Entered into the barrel for aging at no more than 125 proof.
Bottled at 80 proof.
Bourbon has no minimum aging specified, with the exception of "straight" bourbon at a minimum of two years. Any bourbon aged less than four years must be denoted with age on the label.
"Straight" bourbon also has no coloring, flavoring or other spirits added. If it is "blended," it may have all the aforementioned.
Texas Style
So while Kentucky and Tennessee have their definite protocols on what makes them unique, our Texan distillers are carving their own niche, too. Texas has no strict guidelines, only federal standards with no additions.
Our techniques are still evolving from types of ingredients, barrel charring and aging, chips vs. barrels, types of stills, etc. Texas distillers are using mostly copper pot stills that help produce a thicker, heavier product that helps offset our young aging process due to the smaller barrels used, which speeds up aging for faster bottling time from barrel to bottle for consumption.
Our four seasons in a week, or day for that matter, actually works in our favor with the heat and dry conditions causing the alcohol to expand, therefore allowing the alcohol to reach deep into the woods' pores where the bulk of the flavoring comes from, and all the color. Most Texas whiskeys are still young, but that also makes it a very mixable beverage.
We have some creative distillers here that are trying all sorts of new things to set themselves apart. From the usage of toasted barrels instead of charred, to bringing techniques such as brandy making that help focus aromas, flavor profiles, proper storage and more. Several distilleries are infusing their products to expand their flavors, while catering to younger drinkers who prefer different flavor profiles.
One thing unique here is that we don't have a super large influx of them and each distillery has its own methods and recipes. No one is trying to copy anyone else; each is trying to find its own in the marketplace. Texans are super-loyal fans, and having that in your corner is already a huge plus for anyone wanting to try this adventure.
Our Texas whiskeys have been setting records with medals all over from New York to California. Of course, here in Waco, it would improper not to recognize Chip Tate, co-founder and past head distiller of Balcones. Chip's Balcones Baby Blue and Rumble were two of the very first whiskeys to medal out of Texas.
But that's not to say there weren't others out on the frontier, already producing and aging their own. The first whiskey distiller in Texas was Garrison Brothers in Hye, between Johnson City and Stonewall. Garrison Brothers is making bourbon, and in fact, is the first legal bourbon distillery in the state, as well as the first new bourbon producer to open outside of Kentucky since Prohibition.
So of course, these two are in the top 10, basically No. 1 (Garrison) and No. 2 (Balcones) in the 10 best Reader's Choice Awards.
At the present time, I was able to count 57 licensed distilleries.
Very soon, there will be a Texas Whiskey Trail much like the Texas Wine Trail. Here's to all things Texan!
Top Texas Whiskey Picks To Try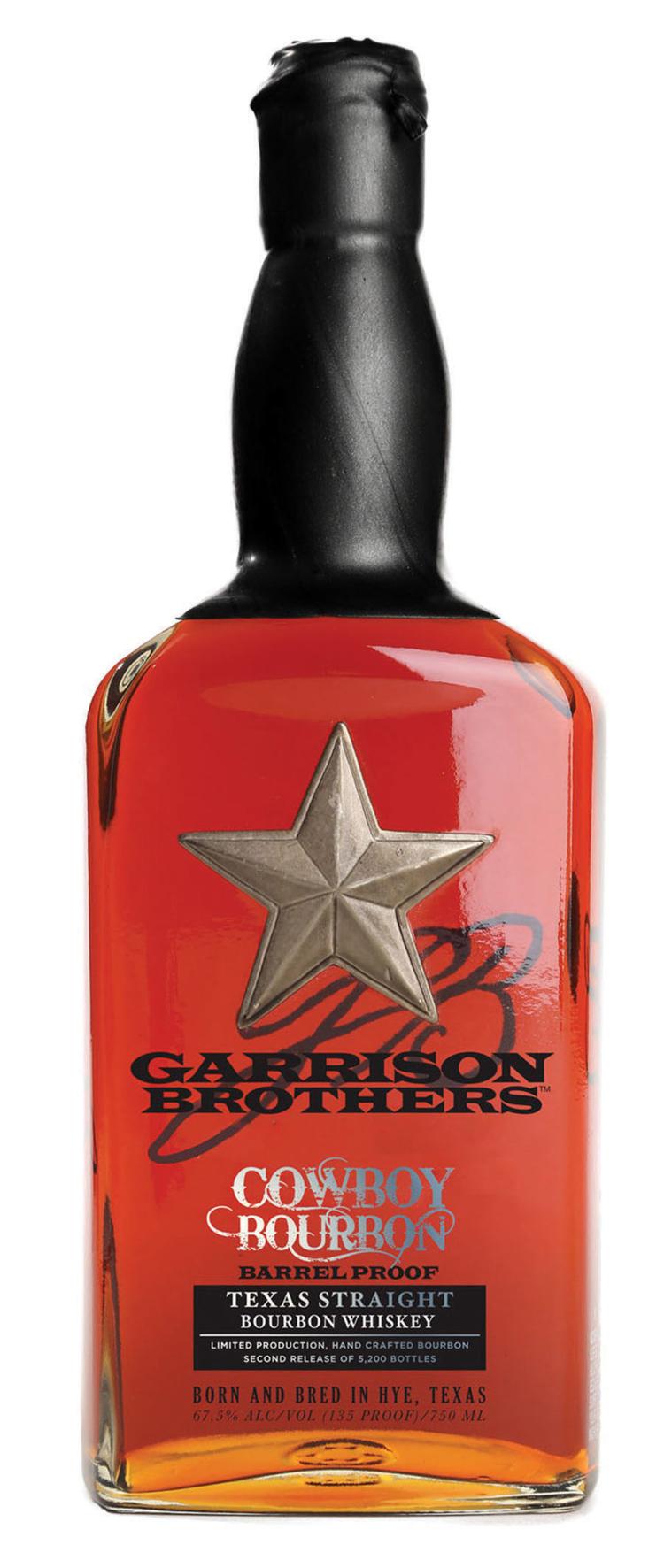 Garrison Brothers The Cowboy, Uncut and Unfiltered Straight Bourbon
Cost: Pricey ($199 for full-sized bottle) but very good. Purchase at the distillery, Total Wine and More.
Info: Named Whiskey of the Year twice by Whiskey Bible. It is hot with alcohol, but the flavors still shine. It has a deep caramel color, and is medium-bodied with caramel, dark fruits and hints of mint.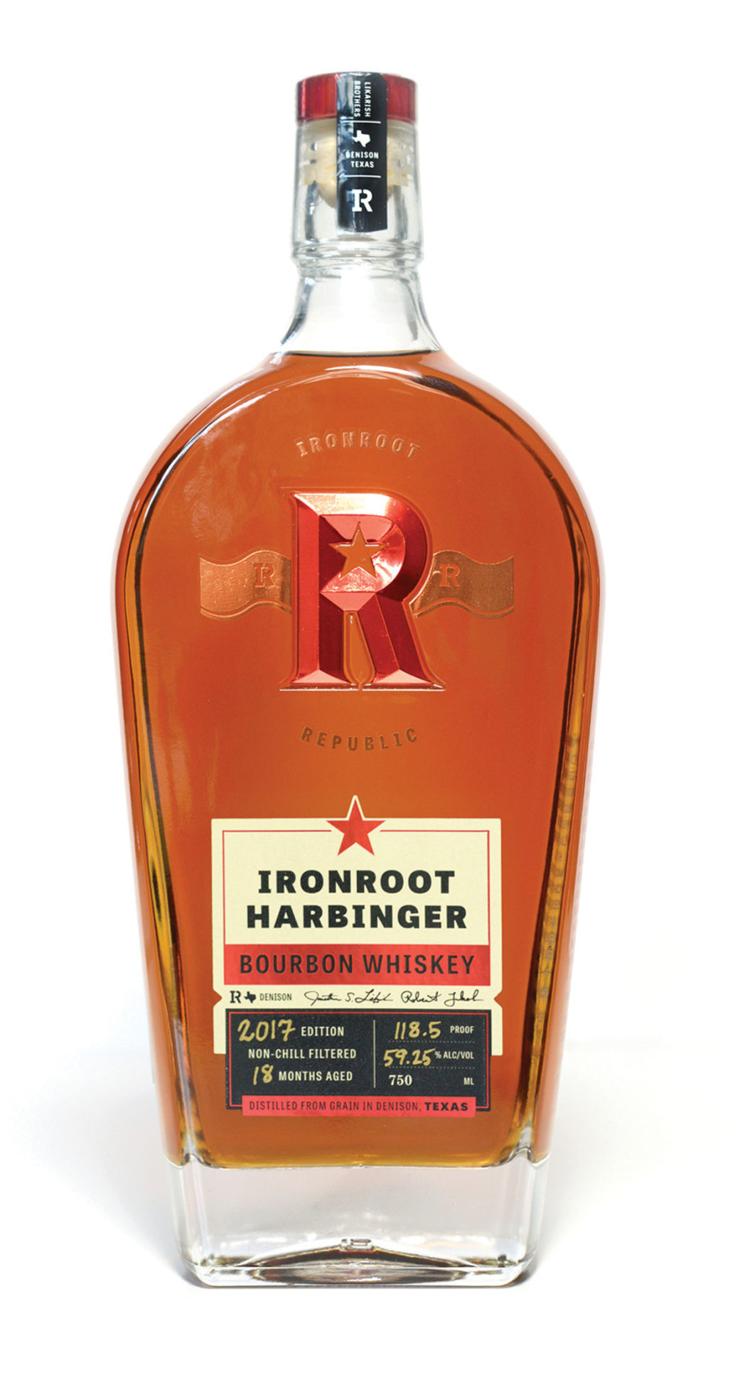 Ironroot Republic Ironroot Harbinger Bourbon
Info: A grain-to-glass distillery, a must visit to purchase. Received one double-gold, two gold and a first place at the International Whisky Competition. It is aromatic with ginger, clove, honey and vanilla, with a mouth adding a touch of cinnamon and oak.

Justice Label Bronze Star Texas Whiskey
Cost: $23.99 per 750 ml; purchase at Total Wine and More.
Info: This is veteran-owned, actually disabled veteran Bronze Star recipient-owned, who is breaking the barrier using a column still, and aging with oak chips and pecan wood chips in the bottle. This is 90 percent corn and 10 percent rye. This isn't a whiskey as much as moonshine. You do pick up the pecan, which adds a nutty flavor. Even though this is more moonshine in style, it is not a mild whiskey.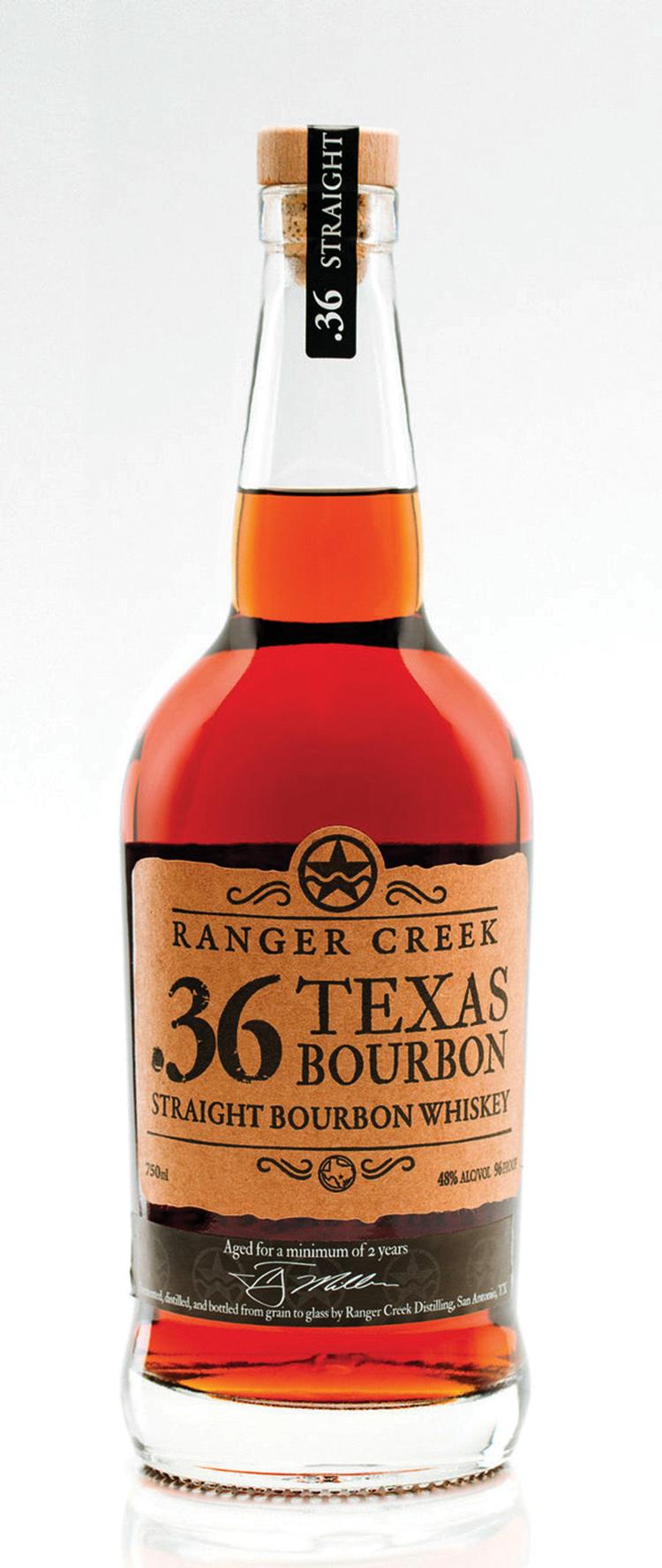 Ranger Creek .36 Texas Bourbon
Cost: $35 per 375 ml. Purchase at Spec's, Total Wine and More.
Info: Named after the pistol the Texas Rangers carried, this Texas bourbon is bold, sweet on the nose, but balanced by a spicy palate. It has notes of brown sugar, caramel, cinnamon and pepper. It shows a nice, deep color.

Balcones Rum Cask Single Malt Whisky
Cost: Consult distillery for release dates. Previous average price was $129 for 750 ml.
Info: Can't end this without supporting our own. If you like heat, this is for you. It is nicely executed with lingering spices, nuts, candied fruits and bread. The drink has a heavy oak finish. This is complex enough to drink on the rocks after a really long week while savoring all its sweet goodness. Consult the distillery for release dates.