Spann Vineyards, owned and operated by Peter and Betsy Spann, is located in the Mayacamas Mountains, high up a steeply terraced hill on Spann Mountain in Sonoma, California.
It is a small artisan vineyard producing small batches of handcrafted wines. They dry-farm their vineyards, striving for small yields, sometimes as low as 1 ton per acre. They also purchase fruit from growers in Sonoma and elsewhere.
Their wines are crafted in very small quantities, usually no more than a few hundred cases. Betsy isn't afraid to try new blends, and Peter is creative in his naming of the wines. They are two down-to-earth, friendly people with a bit of Texas history to them. If you visit the tasting room in Kenwood, the chances of one of them being the pourer is a guarantee.
They are very hands-on and sharing their passion about their wines with you is very important to them. Here is their story, in their words (from their website):
"Our experience with the wines of great producers around the world over the past 40 years has been invaluable. We take the best ideas and techniques we've learned from European and California winemakers and apply them to our wines.
"We strive to create food-friendly, unique wines that are memorable and blend seamlessly into the occasion. Memorable in their purity, authenticity, distinctiveness and enjoyment, seamless in how they integrate into the setting, whether it be with friends on the patio or accompanying a formal dinner.
"Whatever the time or place, Spann Vineyards will linger pleasurably on your palate and in your memory."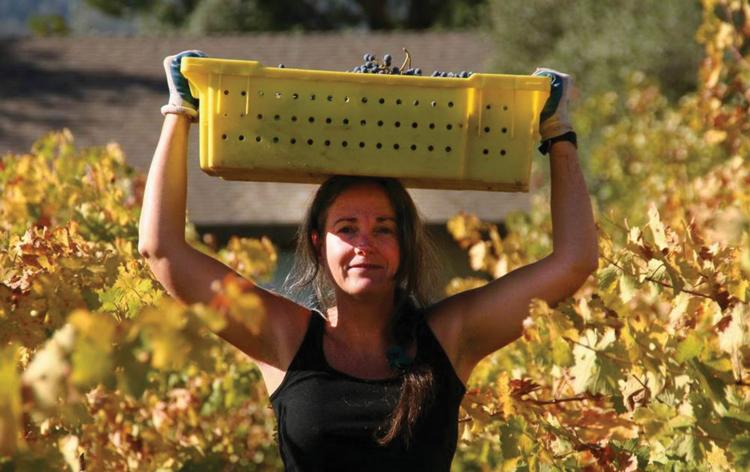 Betsy Spann
Betsy Spann is designated as "The Winemaker." She says:
"My love of wine was fostered by a move to Bordeaux with my family in 1975 where I was able to explore the wines and cheeses of southwestern France. After returning to California to attend college I went to work in a small wine shop where my interest grew, then I opened my own store in El Dorado County where we featured local wines.
"I sold the store to become an independent wine broker representing small high-quality producers and then moved to Dry Creek Valley where I helped with the startup of Lake Sonoma Winery, working both in the vineyards and in wine production.
"My continued interest in European wines led me to Dallas, Texas, to join the fine wine team of a large importing company. This is where I met Peter, who charmed me with a keen sense of wine and an amazing wine cellar. We fell in love, and married on one condition: that we would ultimately move back to my beloved California.
"When we moved, we decided to buy a vineyard and sell the grapes, but when it came time to do so we decided we would take the plunge and make our own wines instead."
Peter Spann
Peter Spann is known as "The Cellar Master." He says:
"While attending college in New Orleans in the early 1970s I took a job as a waiter in a French restaurant and became infatuated with classic French wines and food. My wines of preference were those from Bordeaux and the Rhone Valley.
"I pursued a career in the restaurant industry and served as manager and wine buyer for several restaurants before realizing that I belonged solely in the wine business. I ventured into wine retail, then into wholesale distribution, then into wine importing and marketing and sales company.
"These pursuits took me to my favorite wine regions of Europe to learn what the best properties did to make their wines special. These also led me to California during the wine renaissance of the late 1970s to meet the new small, artisan producers.
"After working crush at two different wineries I decided I wanted my own small winery to make unique wines to add to the wine world. In 2000 I finally moved to northern California to take a position with a wine importing company and the temptation was too great. We bought our vineyard in Glen Ellen and Spann Vineyards was born."
Bordeaux River Cruise 2019
Peter and Betsy Spann have put together a beautiful Bordeaux river cruise for wine lovers for April 25-May 2 in 2019.
Bordeaux is known as the "King of Wines" and a "Mecca for Wine Lovers." All wine aficionados should make a pilgrimage here at some time in their lives. This is where Cabernet Franc and its offspring Cabernet Sauvignon and Merlot, the world's two most popular red grapes, were all born.
"To know wine, you must know French wines" is the old adage, and very true, indeed.
As you travel along the Dordogne and Garonne rivers you'll visit and taste at Grand Cru Chateaux in St. Julien, St. Emilion and Sauternes, enjoy a local wine festival in Bourg, see a citadel designed by Leonardo da Vinci, 30,000-year-old cave art, medieval villages, catacombs, bike the Camino de Santiago, and relax on deck with wine glass in hand while cruising past castles and vineyards.
This is a trip dedicated to fine food and wine, cruising the remarkable Garonne Estuary and rivers of Bordeaux. Details and reservations are at www.toursandwine.com/spann.
Tasting Room
If you can't make the Spanns' cruise, make plans to stop by their tasting room in Kenwood, California. It promises to be a highlight of your trip. Reserve ahead for one of their tastings and food pairings, covering pizza to chocolates.
The winemaker-led tastings are a great way to truly learn about wines, and no question goes unanswered.
I have followed the Spanns since their beginnings and what I can say is the newest releases are among the best the Spanns have crafted. The improvements made throughout the past vintages appear to be the result of better sourcing of grapes, better winemaking and continued innovation.
In my recent tastings, I found most of the wines had nicely ripened fruit with fresh aromas and flavors. The winemaking revealed good acidity and balance, well-integrated oak, smooth tannins and silky textures. The blending of the wines were also superbly accomplished.
Spann vineyards should definitely be on your drinking list, and in your wine cellar. All wines can be ordered through the website www.spannvineyards.com.

Wines in Review
2016 Yin-Yang North Coast
About: Yin-Yang is a tasty blend of 50 percent Chardonnay and 50 percent Viognier. It displays tropical fruit and floral aromas with a hint of white peach. It has good flavor concentration on the palate with excellent acidity and freshness and a good finish.
2013 OMG Sonoma Valley
About: OMG is a blend of 50 percent Cabernet Sauvignon and 50 percent Merlot. It offers a nose of savory red currant fruit, herbs and a hint of tobacco. It has a nice silky mouth-feel and overall refinement. making it clearly among the finest cuvees from Spann Vineyards.