Dr. John Bagnasco may be a popular Waco baby doctor, but what many do not know is his love for farming.
The tale is told he was leaning in that direction in college while studying biology. It wasn't until he asked his future father-in-law's blessing for his daughter's hand in marriage that he chose medicine. His future father-in-law was not intrigued by the farming ideas, but medical school … yes!
Despite his successful career, John still harbored his original passion for farming. He decided in 2007 to plant one acre of grapes. It wasn't long after his friend, Dr. William Peper, joined in with Dr.-turned-farmer's wife Kandi Bagnasco that the best he may ever do with such a small planted parcel is to sell the grapes grown and break even.
But if he planted more, then wine could be made, and if made well, priced right, then the farming may pay off. Peper joined the operation for a while, but left and the Bagnascos resumed sole ownership and continued to grow it, baby steps at a time.
While family members knew they were going to grow a bit more and add the new tasting room, no one thought about their business growing to be as big as it has become, and now with a new large estate facility.
Estate Vineyard
The original one acre is now what has become Valley Mills Vineyard's new home location after having moved from its State Highway 6 spot to its F.M. 1637 location (also known as China Spring Highway).
For the last four years, the Bagnascos have been working through the planning and construction of their estate facility. After you pass through China Spring, F.M. 1637 reminds me so much of the Silverado Trail. Pulling out of the estate on a recent day with the lush green valleys and low-lying fog, I really had to remind myself that I was in Texas.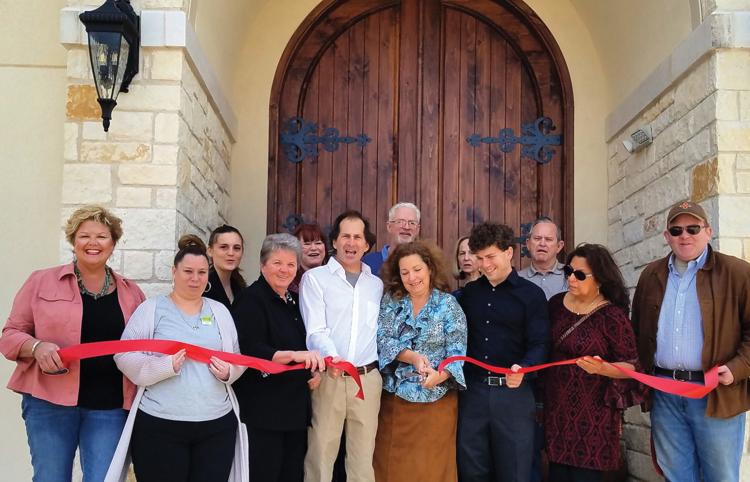 I have been down many roads through the country's wine regions. The Bosque County portion of F.M. 1637 is as close to the Silverado Trail that you will ever find. The soil is, in most areas, near-perfect for grapes. Let's just hope that the landscape isn't ruined by road expansion, and the new knocking down the old.
Charm and character from bygone years cannot be replaced by new. How many knew about the old home on this highway where Jesse James reportedly frequented? It's gone now — knocked down by a builder who obviously did not know its rich history, or did not care. Sad for us to lose that old home.
Valley Mills Vineyard and the Bagnascos will forever remain the pioneers there on F.M. 1637, because mark my words, in 20 years, that landscape will be home to more wineries.
Gorgeous Winery
The new estate winery is absolutely stunning. It is artfully built into the steep hillside; taking full of advantage of an almost cave-like atmosphere inside. Every conceivable thought went into the conception of this building, including future expansion capabilities to hold as much as 10,000 cases. That is a whole lot of vino!
As you enter the huge custom wood doors and ascend the staircase to the tasting room, you can take peeks into each area of production through the modern staggered windows. These are my favorite areas with the tanks encased in ice to the intoxicating cellar room with stacks of aging barrels.
The top floor is the Texas modern-styled tasting room with wooden glass panes doors across the entire backside opening up onto the patio and just steps away to the gnarly vines of the original plantings from 12 years ago. There is casual seating out here, as well as the balcony above. It is here that you may very well catch Dr. Bagnasco tending to his vines on his off-hours.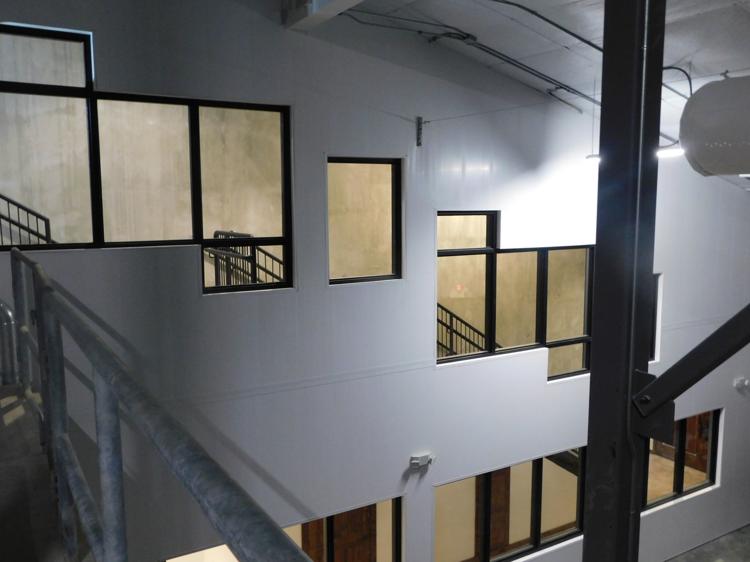 Back inside the tasting room you cannot help but notice the tall barn-styled doors that lead to the crush room. There is table seating in here as well, and a wall with an oversized roll-up door (it is a crush room for a reason). This door can also be opened up during parties to let the inside meet the outside, because the whole tasting room can be rented for your special event with up to 150 guests.
This venue will not be kept a secret too long, so go scout it out now and book early. Be wowed and be prepared to wow your guests.
Full Experience
You can visit Valley Mills Vineyards every day of the week from noon to 6 p.m. Now that the estate is finally open, their focus is on delivering the best possible experience to their supporters and ever-growing wine club members. They have small charcuterie plates, Brie plates, gourmet grilled cheese or a bread plate with pesto and olive oil dips.
I ordered the grilled cheese and bread plate for lunch. The sandwich is so creamy gooey with Muenster and Gouda, Roma tomatoes and sweet onion on rosemary sourdough with a secret dressing — delicious! The two dips were a perfect accompaniment to wine.
Personally, I cannot be more proud for this family. It has been amazing to see this grow from infancy. From my son, Connor, helping to plant vines, then seeing the doctors at Wine Fest pouring their first vintages (Mammoth Red is still a Waco favorite), to opening the first small tasting room, son Joey joining the team, and concluding with a state-of-the-art facility.
I know I'll be back often, and I hope you join me in making this a Waco proud-destination place!
Congratulations to the Bagnascos. Cheers to you!
Wine in Review

2016 Valley Mills Vineyard Cabernet Sauvignon: Medium-bodied with ripe red cherries, mint and pine. Aged two years in American oak.
---
Valley Mills Vineyards
1686 F.M. 1637, Valley Mills