Sometimes a random drive ends up being a road leading to somewhere, almost as if it really was the destination; you just didn't know it yet.
Such was the drive a few weekends ago.
As many may know, we bought a ranch in Fredericksburg, about 3.5 miles from Enchanted Rock. It's been a 20-year dream in the making and finally we get to start our own vineyard. I never thought this dream would entail so much planning, research and learning. All I do in my spare time is research — organic, or not? Red grapes, white grapes, rock or soil, bacteria, soil, earthworms, etc., etc., etc.
I should add that nothing about this is fast, and I'm an impatient person, always figuring out the fastest and best approach to everything. I'm figuring out that Mother Nature really doesn't listen to you.
Deciphering all the equipment to make wine is whole different story. As I read about hundreds of different fermenters, barrels, etc., combined with the different ways of making wine, I ran across concrete fermenters and then squared versus round versus egg-shaped. What drew me to these was that if you go back thousands of years, that's how ancient wines were made … in huge concrete vats. So I filed it back in my brain a few weeks ago to research this further.
This drive to nowhere came about because of a Texas Monthly article and the big yellow building that was photographed in it. I remembered that building as a dropoff place for Hurricane Harvey relief donations. When my husband showed me the article, he said, let's go there. Why not? So off we went to Castell, population 23, and known as the first town in Llano County that began as a land grant to German settlers.
When we arrived we noticed a line of gorgeous vintage cars. We parked and meandered around outside where the pit was smoking some barbecue. We went inside the old store and I spotted the sign announcing the first annual wine festival and vintage car show. OK, I'm all in … there's wine! The owners showed us around and told us when everything began. We went and chose our meat off the pit and met some of the friendliest people before the wine festival started.
There were six wineries in all, but let me tell you, they are the six wineries to be on the lookout for. I plan on highlighting all six of them for you, one at a time. They all deserve focus and attention.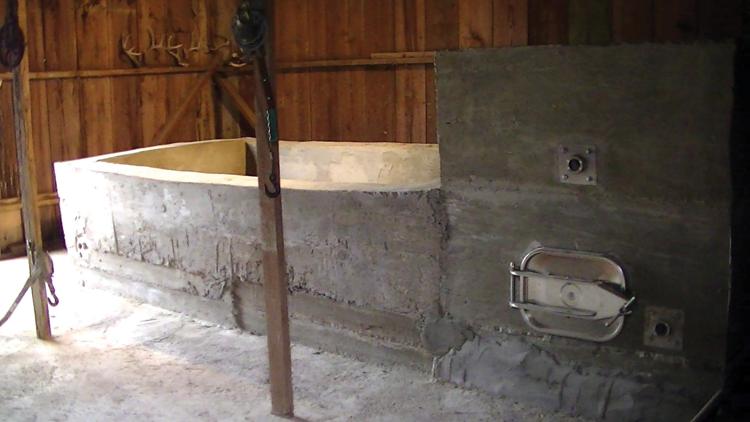 Meet Brock
The first one I want to introduce is Brock Estes with Fly Gap Winery out of the Mason area.
Estes is a bear of guy who stole my heart and my mind. His thoughts on everything are so similar to mine — to make wine that is a representation of your land.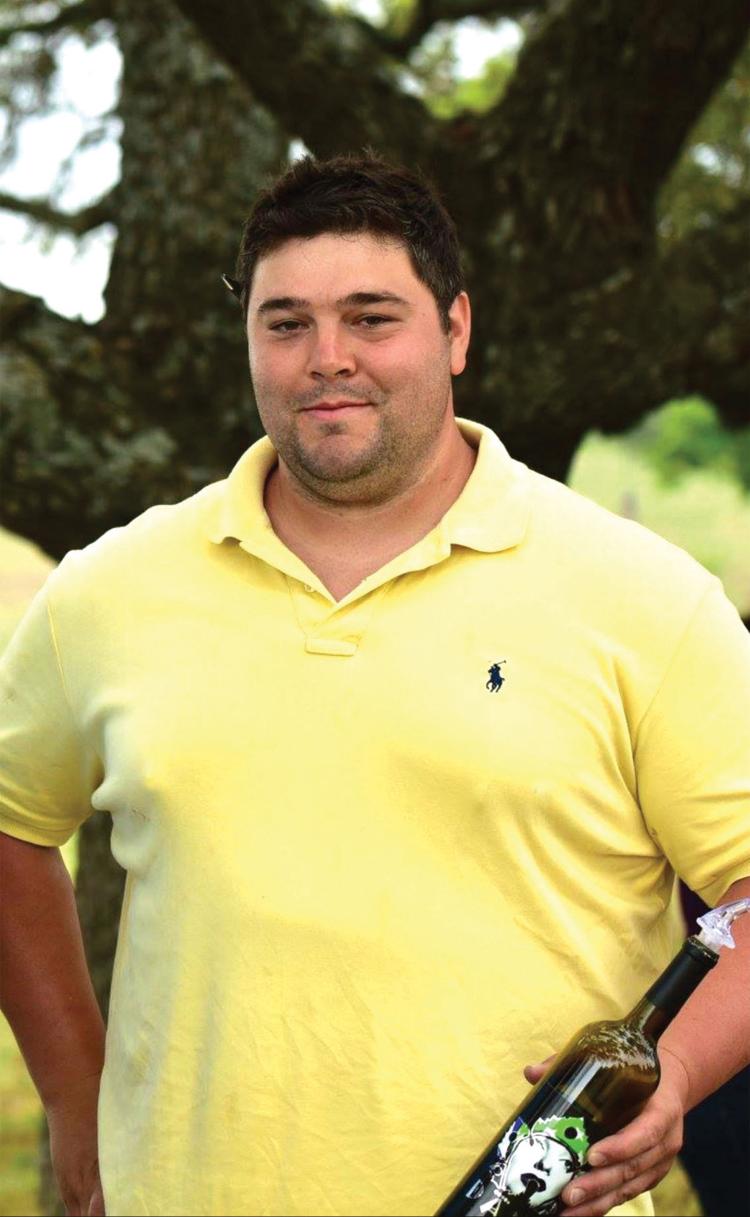 Brock is a maverick of sorts. He's not afraid of much, he puts his family first, he knows what he wants and is determined to get there, even if it means building it with his bare hands and brains. You pick up all of that in the first three minutes of talking with him. His thirst, his quest, keeps you intrigued to hear more. And then he said he fermented in concrete tanks he built and I did a double take. Whoa! Somebody here is venturing out and doing what I want to do. Let's hear more.
As he told us the story of his most recent vintage of tannat, Melissa's Cuvée (and it's a powerful one), I knew I must get to know this person more.
Brock Estes is a sixth-generation Texan, all of them connected with Mason and its surrounding area. In 2006 he went to work for Sandstone Cellars as an intern for Don Pulliam. All of that sounds romantic, but it's a lot of grunt work, too. After that was over, he went to school and earned a degree in restaurant and hotel management. Upon graduation, his next job landed him at Grape Creek Vineyards as an assistant to the winemaker. As Brock puts it, it entailed lots of cleaning, all day, every day. During his time there, he met who he knew would be his future wife and one day had to decide between supporting them and their future or staying there.
They soon made the move to Houston. When he couldn't get the job he wanted, he landed at BevCo Distributing, a purveyor of fine wines and spirits. It was there at BevCo that he found his niche as a lead salesman to a chain account and gobbled up all his knowledge in wines around the world.
Winemaking
Wining and dining with winemakers will certainly get your creative juices flowing and it soon opened his back up. On a whim, as Brock described it, he decided to buy wine and label it to sell. It was tough that first year, but he did not give up. It takes a whole lot of money, which he didn't have. He refused to let that stop him. His drive was set in gear. When he decided on the use of concrete tanks, the cost was prohibitive, so he built them himself. He will tell you they aren't perfect. But he began making adjustments all the while building more. Obviously, he is sold on them..
After building his tanks, he took the next step and bought grapes from the Reddy Vineyards in the High Plains area. Brock drove in from Houston to his family's ranch in Mason to meet the delivery driver and unload the bins. After unloading, and Brock was driving away, his wife called him with devastating news: she had been diagnosed with stage 3 breast cancer.
He turned his truck around back to the winery, quickly dumped the grapes in the fermenter, hurriedly added a supportive mixture for the grapes and some tartaric acid, all by eyeballing -- no time to measure -- and then laid the 200-pound steel screen on top of the grapes and left to be back with his wife.
Cancer is an all-consuming ordeal. From deciding on the best surgeries to the proper treatments, it's an incredible amount of information for anyone to consume in short periods of time.
After three weeks, Brock returned to Mason long enough to remove the skins and suck out the juice to barrels. He didn't know what he would find, nor what he would have. He had no time to press the grapes. He did only what he could do before leaving again.
With lots of prayers said, his wife is now doing well. And his wine?
Absolutely the best 100 percent tannat that I ever had. It is aptly named Melissa's Cuvée in honor of his wife. It is without a doubt the best representation of the tannat grape. It is not overdone, it is not astringent or bitter, and while Brock describes it as lighter than others, I describe it as perfect.
Brock's goal is for his wines to be an authentic representation of Mason in a bottle. Decomposing granite makes up 80 percent of the surface, which brings the acidity to the wine, but also the one composite that stabilizes and lowers the pH level.
The silver and bentonite in the soil naturally clarifies the wine, but also brings the earthy grittiness to the texture while adding to the minerality to the wine.
May both Brock and Melissa continue with blessings in life. May he never change a thing he did.
Wine in Review
What: Melissa's Cuvée, 100 percent tannat.
Ordering: Fly Gap wines can be ordered by phone at 832-723-2203. The website www.flygapwinery.com is under redesign and should soon be finished. Follow Fly Gap on Facebook.