"Shhh … Don't talk. The fish can hear you," I cautioned my 6-year-old granddaughter as we walked along the shore.
I'm not sure that's true, but it is what my grandfather used to tell me. And I think I now understand why. Although only momentarily effective, it did slow the barrage of rapid-fire questions from Kenzi who, unless she was napping, could talk the scales off a 5-pound bass.
"Really! They can hear us? Can they see us, too? Do they understand what we say?" she asked.
I wanted to tell her that the really smart ones could read lips too, but I reasoned that starting the day with one tale was enough.
We had come to Meridian State Park to satisfy the strong desire of our granddaughter to go camping. The 505-acre park in Bosque County is just 50 miles northwest of Waco. Being an easy hour's drive, it was not too challenging of the endurance limits of car-seat travel for our young explorer.
Plus, the drive allowed us time to reinforce the rules: no running off, total agreement with whatever we said, and … no attitude.
Where did this strong desire to camp come from? Had the Bubble Guppies been on a similar excursion with Mr. Grouper? Or, possibly, had the experience been positively portrayed in four-color animation by Princess Celestia and Twilight Sparkle?
I don't know, but she wanted the adventure and for months had been pleading with her grandmom and me, "Can we go camping?!"
Our expectation level of fun and discovery was not quite the same as hers. Our visions were not of rainbows and frolicking unicorns, but of wondering how we would tell her parents that during the night she had been eaten by a puma or, stumbling to the bathroom, how she had scraped her ankle and was now host to a flesh-eating bacteria.
We felt these were perfectly rational grandparent concerns.
The solution was not to overnight, but to "day-camp." Kenzi could commune with nature, build self-esteem, bond with us, and learn valuable apocalyptic survival skills … all in just six hours.
Great Choice
And Meridian State Park is the perfect place to accomplish this. The Civilian Conservation Corps (CCC) developed the park in the early 1930s, including a limestone pavilion with a large open fireplace and an area to host family reunions and other gatherings.
More importantly for us, it's the location of the kid-friendly restrooms (heated in winter).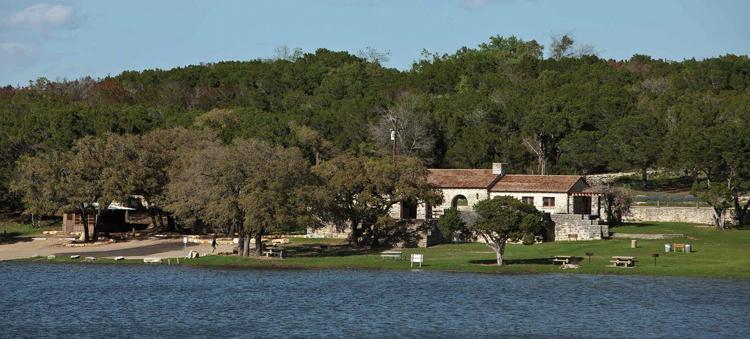 When we arrived, we stopped at the front office and small store. We paid our entrance fees (hers free, ours $5 each) and then wound our way to the lake. Unbuckled and free, she leaped from the car and we began to explore.
The park was not crowded. There was a family in one of the screen shelters, and there were a few tent campers in the primitive area. Other visitors wandered along the shoreline and the pier.
To Kenzi, everything was new and everywhere she looked a quest beckoned. She skipped; we walked down to the pier, which serves as a boat launch and fishing platform. A girl was sitting on the edge concentrating on the end of her pole and Kenzi started asking:
"Are you fishing? Can you see them?" How big are they?"
Fishing looked fun and during the day more parents with their young sons and daughters gave it a try. No licenses are needed to fish from the shore, the pier or a boat. The lake is stocked periodically and the rangers will even lend the kids rods, reels and gear for use in the park.
Exploring the area, we stumbled across the head of the 2.2-mile Bosque Hiking Trail that circles the 72-acre lake. It was formed when the CCC built a rock and earthen dam on Bee Creek.
Fueled with fruit cups and juice Kenzi was ready to lead. We saw mostly her back as she bounded down the trail with her newfound walking stick flailing. We cautioned her about being eaten by a big cat.
"They only eat boys" she responded.
"They can smell them better."
Exploration
Occasionally we could convince her to retreat to examine a deer track, a bird's nest or a rock fossil. We pointed out the web of a funnel spider and explained how it caught its dinner. She stuck out her tongue and winced.
These interludes were brief though, as she was drawn further by the discovery that each new bend in the trail offered.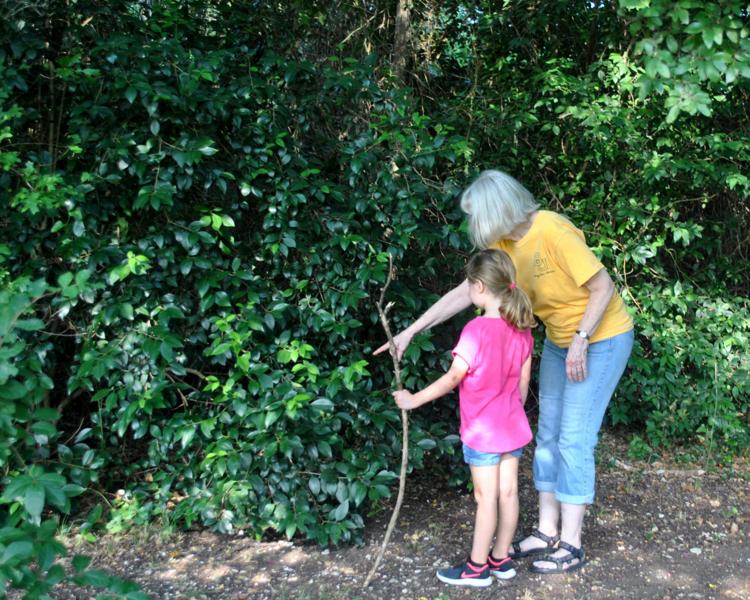 At one point we passed by a primitive camp site with three tents and six or seven campers she announced, "We're hiking!"
"Oh, what a cute puppy," she exclaimed about their large pit bull chained to a stake.
She jumped stream beds, traversed open meadows, tread in the shadow of limestone outcroppings, and gaped at the scenic overlook. We explored a bird watching blind and momentarily lost sight of her.
"Look what I found!" she responded from behind the blind. The fact that the pond next to the blind was dusty dry had not stopped her from stomping through it.
As we continued our walk back, I pointed and said, "Kenzi, look, an invisible bear!
Campfire Time
Back at our base, we decided it was time to eat and to instruct her in that essential camping skill — fire building. She was eager to gather firewood and I explained how to start with the small shavings and build to larger twigs and limbs.
She didn't love fire building, but she loved fire and was determined to keep it burning with whatever kindling she could collect and add. The fire grew bigger and bigger. We ate sausage warmed over the grill and, of course, finished with sticky s'mores.
While we cleaned up, she stirred the lake with her walking stick. She instructed two young fishermen who were not having any luck, how easy it was to catch "Nalgee" floating just under the water's surface.
To illustrate, she pried up and carried some of the green fibrous plant over to them. The boys stared at each other and then at their dad who was struggling to say something encouraging, "That's nice."
After skipping stones, walking the shore, and petting every dog, Kenzi had reached her limit and we convinced her it was time to go.
As we drove out, those splashing in the lake, paddling their kayaks, and casting their lines caught her attention and spawned a new constant refrain, "When can we go camping again? I want to swim. I want to fish. I want to play in the water." and "I want to camp … overnight!"
---
Meridian State Park
173 Park Road #7, Meridian
Information on hiking, paddle boarding, swimming, camping, fishing and birding activities is on Facebook, Instagram or at its website (listed above). Portions of the trails and the pier are wheelchair-accessible.
Campsites, screened shelters, and cabins can be reserved online and the availability of rental kayaks, paddle boards, canoes and boats also can be checked.
Kids can become a Junior Ranger and earn a badge by borrowing an Explorer Pack loaded with tools for exploring the park and by completing the tasks in the Junior Ranger Activity Journal.