Good friends Becky Phillips and Shayleen Martin are recent devotees to competing in triathlons. The two are members of both the Waco Striders and the Waco Tri Club.
They train together and competed in a triathlon for the first time last year in the Sprint edition at TriWaco. They moved up to the longer Olympic distance this year at the 10th TriWaco and are now training to meet the challenges of the even longer Ironman 70.3 (also known as a Half Ironman), which moves from Austin to Waco this year.
They also did Sharkfest this year, their first swim-only race together.
Although they train together, they compete in different age groups.
Becky, 48, is a taxidermist who owns Becky's Wildlife Studio in Waco.
Shayleen, 41, is the warehouse lead at Packaging Corporation of American in Waco. She manages the incoming paper inventory for the company.
They share their enthusiasm for the upcoming triathlon in these responses to emailed questions.
Shay: I met Becky at a Waco Striders group run. I think it was my third one. I was staying around the back of the group because I'm pretty shy and she struck up a conversation with me.
Becky: I met Shayleen at one of the Waco Striders group runs.
Q: What inspired you to train together?
Shay: Becky kind of roped me into the triathlon thing to begin with. We were running together with the Striders, then we both signed up for the Waco Women's Training Program last year. After the race at the end of the program, I went with her to Bicycle World because she was thinking about buying a bike and signing up for TriWaco.
While we were there, Nancy Goodnight came in and hearing the two of them talk about it, I thought maybe I could do that, too. That was the first weekend in May and we had until mid-July to be ready. I used to check with her before the Tri Club's workouts to make sure she was going because I was intimidated to go by myself.
Then we met at the lake a couple of times to practice swimming and get more comfortable in the water without the group and it just kind of grew from there.
Becky: We have similar goals and paces, except on the bike, she's much better than me. We have quite a bit in common in general, so there's always something to talk about. Shayleen is super-supportive and always positive; she's one of the most positive people I know. She's been an awesome influence on me in that respect.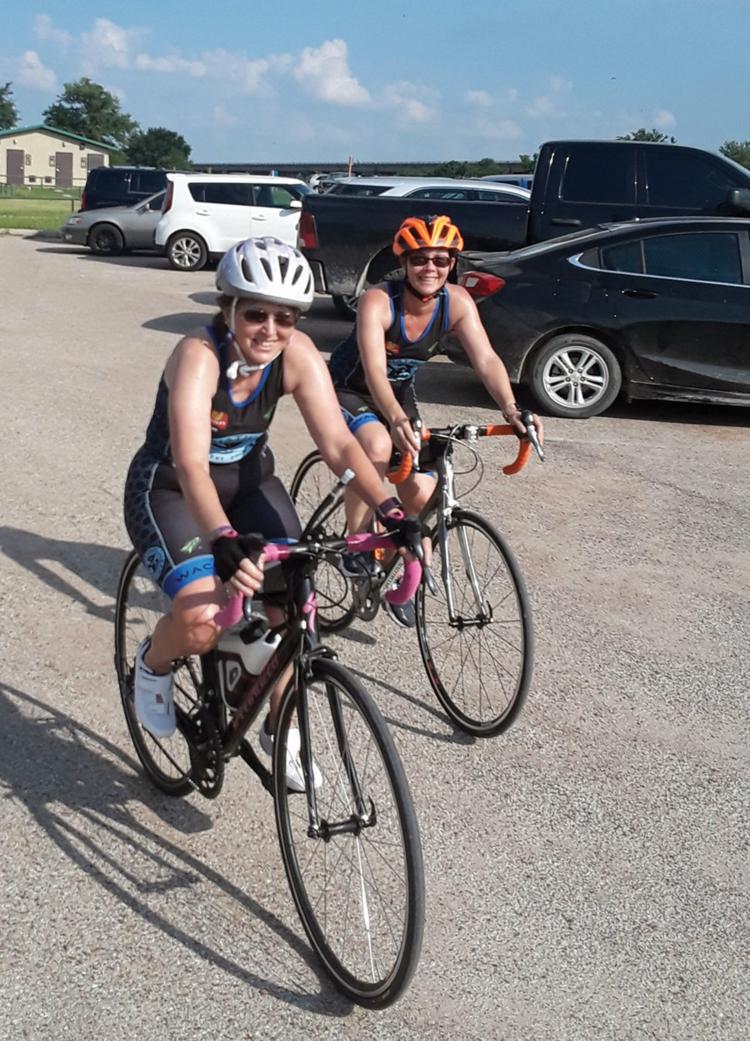 Q: What's the best part of training with a friend?
Shay: Company and accountability. It's nice having someone there with you for the long workouts, even if you're not talking. I may be tempted to sleep in and shorten or skip a workout, but that's not an option when I know Becky will be there waiting for me. It's also nice having someone around who never gets tired talking with you about training!
Becky: They know you at your best and worst, know your strengths and weaknesses. Know how to pick you up when you're down and when to push you when you need it. I tend to be hard on myself; Shayleen is quick to remind me of that and put things back into perspective.
Q: What do you like about training/competing in Waco?
Shay: Waco has a variety of places to train for a triathlon whether you want hills, flat or trails for running and biking. We have a lake and river for open-water swims, plus several gyms with nice pools.
But I think the best thing about training and competing in Waco is the support. I've met so many truly amazing people who are encouraging and supportive of everyone regardless of their skill level.
Becky: What's not to like? Waco has some beautiful scenery, nice courses, great facilities and wonderful, supportive people. And we don't have to leave our backyard.
Q: What do you like best? Cycling? Running? Swimming?
Shay: Running, closely followed by cycling. I've learned not to hate swimming over the past year, but haven't learned to love it yet.
Becky: Running! Running is what lead to tri in the first place. I was training for my first full marathon when Ironman SarahAnn Vroman told me that tri training was great cross-training for marathon. Well, if I was going to do the training I might as well do the race. But first, I had to learn to swim correctly. I love to swim even though I'm not great. Cycling is still really hard for me but I'm very slowly improving and beginning to enjoy it as well.
Q: What inspired you to register for Ironman 70.3 Waco?
Shay: Becky was my inspiration again. I remember after our practice swims in the lake last year before our first Tri and she was talking about future plans for a half and then a full. My plan was to survive the sprint and then stick with just running.
An Ironman, even a half, seemed too much. But then the news came out about the 70.3 coming to Waco and she kept talking about it, not pushing but encouraging. Soon, I found myself thinking about an October swim and shopping for wetsuits. I registered just a few days after she did. I have a feeling if I sign up for a full one day, she will be to blame for that adventure as well!
Becky: We have so many accomplished Ironmen right here in Waco it's hard not to want to follow in their footsteps. While training for the sprint last year I started thinking about the possibility of doing a half Ironman. I was considering Austin in 2019 for the big 5-0. Then they replaced Austin with Waco this year, so being right here in our backyard, I moved my goal up a year in order to do the inaugural event.
Q: What do you think will be most challenging part of racing in Ironman 70.3 Waco?
Shay: I think the challenge will be the second trip up the hills into the park on the run course. Unless it's cold! But I try not to worry about what the weather will be like the end of October and just soak up the muggy heat while it lasts.
Becky: The weather, if it ends up cold and/or windy. That scares me. You just never know what the weather will be like at the end of October. The race itself will be a huge challenge in general, but I think for me the bike will be the biggest challenge; especially if it ends up being windy.
Q: What are you most looking forward to with Ironman 70.3 Waco?
Shay: Crossing the finish line! I love the feeling that I get when I accomplish something that at one point in my life seemed impossible. It wasn't all that long ago that I thought it impossible for me to run a mile without stopping.
Becky: Crossing the finish line! That feeling of accomplishment is amazing.
Q: As Ironman 70.3 Waco approaches, what is the biggest thing the community can do to support the event and competitors?
Shay: Come watch the race! You will be cheering on not only local athletes, but people who have traveled across the country and some who are coming from other countries to compete.
Becky: Don't run us over while we're out cycling. Some motorists like to get really close. Give us a little extra space and some patience as some of us are still learning. Also, a few encouraging words can go a long way. Then come watch the race, or volunteer to help. You can't help but be inspired.
Instead of asking why we do this, ask yourself why you aren't. Why not tri? You just might surprise yourself and find a whole new you inside.