It's a home with a view overlooking Lake Waco and the residents inside have ranged in age from 54 to 103 over the years.
Lake Ridge Healthy Living owner and caregiver Uni Murphy has been providing residential home care for the past 20 years. She offers services that extend to memory care, Alzheimer's, dementia, cancer, multiple sclerosis, Parkinson's, diabetes, catheter care, feeding tubes, ostomy care, among others.
People tell her it is a calling; she says it is just how she is built.
"Most commonly our residents just need help with meals, dressing, bathing, using the restroom and taking medications," Murphy said. "We treat and care for our residents the way we would want to be treated – with love and dignity."
Murphy shares her home with her clients to enhance their home environment in their senior years. She has made renovations to the home, and that includes a large covered deck where her clients gather.
"Some in their younger years lived near water and it gives them fond memories, and some never did but always desired it," Murphy explained.
Her overall philosophy for Lake Ridge Healthy Living is to pamper the residents in all the luxuries.
"Our residents also have the secure feeling they can walk without falling as we staff according to their needs and condition," Murphy said. "And by living with my residents on a daily basis, I can detect immediately when something has changed, be it physical or physiological, and report it to their family and doctors to be ahead of whatever problem is occurring."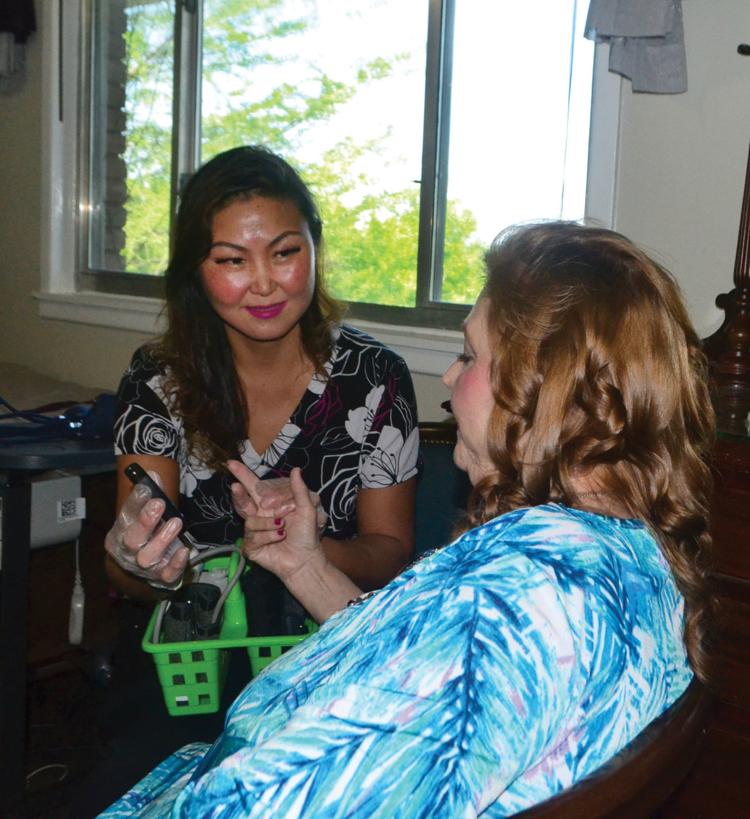 Special Care
Mary Helen George can attest to the care Murphy provides. Her mother, Dorothy Alexander, at age 97 was finding it a challenge to live independently and George says she was worried constantly.
"My mother was beginning to have traumatic falls and health issues with no one nearby to assist her, especially in the middle of the night," George said. "Finally, I learned about the wonderful residential-care home of Uni Murphy. Several of my friends have had parents who lived with Uni, and they highly recommended it. We moved my mother to Uni's house in January, and we consider it to be a true blessing."
Such a blessing that the daughter attests that her mother is having the best possible quality of life in her golden years.
"And I can sleep at night knowing that Uni loves my mom as if she were her daughter," George added. "Uni finds joy in involving her residents in interesting activities that keep them mentally stimulated and engaged in the world around them.
"Even though it's a challenge to load several elderly people into her van, Uni loves to take them with her on field trips, for country drives to see the Texas wildflowers, for dinner at nice restaurants, for visits with their friends. Uni amazes me with her enthusiasm and creativity."
Early Start
That enthusiasm comes from Murphy having been a caregiver almost all her life.
Murphy was born in Pusan, Korea, and has Okinawan and Korean heritage. Her mother sang at the USO, where she met the man who would become her adoptive father. He married Uni's mother and adopted her, moving the family to California when she was 4.
"I can say I became a caregiver at the age of 8," Murphy said. "My sister, Helen, was 6 months old when she aspirated while my mother was feeding her a bottle. Helen was officially dead for 23 minutes with no pulse and not breathing. The paramedics revived her on the way to the hospital, but she suffered brain damage and has been handicapped her entire life.
"Our mother could not live with the guilt and when Helen was 2, Mom moved from California to Hawaii, leaving my sister and me with our father."
Murphy says her father tried his best to take care of two little girls by hiring caregivers, but only she knew what her sister needed and was capable of. Over the years with lots of physical therapy, cognitive therapy and special education, Helen graduated from high school, though even today she lives in Arizona in private home care.
For a short while before coming to Waco Murphy attended college at Portland State and briefly lived in Hawaii, Guam and Palau where she met her husband. While traveling the United States in a motorhome they came through Waco where they decided to settle and raise their family.
After making Waco home, Murphy volunteered at church one day to take care of an elderly woman named Ms. Gladys on a night shift. She volunteered for two nights a week and the two bonded into a mother-daughter relationship.
"It was hard not to love her and empathize with her, since she was so dependent for every need," Murphy said.
In fact, the relationship was so strong Ms. Gladys wanted Murphy to move in and care for her. At the time, however, she was married with three small children. So, Ms. Gladys said she would move in with Murphy instead. And she did "and from then on my heart and door have been open to care for those in need."
With three rooms for long-term care, a room for hospice care, and a room for respite care to give caregivers a brief break, word has spread over the years that Lake Ridge Healthy Living is a much better option for elderly loved ones than a nursing home, she said.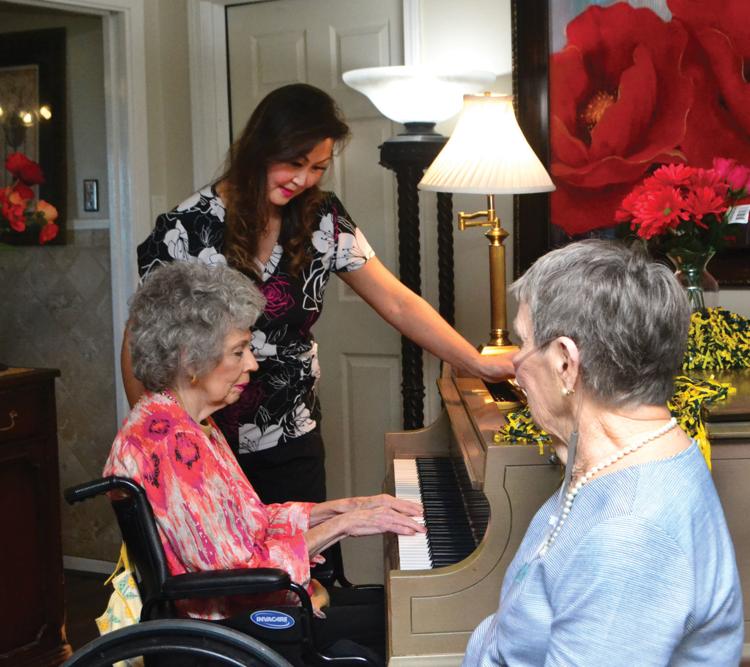 Special Memories
Of the many memorable experiences Murphy recalled was answering the door one day to come face to face with a "real Texas cowboy," she said. "He was dressed in a deputy marshal uniform and was wearing cowboy boots, a Stetson hat, a badge and had a gun in his holster. He asked if I was Uni Murphy."
Murphy says his voice was emotional and he stated the doctor had said his mother had six weeks to six months to live. He had heard she took care of others he knew, and they loved the care she gave.
The man at the door was now-Sheriff Parnell McNamara. When all was said and done, his mother Ms. Margaret's six months turned into almost 10 years. In fact, the McNamara and Murphy families became so close he often took her son dove hunting and to their ranch for horseback riding.
"Almost every evening Ms. Margaret's sons would stop in after work to visit," she recalled. "If they weren't in town, I would sit in church with her, as church was very important in her life."
Murphy even sat down with Ms. Margaret and wrote a bucket list.
"A top one was to see Shamu the killer whale," she said. "With Parnell's support we took Ms. Margaret and another resident, Ms. Nell, to Seaworld in our motorhome. Parnell was able to enjoy the day with his mother at Seaworld and Ms. Margaret got her wish to see Shamu.
"The joy she experienced made my heart smile. We then spent the night at St. Anthony's Hotel, where she and T.P., her husband, had spent their honeymoon. Another top bucket list item was to ride in a red corvette, and we managed to make that happen too."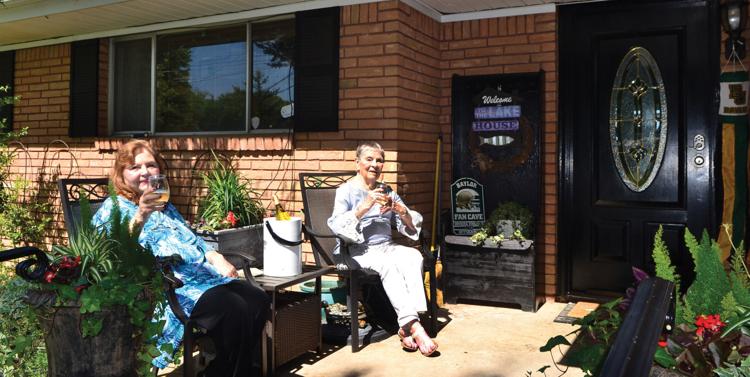 Lots of Variety
That is just one story of the many whose lives were changed at Lake Ridge Healthy Living.
"I never know when or who may come to our home," Murphy said.
It could be a hospice nurse from the hospital asking if there is an opening because they have someone being discharged and the individual does not want to die in their own home. Or a social worker from a nursing home or rehab facility wants to place a patient who needs more physical rehab before going home independently.
"There are so many memorable moments of care," Murphy said. "Moments like Parnell taking his mother shooting and her stating she would shoot the guy on the target in the 'toodles.'
"Ms. Hoshizaki recalling when Pearl Harbor was attacked and she was Japanese heritage and born in Hawaii – watching as her native Japanese were attacking her birthplace, and how she cried telling the story.
"Mr. Marstaller telling me he doesn't eat sandwiches because he worked too hard all his life and a sandwich is only enough to feed a fly."
Those are the moments Murphy enjoys as a caregiver. And then there are those who come to her home to die.
"Taking care of someone who is on hospice and is actively dying is sacred," Murphy said. "My mind goes to the life they had and if they are at peace with their life and passing. As a caregiver, I also give care to the family and walk them through the process of what to expect as their loved one passes – because no one is prepared for what is coming emotionally or physically."
She cries with the family and part of her goes with them, too.
"It is sad yet rewarding to know that the person passing and their family both had the best care possible. It gives me a tranquil closure that I was so honored to know them and care for them," Murphy said.
"To honor our mother and father and to treat others how you would want to be treated yourself, my reward is knowing the difference I have made in the lives of those who needed what I do."
---
Lake Ridge Healthy Living