As Waco and Texas began to reopen some shuttered businesses and re-ignite the economy in May, keeping workers and customers safe remains the top priority.
While dining in is an option once more, restaurants have to limit occupancy, workers wear masks and gloves, and keep tables at proper distances from other diners.
Paper menus or menus on QR codes for smartphones are used to limit the possible spread of the coronavirus.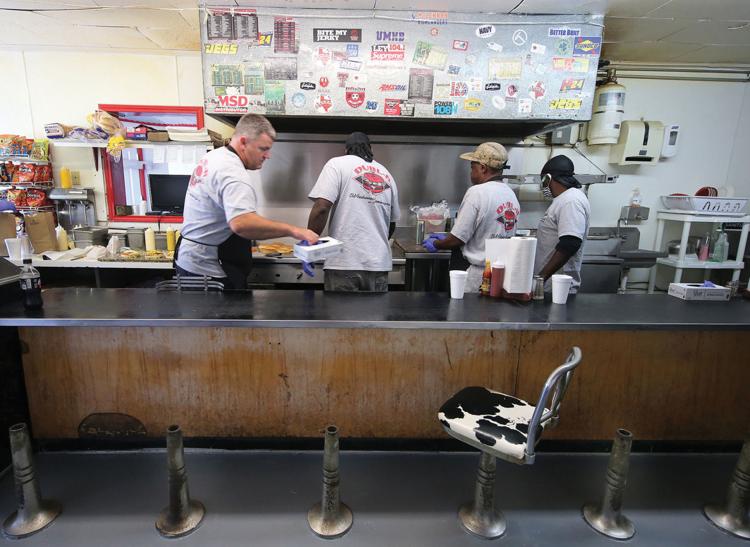 At De' Ja Do hair salon, 3320 W. Waco Drive, co-owners Robin Kalina and Stephanie Sykora said they are thrilled to get back to their jobs, even with the added health restrictions designed to keep everyone safe.
"I feel blessed to be back at work," Kalina said after the nearly seven-week shutdown of her business.
Of course, there are no guarantees that businesses will remain open if cases of COVID-19 rise to the point that state leaders need to shut things down again.
But for now, clients can get their hair trimmed or colored, something that many of them were doing without during the shutdown.
"One of my stylists got 40 calls in the first 30 minutes after the state announced that hair salons and barbershops could reopen," Kalina said. "They wanted to get their hair done."
She added that other clients might be more cautious and reluctant to come in just yet because of valid concerns about the virus.
In following the state guidelines, Kalina said they are doing extra cleaning and sterilization after every customer, as required. But that really isn't different, she said, than what they always do.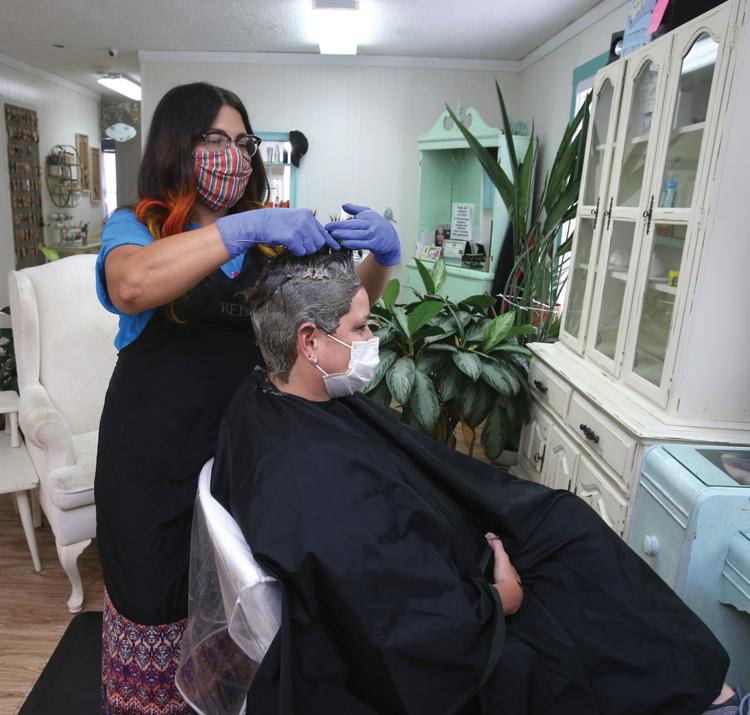 Sterilization is a component of the community education hours cosmetologists have to do every two years to renew their licenses, she said.
"We have the anti-bacterial soap, and we wipe it all down after each customer," she said. Hand sanitizers are in plentiful supply throughout the shop and at every work station.
De' Ja Do has 13 work stations spread throughout the building and they are able to maintain the 6-foot social distancing between clients in the chairs.
Three shampoo and rinsing bowls are in a line in one section of the shop. But the middle bowl is blocked off and can't be used in order to provide the necessary 6 feet, she said.
The state recommends wearing masks and gloves while working on customers. Kalina said not every stylist can do that. Those who wear glasses might have them fog up with the mask on, making it difficult to see. Some hands get sweaty while wearing gloves, also making it a challenge to work properly.
De' Ja Do also is following the state mandate of one client per stylist, and no one else, she said.
"You can't come in and have anyone wait with you," she said. "No friends, children or husband."
Appointment times are more crucial. Clients either have to wait in their car until the stylist calls or they can sit on the porch, with proper distancing.
De' Ja Do also has signs in its windows telling customers that if they have the coronavirus or symptoms of COVID-19, they will need to reschedule their appointment.
The restrictions will make it challenging for some stylists, Kalina said, who are used to working on three to four clients at a time. They won't be able to cut one person's hair while others are getting their hair colored and have to wait.
"It will definitely be more challenging," she said.
Dealership Adjustments
Handshakes are usually a constant at car dealerships. Not right now, says Ted Teague, general manager at Allen Samuels Dodge Chrysler Jeep Ram Fiat.
"It is taboo to do a handshake," Teague said. "You can do air bumps, bump elbows, do foot dances. But no handshakes."
That's a big adjustment in the car business, but it's a necessary one these days, he said.
The second day after Gov. Greg Abbott announced the shelter-in-place mandate, Teague said the dealership was fogged with an anti-bacterial disinfectant.
A few weeks later the disinfectant was used again throughout the buildings, he said.
Workers are constantly disinfecting places that people touch: door handles and countertops, for example. Hand sanitizer stations have been added at numerous spots for employees as well as customers.
When the shutdown began and people weren't coming to the dealership, it cut back the hours of employees in sales and service, which gave them time to be with their families, he said.
"For a while we had only four people in a building," he said.
After business began to pick back up, sales representatives were able to return to normal hours, though the service department has continued to close an hour earlier.
When vehicles come in for service customers are asked if they'd like it to be disinfected. Service manager Eric Upton said it's been about 50/50 on customers wanting the disinfectant treatment.
The dealership has made available plexiglass dividers for those in the finance office and its service advisers. The dividers can be placed on top of the desk to provide a barrier between them and customers when filling out paperwork.
Tables also were moved around in the showroom to help spread people out more for social distancing.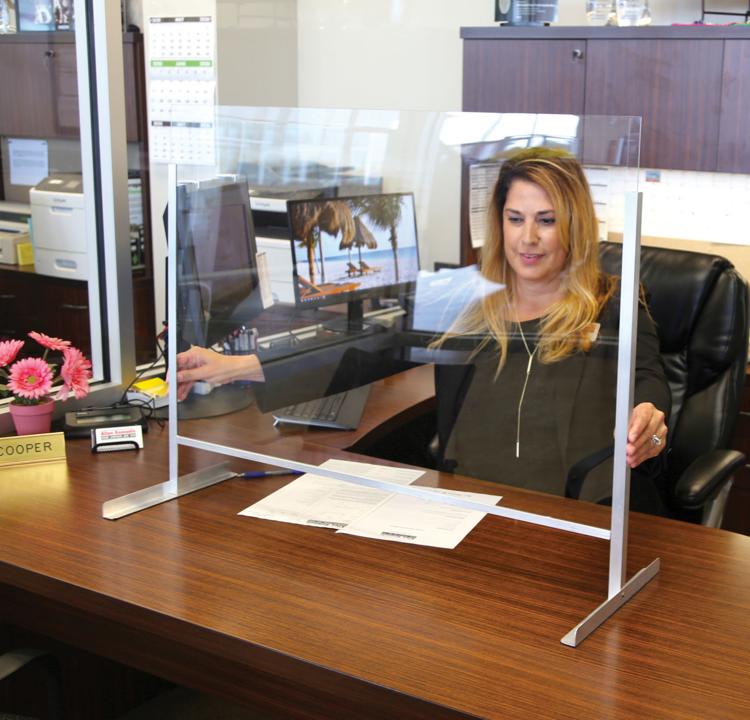 To help minimize contact for customers, Allen Samuels Dodge Chrysler Jeep Ram Fiat has even picked up cars for service and then delivered upon completion.
Likewise, some sales representatives have driven a prospective vehicle to a customer's home to show it to them as they consider the purchase, Teague said.
It's been a lot of adjustments for the dealership but they are needed with the health and safety concerns, he said.
"It's a matter of keeping customers safe and keeping our people out of harm's way," he said.
Funeral Care
Brent Shehorn, who owns Lake Shore Funeral Home and Crematory with his wife Carri, says his business has had to be creative in find ways to best serve families at a difficult time while following guidelines during the pandemic.
As people were being told to shelter in place, he shared information on Facebook and added a "COVID-19 Status" button on the funeral home's website to provide updates and information people would need to know.
"We wanted a platform to make arrangements for people who can't be there," he said. The stay-at-home arrangement process provides for that, with phone calls and online options to restrict contact. They also began providing curbside service to collect legal documents and in some cases drove to the person's home.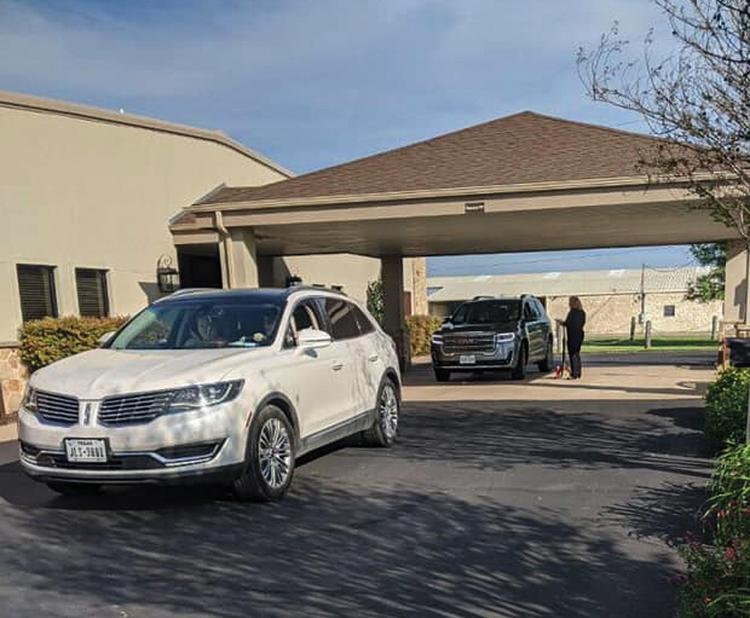 While condolences can be shared online via the decedent's obituary, Shehorn wanted families to receive a more personal face-to-face condolence.
"You can't give a hug but you can share what's on your heart," he said.
That birthed the drive-thru visitation, where friends could drive past the family under the carport and personally offer their sympathies from a safe distance.
"On that first drive-thru visitation there were so many smiles," Shehorn said. "We had great feedback from the family and those who shared condolences."
An FM transmitter was added so car radios can be tuned to a frequency and passengers could hear a reading of the obituary rotated with music while driving through.
For drive-thru and indoor visitations, a funeral home employee signs the guestbook for those paying respects to avoid sharing a pen.
When indoors, employees wear masks and families are encouraged to wear masks as well, he said.
For now, only the largest of the two chapels is being used, which allows for a limit of 50 people with the 25% capacity requirement. Any overflow is sent to another area. The chapel's webcam was upgraded and livestreaming of the service is provided to those who can't attend, he said.
To comply with capacity restrictions, every other row of seats is taped off, and while families can be seated together, others must keep two chairs between them for distancing purposes.
Traffic flows one way from entrance to exit so that no one is passing each other, he added. Security personnel help ensure everyone follows the guidelines, Shehorn said.
Some families held off on services until restrictions eased, he noted. The funeral home is offering special pricing packages for those now looking to have services.
It's all about keeping everyone as safe as possible, he said.
"We protect ourselves and protect the public each and every day," Shehorn said.