Plenty of people appreciate analytics, being able to take numerical data and translate it into something that can improve efficiency or better our lives.
That's true for the fitness-minded individual as well. It could be a Fitbit or an Apple Watch that tracks the number of steps you take or tells you how well you've slept, or any number of other technological tools that can help us live healthier lives.
There seems to be no shortage of fitness-monitoring smart devices, apps and other tech gadgets. If we're being really generous, we can even count that goofy-looking Shake Weight as a fitness gadget.
There's that smart indoor bike with interactive workouts available. That's assuming you're still willing to spend more than $2,200 for a Peloton after viewing the much-maligned commercial.
Many apps are available to use your smartphone as a personal health tracker. The MyFitnessPal app, for example, helps users track the food they eat to provide information on their caloric intake.
A FitTrack scale not only tells a person what they weigh, but provides body mass information, bone density, hydration levels -- in all, 17 health indicators.
Strava is a popular app for runners and cyclists. It's especially good for competitive athletes as it enables them to analyze their training in preparation for races.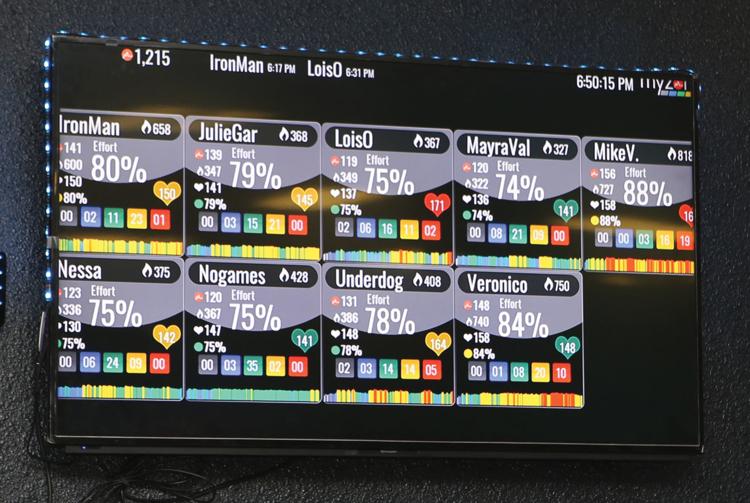 Some local gyms and fitness centers make such technology a part of their workout routines. The Muscle Cave Bar & Gym, 3332 Franklin Ave., utilizes a heart rate-based fitness monitoring system for some of its workout classes to help motivate members.
The Myzone tracker monitors heart rate, calories and the time spent exercising in real time and uses the data to measure the amount of effort used in exercising.
Follow the Colors
Similar to the concept at Orangetheory Fitness, the Myzone program transmits data to high-definition wall screens and presents the effort expended by individuals in both a percentage number and color-coded blocks for quicker recognition.
Franny Cochran, who owns and operates The Muscle Cave with her husband Doug, said they purchased the Myzone program about a year ago and installed two high-definition screen on a wall so participants could watch their efforts while working out.
"It's a great addition to what we offer," she said. "It makes people push harder. You see people work to reach those colors."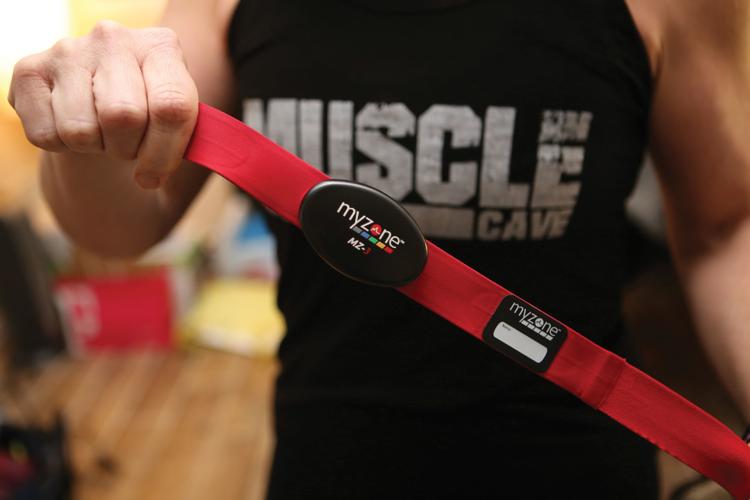 Myzone intensity color zones start at gray for resting or light exercise and work through the colors from blue to green to yellow to red as the effort and intensity (and the heart rate) during the workout increases.
"It helps keep people accountable during their workout as they try to reach those colors," she explained. "It can become a competition, but it lets the rest of us see their colors and encourage them to keep going."
With the MyZone tracker attached on a belt near their heart, members can follow their progress during their workout as well as see how they are faring against others.
A fitness test helps calibrate the Myzone tracker, Cochran said, so that effort is determined specifically to what that individual can do, which varies based on age, gender and weight. The fitness tracking app is based on the World Health Organization's physical activity guidelines.
And, of course, there's a Myzone app for smartphones so that data can be saved and accessed away from the gym.
Cochran uses social media to share and post members' successes as well as motivation such as the month's top performers based on Myzone Effort Points earned.
Personal Story
For Muscle Cave member Lisa Czajkowski, the tracker has been a great way to determine whether she's maximizing her workouts.
She'll use it at the gym as well on the trail runs she does in Cameron Park.
"It's a great tool for helping me analyze my workouts," said Czajkowski, who has a remarkable weight-loss story of her own.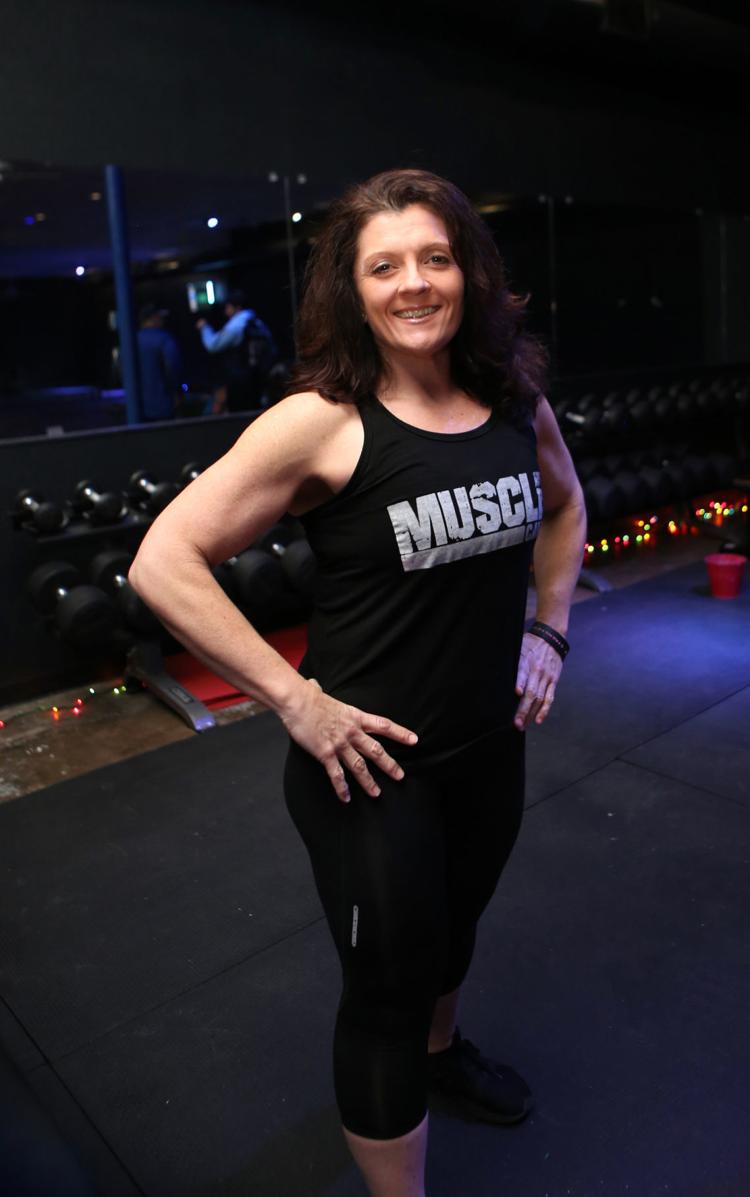 The Lorena resident had reached a weight of 279 pounds when she decided to change her lifestyle. She dropped more than 40 pounds doing a boot camp, but was still around 228 to 230 pounds when she came to The Muscle Cave two years ago intrigued by the Driven program it offered.
Other workouts, such as The Muscle Cave's ropes exercises, also kept her interested and involved. She works out there five days a week, sometimes twice daily as she has started training others since getting her certification as a personal trainer.
She is working on earning her nutritional training certification and to become a certified Spartan coach. Spartan races are obstacle courses of varying difficulty and distances.
"I've got a lot happening," said Czajkowski, who works full time as a mortgage loans processor at Community Bank & Trust, where she has been the last 31 years.
She fell in love with the gym's community of members, and the encouragement and knowledge of owners Franny and Doug Cochran. Franny has her own weight-loss success story and is a certified nutritionist.
Since joining Muscle Cave, Czajkowski has lost 75 pounds.
"I'm gaining muscle and toning up, and I'm still losing weight," she said. "When you're on a weight-loss journey it's great to have a place like this."
But it is more than just doing the exercises to lose weight, she added.
"You cannot out-train a bad diet," Czajkowski said, noting that eating right and controlling the size of food portions are the best way to lose weight.
"It's 80% diet and 20% exercise," she said. Proper hydration (in other words, drinking more water), sleep, eating right and exercise work together to help someone become more fit.
But the Myzone tracker certainly plays its part, she said, adding that it lets her – as well as trainer Doug Cochran – know when her effort could be better.
"Doug knows when to push me harder," she said.