That "New Year, New You" earworm is working its way into your brain.
The post-holiday time is when gym memberships go up, or some of us start returning to the treadmills and weight rooms with that renewed focus that a visit to the bathroom scale ensures.
In January, when that desire to work out more hits fever pitch, many gyms and workout studios offer enticing specials to get you in the door.
Staying there, however, is always up to the individuals.
The Waco area has a multitude of options with a wide variety of workout methods and trainers or coaches who can help match exercises specific to the person. Some can be fun; others can be downright grueling; but all, when done properly and faithfully, can improve your quality of life.
Even so, proper nutrition and diet play a large role in helping shape a healthier you. In the pages that follow, Waco Today explores a few of the newer workout places and gives a glimpse into some longtime programs that might have sailed under the radar.
When one thinks of brand-name workout places, the purple-hued Planet Fitness with its "Judgement-Free Zone" motto comes to mind and it has recently undergone a renovation. Joining the exercise scene in Waco this month is Crunch Fitness, which announced its presence with a big blowout and new membership signup on Black Friday.
---
Crunch Fitness
More than a thousand people signed up for memberships in Crunch Fitness at a special Black Friday event in the parking lot of the Westview Village Shopping Center, said spokeswoman Stephanie McColly.
Group Fitness workouts were held at the event along with presale specials, gifts and free swag of a Crunch T-shirt, water bottle and gym bag.
Crunch Fitness will have its new 2.0 design on display the first week of January when it holds its grand opening, McColly said. A $2.5 million design over 24,000 square feet offers cardio, tons of weights, group fitness classes, small group training, tanning, spray tanning, red-light therapy and hydro-massage, among other perks.
McColly said Crunch Fitness offers great value with memberships starting at $9.95 a month with special enrollment offers.
University of Texas football great Vince Young will be at the celebration, she said, where he'll lead a fitness class and do autograph sessions.
Once Crunch Fitness is open, it will be staffed 24 hours a day, seven days a week.
"We are a brand who loves to serve the community and Waco is perfect for that," McColly said. "It's a growing community with an opportunity for us to share our love of fitness."
Crunch Fitness
575 N. Valley Mills Drive in the Westview Village Shopping Center
---
Planet Fitness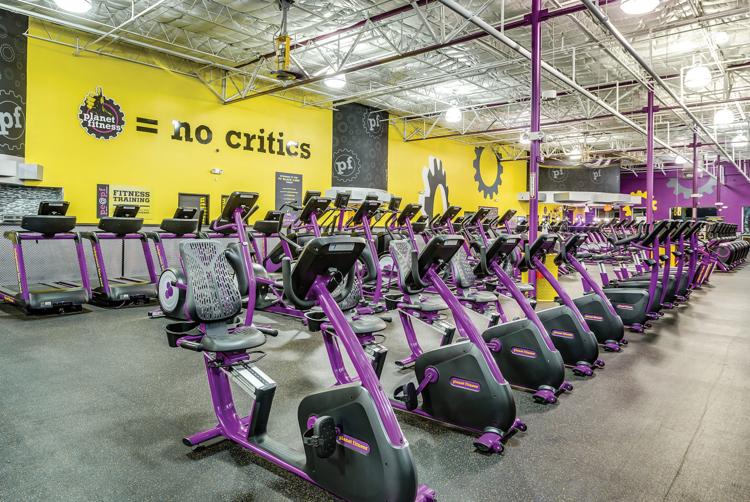 After marking five years in Waco in December, Planet Fitness recently underwent $750,000 in renovations.
The upgraded 20,000-square-foot facility features spacious locker rooms and a PF Black Card lounge with leather chairs and HDTVs, plus private rooms for tanning, massage chairs and hydromassage loungers. A Total Body Enhancement machine helps energize clients pre-workout and relaxes them post-workout.
Planet Fitness' approach remains its dedication to a "hassle-free" environment where people can start their fitness journey without feeling intimidated by Olympic-style weightlifting and high-intensity classes, said Chris Epper, director of marketing for Planet Fitness.
The club is open and staffed 24 hours a day, seven days a week. Members have access to more than 100 pieces of equipment, including rows of cardio and strength equipment. The club also has a 30-minute workout space that features stations where members can take the guesswork out of their routine and go from equipment to equipment to get in a great workout on any schedule, he said.
Epper said members can take advantage of PF360, which provides excellent cross-training including battle ropes, kettle bells and TRX resistance training.
Members get access to free unlimited fitness training, he added, instead of an extra fee that some gyms have.
"Planet Fitness believes this is a crucial element and has included this free into each membership to help everyone achieve their fitness goals," he said.
Members can use any of the 1,600-plus clubs across the United States.
"In the end, it's all about the member," Epper said. "As they evolve, (Planet Fitness) will seek to perfect this safe, energetic environment, where everyone feels accepted and respected."
Planet Fitness
300 N. Valley Mills Drive
---
Train Waco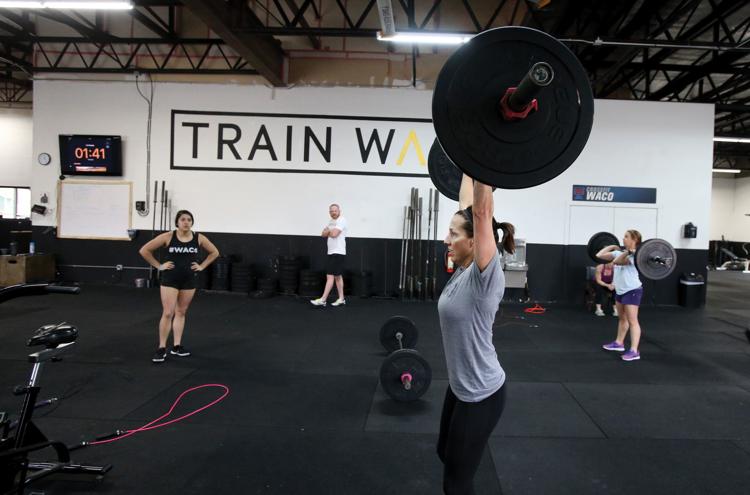 The name and the location are new. But the CrossFit brand endures, with improvements.
Jonathon Shelton began CrossFit Waco in a garage-style building 10 years ago. But as the next-door Magnolia at the Silos grew, CrossFit's spot at the corner of Eighth and Webster was a prime location.
Co-owner Brandon Hancock said the timing was right for the move to East Waco. The lease was coming up and Magnolia was needing the room. Train Waco began in mid-August at the new 713 Elm Ave. location.
The building has a fresher look. While the CrossFit workout area itself maintains that garage feel, complete with bay doors that open to Elm Avenue, it's brighter inside. Larger windows let in more light and the interior walls are painted mostly white, unlike the dark insides of the old building.
The name has changed as well. Though people will probably still call it CrossFit, the business is now Train Waco.
"The purpose of rebranding was to appeal to a larger audience," Hancock said. "It's more about fitness in a broader domain. We have anyone from high school students to retirees, and we can scale the workouts to the level of the member.
"The important point is the trainers are scaling the workouts for being more functional in daily life."
Train Waco has three distinct programs that come with membership. There's the traditional CrossFit core strength and conditioning program of high-intensity workouts.
But now added to that is Fit Waco, which includes longer workouts that use rowing, biking and running. The new building has a separate workout room dedicated to Fit Waco. Third is the Strong Waco program, a group class focused solely on getting and looking stronger.
"CrossFit as a sport has progressed, too," Hancock said. "With ESPN and Reebox sponsoring it, there's more science to the exercises and that's helped with better program design."
The Train Waco building is better in a lot of ways. The former site was little more than a renovated garage. The new place, though slightly smaller in footage, has a lounge, and reception and retail areas, Hancock said. There are showers, too.
"You can come in at noon, work out, then shower and go back to the office," Hancock said. "You couldn't do that before."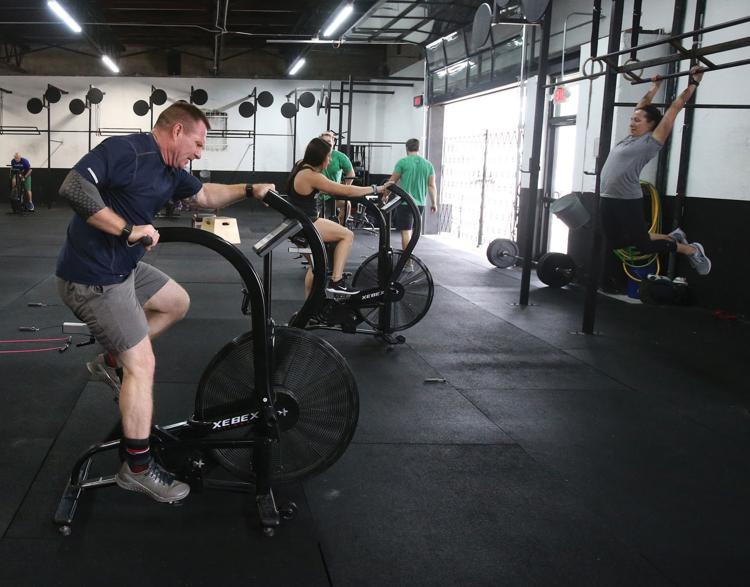 Members can check in for their workouts on an app, or if they forget, a staff member can log them into the computer system.
Train Waco has nine certified coaches and keeps a 15:1 coach-member ratio for its classes. All but one of the coaches have full-time careers outside of the fitness world.
Another new wrinkle is that Train Waco offers a full body-fat analysis as another way to help with the overall health of its members, Hancock said.
He is pleased that Train Waco does communitywide events, particularly now that it is part of the East Waco community. The weekend of the Doris Miller Memorial dedication in December, the gym held a special workout to honor the Pearl Harbor hero and Waco native.
In mid-January, Train Waco will start a Sweat Waco Weight Loss Challenge open to city residents. The program fee will include seminars and gym membership for classes. They plan to be promote the program under a #sweatwaco hashtag on social media as a new trainwaco.com website is rolled out.
Train Waco
---
D1 Training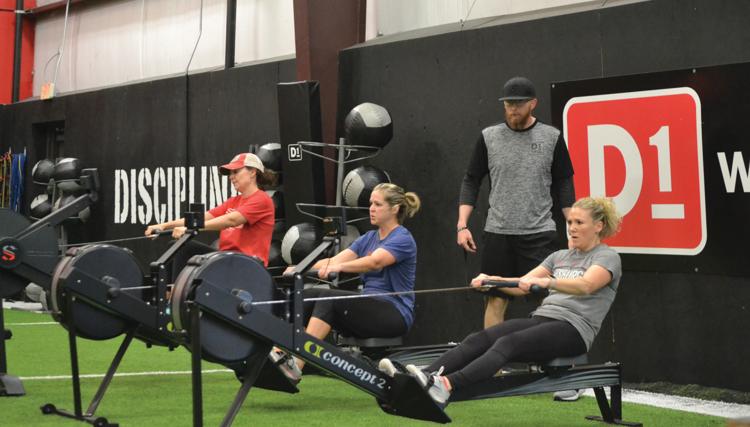 A name like D1 Training sounds like a place for elite athletes. And it is. But as owner/operator Kevin Engelbrecht likes to say, it's really so much more.
The facility itself stands out with group exercises taking place on the expanse of green artificial turf. The "Iron Sharpens Iron" motto in large letters high on a red wall also is meant to motivate.
Engelbrecht, a Crawford native and former Axtell coach, continues to expand its programs while taking particular pride in D1's community engagement, from hosting special-needs events for No Limitation Athletics kids to benefits like Strength for the Cure, which raised $10,000.
"We do tons of community engagement," Engelbrecht said.
A conference room was being renovated in December with a competition-level mat that will enable D1 to offer self-defense classes, wrestling, and things like "Combat Cardio" and "Power Yoga for Athletes."
D1 touts itself as "the home of athletic-based training." It does scholastic training for kids beginning at age 7. Training is age-appropriate, from Rookie (ages 7-11) to Developmental (12-14) to Prep (15-18).
High school athletes, including the Midway baseball program, train at D1. Baylor sports clubs such as crew, volleyball, rugby and lacrosse were provided training there in the past, and don't be surprised to see a professional athlete exercising in the building.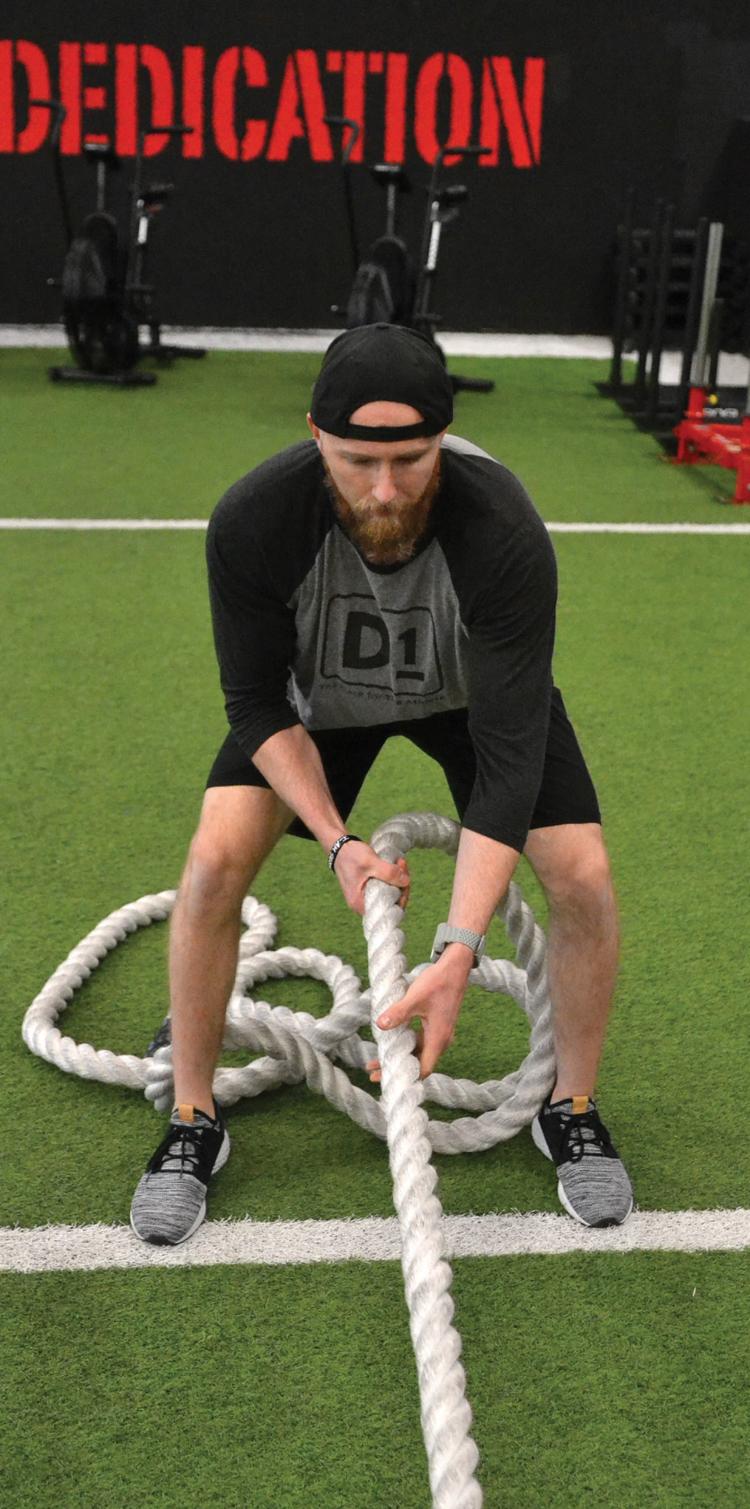 For adults, D1 offers boot camps and strength training, as well as personal training. Whether it's strength and conditioning, specialized weight loss or a sport-specific goal, D1 coaches can develop a program for the individual, he said.
D1's 54-minute group workouts are created under a proprietary 5 Star Training System that does a progression of dynamic warm-up, performance, strength training, core and conditioning, and cool down.
"It's about doing it the right way and doing it safely," Engelbrecht said. "Our coaches motivate, encourage, and they inform."
They also train in a way that's enjoyable for the entire group, he said. Camaraderie develops during the workouts.
"You start with a positive attitude," Engelbrecht said. "One of the best things I've ever been told was by a guy who said, 'I didn't think I lose 50 pounds and gain five friends in the process.'"
D1 Training
5100 Franklin Ave., Suite B
---
Rush Cycle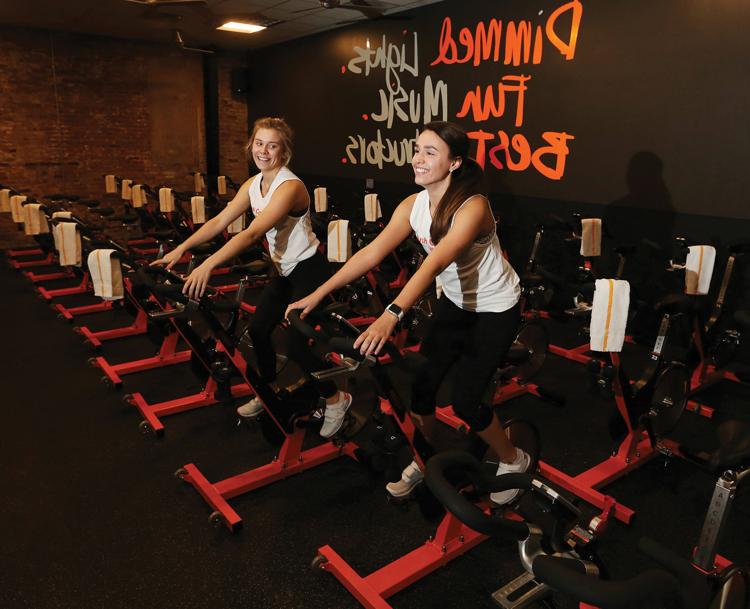 It could be said that Rush Cycle offers a lot of fun for a bike ride that actually doesn't go anywhere.
Owners Chris and Madison Goss are happy to provide the spin and cycling class to an area of downtown that is developing a fitness community.
"It's cool to be part of the fitness movement here," Chris said of downtown development by businessmen like Shane Turner and Todd Behringer, whose Bicycle World Waco moved into a new building on University Parks Drive.
Rush Cycle is housed on the opposite side of the building.
Chris, a Waco native, has been a personal trainer for 10 years. The former University of Texas at Tyler baseball player said he had to choose between coaching and training, and found he enjoyed the training aspect more because he enjoys that active lifestyle.
Madison has a pre-physical therapy degree, which requires specializations in biology, health professions and exercise sports science. She has been a personal trainer for two years.
She was searching online for fitness-related businesses to bring to Waco and ran across Rush Cycle. After meeting with the founders, Rush Cycle looked like a great fit, they said.
"I think Rush Cycle is a lot more personable than a lot of the other better-known spin classes," she said. 'It's not as intimidating."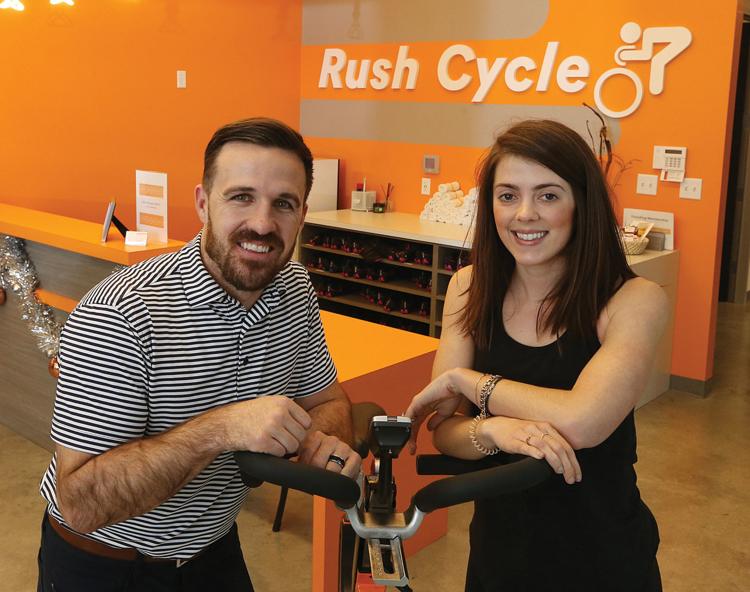 The Waco location is the second Rush Cycle in Texas. The first one is in League City, but the business is growing, with plans for 40 more in 2019, including 20 in Texas, Chris said.
For the last three years the couple also has operated Elysian Cryotherapy, which is Chris' main focus when he's not doing personal training. The frigid treatment has been popular with those 40 and older in dealing with back and joint pain and arthritis, they said.
Madison said what makes Rush Cycle popular is their great instructors, who encourage the riders but also push them to pedal hard and work up a sweat. The music is loud and the lights are turned low to help riders focus on the exercise.
"We want people to feel welcome no matter what their fitness level," Madison said, though adding that they work with people who may not be quite ready for the high-intensity workout that the spin class provides.
"We have eight different instructors, who all have different personalities and music styles," she said.
While Madison prefers the beat of hip hop music, the instructors occasionally vary the selections, including themed workouts to '80s music, for example.
"Getting on a stationary bike to work out can sound like Hell, but you pedal to the beat of the music," Madison said.
The bulk of Rush Cycle clients are women, and she admits a lot of men are reluctant to take part in a spin class. But those that do discover they have a lot of fun while getting a great workout, she said.
"My dad did it, and he loved it," she said. "He wants to bring his friends."
Rush Cycle offers a $99 monthly membership for unlimited rides or $20 for walk-in workouts. Riders usually need to schedule a class ahead of time online – choosing an instructor and a time, plus, there's a limited number of the Keiser bikes in the room – and choose one of the open spots, much like reserved seating for IMAX movies.
They have a lot of Baylor students and hope to bring in more of the community with special events and workout rides that will benefit charities.
Rush Cycle
---
SuperSlow Zone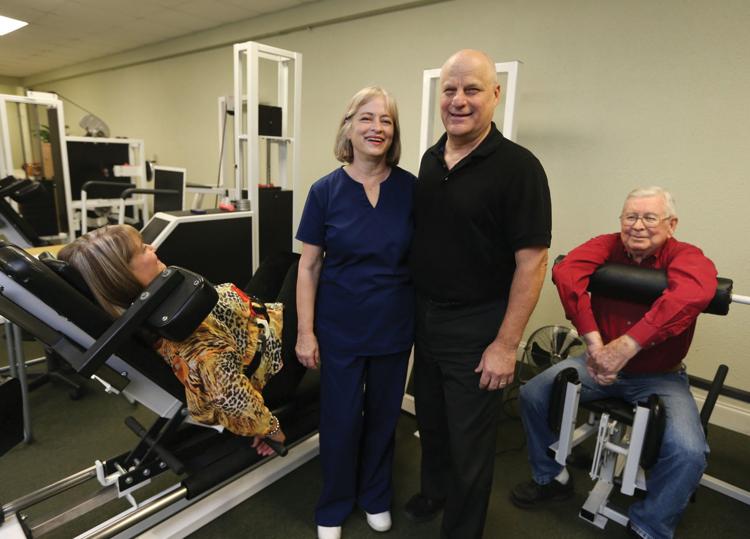 SuperSlow Zone doesn't sound anything like an exercise regimen. But owners Mike and Joy Carruth and their clients will tell you that this 20-minute workout, in which you won't even start to sweat, provides results.
The Carruths have operated the business for 16½ years, getting most of their clients by word of mouth.
Joy is a registered nurse, having worked at St. Joseph Hospital in Bryan and Seton Hospital in Austin. Mike, a former paramedic and firefighter, is a native of Waco who returned home to care for his aging parents.
They chose to work together and bring SuperSlow Zone to Waco after Joy learned about it from a chiropractor while she was recovering from a surgical procedure.
Mike said the SuperSlow Zone concept is completely foreign to those who were athletes or believed the best way to get in shape was to work up a sweat and exercise fast and often.
A typical SuperSlow workout uses four to six weight machines, specially designed by Nautilus, that each target a specific muscle group. The weights are slowly raised for 10 seconds and then lowered for 10 seconds nonstop until the targeted muscles reach total momentary fatigue. The process is repeated for about two to three minutes per machine.
"What happens when you go slow the muscles are constantly under a load until the muscles are exhausted," Mike said. When a muscle is pushed past the point of total fatigue by the slow constant force, a stimulus is delivered to the body telling it to make more muscle, he added.
If the body then gets proper nutrition and rest, it produces more muscle. The time between workouts is crucial to building lean muscle.
"It's an intense, effective workout, but it's safe," Joy said.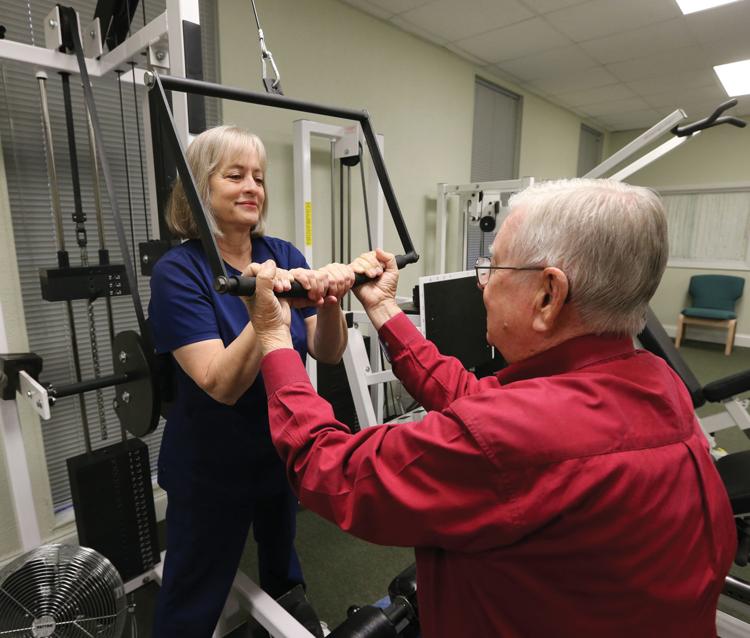 Mike noted that many injuries occur when we move our bodies in ways that our bad for our muscles. Reaching to grab something in the back seat and twisting in a way the body wasn't prepared for is a common example, he said.
Jerking motions can cause pain, too, such as yanking on a heavy suitcase to generate the momentum needed to pull it out of the trunk of the car, he said. Plenty of injuries happen because we move too fast, he added.
Joy said her knowledge of anatomy as a nurse makes her appreciate the SuperSlow Zone process even more.
The bulk of their clients are age 35 and older and they've had people as old as 94 do the workouts. Workouts can be tailored to take into account medical conditions and other limitations.
The entire workout can be done in 20 minutes without breaking a sweat. Most clients come in twice a week.
He's had bank executives and lawyers pop in and do the exercises and then return to the office, not even needing to undo their ties.
"It's time-efficient and that's a large appeal of it," Mike said. The office is open from 7 a.m. to 7 p.m. Monday through Friday.
Client Laura Smith, who works a shift schedule as a flight attendant, says SuperSlow Zone made a real difference in her life, improving her strength and energy.
"It helped right away," she said.
The Carruths said they also enjoy getting to become friends with their clients as they work to improve their health. Many of their clients have been with them for more than 10 years.
As they and their clients read about studies and research on health care, they are quick to share and discuss it.
"It's about the clients. It's not about us," Mike said.
SuperSlow Zone
6501 Sanger Ave., Suite 310
---
610 Fit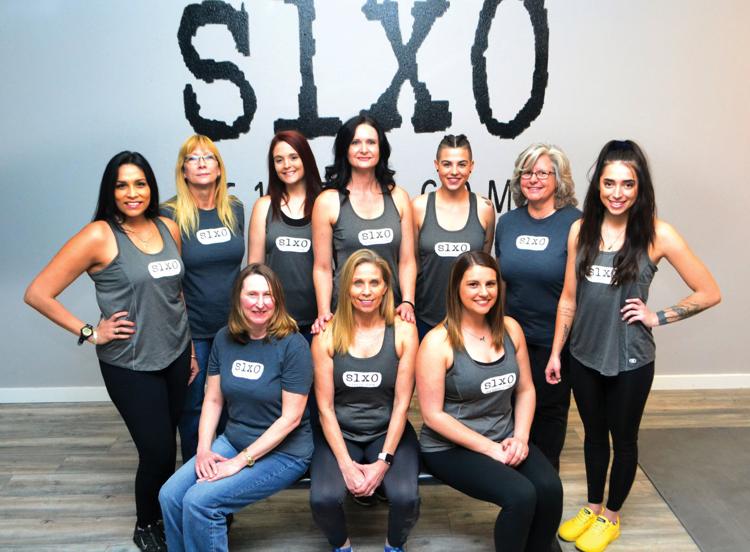 After 16 years as a personal trainer, Jenny Higginbotham wanted to step out in faith and open her own workout studio.
She had the desire, but not the funds. Nor a location. Or any equipment.
Her friend and mentor Pam Mohundro, retired executive director of Christian Women's Job Corps, urged her to be patient, stay confident that something would happen in its own time.
And she was right. Clients and friends supported Higginbotham, setting her up in a studio and then providing workout equipment for it.
610 Fit became a reality. The numbers in the name come from Ephesians 6:10, which says, "Be strong in the Lord and in the strength of His might."
It's Scripture that stays close to her heart.
Higginbotham continues to do personal training and with the studio leads small groups of no more than six people, usually all women. She helps train people for marathons and the Spartan endurance events that are increasingly popular.
The number one reason people don't continue to exercise, she believes, is they don't know their purpose in trying to stay fit.
"Losing weight is not enough to keep you doing it for the rest of your life," she said. "You have to be committed to living healthy and that needs to include working out."
Higginbotham enjoys running, but she realizes that's not an exercise that everyone enjoys or can do. Some people aren't comfortable going to gyms. Finding the right fit with the proper exercises for an individual is the challenge, she said.
Her studio is small for now, but she has a vision for a broader fitness community. It's a concept for exposing people to the variety of trainers out there.
"Waco has a lot of gyms with a lot of amazing personal trainers," she said. "I just want to help people know about them. I think everybody can use a trainer."
To facilitate that concept, Higginbotham in mid-December launched Workout Waco, a social media outlet that pulls together fitness professionals and allows people to explore Waco gyms, personal trainers, clubs and events.
Her vision is to have a sort of one-stop shop for fitness information, whether it's the Waco Striders Running Club or a TriWaco club to a group of bicycling enthusiasts or weightlifters. She admits pulling together such diverse fitness interests is a daunting challenge, but she's been encouraged by the response so far.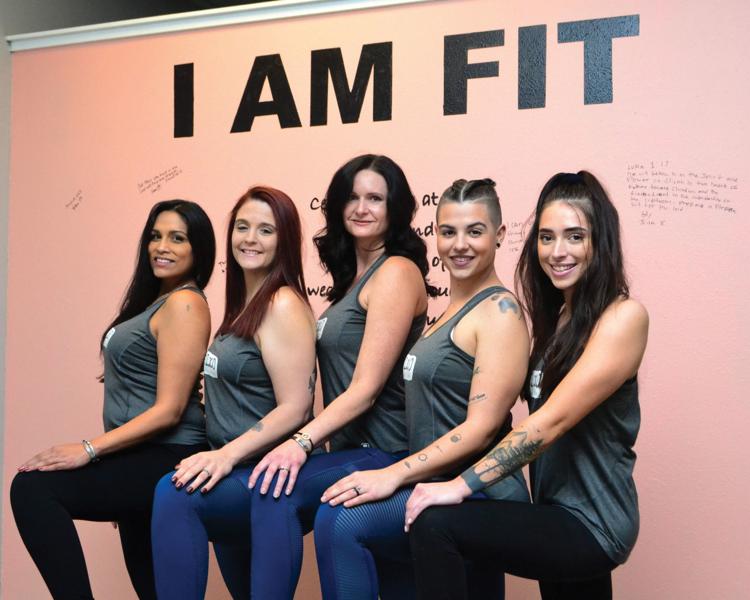 She's received positive feedback to be involved not only from other trainers but from Waco gyms, which generally are vying for the same clientele.
Workout Waco ideally would help get the word out about fitness and wellness seminars, and could help coordinate events such a Community Fitness Day.
A Fit Camp is planned to begin in January that she hopes can encourage people to expand their fitness horizons.
"It should be something you never thought you would do. Something you didn't know you could do," she said.
Higginbotham plans to start Workout Waco on Facebook, but also branch out and do a monthly podcast.
"I want to be able to spotlight other fitness professionals," she said. "All of them have equally cool stories. I think everybody offers a little something different.
"If we join together we can get more people working out."
610 Fit