For Pam and George Long's three children, growing up around George's Timberhouse in Lacy Lakeview was simply part of their lives.
Jessica, the eldest, was 7 years old when Pam Long began operating the building materials store at 515 New Dallas Highway 23 years ago. She was transitioning to the business world after 11½ years working in the administration offices at La Vega ISD.
Jessica and younger brothers George III and Harrison could do small tasks, such as taking bulk screws and rosette fasteners and packaging them for sale.
"We were helping them with their arithmetic," George said with a laugh.
"You had a little sweat shop going on," Harrison chimed in.
George's Timberhouse specializes in mobile home parts and supplies while also carrying a large inventory of conventional housing materials and lumber. It sells both new and surplus (seconds, obsolete and/or slightly damaged) items.
Pam recalled that when they were looking for a place to establish their business, the spot was a grass lot that served as a site for dog agility training.
They purchased the land and Pam wasted little time getting a dump truck loaded with gravel and spreading it over the property.
"She did all that herself," George said. "I thought that was pretty impressive."
But he still likes to embarrass her with the story about the time she didn't open the back of the dump truck and ended up in the air in the cab once the weight shifted.
George is certainly involved with the business, but he has to work that around his full-time job at IBM, where he's worked for 37 years. He'll find himself at the store after the workday and on weekends when things have to be tackled.
"Yeah, it's really great being out there in the yard when it's 105 degrees in the summer," he said.
Second Home
They constructed the office building that in many ways served as a second home for the young kids. A room upstairs was used for doing homework after the kids were dropped off the Connally ISD school bus. A bathtub was available for cleanup.
George III said the handyman skills he learned at the store, such as driving a forklift, prepared him well for other jobs. Plus, "I could get away with stuff," he said.
He was less enamored with the outside work in the cold and heat, and having to clean up nails scattered about the yard.
Harrison said he wasn't a big fan of always refilling the propane tanks, or the repetitive work of restocking that is necessary when handling inventory. He does appreciate having learned a lot of skills at a young age, such as welding alongside his dad.
George's Timberhouse buys seconds, culls, damaged and obsolete materials from bigger lumber yards, mills and manufacturing plants, and sells that at a reduced price to its customers that the big-box building stores can't match.
"Manufacturer specialty parts are expensive," George said. "That's the only way we can make this business work. We have to be cheaper than (the big-box stores)."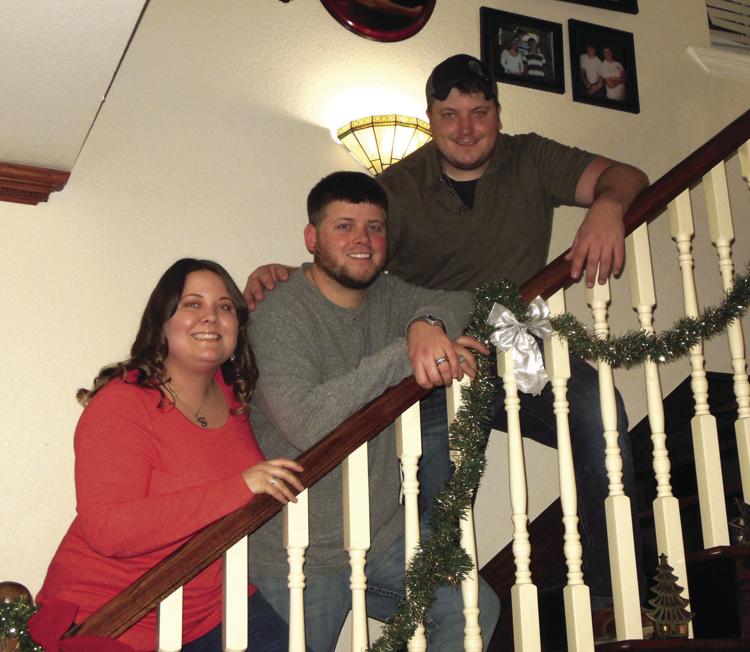 Pam remembers when she started the business reaching out to Fleetwood Homes to purchase its excess materials, then expanding to collect the surpluses available at Patriot and Clayton Homes.
The store initially was open Tuesdays through Saturdays, with Mondays available for Pam to stock up on the lumber and other materials needed for the inventory.
But the kids grew up and ventured into their own callings. George III now lives in Missouri. Harrison works for Alamo Steel.
Jessica, who is a full-time surgical tech student, still works as a part-time employee at the store when she is not at the hospital. She runs the counter when Pam can't be there.
"We don't have to be here," Pam said of when Jessica is there. "She knows the prices. People call her 'Little Pam.'"
The lengthy workweek was getting to be overwhelming, however.
Loyal Customers
Two years ago, Pam trimmed the days it is open to Thursday, Friday and Saturday, and those customers stuck with them.
"We have such a good customer base," Pam said. "We changed the hours, or we would have to close for a couple of weeks. They would just wait for us to open back up."
Pam believes that's in large part to the customer service they provide, as well as the fact that mobile home parts are sized differently and won't fit in conventional homes. That is a niche need only George's Timberhouse can satisfy, she said.
It's been a benefit for her home as well.
"I have so many neat building materials and/or treasures that I found from different places we bought from," Pam said. "A lot of neat things went into our home because of this. I also had many things – lemons – I wasn't sure what to do with, so I would make lemonade.
"I used to tell my kids when they asked me what to do with this or that and I would tell them to hold onto it and we would figure it out and make lemonade."
---
George's Timberhouse
515 New Dallas Highway in Lacy Lakeview
Thu-Fri, 9:30 a.m. to 5:30 p.m.
Sat, 9:30 a.m. to 3:30 p.m.