Travel is good for the body and the soul. And that's never truer than when friends vacation with friends.
Our recent 17-day transatlantic voyage began innocently enough when some of our traveling buddies and my husband, Loren, and I booked a Royal Caribbean cruise from Galveston to Barcelona, Spain.
We had no inkling of how the idea would catch fire in others over the next few weeks.
Crossing the mighty Atlantic by ship had been a dream of ours for decades, but the opportunity had simply never come up. That is, not until the dreary months of winter 2018 when our thoughts turned to warmer climes and exotic travels.
That's when we found the online advertisement for the transatlantic voyage. Ah! The perfect match for us. The price was great, and we wouldn't even have to fly to Florida to start the cruise. So we and friends Ken and Faye Groce signed up for the trip.
At the time we booked, I was enrolled in a Baylor Lifelong Learning travel course taught by another friend, Judy Staples. I passed the cruise information on to her, and she distributed it to the class.
Much to our surprise, by the following week, six other classmates had already booked or were thinking of booking the cruise: Robinson residents Janet and Dick Kettler; class instructor, Judy, and husband, George; and Woodway residents Joe and Carole Anne Falsone.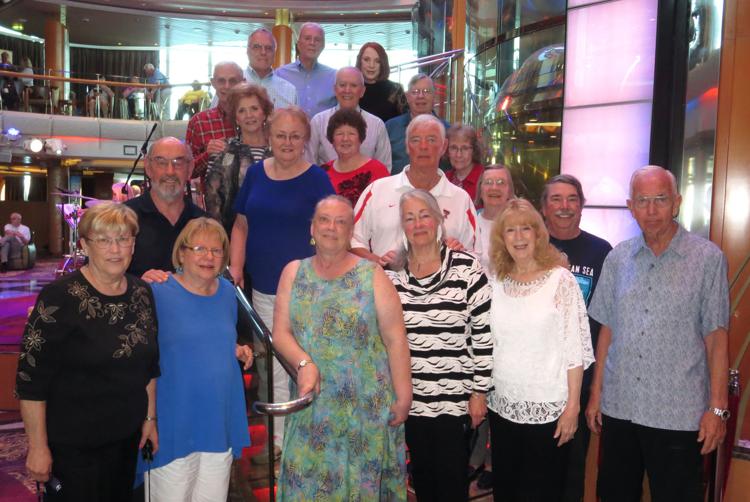 From that point, the group grew as friends told more friends about it. We ended up with 20 people, all active senior citizens and all rarin' for a good time. Most hailed from the Waco area, like our other longtime traveling pals David and Rosemary Stovall, but two came from New Mexico and two from Washington state.
A Long Wait
Our group of old friends and new acquaintances met twice for potluck dinners during the 15 long months before the cruise. Judy had unofficially taken the reins as the leader, much to our delight, and she prepped us for the trip with copious amounts of useful lists and travel tips.
Curbing our enthusiasm for such a long time was not easy; however, capturing "a great opportunity when it arises" is important, Judy said. "The price on this transatlantic repositioning cruise was unbelievable. We needed to book it right away and then wait out the 15 months until we could actually go."
The intervening months were not wasted. "The wait from booking until embarkation was a great time to plan some group activities for the cruise and hold a couple of get-acquainted gatherings," she said.
We could hardly believe it when April 19 finally arrived. All 20 of us were at last happily established in our cabins and skimming over the calm Gulf waters.
The first full day of the cruise started with a sweet reminder. It was April 20, Loren's birthday. When we walked out of our cabin that morning to go to breakfast, greeting us on the wall opposite our door was a huge, multi-colored "Happy Birthday" sign. We began guessing what member of our group had been so thoughtful.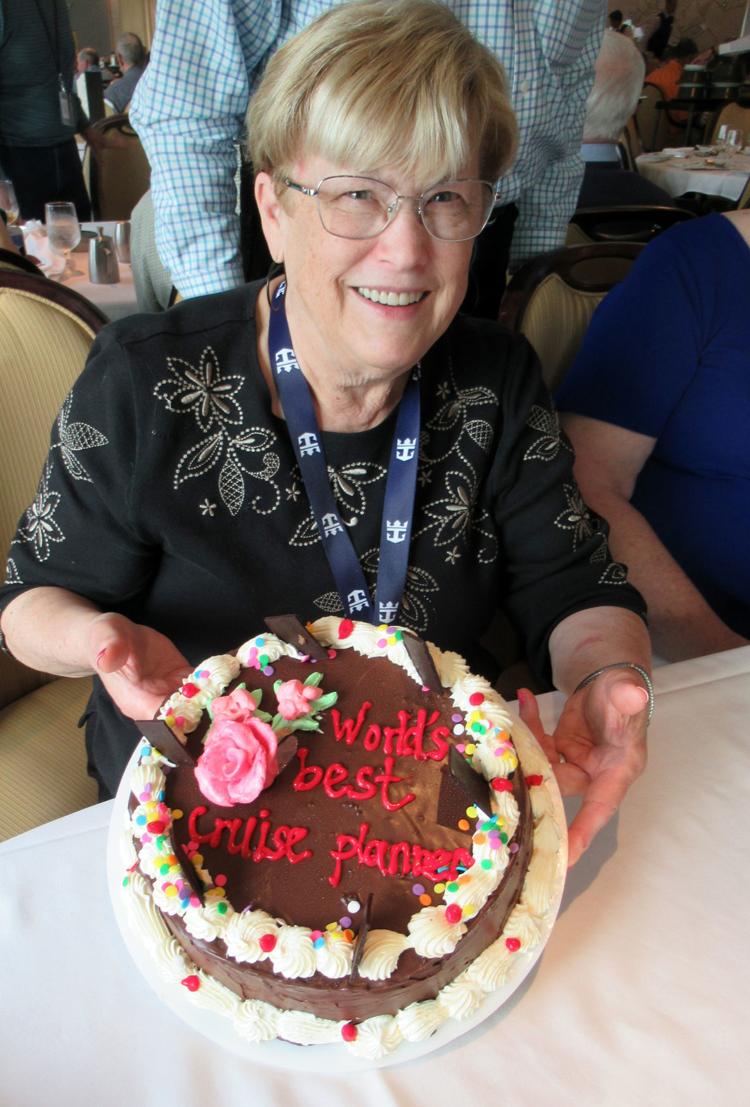 The truth astonished us. We learned that Norm Hoffman, a longtime friend back in Waco, had heard about the trip and had secretly sent the sign with fellow cruisers Janell and Gary Gilman. They had posted it outside our door the night before. Norm and his dear wife, Lynn, had cruised many times before her passing, so the considerate gesture was both poignant and lovely.
Staying Active
We spent the first three days at sea without a port stop as we sailed to San Juan, Puerto Rico. Our travelers quickly found various ways to occupy themselves during the long hours on open water. Judy had reserved a room with large windows looking out over the ocean, and on Easter Sunday, we had a religious service led by group members. It was an Easter we won't soon forget.
Staying active and occupied on the large ship was easy. The Gilmans went to the exercise room every morning, and Loren went often. Many of us walked on the promenade deck for exercise. Just going from one end of the ship to the other for meals and various events was a bit of a workout in itself.
We quietly read books or articles on our tablets. We played cards and loud board games, attended talks about the ports of call and enjoyed mass contests, courtesy of the ship's staff.
Many just chatted among themselves, becoming better acquainted with old friends and getting to know the new people in the group.
It wasn't unusual to sleep in, go to breakfast, sit and talk with friends and then not break up until it was almost time for lunch. On those long sea days, the question was this: "Why even leave the dining room?"
Traveler and Waco resident Hal Dixon admits he likes to talk, so that was one of his favorite activities. But, he says, he also "got through most of a book." Some of us who took several books along found that we were lucky to get halfway through even one, what with the distractions of the mesmerizing water outside and events going on inside the ship.
Marcia Dixon said that she and Hal had traveled with others before but not so many at once. She credits our unofficial cruise director with the bonding that took place.
"Judy tied us all together so well. She allowed us to get to meet everyone," Marcia said.
Judy not only encouraged camaraderie among the 20, but she regaled everyone with printed activities in envelopes on our cabin doors twice a day. Jokes and brain-twisting games greeted us each morning. At night, she challenged us with trivia questions about the upcoming ports of call. Her daily clever devotionals focused on "cruising" in the Bible (she says Noah was the ultimate "cruiser").
She also created signs for the doors of each cabin, which sparked conversations with those outside our group. Our sign said, "We're from Central Texas." A delightful family two cabins down from us stopped and introduced themselves one day. It turned out they were from Woodway.
Puerto Rico
Our first port of call was San Juan, Puerto Rico. Everybody scattered with excitement that afternoon after docking to take advantage of various shore excursions. Some took a bus ride to the verdant El Yunque, the only tropical rainforest in the U.S. National Forest System. Others found themselves on a more strenuous outing.
Woodway residents Joe and Carole Anne Falsone got a little more than they bargained for that day with a four-hour walking tour of 500-year-old San Juan city. They could barely keep pace with the Puerto Rican octogenarian who was leading the group.
"It was so hot, and the guide was like 85 years old and walked so fast," Carole Ann said, a note of exhaustion still lingering in her voice. But keep up, they did.
Judy points out that the cruises are a great way to stay in shape not only physically but mentally as well by gleaning information about the world.
"One of the advantages of ocean cruising is that a wide variety of choices are available to suit the interests and abilities of the passengers," she said. "Much of our exercise was walking around the various ports with shore excursions or on our own. The ports offer such interesting ways to learn and explore."
George Staples continued to fuel his travel addiction on the trip. He has been to all seven continents, to all 50 of the U.S. states and to 45 countries.
The Gilmans found their sweet spot on the voyage. "One of the reasons we cruise is because we have so many expectations in our life, but not on a cruise," Janell said. "We did exactly what we wanted to do."
Though 10 days of the 17-day trip were spent sailing between ports of call, we still made seven stops in two U.S. territories and two countries — Puerto Rico, the U.S. Virgin Islands, the Azores and Spain, with four of the stops in Spain.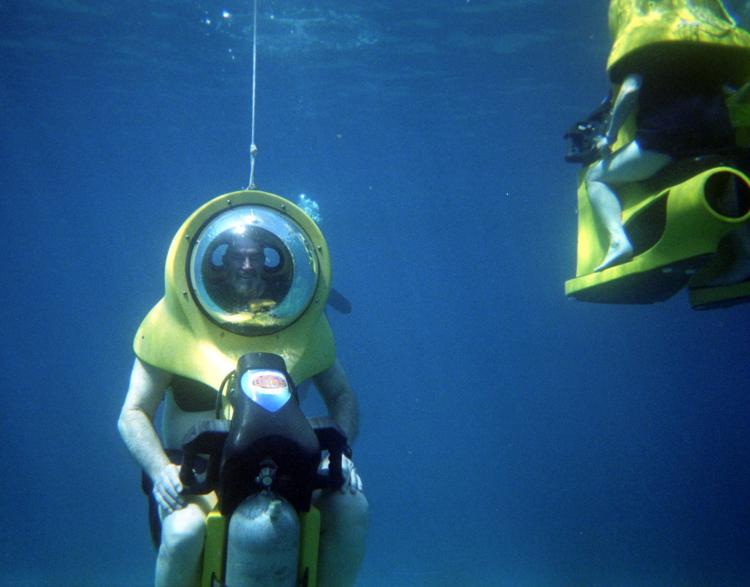 St. Thomas
Things really got physical for some in the group at the St. Thomas stop. David Stovall went on an excursion that outfitted participants with underwater scooters containing oversized helmets into which oxygen was circulated. The group was able to move around on the electric-powered scooters and see the multi-colored marine life up close.
"It was great," David said. "It was one of the most fun excursions I've ever been on. I thoroughly enjoyed it." The only problem: "It wasn't long enough."
Gary and Janell, who have been diving for 20 years, joined a group of several other participants on a scuba dive in St. Thomas waters.
"We love the water and being able to see the fish and coral," Janell said. "This was a shipwreck dive, which was not our first time to do that. We have also visited a small plane that crashed years ago. We also swam with a shark that day."
Leaving St. Thomas, we headed out in earnest for five days and nights through the open waters of the Atlantic. The next stop would be at the other side of the ocean in Ponta Delgada, Azores.
If any in our group had misgivings about so much time at sea, those doubts were soon dispelled. Each day at mid-morning, we gathered for one of Judy's hourlong activities that ranged from stimulating games to revealing stories of our lives to crowning the queen of the cruise, Rosemary Stovall. There was no pressure to attend, but almost everyone did.
The Falsones not only attended Mass every morning, but they joined a choir that rehearsed each day and then sang a medley of songs from "Grease" to the ship's audience one night.
Janet Kettler attended Zumba each morning as well as several different dance classes. She performed with other passengers in a Caribbean line dance routine and also with a group dressed as zombies who danced to "Thriller." The Gilmans took ballroom dancing classes.
On one of the mornings, Judy, Janell and I did a book review for our group. Our own book club back in Waco was reviewing the same book that month. We all enjoyed the ship's nighttime entertainment that ranged from a "pickpocket king" who instructed us on how not to become victims to a concert pianist to a "Southern sass" comedian.
The Azores
When we arrived in the Azores after undoubtedly the fastest five days any of us had experienced, we were off again, going our separate ways to explore the gorgeous, green-blanketed island of Sao Miguel.
At 2 a.m. on the 15th day, we went through the Strait of Gibraltar, which connects the Atlantic Ocean and the Mediterranean Sea. One energetic soul, Robinson resident Dick Kettler, woke up and went on deck to see the auspicious sight — the lights of the two continents of Europe and Africa, one on each side of the ship.
"I kept walking from left to right on the ship," he said. "You could see a few lights on the Gibraltar side, and there was like a town on the Africa side. I wanted to see it because of the military significance of Gibraltar."
Another day at sea gave us time to recharge and get ready to visit the bullrings, cathedrals, shops and cobblestone streets of Malaga, Alicante and Palma de Mallorca, Spain, our last three stops.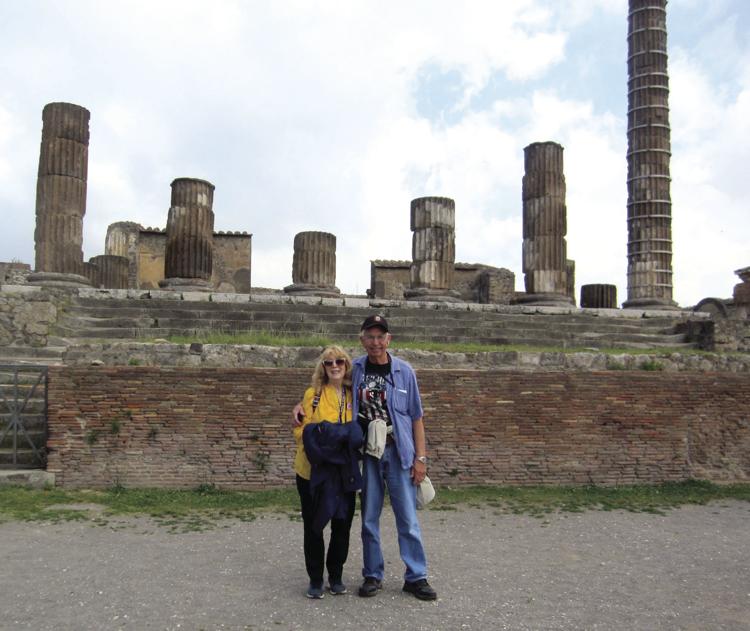 Great Memories
Memories of our extraordinary voyage were captured in scrapbooks that Judy prepared for each couple or individual.
Upon arriving home after the cruise, we discovered that the ocean voyage had provided profound life lessons for all of us. We learned that no price can be attached to camaraderie and friendship. But there were other important teachings to be had.
Faye, for instance, found out what it was like to go from pampered cruising back to domestic routines.
"Having to go buy groceries and look at cans and frozen packages of food wasn't fun," she said. "You have to buy the food, put it together, serve it and then clean up!"
Henry learned a different significant lesson — that meals are not always "free." "What I liked best about the cruise was not having to pay for the food," he said.
He became too accustomed to eating all he wanted without a check coming to the table. When he and Jane got back to Texas, they went to Cracker Barrel to eat and then walked out as though they had just finished a meal at the ship's buffet.
"I had to go back in and actually pay," he said with a disbelieving laugh.
---
Info
Judy Staples's leisure travel class will be offered by Baylor Lifelong Learning again in the fall of 2019.
Call 254-710-6440 for more information.