David Phelps will return to his adopted hometown and his former church choir for a Christmas concert at 7 p.m. Dec. 13 at First Woodway Baptist Church.
The Grammy- and Dove Award-winning gospel singer and Baylor University graduate will perform his "It Must be Christmas" concert.
Phelps will bring his signature rendition of "O Holy Night" and other traditional and original Christmas songs seven years to the day of his last performance before a sold-out crowd of 2,200 at Baylor University's Waco Hall.
Phelps has said Waco is a meaningful place for him to perform because he considers it a second home. This year's show will be especially meaningful since he will be joined onstage for some selections by members of the church choir.
"We are so excited to be able to host David at First Woodway once again," said Gary Rhodes, worship pastor for First Woodway. "Our congregation has always had a special place in their hearts for David and his ministry ever since his Baylor days and being a part of First Woodway."
"It's as if he was sent out as a musical missionary and we are so grateful for the opportunities he has had and for the way he has touched hundreds of thousands of lives. There is definitely a buzz going around the church that he is coming back."
Gifts to Ministries
The concert is hosted by First Woodway and Brian Townley of Paramount Realty & Management and will benefit organizations through the church's giving program. His concerts became a Christmas tradition in Waco and raised more than $100,000 for local organizations and charities during a 10-year period.
"Every year at First Woodway, at the beginning of December, we have a worship event that we call 'The Twelve Trees of Christmas,'" Rhodes said. "It is a morning where the choir and orchestra lead out in worship. There are 12 Christmas trees around the perimeter of the worship center, each representing a local organization.
"In advance, we let our congregation know of the needs or wish list for each ministry. Then at a specified time in the service, the whole congregation lays their gifts to these ministries under the trees while we are singing Christmas carols. It is a beautiful moment to behold. This year, it will take place on Dec. 9 in our morning worship services. As part of our gift to these ministries, we wanted to include giving a financial gift from the David Phelps concert."
The proceeds will be equally divided among the ministries, which include Care Net, Compassion Ministries, Church Under the Bridge, Christian Women's Job Corps, Family Abuse Center, Friends for Life, Jesus Said Love, Light in the Gap, Restoration Haven, Salvation Army, Talitha Koum Institute and WRBA Ethnic Church Ministry.
"We are thrilled to bring David back to Waco," Townley said. "He has so many fans here and his concerts became a tradition for them. Since it has been a few years since his last show here, we are looking forward to hearing his Christmas concert. What a privilege it will be to gather with friends and family in an intimate setting to celebrate the most wonderful time of the year."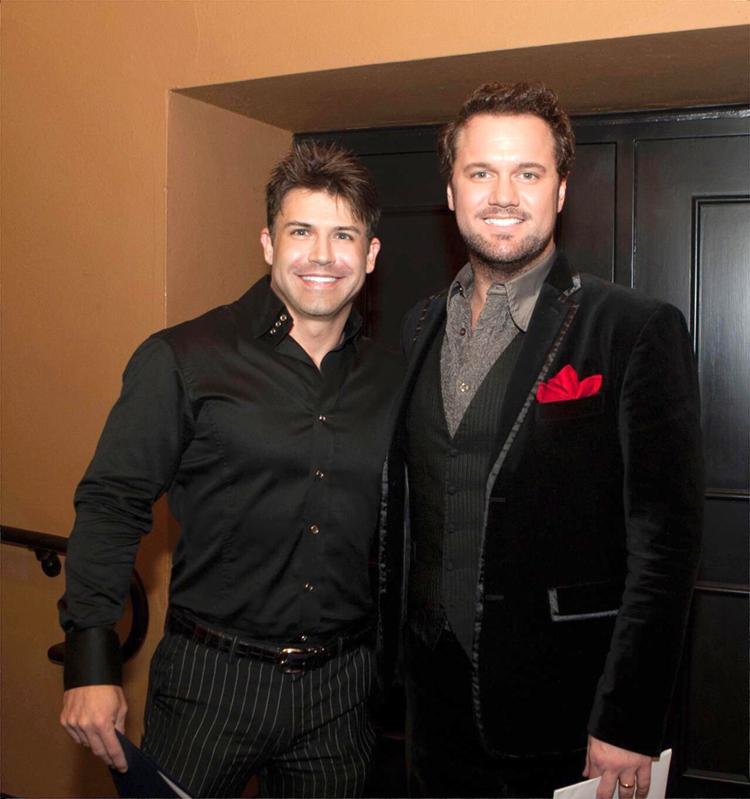 Townley has volunteered his time to promote Phelps' Christmas concerts in Waco since 2001 to benefit local charities.
"I like the idea of how one small gesture from a friend who invited me to David's show in 2001 had such a lasting ripple effect that has now impacted so many others over the last 17 years. You just never know what one act of kindness might do and that excites me," he said.
For many of the shows, Townley has sponsored tickets for children from the Methodist Children's Home to attend.
"I wanted them to get to experience the power of David's performances and be blessed with a Christmas concert that hopefully they will always remember," Townley said.
He recalls what a special night that was for Phelps and the members of the choir, some of whom had sung with him when he was a member of the group.
Townley shares his journal entry from that night:
"This was a homecoming event and David seemed to be living out a dream that he might have had 18 years ago, as a Baylor student, when he sat in the some of the exact seats as his Waco Hall sold-out audience and watched performances from the exact stage he was now on, commanding all the attention. The harmonies of the backing vocalists were perfection. It almost does not do them justice to describe them as backing vocalists because they are so talented and trained."
Much Success
Phelps' tenor voice extends more than three octaves, giving him a powerful range that has brought the house down in some of the world's most prestigious venues. He was a member of the popular Gaither Vocal Band for more than 15 years, receiving numerous Dove and Grammy Awards and was part of multiple platinum-selling recording projects.
As a solo artist, he was nominated for Dove Awards for Male Vocalist of the Year and Long Form Video for the Christmas DVD "O Holy Night" in 2009. His live concert DVD "David Phelps: Classic" debuted on Billboards' Music Video Chart at No. 1 in 2012 and has received acclaim from gospel and secular music genres. His "Freedom" DVD debuted at No. 1 in 2017 on Billboard's Music Video Chart.
"The Best of David Phelps" peaked at No. 1 on Billboard's Music Video Chart in 2017. In his "Hymnal" release in 2017, Phelps pays tribute to some of the most treasured hymns of the church through a journey of inspiration and worship in song. His new CD "It Must Be Christmas" was released in October.
Originally from Tomball, Phelps and his wife, Lori Purtle, live on their farm outside Nashville. They have four children.
---
David Phelps "It Must Be Christmas" Concert
When, where: 7 p.m. Dec. 13 at First Baptist Woodway, 101 N. Ritchie Road.
Tickets: A VIP ticket package, including pre-concert reception with meet and greet costs $100. Reserved Artist Circle seating is $40, reserved seating $30 and general admission $20. Tickets may be purchased at www.itickets.com or by calling 254-772-9696.